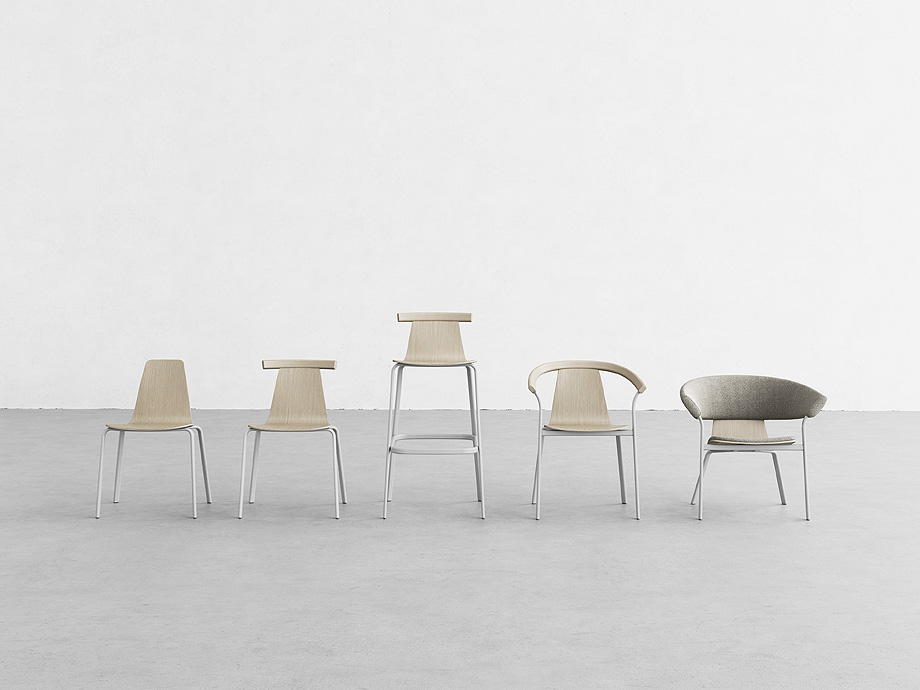 ATAL:
Atal es la primera colaboración entre Form Us With Love y Alki, resultado del reto que el fabricante vasco le propuso al reconocido estudio sueco: diseñar una silla que combinara madera maciza, material predilecto de Alki, y tubo metálico con el objetivo de crear una completa colección que incluyera sillón, taburete y diferentes sillas apilables. La respuesta dada por FUWL fue una familia de cinco asientos que parten de una única carcasa de madera en forma de A la que se van agregando elementos de madera y tapizados que hacen que se cumplan todas esas funciones. Al completo, la colección la forman dos sillas sin brazos, una silla con brazos, un taburete alto y un silloncito lounge.
Cambio de hábitos en los espacios colectivos.
«El diseño de la serie Atal se ha guiado por dos componentes principales», precisa Jonas Pettersson, director creativo de Form Us With Love. «Por un lado, los conocimientos excepcionales en el procesamiento de la madera de la cooperativa Alki. Por otro lado, la observación de la transformación de los hábitos en los espacios colectivos. Así que hemos tenido en cuenta diferentes posturas y, por lo tanto, los ángulos de sentada, desde la posición de trabajo erguida concentrada, a la posición reclinada informal».
Con esta nueva colección, Alki continúa desarrollando su oferta para espacios colectivos, especialmente para uso intensivo. Explica Alki que, actualmente, los espacios colectivos procuran ser flexibles. Reunirse o aislarse, trabajar o relajarse, la variedad de posibilidades y posturas que se espera de estos lugares es cada vez más amplia. Las diferentes piezas de serie Atal coexisten y crean un conjunto completo y coherente que responde a estas evoluciones.
Desde la cafetería de empresa a la recepción de hotel.
«Hoy en día, los arquitectos están buscando soluciones de asiento que cubran varios tipos de espacios y funciones. Con los cinco elementos de la colección Atal, pensamos responder a esta gran variedad de necesidades. Desde la cafetería de empresa a la sala de reuniones, desde la recepción del hotel hasta el restaurante, podemos integrarlos fácilmente tanto en espacios privados como colectivos. Especialmente, porque la gama es fácilmente personalizable gracias a las múltiples combinaciones posibles«, explica Peio Uhalde, director general de Alki.
La colección Atal se completa con mesas bistró y mesas bistró altas con el sobre cuadrado y circular.
---
LAS IMÁGENES:
---
EL CONCEPTO:
---
LA MAQUETA:
---
SOBRE FORM US WITH LOVE: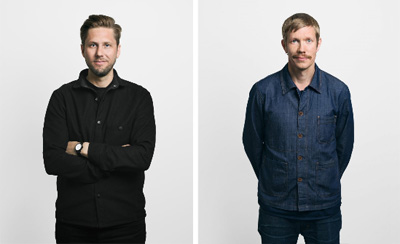 Form Us With Love es un conocido estudio de diseño, con base en Estocolmo, que inició su trayectoria en el año 2005. Sus fundadores (Jonas Pettersson, John Löfgren y Petrus Palmér, que ya no está en el estudio) se conocieron estudiando Diseño de Producto en la Universidad de Kalmar, en Småland, una zona en el sureste de Suecia, conocida por ser el corazón de la fabricación de muebles en Suecia y cuna de IKEA.
Desde su concepción, el estudio ha apostado con pasión por el diseño y su potencial democrático: creen que todo el mundo tiene derecho a un diseño significativo. FUWL utiliza un proceso que combina las prácticas creativas tradicionales con una aplicación ágil y estratégica. La intención principal es evolucionar con las necesidades de cada proyecto, su lugar en el mercado y las necesidades siempre cambiantes de las personas reales.
Actualmente, el trabajo de Fors Us With Love se divide en tres áreas: Consultoría,  Aventuras (enfoques disciplinados y holísticos para construir y lanzar marcas) y Civismo (basada en la transferencia de conocimientos y el intercambio de experiencias, contribuyendo activamente a los espectros más amplios de diseño).
A lo largo de estos años, FUWL ha trabajado para importantes empresas de ámbito nacional e internacional como Cosentino/Silestone, Materia, Mitab, Muuto, Philips, Cruz Roja, Santa & Cole, Stockholm Furniture Fair, Voice, Westal o Zero.
FORM US WITH LOVE EN INTERIORES MINIMALISTAS
---
SOBRE ALKI:
Alki (silla en euskera) es un taller de mobiliario que nació, en 1981, en Itsasu, un pequeño pueblo al norte del País Vasco, situado en un entorno rural y poco industrializado. La empresa surgió de la iniciativa de cinco amigos que unieron sus fuerzas e ilusión para crear empleo en el lugar, ya que la gente se veía obligada a emigrar a otras partes debido a la falta de oportunidades.
Es por eso que se constituyeron como una cooperativa y, desde sus inicios, tuvieron unos valores que van más allá de lo exclusivamente económico. Hacia 2005, la cooperativa contactó con el diseñador Jean Louis Iratzoki para proponerle dar una vuelta a su gama de productos y que ha creado gran parte de sus colecciones.
En Alki, la madera de roble, un material noble por excelencia, representa mucho más que una materia prima. Es símbolo de su profundo compromiso por dirigir la empresa hacia un desarrollo racional y sostenible.
Explican que el ejercicio del diseño lo interpretan "desde la simplicidad. No entendemos el diseño como el disfraz de un producto, sino como un proceso continuo de búsqueda de lo esencial. Lo que realmente nos interesa es poder crear una relación afectiva con los objetos que creamos, y que utilizarlos diariamente sea un placer."
ALKI EN INTERIORES MINIMALISTAS
---
Fuente: Alki y en la web de Form Us With Love

You might also like