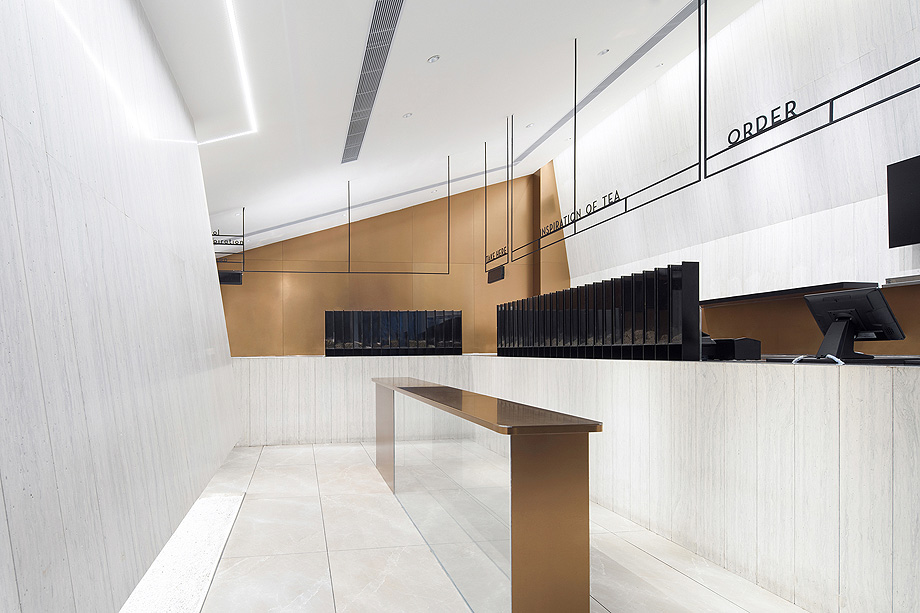 HEYTEA LAB:
Ubicado en el centro comercial The MixC de la isla de Xiamen, el proyecto es una flagship store (tienda insignia) de HEYTEA, la marca líder de bebidas de té en China. Adaptándose a las características del espacio arquitéctónico (un local diáfano de dos plantas), MOC Design Office creó «un orden oblicuo ascendente en su interior que da cabida a varias posibilidades para la vida urbana y la socialización». La tienda está localizada en una esquina y delimitada por dos muros cortina que forman un ángulo recto. El cristal transparente abre el interior del establecimiento al exterior, mejorando la interacción con los peatones que pueden ver lo que ocurre dentro del local.
Diálogo con el sitio.
El espacio general presenta unas modernas formas geométricas, y materiales y matices simples y austeros, así como un ambiente que combina un espíritu y un estilo artístico. Amplias zonas de las superficies interiores están cubiertas de hormigón y acero inoxidable dorado, ofreciendo un fuerte contraste de texturas. El acabado negro se aplica en los detalles -como las estanterías-, lo que ayuda a crear un equilibrio y agregar un toque moderno al espacio. Además, el acero dorado se extiende a la escalera, que parece más flexible y dinámica bajo la luz suave y se convierte en el punto destacado del espacio.
En el espacio arquitectónico original, todas las tuberías estaban colocadas en un lado y existían diferentes alturas. Para responder a las condiciones del lugar y abrir más el interior al exterior, los diseñadores hicieron que el techo y las paredes se inclinaran ligeramente. Esta solución creativa resolvió eficazmente las limitaciones del sitio y se dio valor al diseño de una manera artística.
Rompiendo con la simetría convencional.
Las superficies oblicuas proporcionan una apariencia dinámica al interior del establecimiento, rompiendo con la simetría convencional y creando una sensación de tensión. Los bloques espaciales se combinan horizontalmente o se interpenetran oblicuamente, creando variaciones visuales y señalizando diferentes zonas de descanso llenas de matices.

La segmentación geométrica y la combinación de bloques crean experiencias ricas, satisfacen diversas demandas espaciales y también encajan en el espíritu creativo de HEYTEA. Las estructuras, los materiales, el edificio y el entorno se armonizan en un todo orgánico: un destino urbano que sirve al público que disfruta de sus productos e interiores.
---
LAS IMÁGENES DE ARCHITRANSLATOR:
---
FICHA TÉCNICA:
Proyecto:

HEYTEA LAB at The MixC Xiamen.

Ubicación:

The MixC, Hubin East Road, Xiamen (China).

Superficie:

460 m².

Año:

diciembre 2018.

Autor:

MOC Design Office.

Diseñadores:

Liang Ningsen y Wu Xiuwei.

Fase de diseño:

septiembre – octubre 2018.

Completado:

diciembre 2018.

Materiales principales:

tablero de cemento prefabricado, acero inoxidable dorado y panel de madera sin pintar KD.

Fotografías:

ArchiTranslator.
---
PLANIMETRÍA: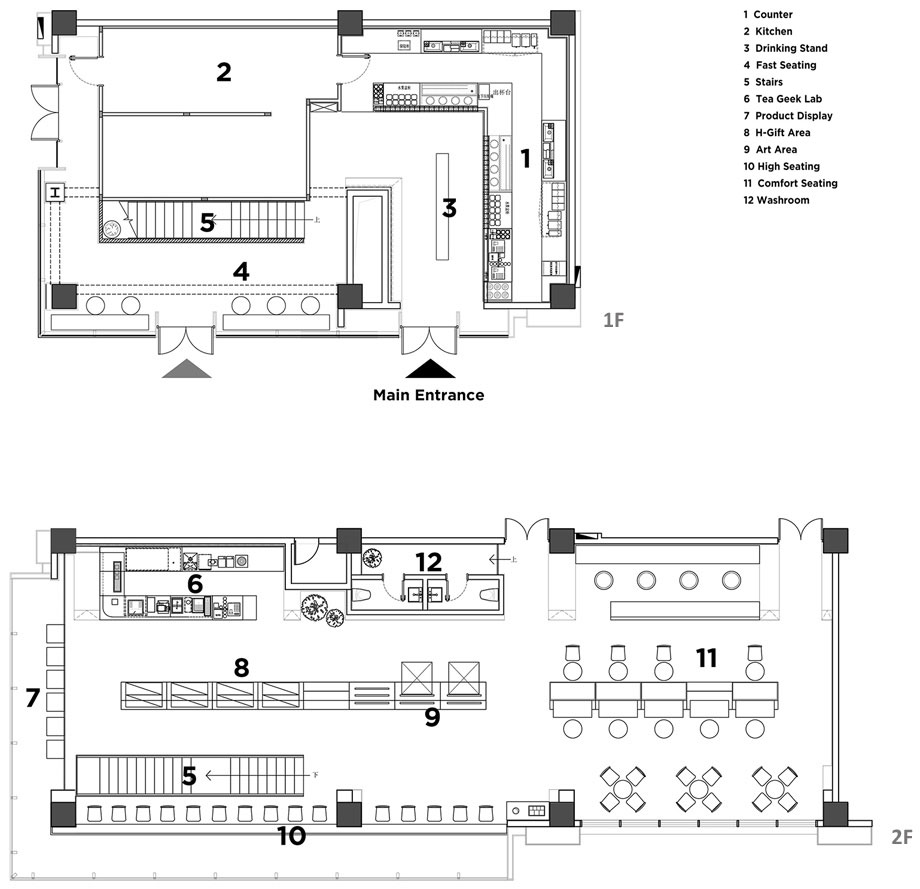 ---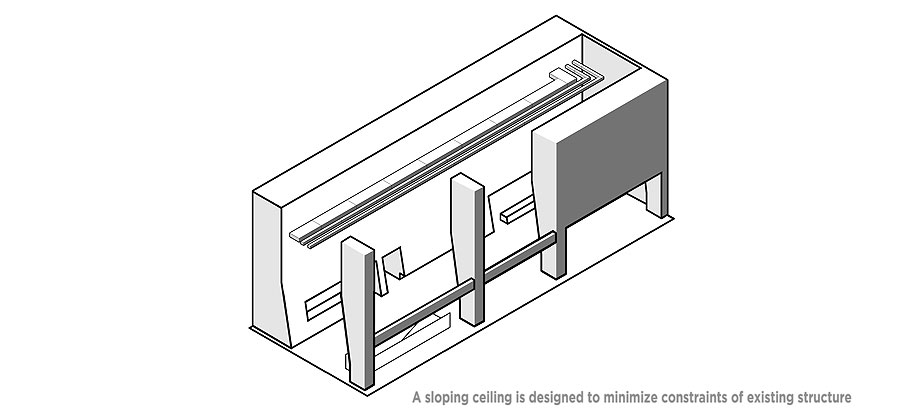 ---
AXONOMETRÍA: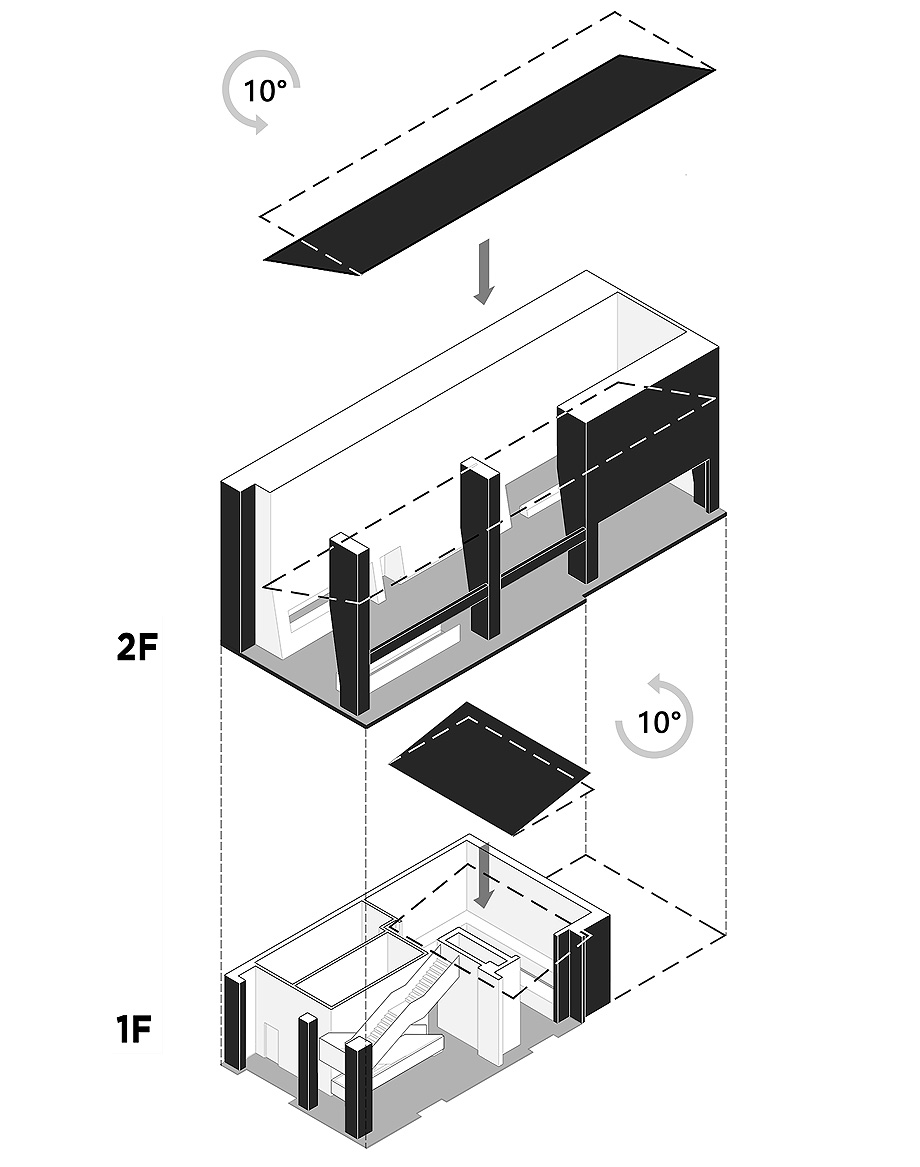 ---
SOBRE MOC DESIGN OFFICE:
MOC Design Office es una firma de diseño independiente, con sede en Shenzhen (China), que ofrece todo tipo de servicios de diseño, incluyendo arquitectura racional y detallada, diseño de interiores y de producto. Para el estudio, el resultado de cada proyecto es la respuesta a la relación profunda entre las condiciones de la construcción y las estrategias de diseño.
MOC DESIGN OFFICE EN INTERIORES MINIMALISTAS
---
Fuente: Sunshine PR (MOC Design Office)

You might also like