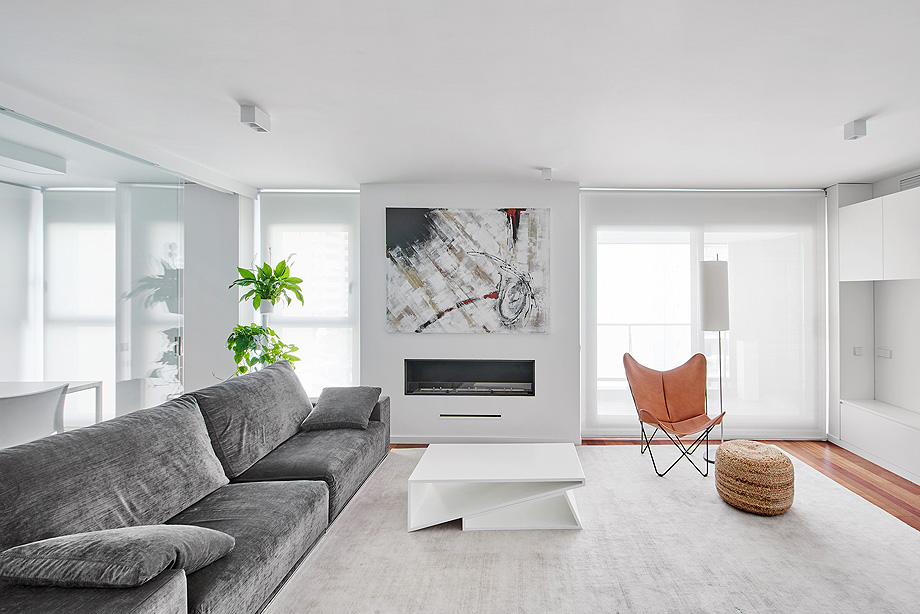 CASA GLAG:
La unión de dos viviendas, una de 85 m² con tres habitaciones y otra de 60 m² con dos dormitorios, sirvió para resolver las necesidades de una familia en crecimiento, que encargó el proyecto al arquitecto Guillem Carrera. Premisa principal fue que los clientes no tuvieran que cambiar de residencia durante el transcurso de las obras.
Cambios espaciales.
Originalmente, la zona de noche del piso donde vivían los clientes presentaba una distribución funcional (tres habitaciones y dos baños), con una circulación mínima y unas medidas adecuadas. Sin embargo, la de día presentaba una excesiva compartimentación y una superficie pequeña en comparación. Esta morfología llevó a conservar la zona de noche y reformar y ampliar la zona de día, a excepción de la cocina.
En el caso del segundo inmueble, éste estaba dividido en diferentes y pequeñas estancias, con una distribución que no permitía un encaje adecuado con la primera vivienda. Así que, ante el cambio radical que planteaba la ampliación de la zona de día, se descartó conservar ningún tipo de elemento, vaciando completamente la vivienda como paso previo a la incorporación de la nueva distribución. Solamente se preservó el pavimento de madera natural para volver a ser colocado.
Un salón comedor más amplio.
Para la zona de la intervención, el cliente había pedido un salón comedor más amplio que el que tenía, un estudio, un espacio de limpieza polivalente, una habitación principal con baño propio y un espacio de almacenaje.
Una de las decisiones tomadas fue la de «enfatizar la horizontalidad con la que la vivienda se relaciona con el exterior, creando una amplia zona de día y un estudio separados únicamente por elementos de cristal móviles y cortinas, que permiten unir o dividir visual y acústicamente ambos espacios si es necesario», explica Guillem Carrera. «De esta forma, se crea un espacio de amplia percepción visual y continuidad, consiguiendo que la zona de día se convierta en un espacio neurálgico, luminoso y amplio, que aprovecha al máximo la geometría para asumir los usos requeridos».
Dentro de esta parte de la casa, se ha situado también el espacio de limpieza polivalente, cerrado mediante divisorias fijas y móviles de cristal translúcido con una función dual: la propia, a la vez que convertirse en una caja de luz cuando este espacio se cierra después de su uso.
Armarios en lugar de tabiques.
Finalmente, la habitación principal y su baño se ubicaron en contacto con la terraza de mayor tamaño, separados de las otras estancias por armarios con puertas integradas, de manera que en toda la zona donde se interviene no existen espacios de circulación ni tabiques. «Las divisiones de los espacios se hacen mediante cristales o armarios estratégicamente distribuidos de forma que permita no tener que crear un espacio de almacenaje, a la vez que permite habilitar la posibilidad de ventilación cruzada, al disponer la vivienda resultante de una segunda orientación en fachada», comenta el arquitecto.
La vivienda resultante gana una zona de día singular, una cocina, cuatro habitaciones y tres baños repartidos de manera que la zona de día separa la habitación principal del resto de la casa. En cuanto a la materialidad, se optó por complementar el pavimento de madera existente con tonalidades neutras, plantas, una chimenea y diferentes elementos de mobiliario o iluminación, con el fin de generar una vivienda acogedora y con una percepción amplia de los espacios.
---
LAS IMÁGENES DE JOSÉ HEVIA:
---
FICHA TÉCNICA:
Proyecto:

Casa Glag.

Ubicación:

Tarragona (España).

Superficie:

145 m².

Año:

2019.

Autor:

Guillem Carrera.

Colaboradoras:

Lorena Lamberto y Lara Arin.

Constructor:

Baumester S.L.

Subcontratistas:

Oficrea S.L., Luxiform Il·luminació S.L., La Casa Interiors de Fusta S.L., Mantenimientos Comunitarios Tarraco

S.L., Citysens Designs S.L., Oleguer Roigé Instalacions, Nou Concepte Interiors S.L. y Silifoc S.A.

Pavimentos / revestimientos cerámicos:

de PORCELANOSA.

Lavamanos:

de KRION® Solid Surface Porcelanosa.

Mobiliario:

Isist Barcelona, Andreu World e Inclass.

Iluminación técnica:

Delta Light, Leds C4 y BPM Lightining.

Iluminación técnica:

Santa & Cole y Vibia.

Griferías:

TRES y Noken.

Screens:

Bandalux.

Adriani & Rossi:

alfombra.

Mecanismos eléctricos:

Jung.

Jardín vertical:

Citysens.

Fotografías:

José Hevia.
---
PLANIMETRÍA: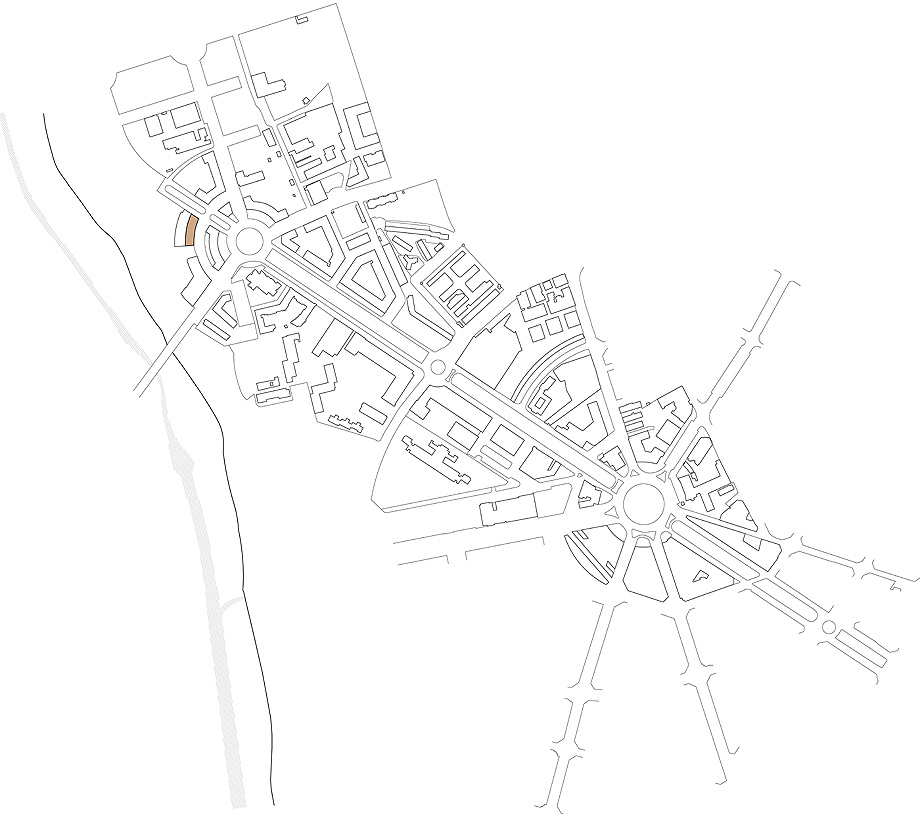 ---

---

---

---
AXONOMETRÍA:
---
SOBRE GUILLEM CARRERA: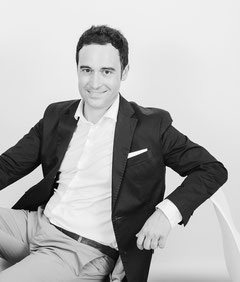 Guillem Carrera (Tarragona, 1979) estudió en la Escola Tècnica Superior d'Arquitectura de Barcelona de la Universitat Politècnica de Catalunya, donde se licencia, en 2004, con un proyecto de un Centro de Ocio en Hellinikon (Atenas). En 2005, abre su estudio en Tarragona, donde realiza proyectos de arquitectura, planificación urbana, diseño de paisaje, diseño de interiores, restauración y rehabilitación.
«La posibilidad de participar en dos aspectos muy importantes de la sociedad como son la arquitectura y el urbanismo, y, por extensión, la concepción de edificios, espacios o entornos habitables de manera respetuosa con los lugares y el medio que los rodea, y los beneficios que estos pueden aportar a las personas, son mi motivación como arquitecto», explica.
Sus trabajos se han publicado en revistas del sector, libros de arquitectura y plataformas online especializadas, y también han recibido diversos premios y reconocimientos. Uno de estos últimos ha sido la distinción Best of Houzz Design 2020 y el premio Best of Houzz Service 2020 por la Casa VN.
GUILLEM CARRERA EN INTERIORES MINIMALISTAS
---
Fuente: Guillem Carrera
You might also like