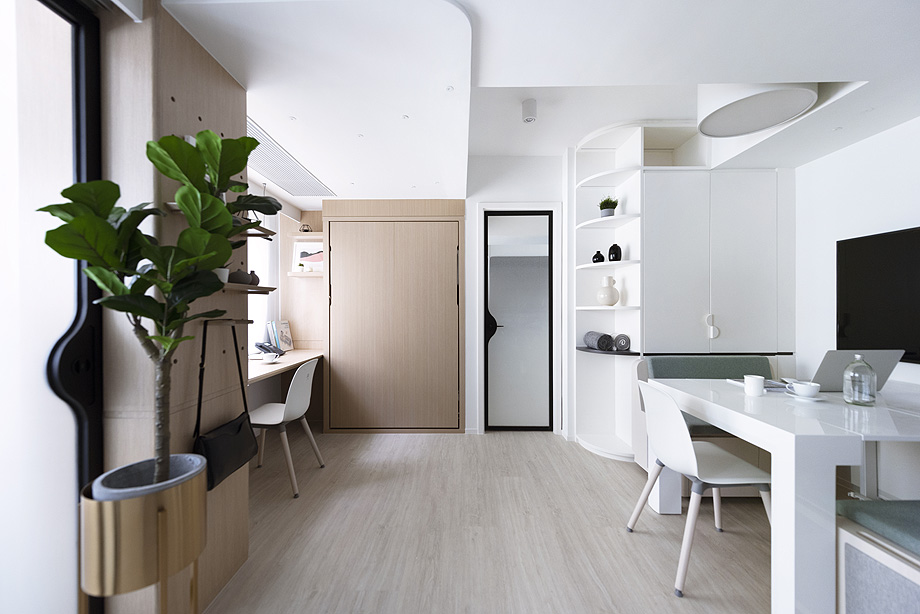 BIZHOUSE:
El objetivo de este proyecto fue transformar un Tong Lau (un término utilizado para los edificios de mediados del siglo XX en Hong Kong) de más de cinco pisos y una terraza en la azotea en doce flexibles y cómodos apartamentos donde vivir y trabajar. El diseño le fue encargado al estudio Bean (Between Exchanges of Architectural Narratives) Buro por su experiencia a la hora de diseñar tanto creativos espacios de trabajo como residenciales.
La fueza impulsora del diseño derivó de preguntas como ¿qué se considera estar en casa hoy en día? o ¿cómo mantener el trabajo alejado y crear una sensación de calma cuando sea necesario relajarse? a las que Kenny Kinusaga-Tsui y Lorène Faure respondieron proponiendo difuminar el límite entre vivir y trabajar, y también encontrar un nuevo equilibrio entre funcionalidad y belleza.
Trabajar de día, descansar de noche sin salir de casa.
El concepto consistió en crear un edificio de apartamentos donde se pudiera trabajar durante el día y transformarse en un tranquilo espacio de descanso durante la noche. El edificio ofrece la privacidad necesaria para que los usuarios vivan y trabajen pacíficamente mientras se encuentran a poca distancia de las tiendas, restaurantes y otros servicios del bullicioso núcleo comercial de Causeway Bay, en Hong Kong, donde se ubica.

Los arquitectos exploraron el potencial arquitectónico del Tong Lau que ofrecía unos eficientes interiores. «Queríamos que los apartamentos se sintieran espaciosos, abiertos y generosos, lo que, en nuestra opinión, es lo que transmite una sensación de lujo a los usuarios», explica el estudio franco-chino.
Interiores versátiles y funcionales.
La idea principal fue crear un generoso espacio abierto en cada apartamento, donde pudieran realizarse múltiples actividades. Para ello, cada uno incluye una cama plegable, que se puede guardar fácilmente durante el día para maximizar el espacio; una mesa móvil y extensible que se transforma de mesa de trabajo a mesa de comedor o de reuniones; un sofá con ruedas que puede guardarse dentro de un armario; paredes acústicas con funcionales paneles murales; y cocina cerrada y baño. Además, en algunos apartamentos, puertas correderas ocultas pueden dividir el espacio abierto en otros más pequeños para llevar a cabo actividades simultáneas.
Escribir en las puertas.
Por otra parte, los arquitectos imaginaron que «todos los espacios comunes del edificio se dedicarían a actividades sociales y promoverían un sentido de comunidad como un 'centro de trabajo y vida'«. En el vestíbulo, hay un gran tablero para que cada residente muestre sus gustos, con un vestíbulo de espera para invitados. Además, los usuarios pueden dejar mensajes en las puertas de los apartamentos ya que se puede escribir en ellas.
La terraza de la azotea también se renovó con una tarima de madera, mobiliario, una sutil iluminación y plantas, convirtiéndose en un lugar donde los usuarios pueden celebrar reuniones de día o de noche, con vistas a otros tejados del vecindario.
---
LAS IMÁGENES DE BEAN BURO:
---
FICHA TÉCNICA:
Proyecto:

Bizhouse.

Ubicación:

Causeway Bay, Hong Kong (China).

Superficie parcela:

258,6 m².

Superficie:

1.550 m² aprox.

Año:

2020.

Autor:

Bean Buro.

Equipo de diseño:

Lorène Faure, Kenny Kinugasa-Tsui, Kirk Kwok y Linda Sze-To.

Contratista principal:

Hing Cheong Engineering (HK) Limited.

Revestimiento pared:

Vidrepur Hex (Vidrepur / Arnold & Co., Ltd).

Revestimiento pared:

Mirage Glo-Cal (Mirage / Arnold & Co., Ltd).

Revestimiento pared:

Liner Sai (Kakamu Seito/ Arnold & Co., Ltd).

Grifería:

Vola (Vola / E.Bon).

Lavabo:

Duravit (Duravit / E.Bon).

Accesorios baño:

Bonco (Bonco / E.Bon).

Grifería de cocina:

Hansgrohe (

Hansgrohe / E.Bon

).

Iluminación general:

Zodiac and Future lighting.

Tarima de techo de bambú:

Canica.

Suelos de vinilo de madera:

Canica.

Consultor de cocina:

Ka Shing.

Fotografías:

Bean Buro.
---
PLANIMETRÍA: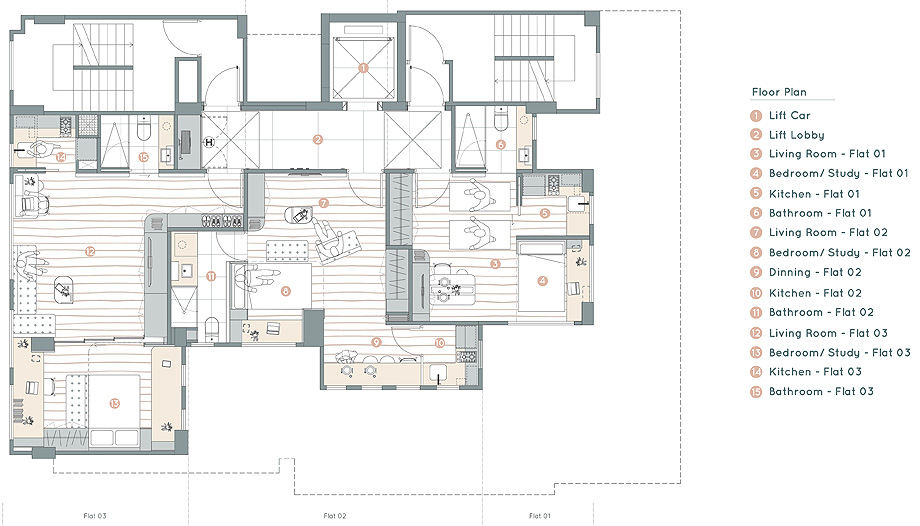 ---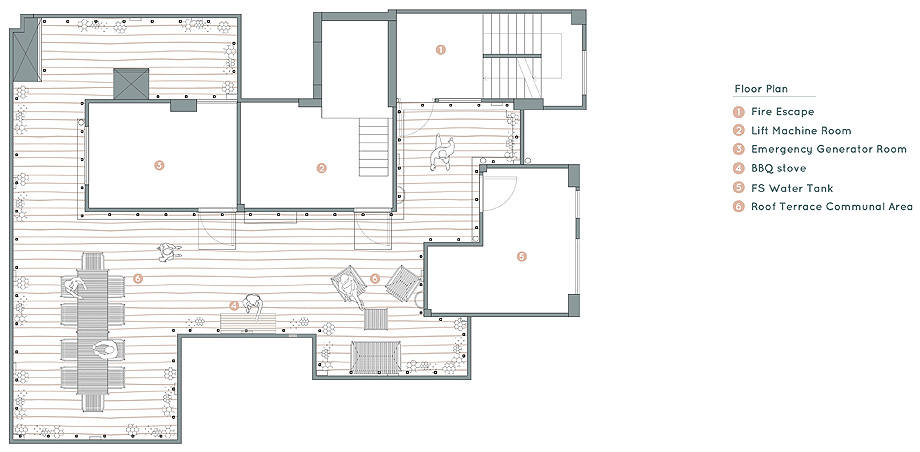 ---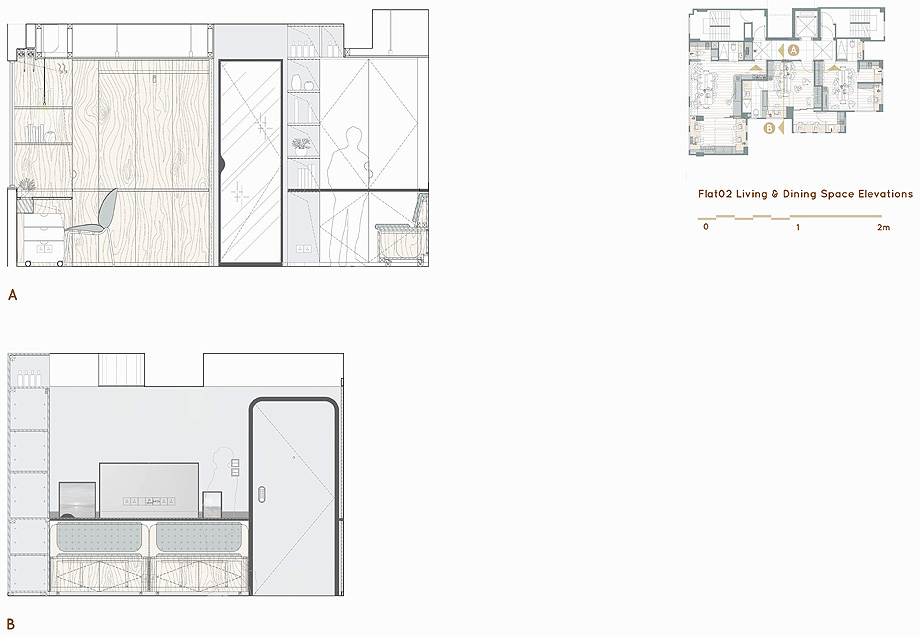 ---
---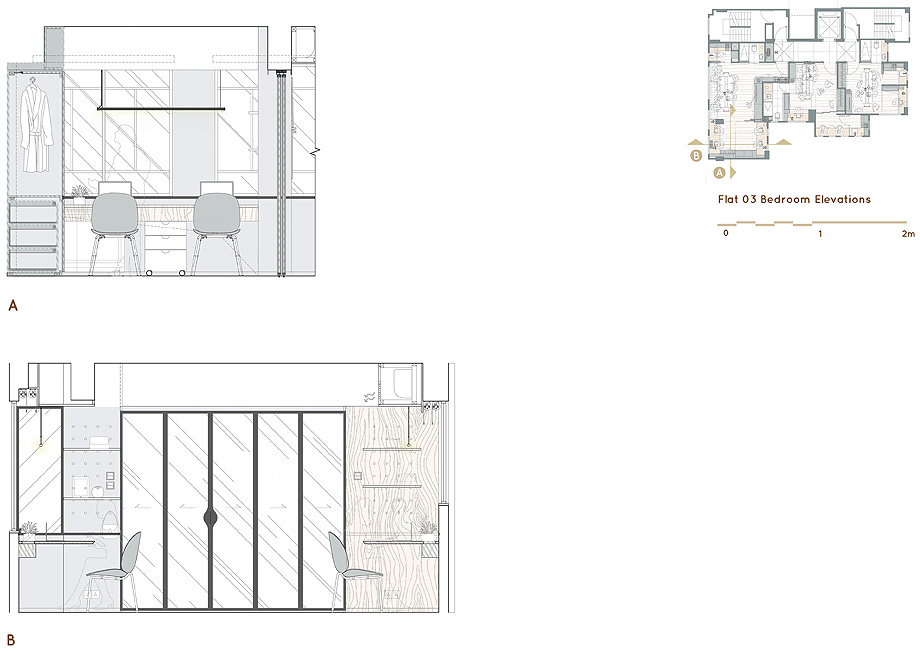 ---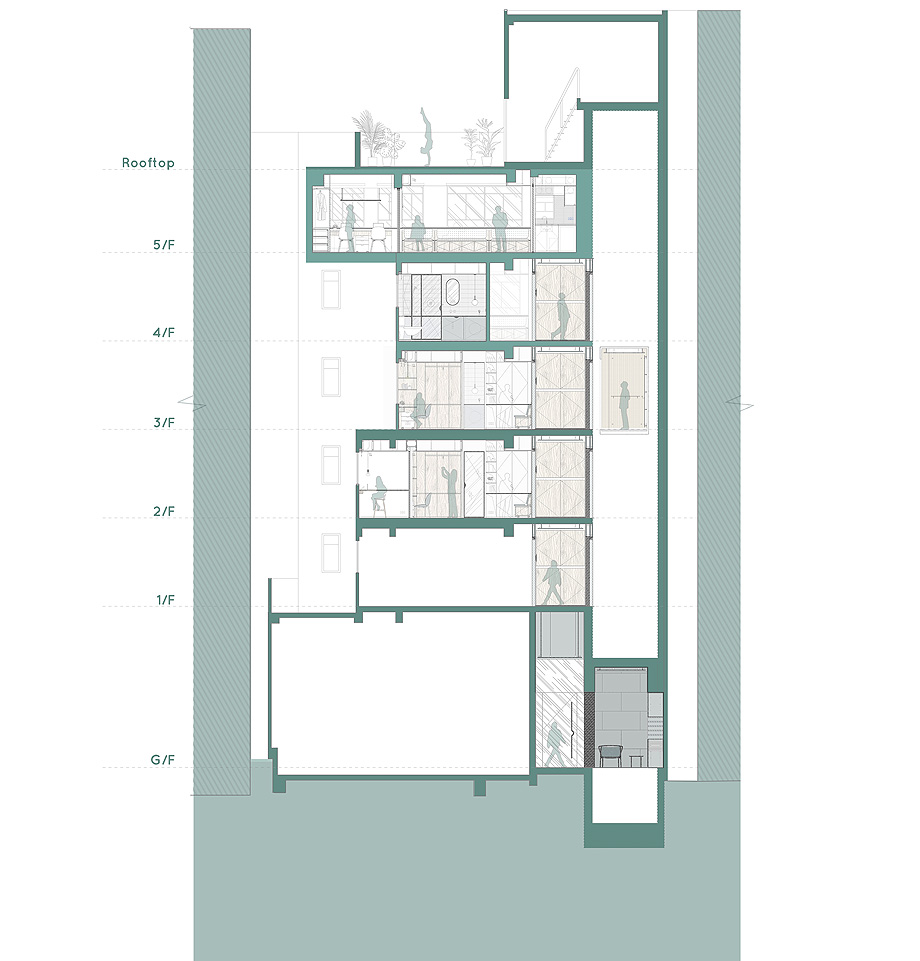 ---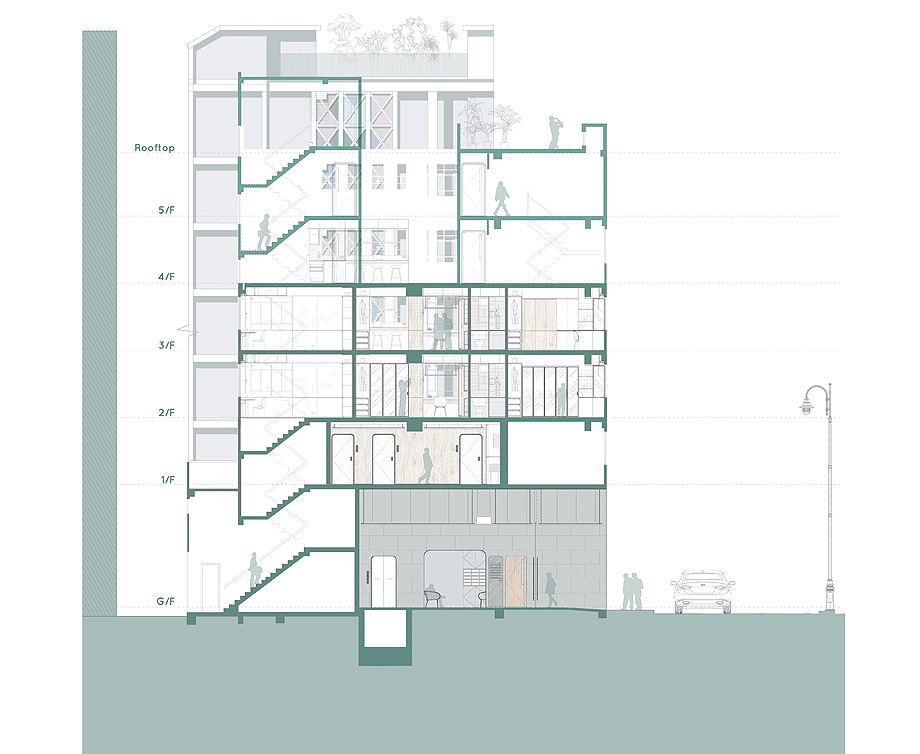 ---
SOBRE BEAN BURO: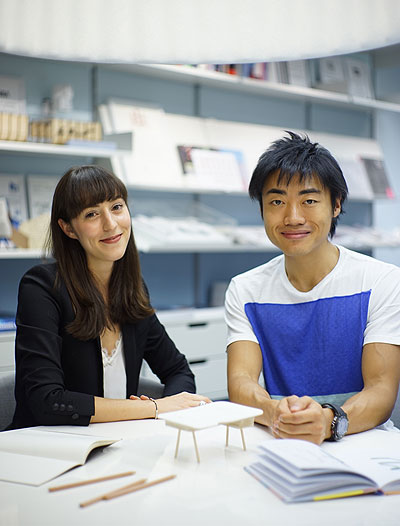 Bean (Between Exchanges of Architectural Narratives) Buro es un estudio de arquitectura y diseño de interiores con sede en Hong Kong desde 2013. Lo lideran los arquitectos Lorène Faure (París) y Kenny Kinusaga-Tsui (Hong Kong) que, junto a un equipo de diseñadores internacionales, ofrecen servicios de arquitectura, interiorismo, instalaciones, diseño de mobiliario y de producto.
El equipo de Bean Buro cree que la arquitectura es una experiencia emocional y espacial producida tanto por el usuario como por el autor. "Nuestras metodologías de diseño derivan de la observación, la especulación y el análisis de narrativas contextuales. Estas narraciones o 'historias' generan intercambios dinámicos de factores históricos, ambientales, culturales y sociales, dando lugar a intervenciones altamente inventivas mientras se preserva el ingenio intelectual".
COLLABean, como parte integrante de Bean Buro, es una plataforma transdisciplinaria para la colaboración entre el estudio, la investigación y el mundo académico. COLLABean puede proporcionar servicios de investigación para organizaciones empresariales y, cuando sea apropiado, provocar la entrada de especialistas en una red de diseñadores, académicos e investigadores de alta reputación en el campo del diseño.
El estudio ha llevado a cabo una serie de proyectos de arquitectura de interiores para clientes privados así como empresas renombradas como Cheil, Leo Burnett o Warner Music, y ha sido galardonado en los premios Asia Pacific Interior Design Award 2015 y en los A'Design Awards, y finalista en 13th Modern Decoration International Media Award.
BEAN BURO EN INTERIORES MINIMALISTAS
---
Fuente: Bean Buro
You might also like