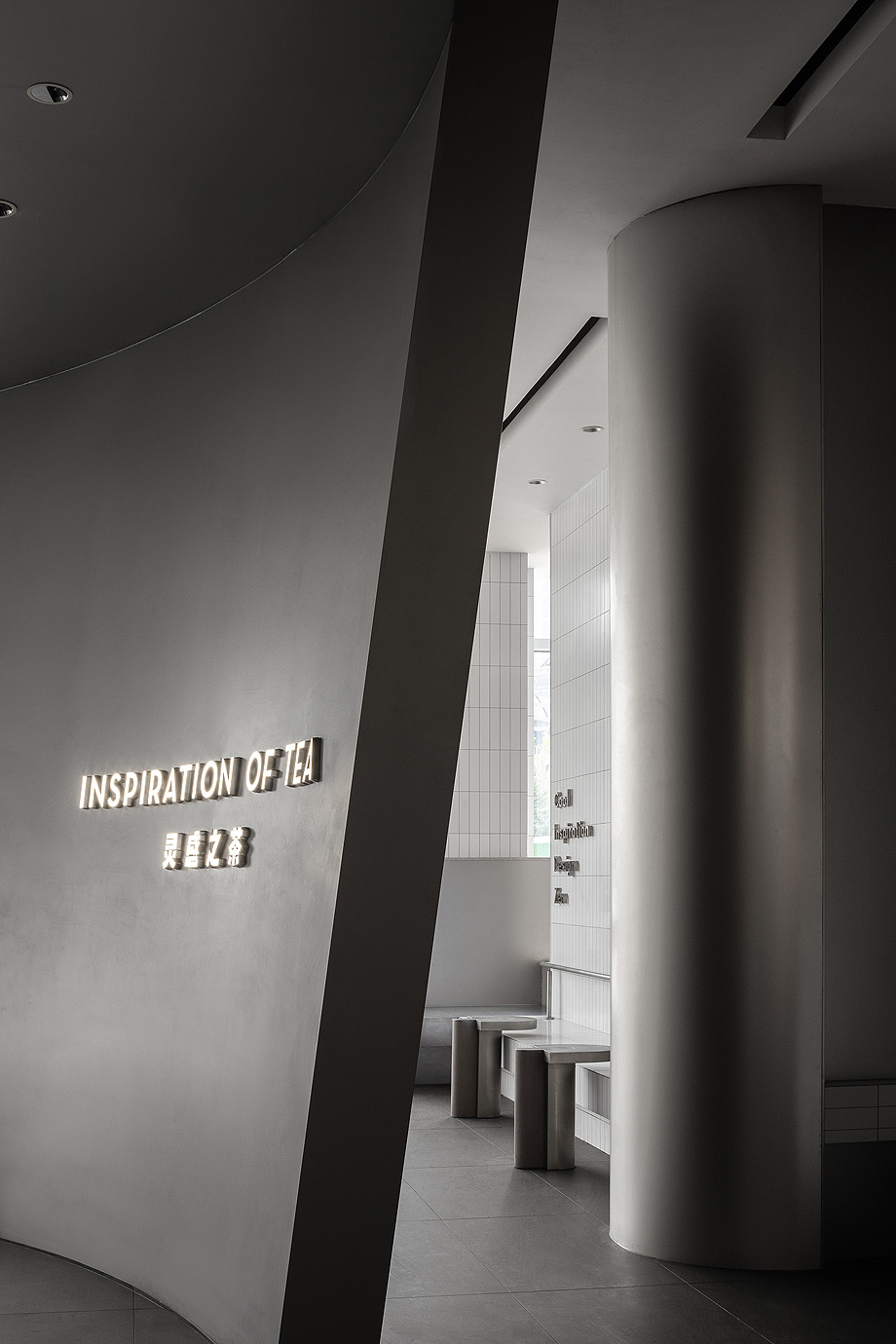 HEYTEA STORE:
El estudio de diseño experimental DAS Lab, con sede en Shanghai, ha sido el encargado de diseñar el espacio de HEYTEA Store en Jinan, capital de Shandong (China). La cadena de bebidas de té china ha ubicado su nuevo espacio de 295 m² en el centro comercial MixC que dispone de una superficie de 120.000 m².
El ADN humano es una estructura dinámica compuesta por dos hebras que se enrollan entre sí. Desde las microcélulas hasta el mundo macro, es un ciclo que permite la continuación de la vida y el espíritu humano. También explica la existencia del círculo de la cosecha, el vórtice y la galaxia, donde el movimiento en espiral hacia adentro conduce a la reconstrucción del orden externo. DAS Lab y HEYTEA se han basado en la reinterpretación de este fenómeno a través del espacio para diseñar este proyecto.
Estructura circular asimétrica.
Una estructura circular asimétrica, que se extiende en espirales, se presenta como la pieza núcleo del diseño. Mediante la inserción de esta disposición, los espacios de alrededor se ven obligados a reorganizarse y distribuirse en varias zonas con formas distintas, que crean diversidad más allá de la escala y transmiten el valor central de la marca con ricas experiencias espaciales. El nuevo orden existe en partes y coexiste con comportamientos experienciales, tratando de mostrar a las personas un estado en progreso. Esta idea también se deriva de las limitaciones del lugar, donde las dos entradas cortan rígidamente la circulación. DAS Lab incrustó la estructura circular en espiral en el espacio, lo que efectivamente neutralizó el problema de circulación a la vez que enfatizó las emociones de las personas y la convivencia.
Este proyecto de diseño inspirado en el ADN humano no es simplemente una declaración de HEYTEA. A través de la conexión entre las partes, surge naturalmente un nuevo orden que, en cierto sentido, es una respuesta no intencionada a la «inspiración». Sobre esta base, el estudio de diseño seleccionó las funciones y dejó un espacio adicional para dar a las personas más libertad en cuanto a comportamientos físicos, alentándolas a descubrir con mayor libertad los puntos en común entre el público y el valor central de HEYTEA.
Conexión emocional con los jóvenes.
No tendría sentido apilar materiales o buscar la exquisita artesanía de los detalles, si se dejara de lado el concepto de diseño. DAS Lab y HEYTEA llegaron al consenso de que los materiales deben representar un contexto emocional específico y apoyar el concepto para construir un lugar perceptible. Tomando las experiencias del usuario final como portadoras y el contenido de comunicación de la marca como núcleo, DAS Lab ayudó a la marca a construir rápidamente una conexión emocional con los consumidores jóvenes.
---
LAS IMÁGENES DE SHAO FENG:
---
FICHA TÉCNICA:
Proyecto:

HEYTEA Store.

Ubicación:

 The Mixc, Jinan (China).

Superficie:

295 m².

Año:

2019.

Autor:

DAS Lab.

Diseñador principal:

Li Jingze.

Diseñador:

Zheng Xie.

Equipo de diseño del cliente:

Departamento de Diseño Espacial de HEYTEA.

Materiales principales:

a

cero inoxidable pulido con chorro de arena, pintura de cemento, piedra artificial, azulejo de rayas blancas y vidrio con perfil en U.

Periodo de diseño:

marzo 2019 – mayo 2019.

Periodo de construcción:

junio 2019 – septiembre 2019.

Fotografías:

Shao Feng.
---
PLANIMETRÍA: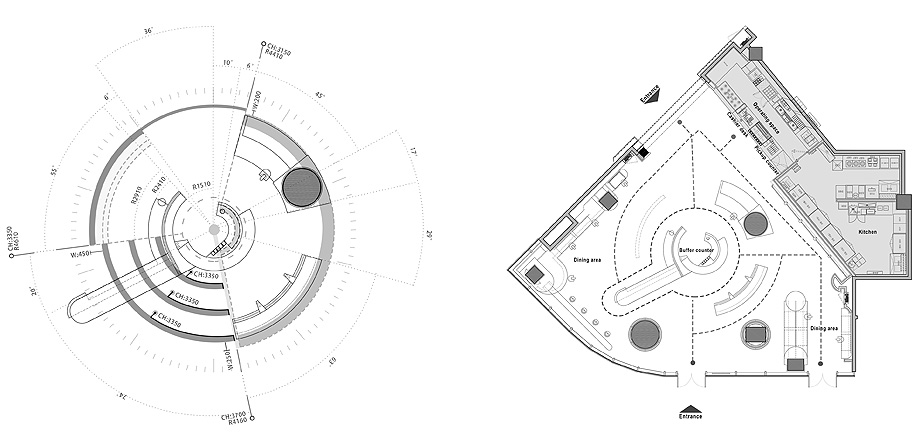 ---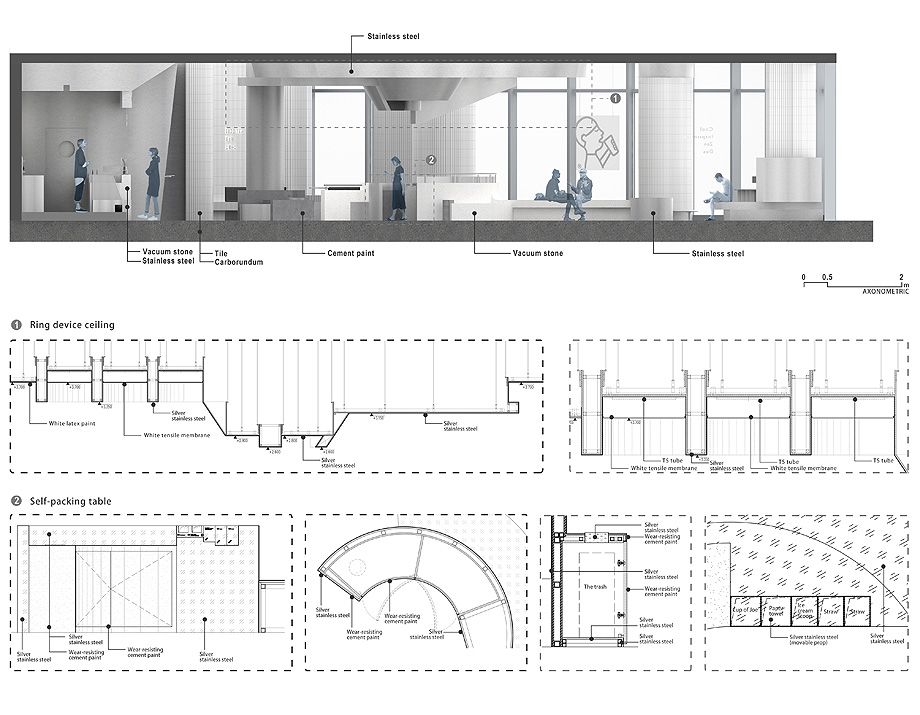 ---
AXONOMETRÍA: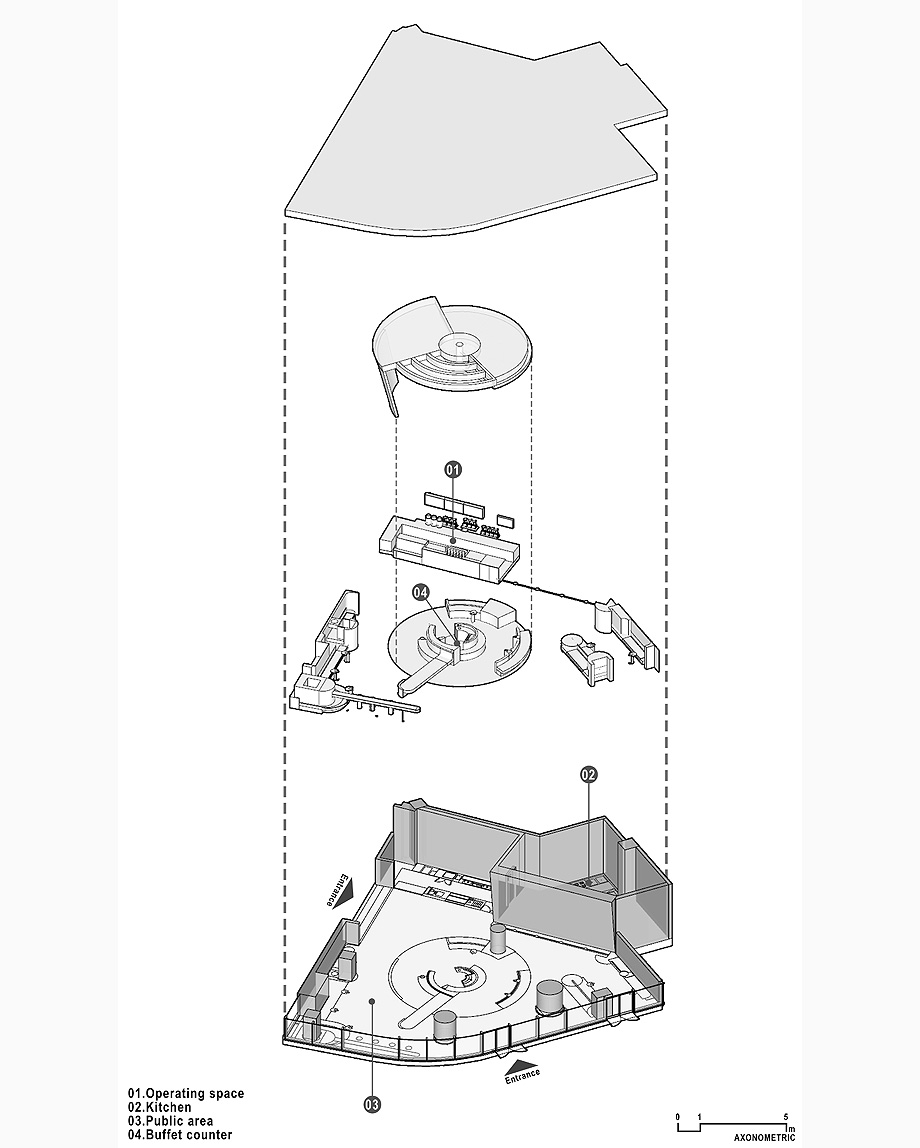 ---
SOBRE DAS LAB: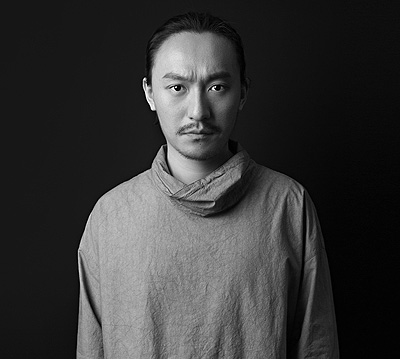 Fundado en Shanghai, DAS Lab, como subsidiario de DAS Design, es un estudio de diseño experimental dirigido por el socio fundador y director creativo Li Jingze. Su objetivo es proporcionar servicios de diseño de alta calidad centrados en explorar soluciones creativas de vanguardia y con visión de futuro para negocios pluralistas, centros comerciales, espacios culturales, comercios minoristas, hoteles…
DAS Lab ha colaborado con clientes de diferentes sectores como Holiland, HEYTEA, MUJOSH, STARTER, VANKE, LONGFOR Group y LostVilla. Además, el estudio ha aparecido en los principales medios de diseño del mundo, incluidos Frame, Yellowtrace, Archdaily y ELLE Deco, entre otros.
En 2019, fue galardonado con el premio alemán de diseño iF Design en la categoría Arquitectura Interior. Asimismo, ha sido reconocido con IAD DESIGN AWARDS 2018,  Premios ArchDaily's 2019 Building of the year y el Premio A DESIGN 2018.
---
Fuente: Sunshine PR (DAS Lab)