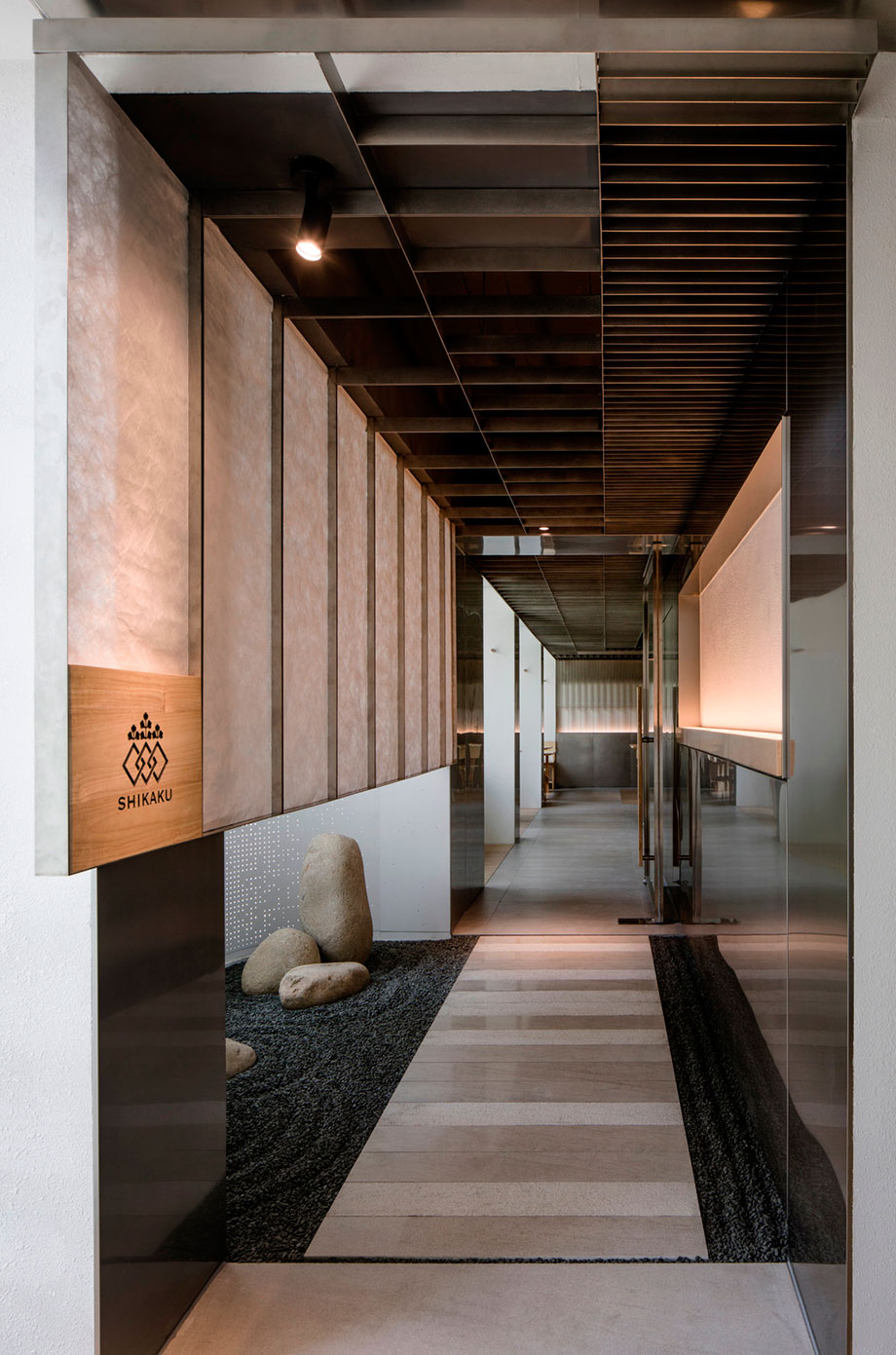 THE ZENTRAL KITCHEN:
Shikaku es una empresa de catering de Shangai que busca la calidad y el cuidado del medio ambiente a través de una comida ecológica y el uso de elementos reciclables como las cajas bento. Su primer espacio físico es esta cocina, ubicada en la tercera planta de un edificio de mediana altura que disfruta de la visión de una exhuberante arboleda y de la luz natural, lo que crea una relajante atmósfera. Además, unos 20 asientos ofrecen la posibilidad de celebrar cenas y diferentes tipos de eventos.
Lukstudio, la firma fundada por Christina Luk, se encargó de su diseño y de plasmar, a través de su proyecto, la delicadeza que la empresa quería transmitir con el establecimiento. Ya el vestíbulo es un guiño a la tradicional hospitalidad japonesa. Un pequeño jardín zen, una pantalla de papel shoji, que suaviza la luz, y un camino de piedras dan la bienvenida a los clientes. Como apunte, la estructura de la mampara es una continuación de la rejilla en acero inoxidable del techo, proporcionando un toque industrial pero también una sensación de orden.
Frente a las ventanas.
Envolviendo las ventanas originales, se crearon espacios donde sentarse. «Inspiradas en una caja bento, las ventanas se han dividido en diferentes compartimentos y cada nicho está equipado con diferentes muebles de madera para una persona, una pareja o un grupo de comensales». Una pared curva de paneles perforados, que se abre parcialmente frente a las ventanas, oculta las estructuras y captura una vista singular. A través del brise-soleil y la perforación degradada, la luz natural llega en diferentes formas, creando tiras o destellos a medida que pasa el día.
Los detalles se reparten a lo largo de todo el local, reforzando el concepto general del diseño. Al fondo de la sala, la onmipresente rejilla metálica se transforma en una pantalla ornamental. Un panel reflectante sobre la mesa del comedor principal refleja los sutiles tonos del verde exterior o los colores de la comida. En la esquina de la pantalla, algunos utensilios quedan retroiluminados por la luz natural que atraviesa el vidrio translúcido. Las estanterías frente a la ventana pueden deslizarse sobre una guía y ocultar la ventana.
Madera versus acero.
La madera del pavimento reciclado, del mobiliario y del tirador de la puerta es fundamental para encontrar el equilibrio frente a la frialdad del acero inoxidable. De esta manera, el ambiente industrial se suaviza y ofrece también un carácter más doméstico y acogedor a los comensales. Por último, para reducir el ruido producido por una cocina en funcionamiento y conseguir un ambiente tranquilo, se han instalado materiales fonoabsorbentes detrás de los paneles perforados. Algo a tener en cuenta cuando se trata de una cocina abierta.
---
LAS IMÁGENES DE PETER DIXIE PARA LOTAN ARCHITECTURAL PHOTOGRAPHY:
---
FICHA TÉCNICA:
Proyecto:

The Zentral Kitchen.

Ubicación:

Shanghai (China).

Superficie:

92 m².

Año:

2020.

Autor:

Lukstudio.

Directora:

Christina Luk.

Equipo de diseño:

 Yicheng Zhang, Ng Mun Yee y Wendy Zhang.

Interior, mobiliario y diseño de iluminación:

Scope.

Consultoría acústica:

Wide Audio.

Cliente:

Shikaku.

Materiales:

acero inoxidable, azulejos, madera, piedra, paneles acústicos, pintura con textura y papel Tyvek.

Periodo de diseño:

octubre 2019 – marzo 2020.

Periodo de construcción:

marzo 2020 – junio 2020.

Fotografías:

Peter Dixie para LOTAN Architectural Photography.
---
PLANIMETRÍA: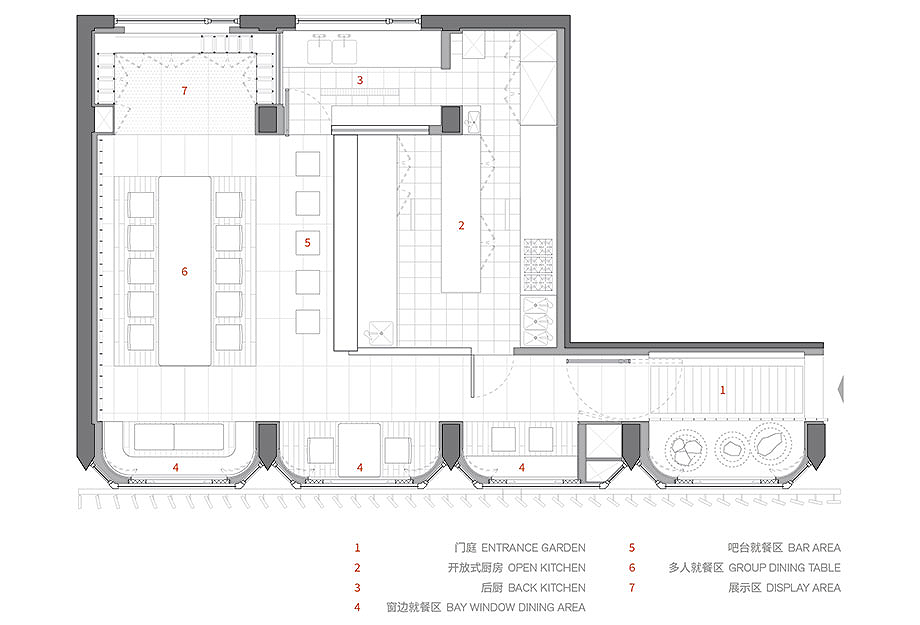 ---
AXONOMETRÍA EXPLOTADA: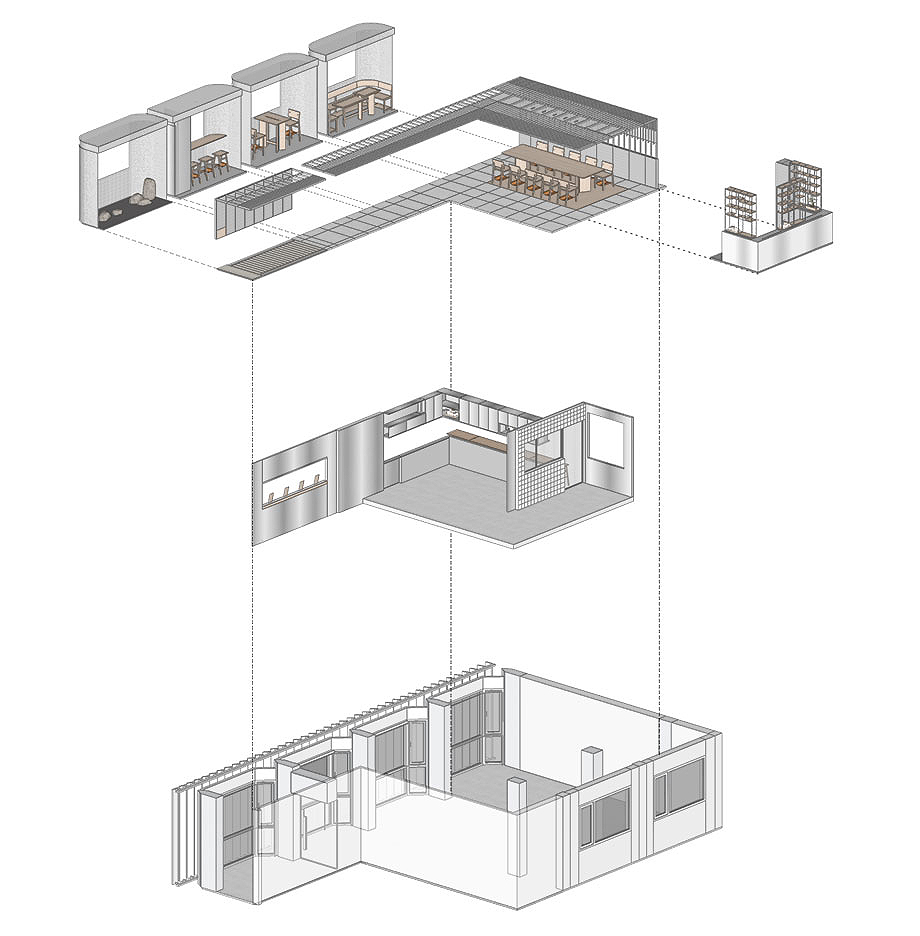 ---
SOBRE LUKSTUDIO: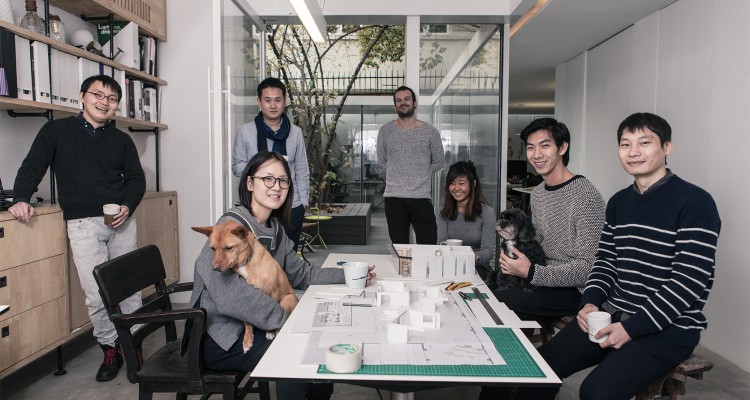 Lukstudio es una firma de diseño, con sede en Shanghai (China). Fundado, en 2011, por Christina Luk, el estudio está compuesto por un equipo internacional de arquitectos y diseñadores con diversos orígenes y perspectivas culturales.
El equipo de Lukstudio cree que cada lugar tiene «sus propios potenciales, todo lo que necesitamos es observar, explorar las posibilidades espaciales de los programas  con el fin de conseguir el máximo efecto con la mínima intervención. Cada proyecto cuenta su propia historia y Lukstudio se enorgullece de identificar una narrativa, manteniéndola desde el concepto hasta la finalización del proyecto para ofrecer experiencias espaciales memorable». Este equipo disfruta experimentando con los materiales y la iluminación, articulando detalles para hacer que cada proyecto sea único, al tiempo que amplía los límites de la arquitectura.
El estudio ha sido premiado a nivel internacional: fue seleccionado por GOOOOD como uno de los 10 mejores diseñadores jóvenes de 2015; Architectural Digest lo incluyó en la lista AD100, formando parte de los arquitectos y diseñadores más influentes de China en 2017; y también está considerado como uno de los 50 principales estudios de diseño retail por Inside Trends, una experta consultora de retail. Asimismo, sus trabajos han sido recogidos por medios nacionales e internacionales.
Otros reconocimientos incluyen: A+Awards, A&D Trophy Award, BOY Awards, DFA Awards, Golden Pin Design Awards, HD Awards, Modern Decoration, Modern Design Awards, Prix Versailles, Restaurant & Bar Design Awards, Taiwan Interior Design Award, Tongji Young Designer Award.
LUKSTUDIO EN INTERIORES MINIMALISTAS
---
Fuente: v2com newswire (Lukstudio)
You might also like