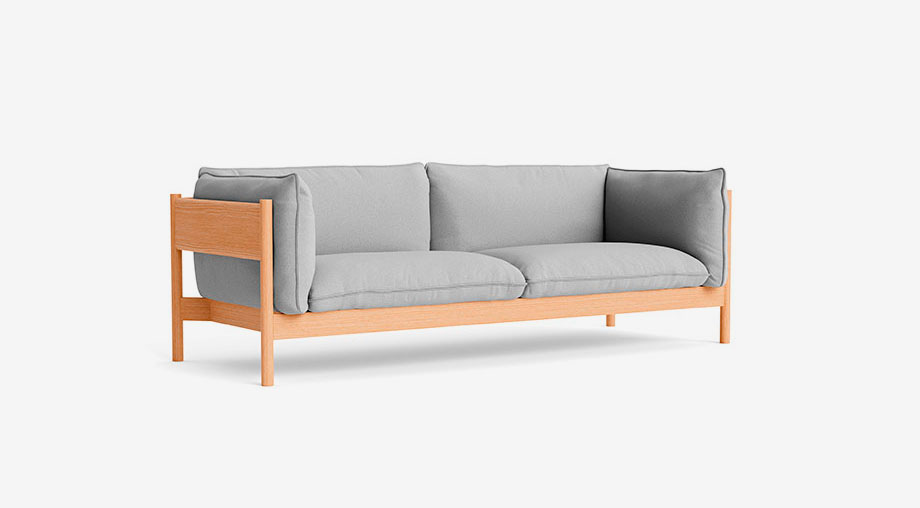 ARBOUR:
Arbour es una familia de sofás de tres plazas, que lleva la firma de los reconocidos diseñadores noruegos Andreas Engesvik y Daniel Rybakken. Con un lenguaje de diseño ordenado y una silueta limpia y sencilla, esta nueva colección de mobiliario fusiona una estética claramente escandinava con un alto grado de confort.
La colección cuenta con una versión Eco que ha representado un gran paso en el compromiso que la empresa HAY mantiene con la sostenibilidad, al convertirse en el primer sofá creado por una empresa danesa en recibir la prestigiosa etiqueta Nordic Swan Ecolabel, que reconoce su excelencia medioambiental en todas las etapas de producción. En esta línea, los diferentes elementos del sofá se pueden reemplazar y reciclar.
Diseño y fabricación.
En base al concepto «el diseño debe seguir a la construcción», Arbour se ensambla a partir de componentes individuales, que se fabrican de forma independiente para una comodidad, calidad y eficiencia óptimas. La estructura, con un cierto aire arquitectónico, se fabrica con madera maciza certificada FSC y los tapizados cuentan con la etiqueta ecológica de la UE para la versión Eco. Los cojines del asiento y el respaldo tienen unas proporciones equilibradas mientras que los cojines laterales ofrecen diferentes posibilidades para sentarse o acostarse. La tapicería, disponible en una amplia selección de telas y pieles, es desenfundable.
De cara a su personalización, la estructura está disponible en madera de roble y nogal, encerada y aceitada, y madera de haya lacada en negro, granate y verde botella. Desarrollado con la intención de crear un sofá duradero, Arbour es apto para una amplia variedad de entornos privados y públicos, así como contract.
Medidas: 220 x 87 x h 75 cm. Altura del asiento: 40. Profundidad: 60 cm.
---
LAS IMÁGENES:
---
---
Los diseñadores Daniel Rybakken y Andreas Engesvik
---
SOBRE ANDREAS ENGESVIK:
Andreas Engesvik es un reconocido diseñador noruego que ha desempeñado un importante papel en la promoción del diseño escandinavo contemporáneo en el diseño internacional. Después de estudiar historia del arte en la Universidad de Bergen (Noruega) y realizar un MA en la Escuela Nacional de Arte y Diseño, cofundó el estudio de diseño Norway Says en el año 2000. Actualmente, muchos de los productos y muebles del estudio se han convertido en clásicos contemporáneos producidos en un momento en el que la escena del diseño escandinavo, en general, y la del diseño noruego, en particular, era más apreciada por los iconos de su rico pasado.
Desde 2010, Engesvik dirige con éxito su propio estudio Andres Engesvik Oslo, centrándose en colaboraciones a largo plazo con firmas internacionales como Iittala, Muuto, FontanaArte, Asplund y Fogia. El estudio trabaja en proyectos que van desde muebles hasta vajillas, pasando por un cepillo de dientes, alfombras o luminarias.
Además de diseñar, Andreas Engesvik se ha dedicado a promover el diseño noruego, así como a enseñar y apoyar a los talentos más jóvenes para que puedan llegar a ser conocidos a nivel internacional. En 2012, el premiado diseñador fue nombrado profesor invitado en la Escuela Universitaria de Artes, Oficios y Diseño (Konstfack), de Estocolmo.
ANDREAS ENGESVIK EN INTERIORES MINIMALISTAS
---
SOBRE DANIEL RYBAKKEN:
Nacido en 1984, Daniel Rybakken creció en Oslo (Noruega). Estudió diseño en la Escuela de Arquitectura de Oslo y la Escuela de Artes y Oficios en Gotemburgo (Suecia) antes de abrir su propio estudio en esta misma ciudad, en 2008. Rybakken ha colaborado con Panasonic, Luceplan, Artek, Wätsberg y HAY, entre otras firmas.

Rybakken ha recibido numerosos galardones, incluido el premio Red Dot «Best of the Best», en Singapur, en 2007; el Premio Cultural Anders Jahre para Jóvenes Artistas, en Oslo, en 2008; el premio Design Report Award al mejor diseñador en el Salone Satellite del Salón Internacional del Mueble de Milán, en 2009; el Premio Bruno Mathsson, en 2011; la Medalla del Diseño de Londres; y la Golden Chair de la Asociación Sueca de Arquitectos, en 2013; o el NYC x DESIGN Award, en 2018.
Centrándose en el poder de la luz del día, su trabajo se mueve entre el arte y el diseño, incluidas ediciones limitadas, instalaciones de arte y prototipos para producción en serie. Para HAY, ha diseñado Petit Standard y Arbour, en colaboración con Andreas Engesvik.
DANIEL RYBAKKE EN INTERIORES MINIMALISTAS
---
SOBRE HAY:
Fundada en Copenhague (Dinamarca), en 2002, HAY es una compañía de diseño dedicada a la creación de mobiliario moderno combinado con una sofisticada manufactura industrial. Sus fundadores son el matrimonio formado por Mette y Rolf Hay, una pareja que toma su inspiración de temas como la arquitectura, la moda y el arte, dando lugar a piezas con un diseño sencillo, funcional y estético.
Rolf comenzó su carrera de diseño trabajando para diferentes empresas de diseño en Dinamarca, lo que le sirvió para ser autodidacta en cuanto a diseño y desarrollo. Por su parte, los padres de Mette dirigían una tienda de diseño. Además de fundar HAY, crearon, en 2014, HAY Mini Market, una pop-up store de accesorios.
HAY EN INTERIORES MINIMALISTAS
---
Fuente: webs de HAY y los diseñadores
You might also like