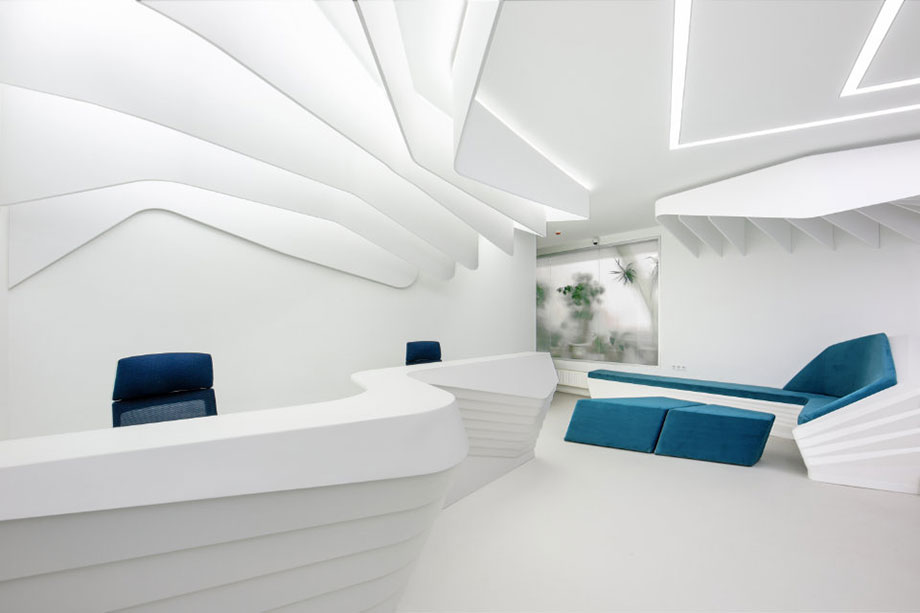 TWEEN COEXISTENCE:
Dmytro Aranchii Architects realizó el diseño del vestíbulo del Europassage Business Park, un parque empresarial que se encuentra en la ciudad de Kiev (Ucrania). El estudio de arquitectura, pionero en la investigación del diseño digital, utilizó un diseño interior de corte futurista para reflejar los objetivos contemporáneos de su cliente.
Sobre un fondo blanco, elementos de formas curvas adquieren y proporcionan, al mismo tiempo, un especial relieve al espacio que «incorpora una fluidez funcional definida con precisión», apuntan los autores del proyecto.
Formas orgánicas.
En la zona de recepción, el mostrador está definido por dos pronunciadas curvas para los puestos de trabajo. Este volumen de formas orgánicas está orientado de manera que aprovecha al máximo el espacio en la esquina, restringido por la entrada al bloque de oficinas vecino y el paso hacia el baño. El mismo mostrador lleva a la sala de espera que, a su vez, conduce a los ascensores.
En la sala de espera, un sofá en forma de L, con la tapicería en un llamativo color azul, fusiona geométricamente su parte posterior con uno de los laterales de las escaleras que llevan al vestíbulo de los ascensores, situado en un nivel ligeramente superior. En la pared posterior, una superficie acristalada translúcida deja entrever un gran número de plantas que aportan un toque natural al vestíbulo.
Un techo singular.
El sofá se complementa con dos pufs asimétricos con las caras laterales inclinadas, que son una prolongación de la forma del sofá y pueden utilizarse juntos o separados.
Las piezas del techo tienen dos orígenes: uno sobre el mostrador de recepción y otro, en la zona de espera / transición. El primero tiene una configuración en forma de isla y destaca la parte principal del espacio mientras el segundo marca la conexión entre los ascensores y la zona de espera.
---
LAS IMÁGENES DE ALIK USIK Y SERHII NIKIFOROV:
---
FICHA TÉCNICA:
Proyecto:

Tween Coexistence.

Ubicación:

Europassage Business Park (Kiev / Ucrania).

Superficie:

111 m².

Año:

2019.

Autor:

Dmytro Aranchii Architects.

Equipo del proyecto:

Dmytro Aranchii, Vadym Mylostiuk, Aliona Nadzhafova (Bondar) y Yevhen Kravchenko.

Contratista:

Neocon.

Fotografías:

Alik Usik y Serhii Nikiforov.
---
PLANIMETRÍA: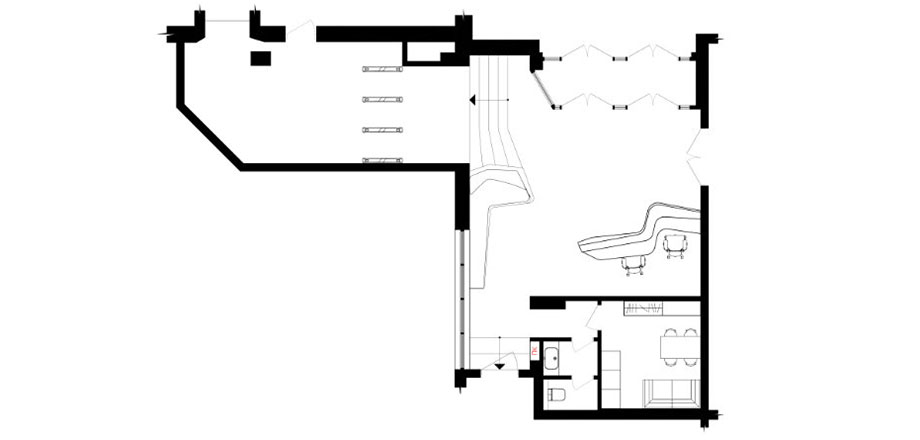 ---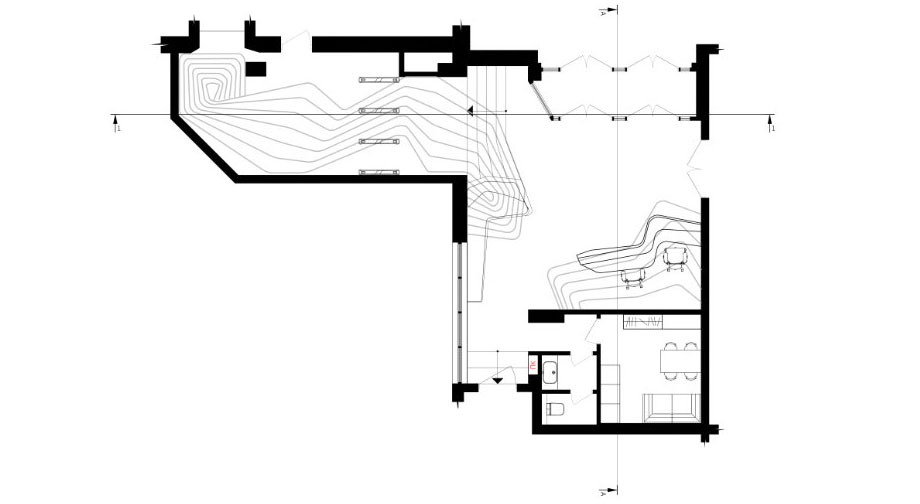 ---

---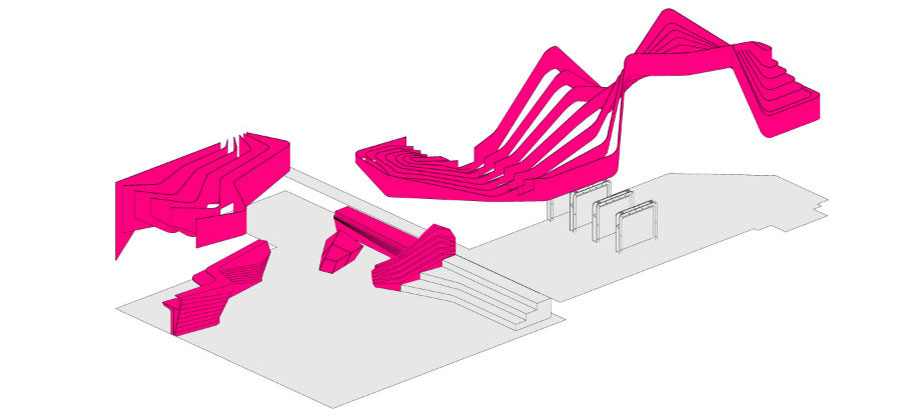 ---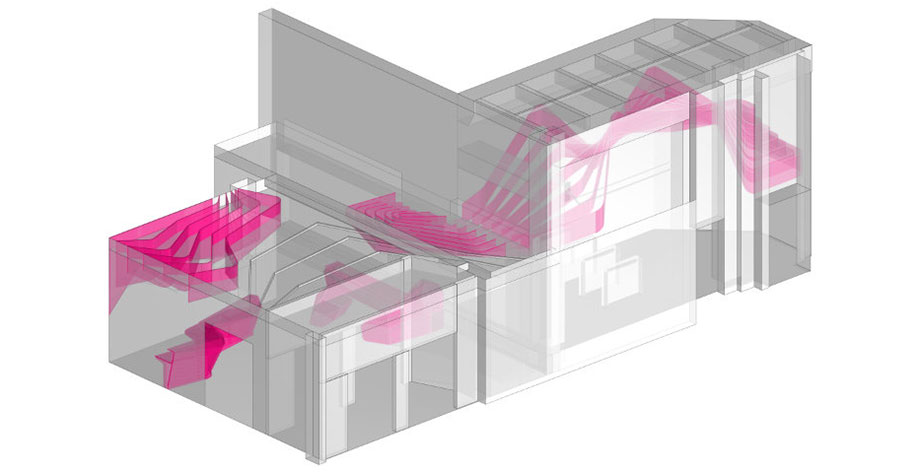 ---
---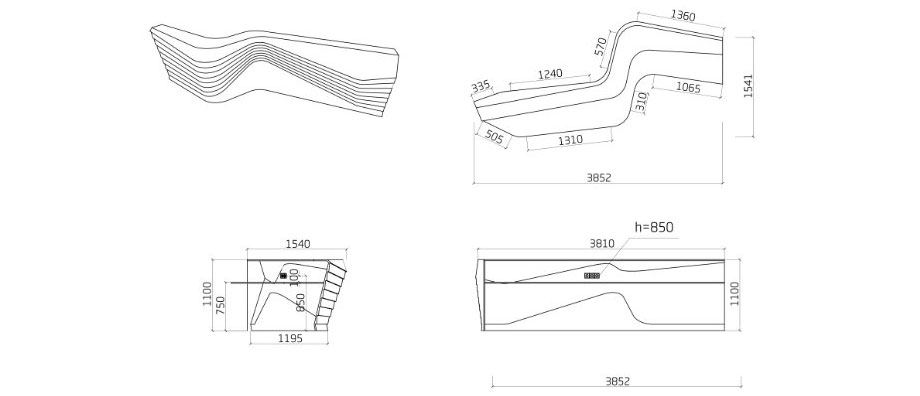 ---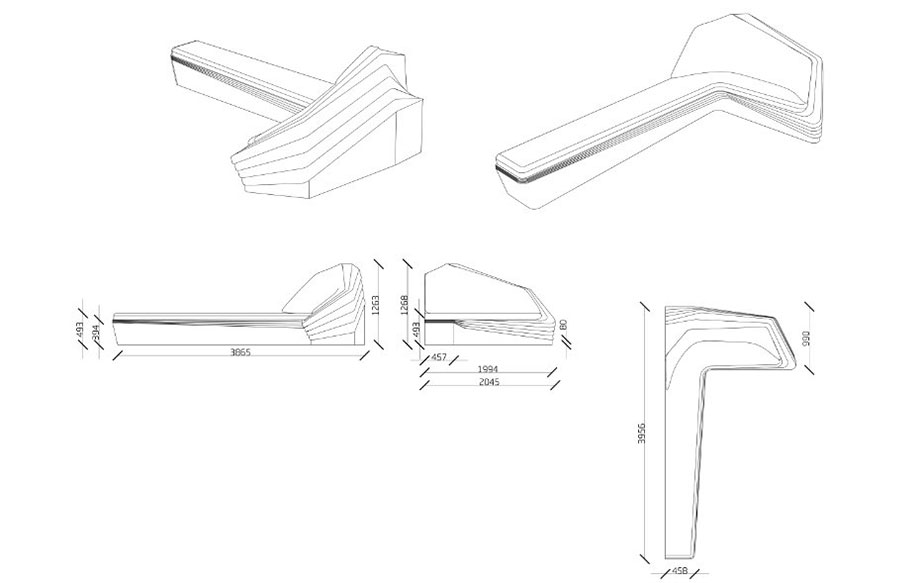 ---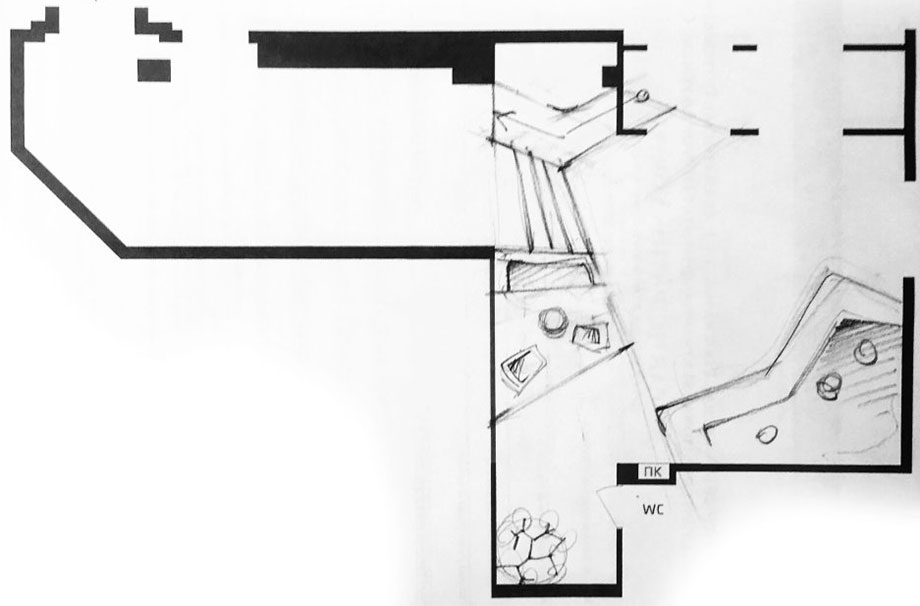 ---
SOBRE DMYTRO ARANCHII ARCHITECTS:
Dmytro Aranchii se formó en la Architecture Association de Londres (conocida también como AA School of Architecture), en la Facultad Nacional de Construcción y Arquitectura de Kiev (KNUCA) y en el Instituto Politécnico de Kiev Ígor Sikorski (KPI). Autor del libro «Algorithmic Methods of Architectural Morphogenesis», Dmytro también enseña arquitectura de computadoras en la KNUCA ITA.
En 2007, Dmytro fundó el despacho que lleva su nombre, siendo pionero en la investigación del diseño digital en Ucrania. El estudio trabaja en los campos de la arquitectura algorítmica, y el diseño paramétrico y generativo. Además, la firma ha recibido varios premios internacionales, participado en diferentes talleres, impartido conferencias y sus trabajos han sido publicados en diferentes medios.
Dmytro Aranchii Architects aprovecha la ciencia moderna, la implementa y desarrolla algoritmos de vanguardia en el desarrollo de los proyectos para optimizar la funcionalidad, el costo y las cualidades espaciales. Entre sus trabajos recientes figuran el sistema arquitectónico de ensamblaje conductual NoMad, el proyecto de pabellón adaptativo de Ucrania, el Signature Garden en la calle Mechnikova en Kiev, la oficina principal de la empresa Fora y la oficina de ventas de Sustainable Continuity.

---
Fuente: Dmytro Aranchii Architects