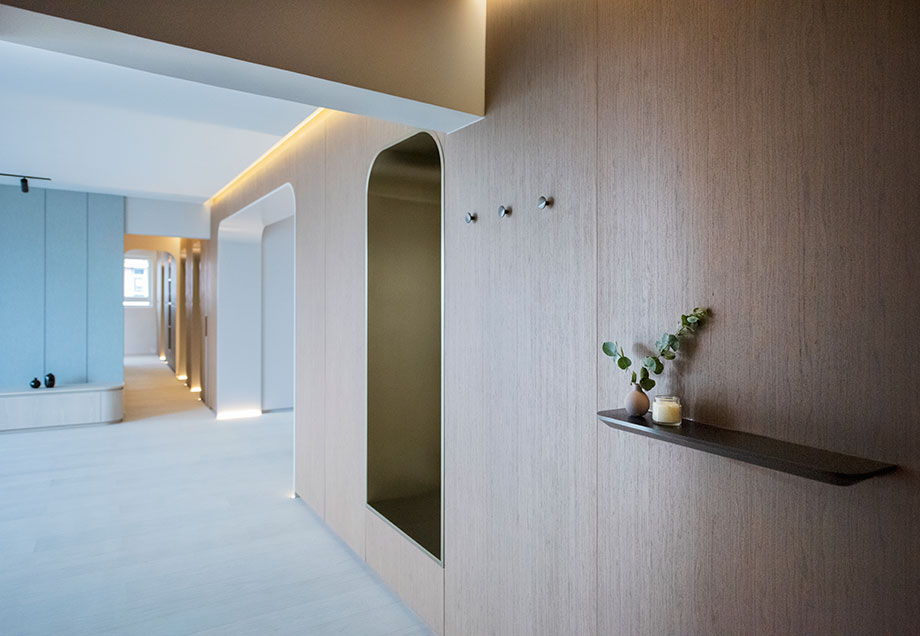 THEATRE HOUSE:
El estudio Bean Buro, con sede en Hong Kong (China), recibió el encargo de remodelar por completo un apartamento de 165 m² para una familia de cuatro miembros: una pareja con una niña pequeña y un segundo hijo en camino, además de su perro Bulldog. El objetivo planteado fue diseñar una vivienda para vivir, trabajar y jugar en la ciudad, y se consiguió a través de «un elegante entorno arquitectónico que brinda la flexibilidad que requiere una familia contemporánea», explica Kenny Kinusaga-Tsui, cofundador de Bean Buro.
El apartamento, ubicado en las empinadas y verdes colinas de Mid-Levels (una zona residencial acomodada), disfruta de una hermosa vista del skyline de la ciudad. La casa dispone de un comedor y una sala de estar para adaptarse a las necesidades de la pareja y, como ambos trabajan, se ha incluido una oficina para el padre y un dormitorio principal en suite con un espacio de trabajo para la madre. Para los hijos, se ha diseñado un dormitorio en suite destinado a su hija pequeña y otro para el hijo que, en esa época, aún no había nacido.
Inspirado por un escenario teatral.
A la hora de diseñar el apartamento, Bean Buro se inspiró en un set de teatro, donde una serie de portales dan paso a cada una de las estancias. Explica Lorène Faure, cofundadora del estudio, que inspirándose en la idea de un escenario teatral, crearon «una pared de madera continua en todo el apartamento, con portales de metal que se abren a los diferentes mundos interiores de cada habitación. Asimismo, esta pared también crea un telón de fondo destacado para el salón y el comedor».
La inspiración del diseño hay que buscarla en «la costumbre de la madre de relajarse en casa, abriendo diferentes portales a diferentes mundos, similar a lo que ocurre en un escenario teatral», explica Bean Buro. Con el fin de transportar este paisaje onírico a un plano arquitectónico, se erigió un volumen de madera, un grueso tabique que crea umbrales alternos y una secuencia de puertas arqueadas tipo portal de metal (bronce), que se abren a diferentes salas. Este volumen de madera maciza es el esqueleto del proyecto y destaca en el espacio, a la vez que actúa como hilo de conexión, uniendo las distantes zonas dentro de la vivienda, desde el vestíbulo de entrada pasando por la sala de estar y, por último, el dormitorio principal, para formar un todo unificado, un espacio de vida.
El diseño de la iluminación apoya, sutilmente, el espacio general lleno de luz, al mismo tiempo que acentúa dramáticamente el efecto arquitectónico del volumen de madera.
Estancia por estancia.
En la entrada del apartamento, una pared de madera, suavemente iluminada por tiras LED ocultas, funciona como espacio de almacenamiento. El salón principal es una espaciosa estancia con un lujoso comedor al fondo, diseñado de forma que pueda acoger reuniones familiares numerosas. La pesadez de la pared de madera se compensa con toques de metal, bronce, telas de apagados colores y piedras naturales.
Los espacios de descanso se situaron frente a la vista que ofrece el skyline de Hong Kong. El dormitorio principal presenta una innovadora composición espacial a través de una pared transformada en vestidor. La cama se encuentra justo detrás del armario, donde una pared tapizada en terciopelo acanalado resalta el respaldo del marco de la cama frente a las ventanas. Del mismo modo, las dos habitaciones infantiles, que se distinguen por sus colores rosa y azul, son muy flexibles, lo que permite ir adaptando el amplio espacio al crecimiento de los niños.
En la parte posterior de la habitación rosa, un armario de madera, que va de suelo a techo, incluye una pizarra blanca para aportar un toque lúdico. La oficina del padre, ubicada cerca de la entrada, funciona como una sala de usos múltiples: cuenta con una cama abatible Murphy, que se puede utilizar para los invitados, así como una pared plegable de espejos para transformar esta habitación en un pequeño estudio de yoga.
Elemento serenos y materiales naturales.
En el diseño interior, se ha apostado por elementos que proporcionan calma al espacio y materiales naturales, resaltados por algunos acentos en color negro. En particular, la pared principal está revestida con madera de un marrón suave que destaca como un gran volumen frente a materiales más delicados. En contraste, el suelo de madera clara ilumina el apartamento frente a las paredes beige más oscuras. El metal con recubrimiento en polvo de color beige claro se acentúa alrededor de las puertas arqueadas, complementado con tiras de iluminación LED ocultas. Uno de los principales retos de este proyecto fue poder unificar el espacio en materialidad, al mismo tiempo que se conseguía un ambiente único en cada habitación de la familia.
Finalmente, la cuidadosa elección de los materiales permitió dar un toque de lujo en cada estancia como el mármol Travertino en el baño principal y el gabinete de malla metálica revestido de cobre en el comedor.
---
LAS IMÁGENES DE BEAN BURO:
---
FICHA TÉCNICA:
Proyecto:

Theatre House.

Ubicación:

Mid-levels (Hong Kong).

Superficie:

165 m².

Año:

2019.

Autor:

Bean Buro (Lorène Faure y Kenny Kinusaga-Tsui).

Directores de diseño:

Kenny Kinugasa-Tsui, Lorène Faure

Equipo de proyecto:

Lorène Faure, Kenny Kinugasa-Tsui, Pauline Paradis, Lelia Ku, Stephanie Ma y Abby Liu.
Materiales y acabados:
Acero inoxidable decorativo:

Cobelco Hairline Bronze y Black AFP Series (Cobelco).

Superficie sólida:

Corian Glacier White (DuPont).

Azulejo de pared:

mármol Travertino.

Baldosa:

Flow White y Flow Taupe (Mutina).

Pavimento cerámico:

Bera (Living Ceramics) y Dechirer la suite trace (Mutina).

Revestimiento cerámico:

Tape Cobble Blue, Tape Grainy Blue y Carre (Mutina).

Suelos técnicos de madera:

Oak Live Pure White Mountain (BOEN).

Tapicería:

Kvadrat Floyd Screen (Kvadrat Hong Kong) y Cleo (Warwick Fabrics).

Piel:

Nobuk (Dani).

Cortinas:

Kvadrat Daybreak 2 (Kvadrat Hong Kong).

Papel pintado:

Flamant Lin Murano (Arte).
Mobiliario, iluminación y accesorios:
Silla de comedor:

Beetle (Gubi).

Lámpara colgante comedor:

H20 Lavagna (In-es.artdesign).

Aplique de salón:

Tom Dixon Stone Wall Light IP44 (Tom Dixon).

Lámpara colgante dormitorio principal:

Material Pendant (New Works).

Accesorios:

The Dots Metal (Muuto).
Fotografías: Bean Buro.
---
PLANIMETRÍA: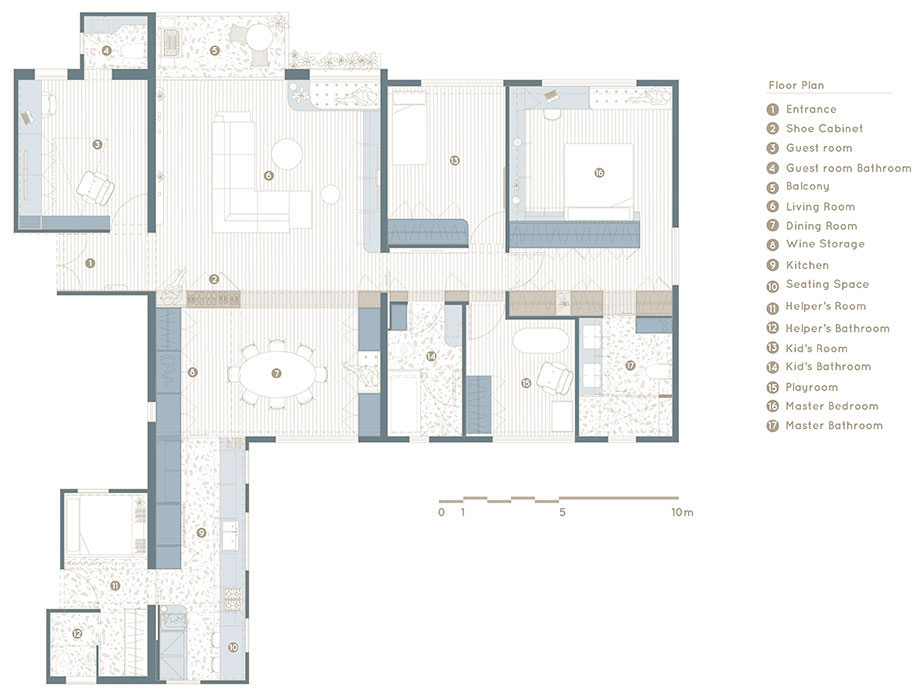 ---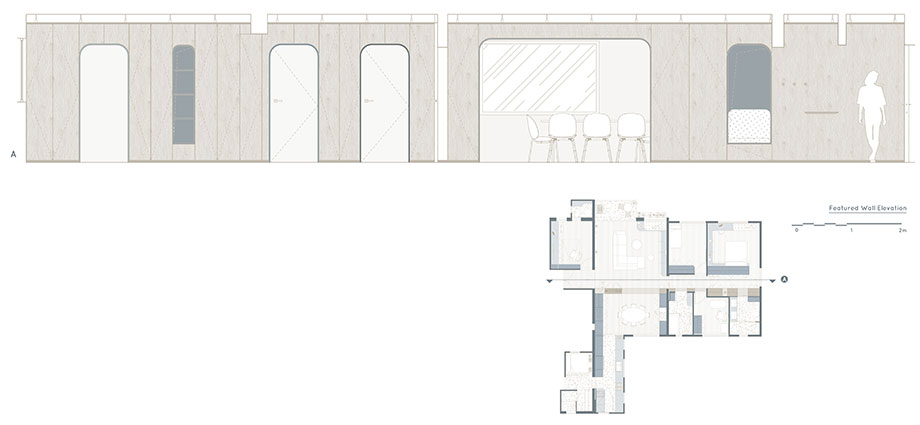 ---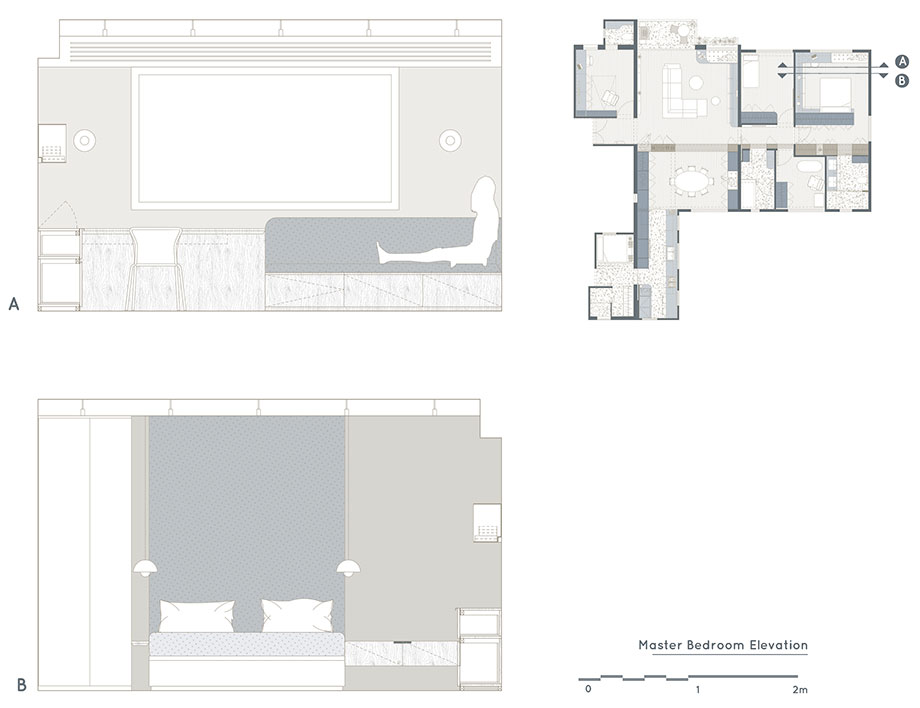 ---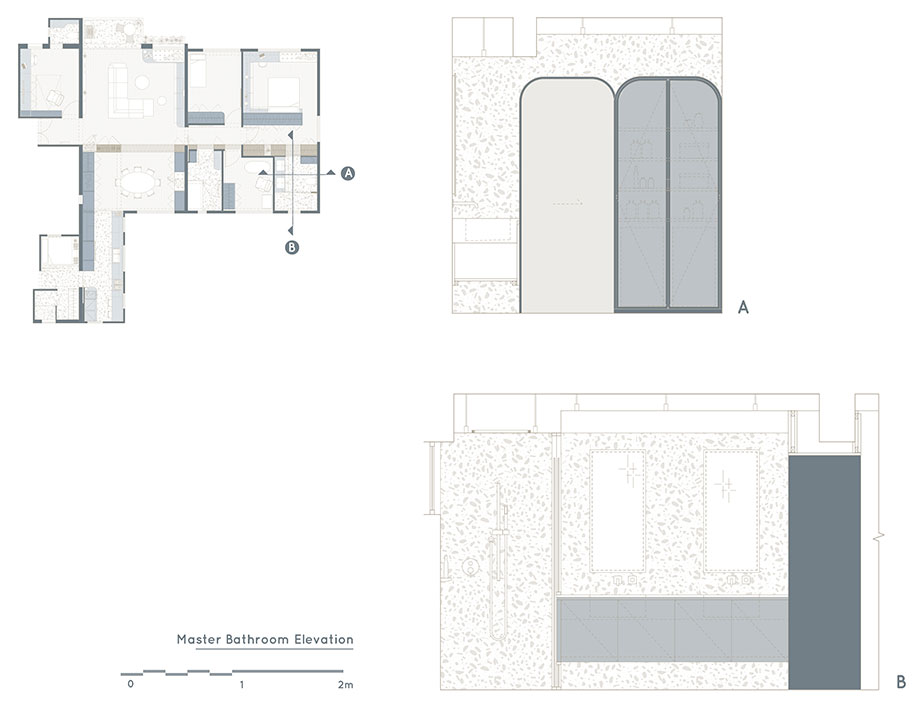 ---
SOBRE BEAN BURO:
Bean (Between Exchanges of Architectural Narratives) Buro es un estudio de arquitectura y diseño de interiores con sede en Hong Kong desde 2013. Lo lideran los arquitectos Lorène Faure (París) y Kenny Kinusaga-Tsui (Hong Kong) que, junto a un equipo de diseñadores internacionales, ofrecen servicios de arquitectura, interiorismo, instalaciones, diseño de mobiliario y de producto.
El equipo de Bean Buro cree que la arquitectura es una experiencia emocional y espacial producida tanto por el usuario como por el autor. "Nuestras metodologías de diseño derivan de la observación, la especulación y el análisis de narrativas contextuales. Estas narraciones o 'historias' generan intercambios dinámicos de factores históricos, ambientales, culturales y sociales, dando lugar a intervenciones altamente inventivas mientras se preserva el ingenio intelectual".
COLLABean, como parte integrante de Bean Buro, es una plataforma transdisciplinaria para la colaboración entre el estudio, la investigación y el mundo académico. COLLABean puede proporcionar servicios de investigación para organizaciones empresariales y, cuando sea apropiado, provocar la entrada de especialistas en una red de diseñadores, académicos e investigadores de alta reputación en el campo del diseño.
El estudio ha llevado a cabo una serie de proyectos de arquitectura de interiores para clientes privados así como empresas renombradas como Cheil, Leo Burnett o Warner Music, y ha sido galardonado en los premios Asia Pacific Interior Design Award 2015 y en los A'Design Awards, y finalista en 13th Modern Decoration International Media Award.
BEAN BURO EN INTERIORES MINIMALISTAS
---
Fuente: Bean Buro
You might also like