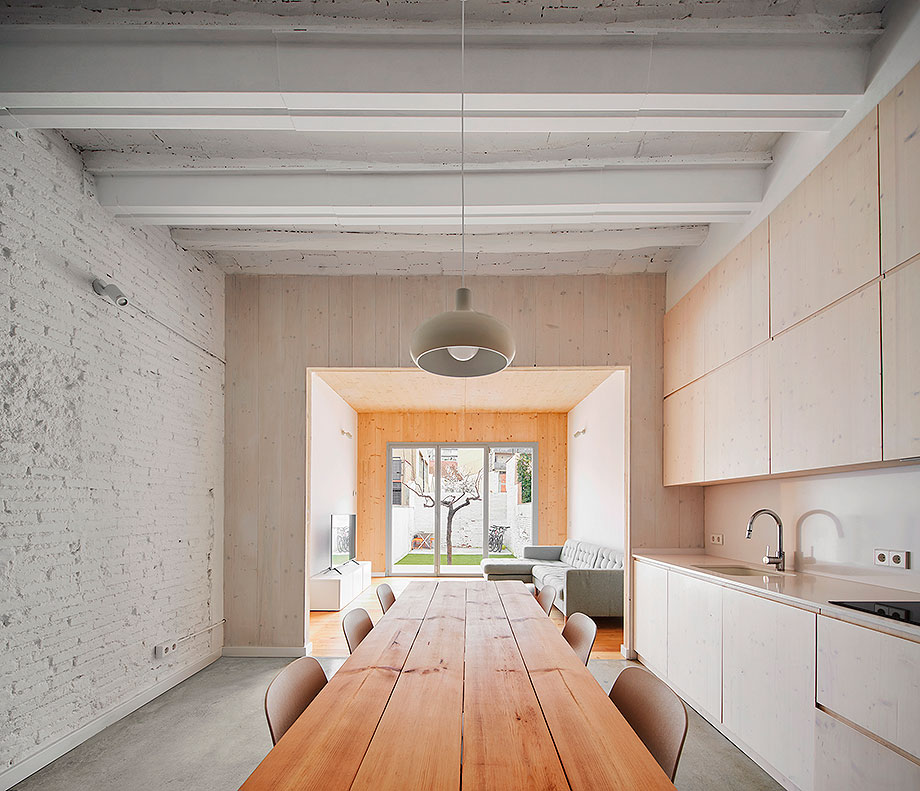 CASA ENTRE MEDIANERAS:
¿Es mejor reformar o construir de nuevo? En el caso concreto de esta casa entre medianeras, ubicada en el centro de la localidad de Terrassa (Barcelona), Vallribera Arquitectes combinó ambas respuestas debido al estado que presentaba la vivienda original y alguna necesidad indispensable. Por una parte, la estructura de la parte que da al patio estaba dañada por la nula conservación de la cubierta y la escalera debía ser derribada porque no permitía incluir la plaza de garaje deseada por los clientes. Por otra, el edificio conservaba el encanto de las casas del siglo pasado y el resto de la envolvente y la estructura se podían aprovechar.
Lo recuperado y lo nuevo.
Esta doble realidad se convirtió en la estrategia de la intervención, conservando o construyendo en función del lugar de la casa y haciendo que esto fuera evidente. De esta manera, los elementos conservados se muestran sin revestimientos y pintados, mientras que las partes nuevas (el forjado de la escalera, el volumen que se amplía hacia el patio y el nuevo altillo que aprovecha la altura de la parte central del edificio bajo cubierta) se resuelven mediante una estructura vista de paneles de madera laminada de gran formato (paneles CLT).
Esta convivencia pacífica entre lo recuperado y lo nuevo da lugar a un juego de texturas y diferentes percepciones del espacio, que se vive a través de las estancias de la vivienda. Explica Vallribera Arquitectes que «los nuevos elementos de madera, lisos y continuos, sin pintar, contrastan con los elementos viejos, vigas, baldosas, ladrillos y enyesados, yuxtapuestos e irregulares, pintados de color blanco».
Distribución encadenada.
La nueva distribución se desarrolla encadenando estancias en una sucesión continua. En planta baja, un primer espacio da acceso al garaje a través del zaguán y un altillo de almacenaje. El recibidor, el baño de cortesía y la escalera hacen de filtro antes de acceder a la cocina-comedor. La sala de estar conecta la cocina con el patio. El patio se divide en una terraza, un jardín y un último espacio pavimentado.
En la primera planta, la habitación principal, que da a la calle, queda separada de la escalera por un baño y un aseo. Desde la escalera, el estudio se puede abrir o cerrar a la zona de dormir de los dos niños, la sala de juegos con armarios y la terraza. La continuación de la escalera da acceso al altillo, un único espacio diáfano volcado al estudio.
Rehabilitación energética.
La reforma y ampliación también sirvieron para conseguir las condiciones de confort adecuadas para la vida diaria, obteniendo una calificación energética de A. En la parte nueva (fachada y cubierta), las soluciones constructivas permitieron resolver el aislamiento técnico evitando los puentes térmicos. La nueva fachada y las medianeras expuestas se revistieron con aislamiento térmico para exterior, revocado con mortero flexible (sistema SATE). En ambas cubiertas, tanto en la nueva como en la existente, se colocó poliestireno extruido. 
El interior de la fachada que da a la calle se aisló mediante un trasdosado de cartón yeso y lana de roca. El forjado existente se refozó para evitar el cimbreo con una nueva capa de compresión de hormigón pulido que sirve de pavimento. Asimismo, se cambiaron todas las carpinterías y se instalaron persianas orientables para el control solar.
---
LAS IMÁGENES DE JOSÉ HEVIA:
---
FICHA TÉCNICA:
Proyecto:

reforma y ampliación de una casa entre medianeras.

Ubicación:

Terrassa (Barcelona / España).

Superficie:

164 m².

Año:

2019.

Autor:

Vallribera Arquitectes.

Colaboradores:

Sergi Ballester, arquitecto; Montserrat Llobet, arquitecta técnica; y Míriam Molina, consultora estructura.

Consumo energía primaria total:

48,08 KWh / m² por año.

Emisiones CO2 totales:

10,39 kgCO2 / m² por año.

Calificación energética:

A.

Fografías:

José Hevia.
---
PLANIMETRÍA: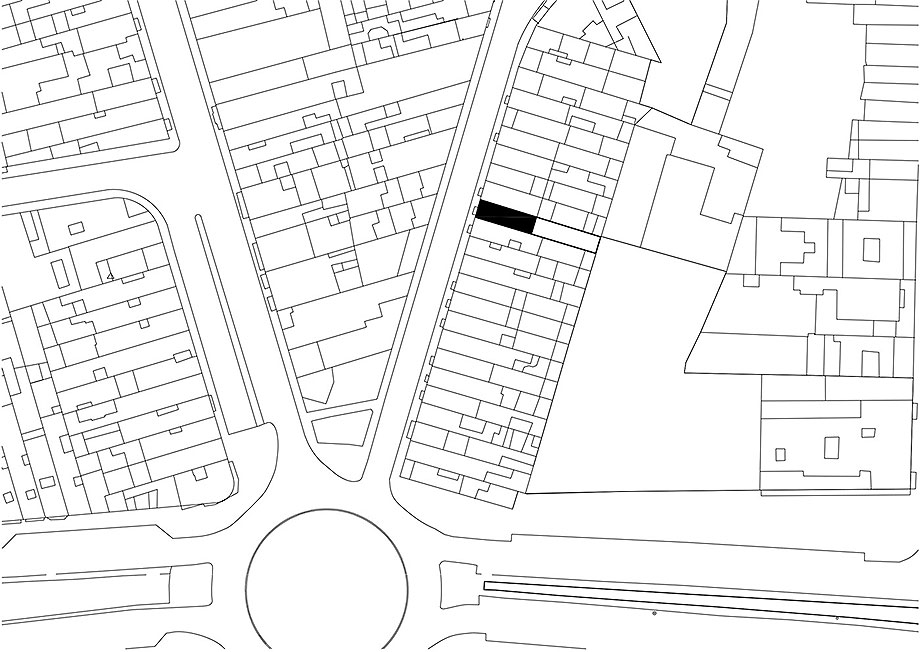 ---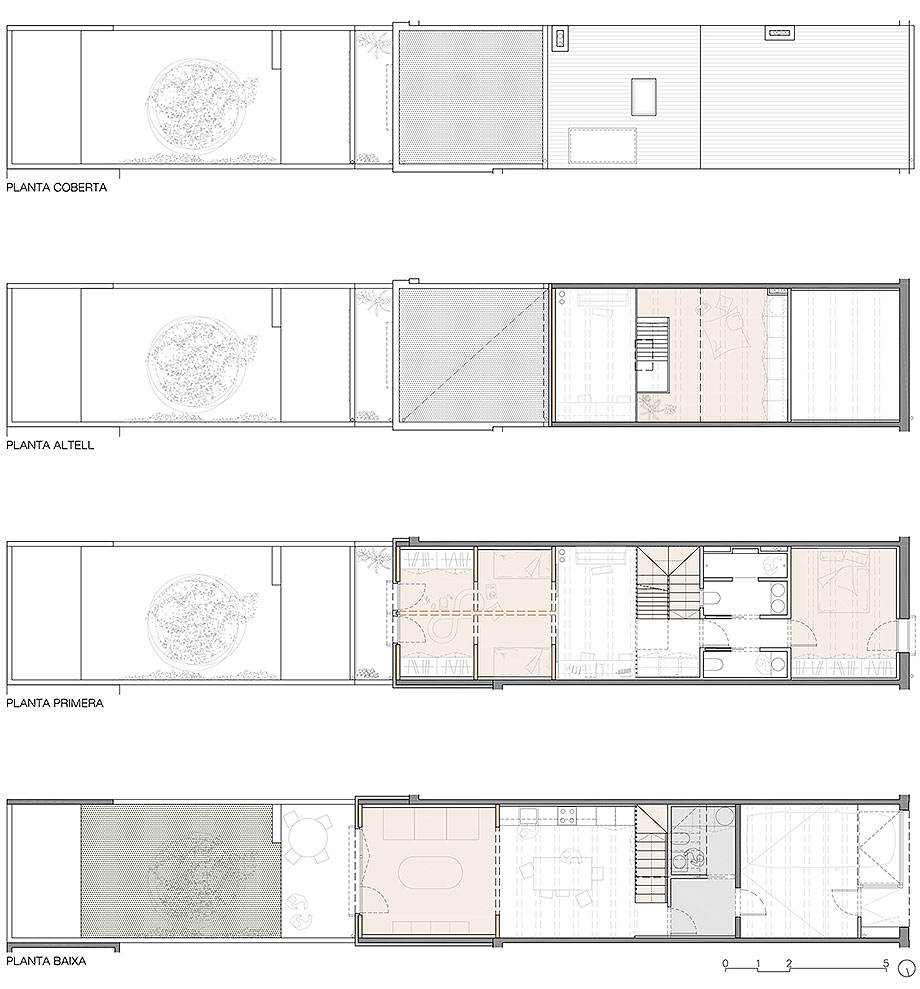 ---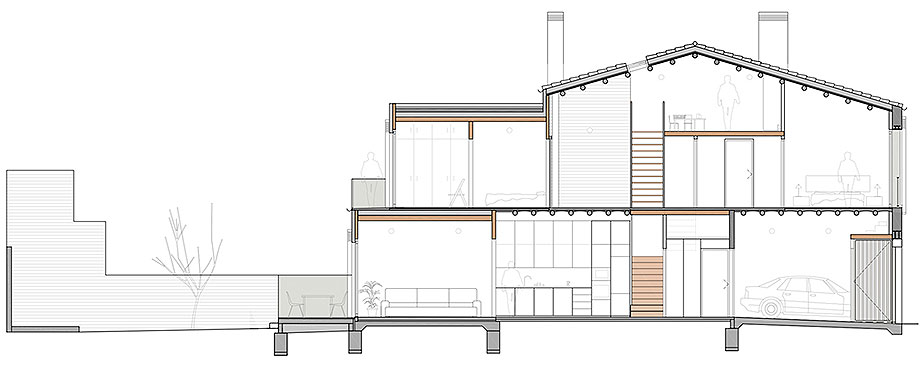 ---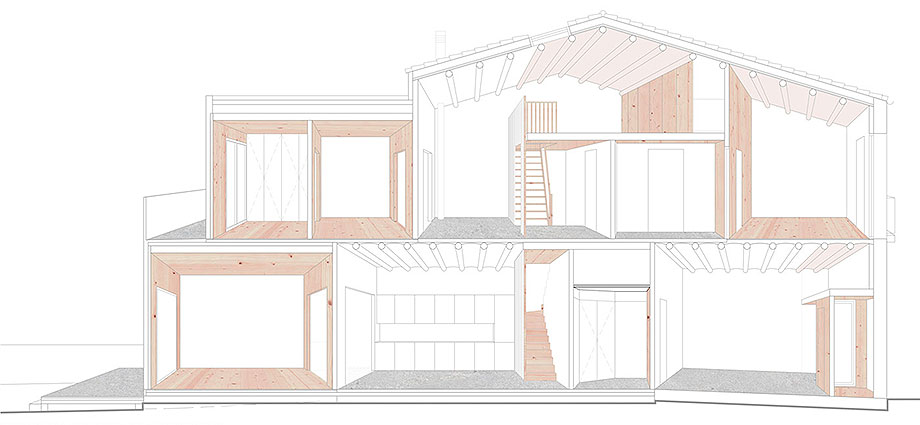 ---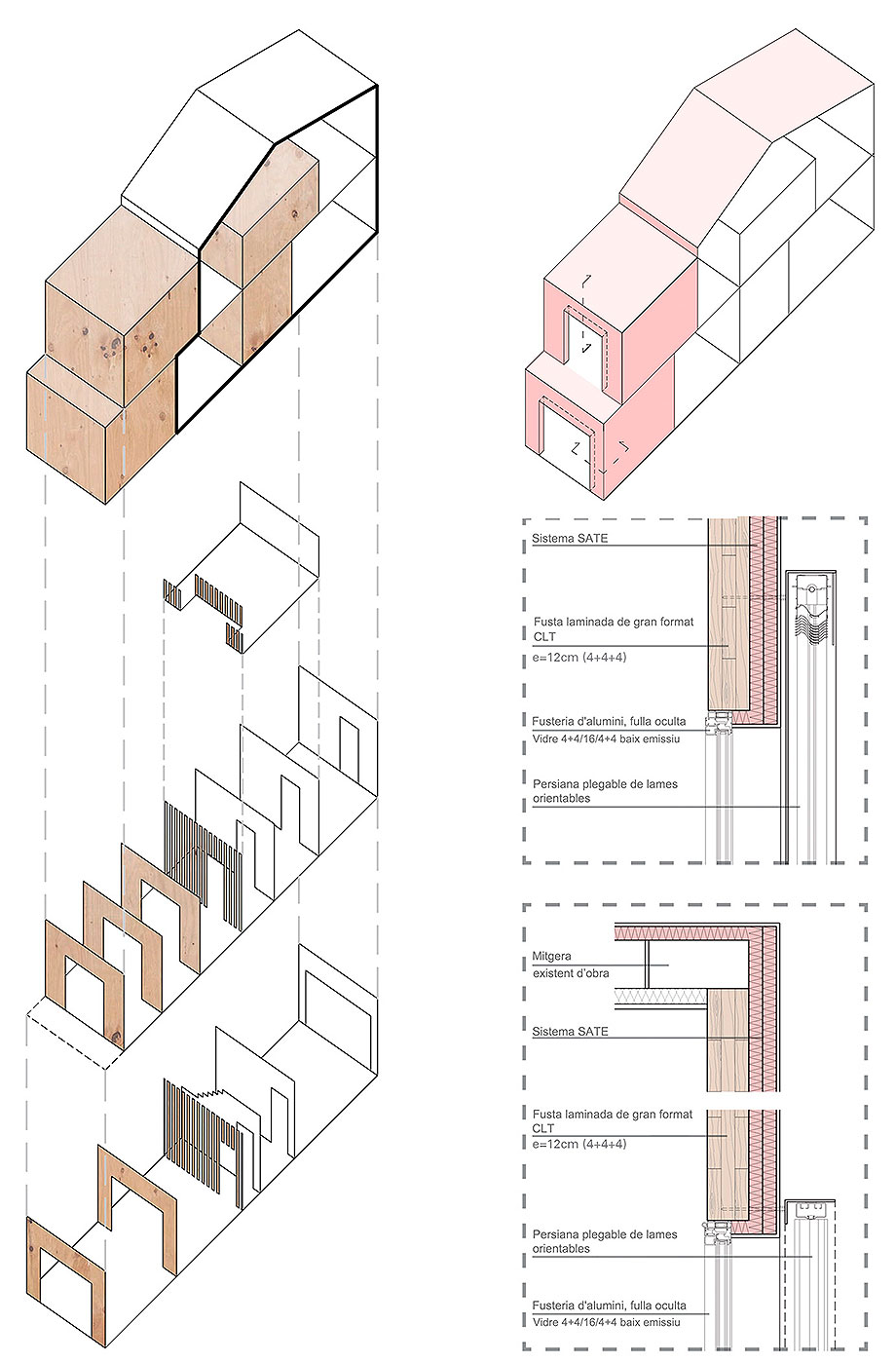 ---
LA MAQUETA:

---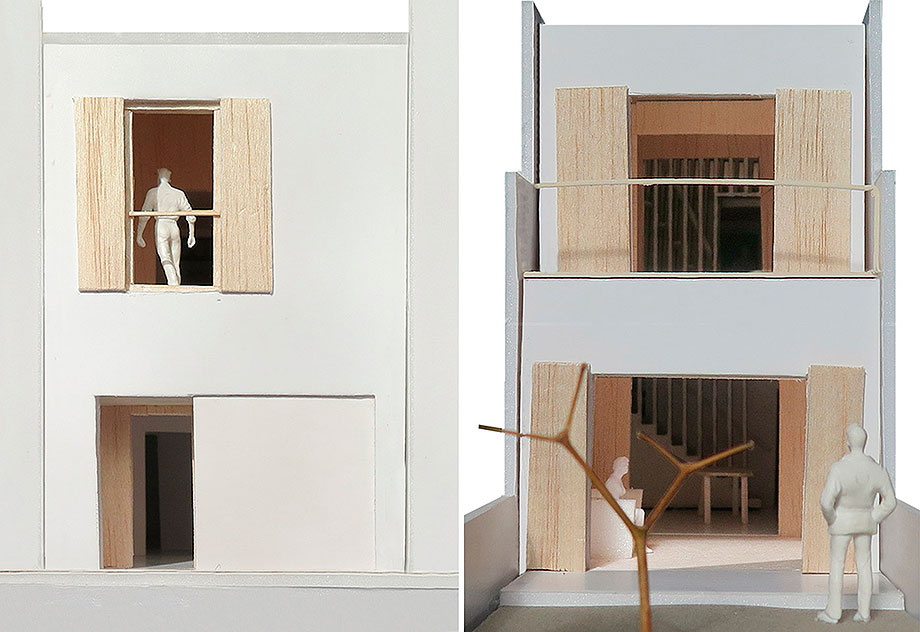 ---
SOBRE VALLRIBERA ARQUITECTES:
Vallribera Arquitectes es un estudio de arquitectura con sede en la localidad de Sabadell (Barcelona / España). Fue fundado, en 2012, por Llorenç Vallribera Farriol, y, en 2019, se incorporó como socio Aleix Gil Noray. Sus proyectos -tanto de obra nueva como rehabilitación- se centran en casas aisladas y entre medianeras, teniendo como objetivo proporcionar a cada proyecto belleza y confort. Asimismo,  la eficiencia energética, el diseño a medida, la optimización y el control de los costes son herramientas importantes para llegar al éxito en su oficio.
El despacho fue seleccionado en la categoría Transition de IX edición del Premio Internacional de Paisaje Rosa Barba 2016, ganó el X Premios NAN de Arquitectura y Construcción 2016 en la categoría de Construcción Residencial, el BUILD Architecture Awards 2018 por Best Residential Architecture Company y el BUILD Architecture Awards 2020 por Architecture & Renovation Firm of the Year.
---
Fuente: Vallribera Arquitectes
You might also like