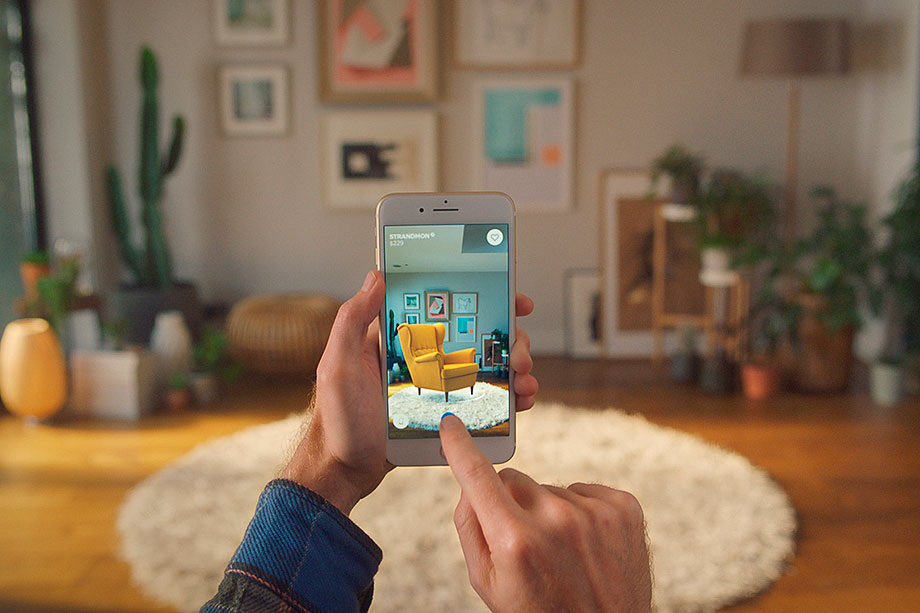 La app de realidad aumentada IKEA Place, realizada en colaboración con Space10
DESIGN BEYOND TECHNOLOGY:
Después de una primera edición en marzo de 2019, llega Digital Realities, la segunda entrega de Design Beyond Technology (DBT), unas jornadas sobre diseño, tecnología y futuro organizadas por ADI-FAD, que tendrán lugar el 25 y 26 de marzo de 2021. Las jornadas, explican sus organizadores, nacen de «la necesidad de profundizar en las relaciones entre diseño y tecnología, y su evolución en el futuro, en un contexto donde, actualmente, la fusión de tecnologías en desarrollo está desintegrando las fronteras entre la esferas física y digital».
Este año, las jornadas, que tienen un carácter bienal y se intercalan con los Premios ADI de Diseño Industrial, tendrán lugar vía online y, excepcionalmente, serán gratuitas previo registro. BDT podrá seguirse en streaming desde Roca Barcelona Gallery, a través del canal de YouTube de ADI-FAD. Uno de los puntos fuertes de las jornadas, comisariadas por Raffaella Perrone (vicepresidenta del ADI-FAD), Joan Recasens y Genís Senén, es acercar a Barcelona ponentes de renombre internacional del sector de las nuevas tecnologías y ser una plataforma profesionalizadora del sector.
Design Beyond Technology va dirigido a diseñadores, ingenieros, empresas del sector tecnológico, industrial y diseño, así como a las universidades y centros de investigación. Del mismo modo, también es un proyecto pensado para el público general interesado en diseño y tecnología. Las jornadas se estructuran en cuatro conceptos clave: diseño, tecnología, futuro y sostenibilidad. DBT ofrece dos jornadas con un programa que incluye diferentes conferencias y case studies.
---
JUEVES 25 (15.45 a 19.00 HORAS).
Fredo de Smet (16.00): «A Cultural Revolution«.

En su charla, el experto en el impacto de las tecnologías en los humanos, las empresas y la sociedad, nos llevará a la encrucijada de la cultura, la tecnología y la sociedad. Porque solo a partir de ahí, podremos volver a reclamar nuestro futuro.

Kris De Decker – Low Tech Magazine (16.30): «Cómo construir una página web de baja tecnología?». Low-tech Magazine es una publicación online y offline, creada por el periodista especializado en ciencia y tecnología Kris De Decker, que cuestiona la creencia en las soluciones de alta tecnología.
Diego López Urruchi – Norman Foster Foundation (17.00): «Revisiting the Autonomous House: A collaborative project between Buckminster Fuller and Norman Foster». El arquitecto Diego López Urruchi realizará una breve introducción de los orígenes de la Autonomous House, explicando la relación entre Buckminster Fuller y Norman Foster. En su presentación, mostrará bocetos originales, acompañados de fotos de la época y maquetas de trabajo, así como una descripción de los trabajos realizados en la Norman Foster Foundation (NFF) para retomar el proyecto y actualizarlo a las necesidades presentes.
Manuel Jiménez – Nagami (17.30): «El diseño como vehículo de una nueva era tecnológica». Manuel Jiménez García, cofundador y CEO de la marca de diseño y fabricación robótica Nagami, con sede en Ávila, expondrá diferentes métodos de diseño concebidos desde la asimilación de una nueva era tecnológica: desde la impresión 3D de gran formato a la construcción asistida por robots.

Qin Li – fuseproject (18.00): «Technology and the Human Experience». Vicepresidenta de diseño en fuseproject, Quin Li hablará sobre la responsabilidad de los diseñadores de contextualizar el valor de la tecnología y el diseño desde un punto de vista centrado en el ser humano en este momento así como en el futuro.
Isabelle Olsson – Google (18.30): «The Softer Side of Technology». Isabelle, que se unió a Google en 2011, donde actualmente es directora de diseño sénior de Google Nest y Wearables, nos adentrará en un viaje al diseño de hardware en Google, incluyendo tacto y emoción con el espíritu de crear tecnología que se adapte a la vida de las personas.
---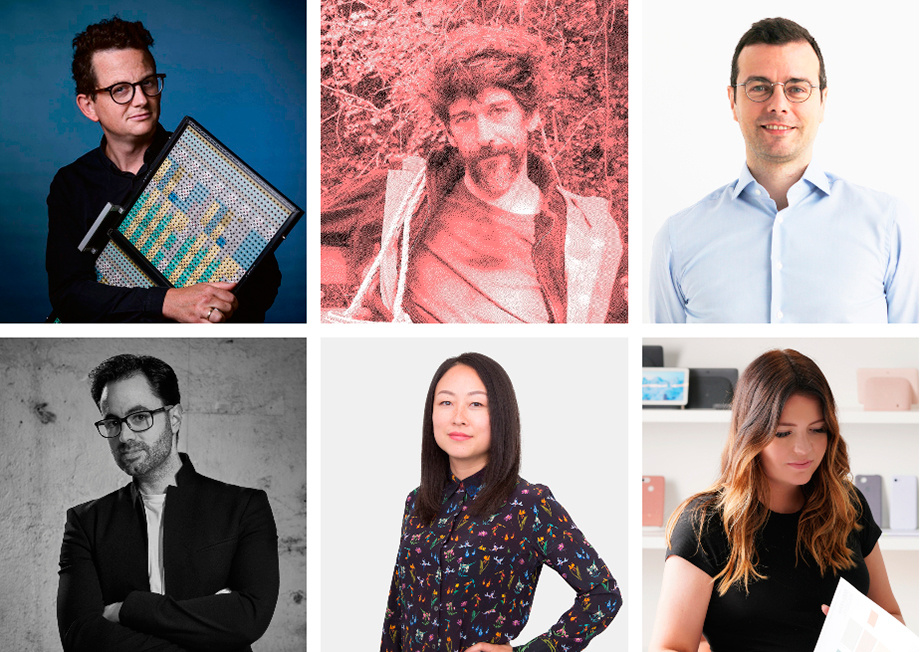 Arriba: Fredo de Smet, Kris De Decker y Diego López Urruchi. Abajo: Manuel Jiménez, Quin Li e Isabelle Olsson
---
VIERNES 26 (9.45 a 12.30 HORAS):
Matteo Guarnaccia & Gabriel Alonso – Institute for Postnatural Studies (10.00 horas): «La condición postnatural».  El diseñador Guarnaccia y el artista visual Gabriel Alonso fundaron juntos, en 2020, el Instituto de Estudios Postnaturales, un centro de experimentación artística desde donde explorar y problematizar la postnaturaleza como marco para la creación contemporánea. A través de historias y relatos que entremezclan lo natural y lo cultural, como dos categorías que ya no pueden pensarse como independientes, este viaje propone una reflexión sobre las complejidades del momento contemporáneo, conectando territorios e imágenes con sus capas culturales, sociales, políticas y estéticas.
Jamie Cobb – Map (10.30): «Digital Ornaments«. Jamie Cobb es director de Map Project Office, el estudio de diseño industrial londinense, fundado, en 2012, por Edward Barber y Jay Osgerby con el lanzamiento de su diseño para la antorcha olímpica de Londres. En esta conferencia, Cobb nos acercará a la tecnología ambiental que, intrínsecamente entretejida en nuestra vida cotidiana, está desapareciendo tanto física como metafóricamente de nuestros entornos conocidos.

Bas Van De Poel – SPACE10 | Modem (11.00): «Cultural Production in The Age of Self-Learning Machines». ¿Qué implicarán los avances recientes en IA y Machine Learning para el papel del diseñador? ¿Aumentará nuestras capacidades creativas y de productividad, o desafiará la noción de autoría y originalidad? En su conferencia, el director de innovación de Modem, Bas van de Poel, explorará el impacto de las máquinas de autoaprendizaje en la práctica del diseño del mañana.
Juan Umbert & Adrià Colominas – Makeat  (11.30): «Food Design & Tech, the new generation of gastronomy products«.

¿Ha llegado una nueva revolución gastronómica? En la ponencia, se explicará cómo disciplinas de diseño y tecnología se están fusionando con el ecosistema gastronómico para generar productos diferentes, con historias que contar, que permiten materializar la creatividad de los profesionales de una manera nunca vista hasta ahora.
---
Arriba: Matteo Guarnaccia, Gabriel Alonso y Jamie Cobb. Abajo: Bas Van de Poel, Juan Umbert y Adrià Colominas
---
SOBRE ADI-FAD:
La Asociación de Diseño Industrial del Fomento de las Artes y del Diseño (ADI-FAD) es una entidad privada, independiente y sin ánimo de lucro con sede en la ciudad deBarcelona. Es uno de los centros de referencia del diseño industrial en España y Europa gracias a la constante promoción de la cultura del diseño.
Fundada en 1960, es una institución pionera y la asociación con más trayectoria y prestigio de España en la disciplina del diseño industrial. Se crea con la voluntad de promover el diseño industrial entendido como una herramienta de progreso económico y social.
Entre sus actividades de divulgación del diseño, el ADI-FAD organiza los prestigiosos Premios Delta de Diseño Industrial, las Medallas ADI y los Premios ADI Cultura, las Jornadas Design Beyond Technology y el ciclo de charlas ADI Making Of.
ADI-FAD EN INTERIORES MINIMALISTAS
---
Fuente: FAD
You might also like