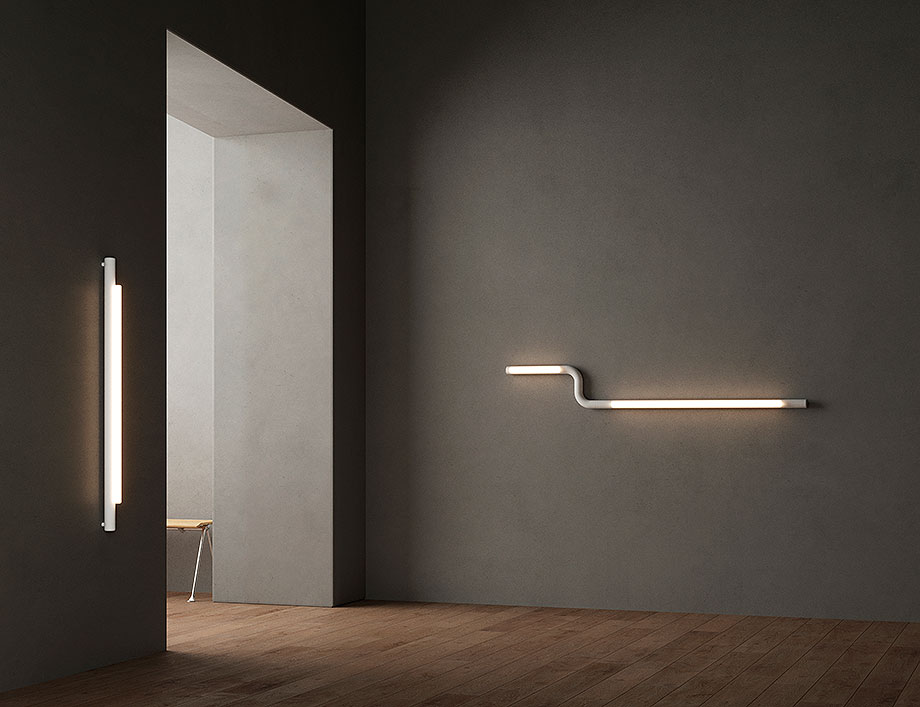 PIPELINE DE PARED Y TECHO:
Pipeline es una colección modular de luminarias arquitectónicas y, al mismo tiempo, decorativas creada por el diseñador canadiense Caine Heintzman para ANDlight, la empresa de iluminación que fundó, en 2014, junto a Matt Davis y Lukas Peet. La firma presenta ahora la nueva versión de techo/pared que se suma a las ya existentes de suspensión, mesa, pie y a una moderna versión chandelier.
Explica Caine que «la función principal de Pipeline es proporcionar luz lineal difusa. El diseño del cuerpo, de los componentes, cómo se ensamblan y cómo se suspenden sirve a este propósito. El resultado es un producto de iluminación sencillo, muy práctico y aplicable que puede encontrarse en casa, en muchas situaciones».
La nueva línea de Pipeline llega para servir y mejorar el espacio arquitectónico, convirtiéndose en parte de él a través de la luz. Además y como luminaria de superficie, su eficiencia cumple con los requisitos técnicos de espacios más reducidos: estancias pequeñas, techos bajos, esquinas o pasillos, o, simplemente, como aplique o plafón.
Una sección de luz líneal LED en dos longitudes.
La columna vertebral de esta serie modular de ANDlight es una sección de luz lineal LED, disponible en dos longitudes (40 y 125 cm). Una serie de elementos complementarios (diferentes tipos de codos, conectores lineales, uniones en T y en X, conectores de punto de anclaje, caja de interruptores con placa de protección…) permiten combinar esas dos piezas y darles forma para adaptarlas a cualquier espacio.
La colección Pipeline está disponible en cinco colores estándar (blanco, negro, cepillado, latón y cobre), aunque también es posible elegir otros colores bajo pedido. "Nos gusta considerar la adaptabilidad en todos los aspectos de un diseño. Trabajamos para desarrollar luminarias que ofrezcan diversidad en su forma y que terminen cumpliendo con la más amplia gama de aplicaciones. Creemos que la flexibilidad en la adaptación de los elementos puede mejorar la calidad de un producto», concluye Matt Davis.
---
LAS IMÁGENES DE JUST WITH RENDERS:
---
---
SOB
RE CAINE HEINTZMAN STUDIO:
El canadiense Caine Heintzman estudió escultura, arte y diseño industrial en la Berlin-Weissensee Art Academy y obtuvo una licenciatura en diseño industrial por la Emily Carr University of Art + Design de Vancouver. Desde sus inicios se sintió atraído por el sector de la iluminación y es socio fundador, junto a Matt Davis y Lukas Peet, de la firma ANDlight para la que ha diseñado diferentes luminarias. Caine aporta a ANDlight un expresivo dominio de los tecnicismos lumínicos junto a un profundo conocimiento histórico del sector, sus fuentes y sus múltiples posibilidades.
SOBRE ANDLIGHT:
Nacido con el deseo de diseñar y producir iluminación funcional, la empresa ANDlight tiene como objetivo crear productos honestos con un enfoque auténtico de los procesos de diseño y de producción. Desde su lanzamiento en el año 2014, esta firma, fundada por Matt Davis, Lukas Peet y Caine Heintzman, se ha consolidado como una marca con identidad propia.
En su amplio catálogo de luminarias decorativas y de diseño, ANDlight propone productos accesibles que son atemporales en forma y fiabilidad, refinados en estética y con un toque de alegría. Todas las luminarias están diseñadas y fabricadas en Vancouver, donde la empresa tiene su sede.
La firma de iluminación ANDlight está distribuida en España y Andorra por la empresa TUSCALOOSA y cuenta con puntos de venta en Barcelona (Avanluce) y Madrid (Años Luz y Oliva Iluminación).
---
Fuente: Gablons (ANDlight) y en la web del diseñador y la empresa