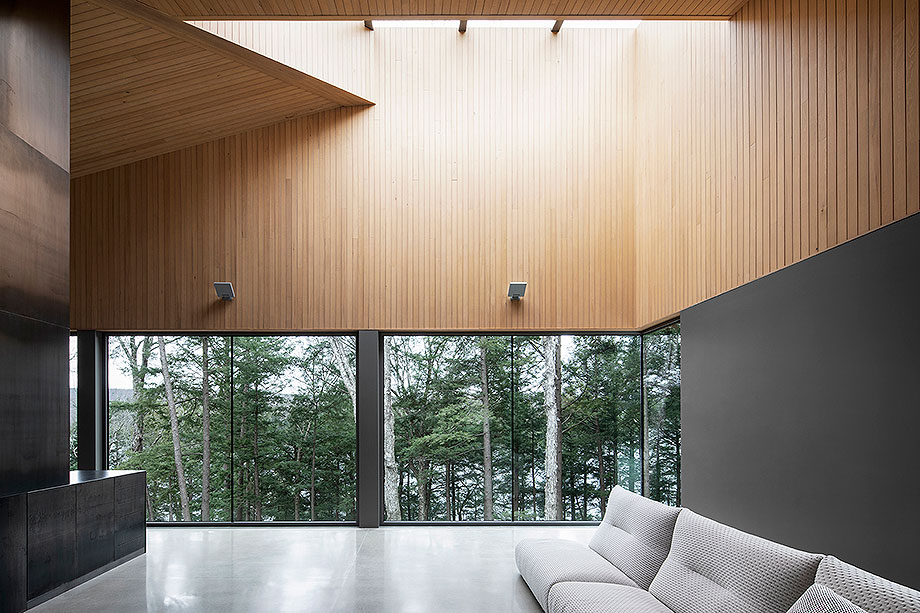 CASA JUNTO AL LAGO MEMPHREMAGOG:
Enmarcado por el paisaje de los Cantons de l'Est, el lago Memphremagog es un lugar perfecto para pasear en barca, pescar, ir en bicicleta, observar las aves o, simplemente, disfrutar de la naturaleza. Asimismo, es un enclave perfecto para disfrutar de una casa como la proyectada por el estudio naturehumaine, construida en un empinado terreno, a orillas del lago.
Los propietarios deseaban crear, en la gran parcela arbolada, un espacio contemporáneo y acogedor, reflejo de su forma de ser dinámica, acogedora y amistosa, donde poder reunirse y disfrutar junto a sus amigos. La vivienda se compone de tres volúmenes, rematados por techos inclinados con diferentes formas. En el punto más alto de cada uno de ellos se abre una claraboya, orientada a sur, que proporciona luz natural a los espacios de estar abiertos al lago, en el lado norte.
Inspirada por la arquitectura religiosa.
Explica el estudio canadiense que «la casa está inspirada en los principios arquitectónicos aplicados a las iglesias: grandes volúmenes de proporciones verticales, iluminados con luz cenital. La ampliación de la abadía de St-Benoît, no lejos de la casa y diseñada por Dan Hanganu utilizando piedra gris y acero, fue una fuente de inspiración en cuanto a la atención al detalle».
En la planta superior, el revestimiento de los tres volúmenes está hecho con madera pre-envejecida, rematada por techos de acero inoxidable, un resistente material al que el tiempo dará un aspecto mate y uniforme. Desde el lago, la base de acero corten, con sus tonos óxido y marrón, se mezcla con los abetos, dando la impresión de que la casa está flotando.
En el piso principal de la vivienda, el primer volumen alberga los espacios de estar; el segundo acoge el garaje y el taller; y el tercero contiene los espacios nocturnos. En intersección de estos tres volúmenes, se encuentra la escalera que conduce a la planta baja. Parcialmente empotradas en la ladera de la parcela, las habitaciones para los invitados están dispuestas en una fila, una al lado de la otra, y cuentan con una gran ventana con vistas al lago, así como con una entrada directa desde la terraza exterior que se extiende a lo largo de la fachada.
Optimizar el consumo de energía.
En el diseño interior de la casa, se mezcla una paleta de materiales atemporales: suelos de hormigón, techos adornados con madera, así como muebles de madera y acero o inoxidable integrados. En el corazón del salón, se encuentra la chimenea central revestida de acero negro que, con tres caras, sirve a la cocina, al comedor y al estar al mismo tiempo.
Pero más allá de la selección de materiales nobles, guiada por el deseo de la durabilidad del proyecto, la vivienda integra una serie de elementos destinados a optimizar el consumo de energía como son un sistema de calefacción por suelo geotérmico, aislamiento que supera los requisitos de la normativa, estaciones de carga para vehículos eléctricos e iluminación de bajo consumo.
---
LAS IMÁGENES DE ADRIEN WILLIAMS:
---
FICHA TÉCNICA:
Proyecto:

La casa del lago Memphremagog.

Ubicación:

Cantons de l'Est (Quebec / Canadá).

Año:

2020.

Autor:

naturehumaine.

Contratista:

Constructions Boivin.

Ingeniero estructural:

Geniex.

Arquitecto paisajista:

Oscar Hacche.

Consultores de automatización del hogar:

ADOM.

Revestimient

o y acabado de acero:

Francois Beroud.

Ebanistería:

Anthony Crul y Christopher Marchand.
Cuadro: de Benjamin Moore.

Horno de pizza artesanal:

The Spirit of the Place.

Revestimiento exterior:

cedro rojo pre-vidriado (Maxi Foret).


Revestimiento exterior:

c

edro amarillo teñido (Maxi Foret).

Ventanas de aluminio:

Alumilex.

Techos de acero inoxidable:

Uginox Aperam

.

Chimenea:

Ortal.

Fregadero:

Julien.

Electrodomésticos:

Sub Zero.

Apliques:

Artemide.

Baño:

Wetstyle.

Lavabo de hormigón:

Pur Béton.

Mesa comedor:

MDF Italia.

Sillas:

HAY.

Lámpara del taller:

Unfold

(

Muuto).

Lámpara suspensión del comedor:

Lambert et Fils.

Losa de hormigón:

Atelier B.

Grifería:

Blu Bathworks.

Armarios de madera:

paneles chapa de roble.

Fotografías:

Adrien Williams.
---
PLANIMETRÍA: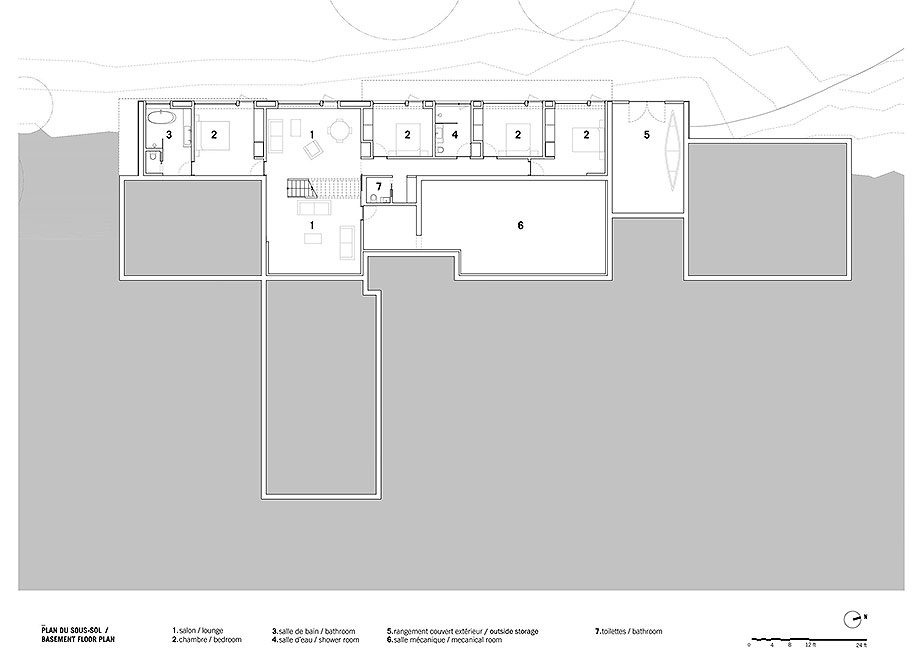 ---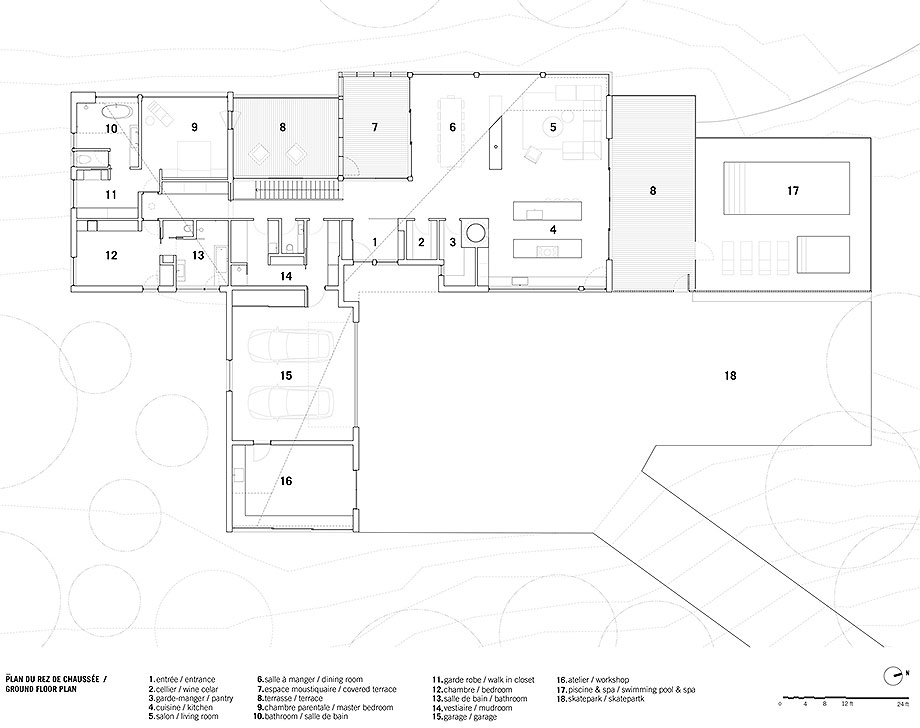 ---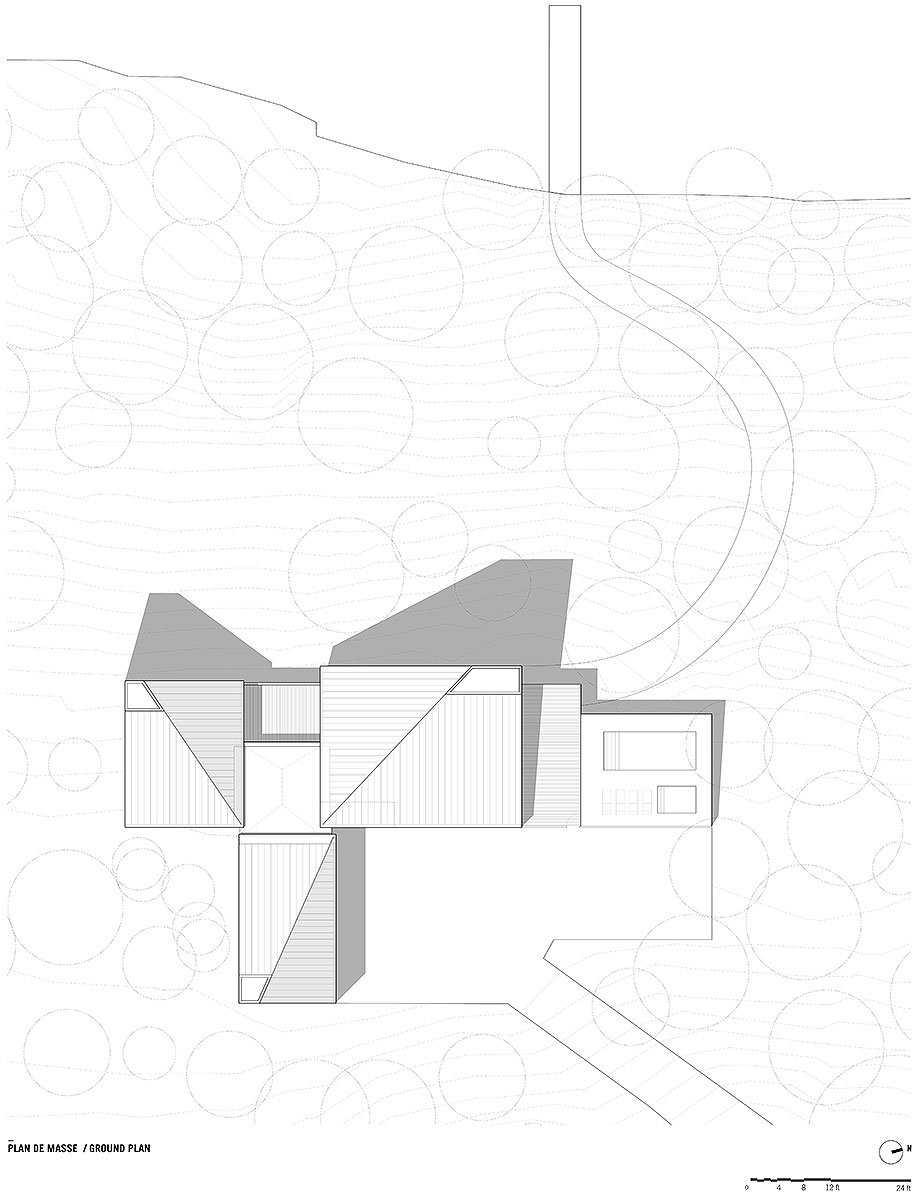 ---
SOBRE NATUREHUMAINE:
Naturehumaine [architecture+design] es un estudio de arquitectura y diseño con sede en la ciudad de Montreal (Canadá), fundado por Stéphane Rasselet y Marc-André Plasse, que ya no se encuentra en el despacho, cuyos proyectos se desarrollan en los sectores residencial, comercial y cultural.
En esencia, el despacho que "la arquitectura es un poderoso medio de inmersión que tiene la capacidad de influir en nuestro estado mental y regular nuestras interacciones con el mundo. La arquitectura forma el marco que equilibra cuidadosamente el ecosistema que opera a escala urbana, la casa y el ser humano. Queremos profundizar en el núcleo de la experiencia humana y ofrecer espacios que afecten positivamente nuestra experiencia diaria".
NATUREHUMAINE EN INTERIORES MINIMALISTAS
---
Fuente: naturehumaine

You might also like