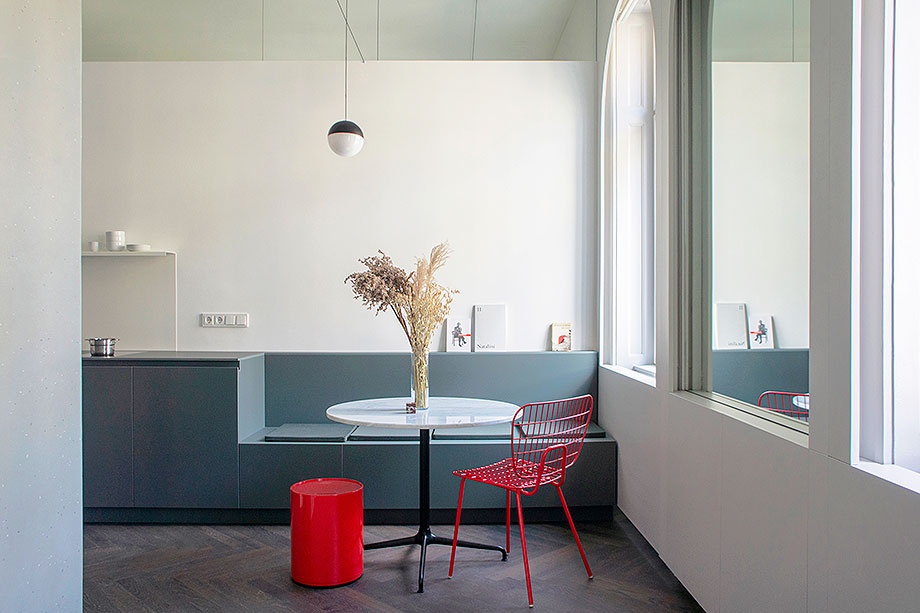 THE CUBE APARTMENT:
El apartamento original, mucho más grande, fue dividido en dos espacios más pequeños, uno de los cuales se subdividió, a su vez, en otros dos . Uno de ellos se convirtió en este apartamento renovado, recientemente, por la firma Alto design studio, dirigida por Mirza y Nina Eminagic. El espacio que llegó a las manos de Mirza y su hija era sólo una habitación vacía de 27 m², sin instalaciones para un baño o una cocina.
Dos, tres o cuatro personas en 27 m²
El propietario, que vive fuera de Eslovenia, quería que éste fuera su pequeño y particular retiro para cuando visitara Liubliana, la ciudad donde se encuentra. Tenía que ser muy funcional y dar respuesta a las necesidades de dos personas, aunque, en ocasiones, este número podría ascender a tres o cuatro. «Debía ofrecer lo que cualquier otro espacio de mayor tamaño sin comprometer la comodidad. Así que tuvimos en cuenta la altura para ganar espacio», explican los arquitectos.
Un cubo con el baño y el dormitorio
La altura de la vivienda (3,60 m) permitió insertar un cubo con el cuarto de baño en la parte inferior y un dormitorio en el altillo, al que se accede a través de unas escaleras semiocultas entre el volumen y la pared. El hueco bajo las escaleras es accesible desde el baño y se usa como guardarropa, lugar de almacenamiento y para la lavadora. Para aislar este espacio, se han utilizado cortinas.
El resto del apartamento es abierto e incluye cocina, comedor y una sala de estar. Si es necesario, el sofá se puede utilizar como cama y hay cajones debajo del banco de la zona del comedor como espacio de almacenamiento adicional. El pequeño espacio que queda entre las dos puertas dobles de la entrada se utiliza como vestíbulo con algunas perchas y un zapatero.
Una «máscara» con tres arcos
Para insertar un punto de contraste y equilibrio con las líneas rectas existente, alto design studio revistió la pared de la fachada con una «máscara» con tres arcos, dos enmarcando las ventanas existentes y el tercero, el del centro, enmarcando un espejo. Aunque estrecho, todo el espacio bajo los arcos es funcional, utilizándose como almacenaje. La luminaria de suspensión String de Flos se colocó delante de los arcos para aportar un toque divertido, aunque también se tuvo en cuenta que la pared sobre el banco debía estar despejada para las proyecciones.
Explican Mirza y Nina Eminagic que «dado que todo el apartamento es bastante pequeño pero alto, también queríamos proyectar la sensación de ser un espacio continuo más grande, lo que logramos colocando una tira de espejos en el perímetro superior de las paredes. El espejo multiplica los arcos y refleja la luz. Hace parecer que este espacio fuera solo una parte de un espacio más grande, dividido por paredes más bajas».
Acentos rojo, naranja y amarillo
La paleta de colores neutra y tranquila que viste la vivienda fue deseo del cliente, aunque se añadieron algunos acentos de rojo, naranja y amarillo. Los únicos «problemas del proyecto» llegaron a la hora de decidir la obra de arte de la pared del salón ya que el cliente era bastante claro respecto a las cosas que no le gustaban. Al final, le propusieron que «hiciera una lista de todas las que le gustaban y que un artista local las dibujara. El resultado final es una respuesta a las pinturas de naturalezas muertas del Renacimiento, maravillosamente realizado por Matic Flajs, un ilustrador y diseñador gráfico local», concluyen los autores del proyecto.
---
LAS IMÁGENES DE NINA EMINAGIC:
---
FICHA TÉCNICA:
Proyecto:

The Cube Apartment.

Ubicación:

Liubliana (Eslovenia).

Año:

2020.

Autor:

alto design studio.

Equipo de diseño:

Nina Eminagic y Mirza Eminagic.
Acabados y equipamientos:
Suelo de madera:

STILE.

Cerámica:

Ceramica Vogue y Mutina.

Iluminación:

Flos.

Mobiliario a medida:

FENIX.

Cajones:

Muji.

Taburetes:

Kartell y Vitra.

Mesa de mármol:

Tom Dixon.

Sofá:

COR.
Fotografías: Nina Eminagic.
---
PLANIMETRÍA: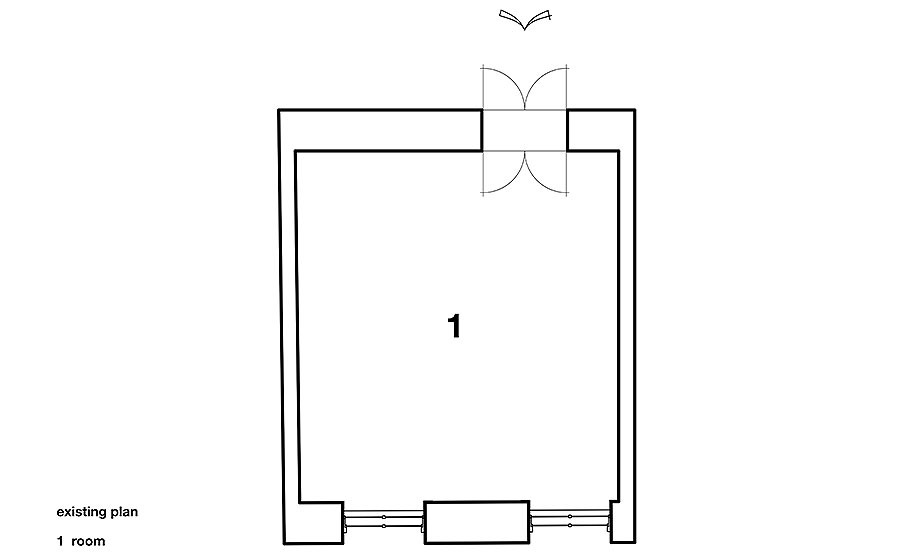 ---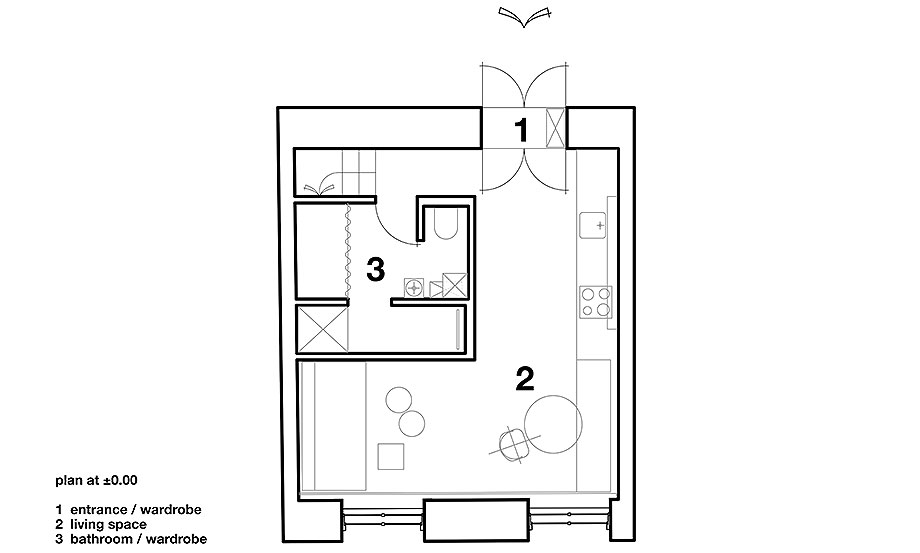 ---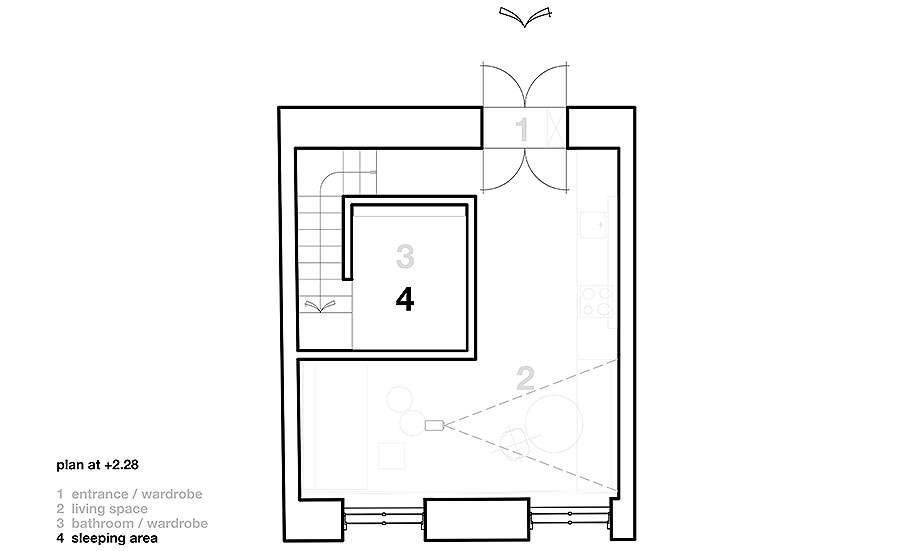 ---
AXONOMETRÍA: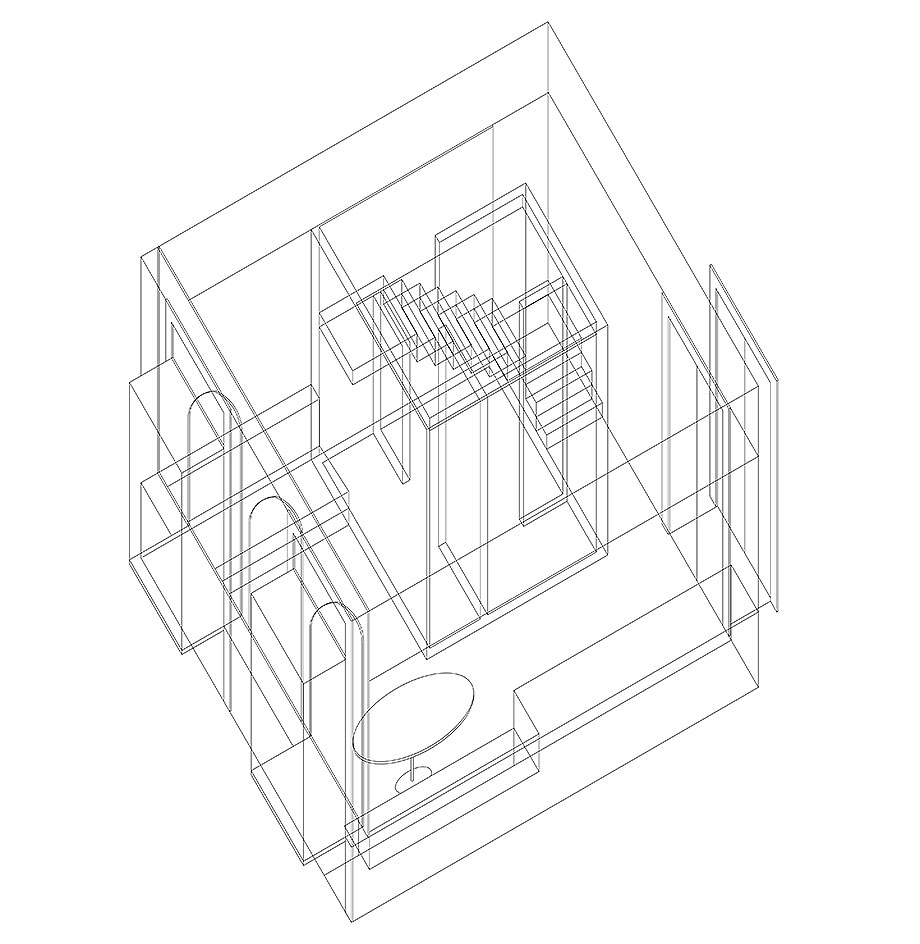 ---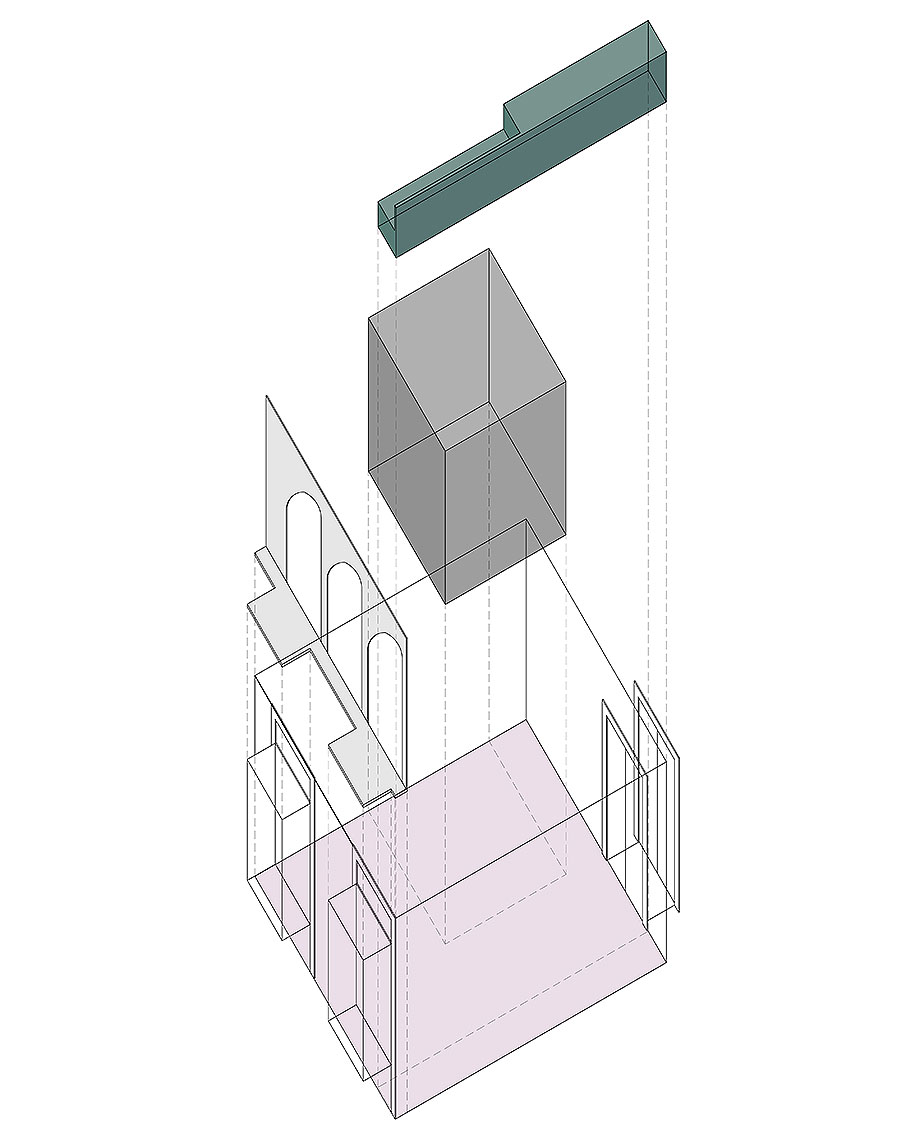 ---
VISUALIZACIÓN: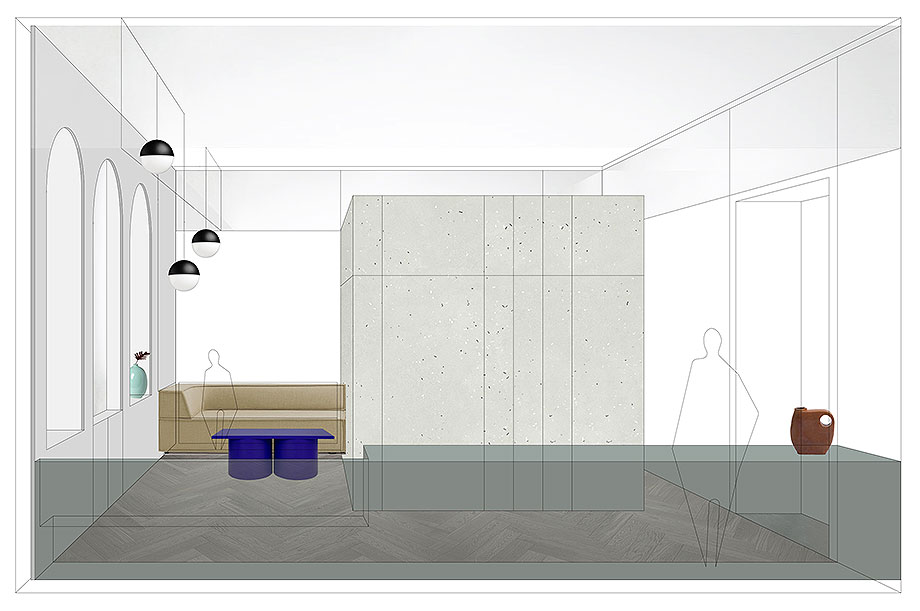 ---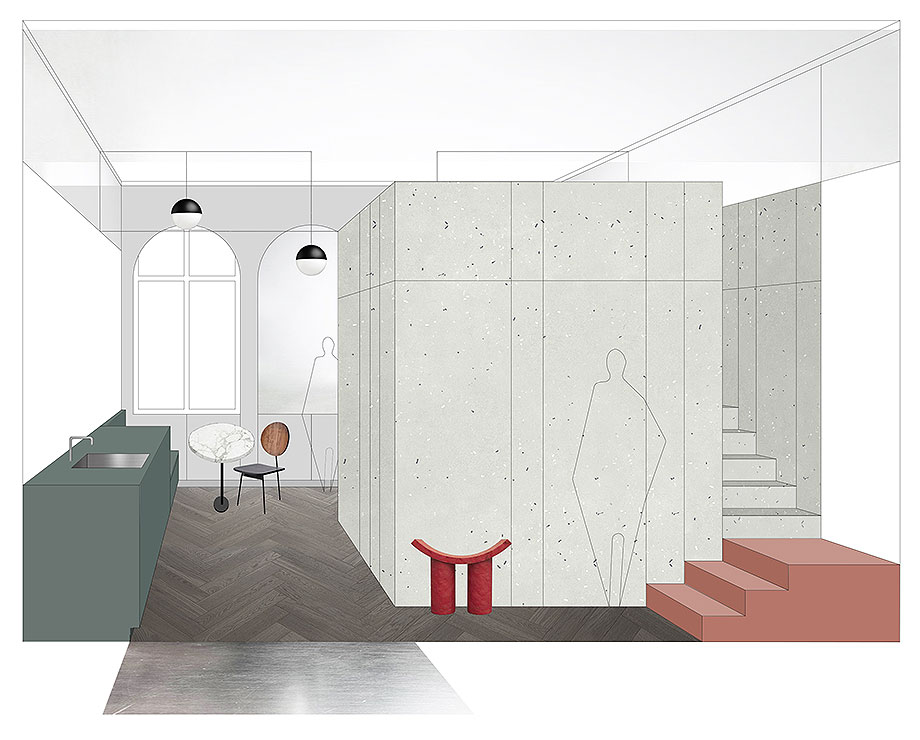 ---
SOBRE ALTO DESIGN STUDIO:
Alto design studio fue fundado en Sarajevo, en los años 90, y, desde 1993, tiene su sede en Eslovenia. Al frente de la firma se encuentran los arquitecto y padre e hija, Mirza y Nina Eminagic. A lo largo de su trayectoria, el estudio siempre ha buscado soluciones funcionales y sostenibles, estéticamente pensadas y técnicamente perfectas.
---
Fuente: Nina Eminagic (alto design studio)