---
TABLE B:
Diseñada por Konstantin Grcic, la Table B se ha convertido en uno de los iconos contemporáneos de B.D Barcelona Design, con premios como el Red Dot Best of the Best 2011. Pero lejos de estancarse, esta pieza de mobiliario de estética sobria y factura técnica se convierte en una amplia familia de mesas para todo tipo de usos, tanto en interiores como en exteriores. Y ahora, incorpora dos nuevas medidas de ancho (70 y 90 cm) como principal novedad.
En el diseño de la Table B confluyen dos conceptos, aparentemente, contrarios: un sencillo diseño que esconde un complejo desarrollo técnico. Los sobres de aluminio extrusionado están disponibles en varios acabados y unas longitudes predeterminadas, aunque también pueden ser a medida, llegando a los 6 m en una sola pieza. 
Amplia gama de usos

En cuanto a usos, la familia de mesas (también hay sillas y bancos) ofrece una amplia gama de posibilidades (comedores, oficinas, salas de reuniones, mesa de jardín, home office…). Adecuada para esta última función es la versión escritorio de 70 cm de ancho para aquellas personas que deban trabajar en casa. Las opciones de patas también crecen con nuevos diseños en madera, fundición y varilla de acero.
La relación entre Konstantin Grcic y B.D se remonta a 2001, cuando todavía era un diseñador emergente. Proyectó para B.D una fuente que aprovechaba el agua que siempre se pierde para que también pudieran beber los perros, aunque nunca llegó a fabricarse y se quedó en el cajón como otros de sus diseños de aquella época. «Hasta que llegó el éxito de la Chair One, el mundo no se rindió a su manera de hacer tan personal y a veces tan radical», apunta la editora de mobiliario.
Extrusions, una colección-homenaje
En 2008, propusieron al diseñador alemán proyectar una colección de mobiliario a la que llamaron Extrusions porque era un homenaje a las piezas históricas y pioneras de BD fabricadas mediante extrusión de aluminio. Konstantin las conocía bien porque en los años ochenta, cuando era estudiante, visitaba a menudo Madrid y Barcelona, que estaban en efervescencia creativa.
«Con la colaboración de ingenieros especializados en puentes -explica B.D-, desarrollamos y pusimos en producción la Table B (después llegaría la Chair B y el Bench B), que alcanzaba unas dimensiones nunca antes vistas en su versión Big y que resume sus virtudes como proyectista: trabaja siempre pensando en la industria y hace un arte de ello. En ese sentido es futurista, aunque sin dejar de mirar al pasado.
Grcic: el nuevo Achille Castiglioni
Sus colegas han dicho, en ocasiones, que Grcic es el nuevo Achille Castiglioni, pero tiene un estilo propio que no es comparable al de ningún otro. Se reconoce también en la funcionalidad y simplicidad de sus diseños que es solo aparente porque detrás de ellos se esconde siempre una lección de técnica. Hoy, Konstantin es uno de los diseñadores más influyentes del mundo y trabajar con él sigue siendo, como el primer día, otra lección, de talento, de rigor, de entrega y de humildad.»
---
LAS IMÁGENES:
---
SOBRE KONSTANTIN GRCIC: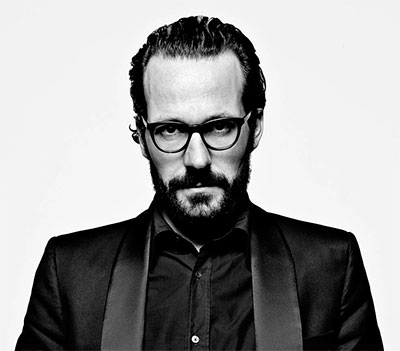 Nacido en Munich, en 1965,  Konstantin Grcic se formó como ebanista antes de estudiar diseño industrial en el Royal College of Art de Londres. Entre 1990 y 1991, trabajó con el diseñador Jasper Morrison, en la capital londinense.
En 1991, abrió en Munich su propio estudio, Konstantin Grcic Industrial Design (KGID) que es, a la vez, estudio y taller. Desde entonces diseña muebles, objetos y lámparas para primeras firmas internacionales (Authentics, B.D Barcelona Design, ClassiCon, Flos, Magis, Maharam, Muji, Nespresso, Plank, Serafino Zani, Thomas Rosenthal y Vitra, entre otras) e imparte clases en diversas instituciones.
Algunos de los productos diseñados por Grcic han recibido premios internacionales de diseño como el Compasso d'Oro por la lámpara Mayday (Flos, 2001), la silla Myto (Plank, 2011) y la lámpara OK (Flos, 2016). Además, forman parte de las exposiciones permanentes de los museos más prestigiosos del mundo como el MoMA de Nueva York, el Centre Georges Pompidou de Paris o Die Neue Sammlung en Munich. En 2021, fue nombrado miembro de la Academia de las Artes (Akademie der Künste), de Berlín.
Grcic define la función en términos humanos, combinando el rigor formal con una considerable agudeza mental y humor. Su trabajo se caracteriza por una cuidadosa investigación de la historia del arte, el diseño y la arquitectura, y su pasión por la arquitectura y los materiales.
KONSTANTIN GRCIC EN INTERIORES MINIMALISTAS
---
SOBRE B.D BARCELONA DESIGN:
B.D Barcelona Design (nacida, en 1972, como BD Ediciones de Diseño) es una de las empresas españolas con mayor prestigio internacional dentro del mundo del diseño. La Bocaccio Design (desvelado queda el secreto para quienes no lo supieran) de la Barcelona de principios de los setenta surgió de la mano de Pep Bonet, Cristian Cirici, Lluís Clotet, Mireia Riera y Oscar Tusquets como vehículo de producción de todas aquellas piezas de mobiliario, objetos y complementos que no existían en las tiendas.
Pudo haber sido únicamente un arrogante propósito, pero se iba a convertir en una experiencia singular que ofrecía una lectura del diseño insólita en nuestro país: una nueva sensibilidad, una percepción distinta para los objetos de uso cotidiano.
A lo largo de estos años, las creaciones contemporáneas han convivido en su catálogo con las de los grandes y admirados maestros clásicos: Álvaro Siza Viera, Ettore Sottsass, Javier Mariscal, Alessandro Mendini, Konstantin Grcic, Jaime Hayón, Ross Lovegrove o Alfredo Häberli han compartido espacio con Antonio Gaudí, Salvador Dalí, Charles Rennie Mackinstosh o Giuseppe Terragni. Parte de su catálogo se fabrica en ediciones especiales o limitadas bajo la etiqueta de BD Art Editions.
Actualmente, B.D está presente en más de 60 países a través de las mejores tiendas de diseño, en galerías de arte y colaborando con los estudios de interiorismo y arquitectura más vanguardistas. Asimismo, ha recibido numerosos premios como el Delta de Oro del ADI-FAD, el Premio Nacional de Diseño de 1989 o el European Community Design Prize 1990.
B.D BARCELONA DESIGN EN INTERIORES MINIMALISTAS
---
Fuente: B.D Barcelona Design
You might also like