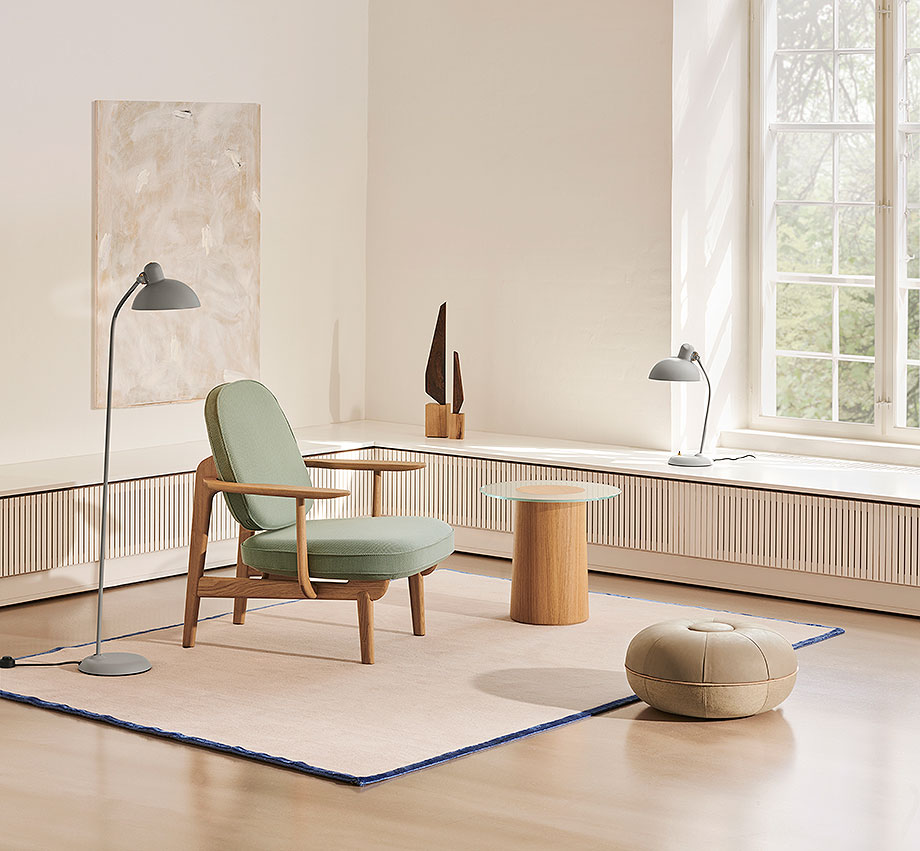 6556-T:
La 6556-T es una lámpara de sobremesa de la colección Kaiser idell™, un icono de la iluminación diseñado por Christian Dell, que encarna claramente el estilo de la Bauhaus, donde su autor empezó como encargado del taller de metal. Reeditada por la firma danesa Fritz Hansen, su estética atemporal, su pantalla y tallo articulados, y sus dimensiones la convierten en una práctica opción para cualquier espacio, desde una oficina hasta un dormitorio.
Moderno acabado en gris mate
Recientemente, Fritz Hansen, que posee los derechos de fabricación desde 2010, ha reinventado este modelo con un nuevo y moderno acabado en gris mate, uniendo la esencia del diseño original a la sensibilidad nórdica actual. La 6556-T se adapta perfectamente a un estante, alféizar de una ventana o escritorio y, gracias a la junta articulada, patentada internacionalmente, es posible ajustar la pantalla y el tallo (desde un ángulo de 15° a 18°) para dirigir la luz allí donde se necesite.
Detalles en latón
En una equilibrada combinación con detalles en latón cepillado, el nuevo y discreto color gris -la luminaria también está disponible en blanco, negro y negro mate- garantiza que la lámpara tenga siempre una estética contemporánea. Unido a la parte superior de la pantalla, el cabezal lleva grabadas las palabras «ORIGINAL KAISERidell». La colección se fabrica en acero y latón.
Medidas del modelo 6556-T: 47 cm de altura y la pantalla Ø21,5.
---
LAS IMÁGENES:
---
SOBRE CHRISTIAN DELL:
Christian Dell (Offenbach am Main in Hesse, 1893- Wiesbaden, 1974) fue un orfebre y diseñador alemán que empezó como encargado del taller de metal de la Bauhaus (1922-1925), donde implantó su estilo innovador y pionero, y donde colaboró ​​estrechamente con László Moholy-Nagy. A partir de 1926, Dell se dedicó al diseño de lámparas, editadas generalmente por Gebr. Kaiser & Co.
En 1931, vio la luz el primer catálogo, donde se incluía el modelo 6631 Luxus, y que se convertiría en la estrella indiscutible de la serie KAISER idell e icono del diseño alemán tanto por sus materiales como por su precisa tecnología. El término «idell» es una referencia a la palabra idea y su apellido, Dell. KAISER es una referencia al fabricante original – KAISER idell.
Como diseñador industrial fue un pionero en el diseño con plástico ya que en 1929-30 ya usó materiales como la baquelita y aminoplásticos.
Después de la II Guerra Mundial, Christian Dell fabricó artículos de plata y abrió una joyería en Wiesbaden, en 1948, que funcionó hasta 1955. El diseñador murió en Wiesbaden, en 1974.
---
SOBRE FRITZ HANSEN:
Fritz Hansen, también conocida como Republic of Fritz Hansen, es una compañía danesa de diseño de mobiliario fundada, en 1872, por el carpintero del mismo nombre.  A lo largo de su casi siglo y medio de trayectoria, diseñadores de prestigio como Arne Jacobsen, Poul Kjærholm, Hans J. Wegner y Piet Hein han trabajado para la firma. Actualmente, colaboran con Fritz Hansen diseñadores como Hiromichi Kono, Cecilie Manz, Kasper Salto, Piero Lissoni o Jaime Hayon.
En el año 2015, Republic of Fritz Hansen adquirió la empresa LIGHTYEARS que ofrece luminarias de diseño danés contemporáneo. Su colección está creada en colaboración con diseñadores daneses e internacionales como Cecilie Manz, GamFratesi, Jo Hammerborg, Iskos Berlin, KiBiSi, Jøn Utzon y Christian Dell.
En la actualidad, la compañía danesa también cuenta con una colección de accesorios para el hogar bautizada con el nombre de Objects.
FRITZ HANSEN EN INTERIORES MINIMALISTAS
---
Fuente: Fritz Hansen
You might also like