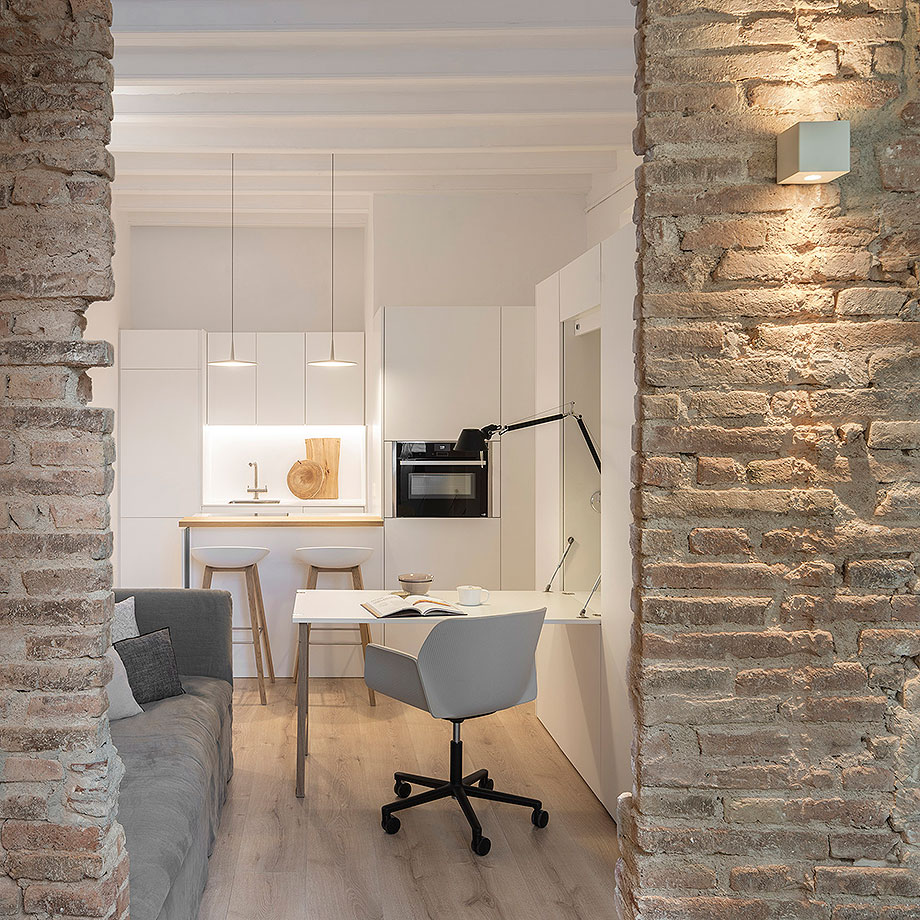 PISO EN GRACIA:
Los 50 m² de este piso del popular barrio de Gracia, en Barcelona (España), se transformaron, tras el proyecto de diseño interior de Susanna Cots, en una cálida y funcional vivienda, donde las antiguas paredes recuperadas proporcionan una fuerte personalidad al espacio. «Paredes desiguales, con el carácter del paso de los años, que nos invitaron a trabajarlas respetando su estructura y la sabiduría del tiempo», dice la autora del proyecto.
Programa funcional claro y sencillo
El apartamento, donde vive y trabaja una sola persona, ofrece un programa funcional claro y sencillo: un pequeño vestíbulo, donde ha sido posible incluir un espacio de almacenaje-zapatero, estar, comedor y cocina, espacio de trabajo, dormitorio y baño. La distribución de estos espacios ha buscado un concepto lo más abierto posible, evitando la sensación de claustrofobia que provocaría haber creado estancias cerradas para cada uno de ellos. Como explica Susanna Cots «el interiorismo en un espacio pequeño tiene una doble misión: ser generador de bienestar y ganar la máxima amplitud posible al espacio».
Cápsula de almacenaje en el centro del espacio
Las diferentes estancias giran alrededor de un volumen, colocado en el centro del apartamento. Una de las puertas de esta cápsula de almacenaje, que no llega a tocar el techo, es, en realidad, una mesa que puede acoger hasta cinco comensales. Además, en ella se guardan también las sillas y la televisión, lo que ayuda a mantener el tan necesario orden en viviendas pequeñas. La iluminación integrada en este elemento sirve para dar protagonismo a este espacio cuando se utilice.
Este mismo volumen sirve también para privatizar el dormitorio, sencillo y práctico, donde la interiorista diseñó el cabezal a medida pensando en la optimización del almacenaje, ya que es posible guardar en él pequeños objetos.
A continuación del dormitorio, el baño, que ocupa parte de la antigua galería incoporada, ahora, al estar, se ha concebido como un espacio tranquilo, con un revestimiento en color arena sobre el que destaca el negro de la grifería, el perfil de la mampara y la ventana, y el blanco del lavabo y el sanitario.
El blanco, un elemento «invisible» muy visible
Éste último color ha sido uno de los elementos «invisibles» principales a la hora de diseñar los interiores. El objetivo – comenta la diseñadora- era sencillo: dar luz, ganar amplitud y generar un lienzo en blanco de creatividad para la propietaria de este hogar, que vive y trabaja en él.
Concluye Susanna Cots que "el diseño de esta vivienda está creado para que el carácter del espacio vaya de la mano de la personalidad de quien vive en él, respetando y promoviendo un estado de ánimo estable, consciente y presente.»
---
LAS IMÁGENES DE MAURICIO FUERTES:
---
FICHA TÉCNICA:
Proyecto:

Cápsula.

Ubicación:

Barcelona (España).

Superficie:

50 m².

Año:

2021.

Autora:

Susanna Cots Interior Design.

Fotografías:

Mauricio Fuertes.
---
PLANIMETRÍA: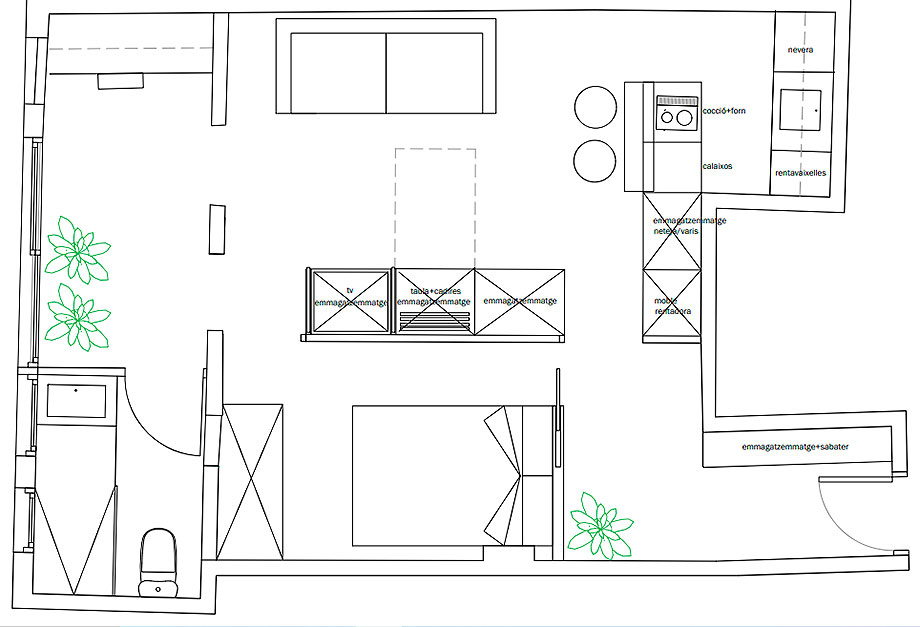 ---
SOBRE SUSANNA COTS INTERIOR DESIGN: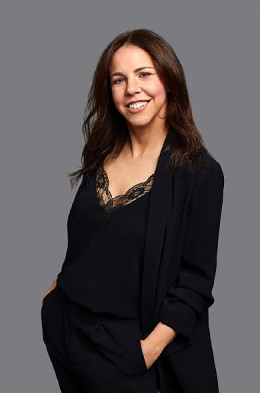 La interiorista Susanna Cots (Solsona, 1977) acaba sus estudios de Proyectista de Edificios y Obras, en 1998, y empieza los estudios de Diseño de Interiores, en Barcelona. Durante su formación académica trabaja en diferentes estudios de arquitectura y empresas relacionadas con el mundo del diseño para complementar su formación. En el año 2003, realiza un Máster en escaparatismo, en Madrid, y un año después, uno diseño de interiores para la producción audiovisual, en Barcelona. Después de varios años de experiencia, en el 2001 funda su propio estudio de diseño Susanna Cots Estudi de Disseny.
En estos ya más de 15 años de carrera, la interiorista ha diseñado espacios de todo tipo y como ella misma dice "todo aquello que sea susceptible de ser diseñado". El trabajo de Susanna Cots converge en un punto intermedio entre funcionalidad y estética, atemporalidad y comodidad. Su búsqueda incesante a través del blanco, las líneas estilizadas y el orden visual consiguen que sus proyectos transmitan una personalidad cada vez más consolidada.
Sus proyectos han sido reconocido en publicaciones de ámbito nacional como Diseño Interior, Casa Viva, Mi Casa, La Vanguardia o El País, entre otros. Ha participado en diferentes concursos y premios como el ICFF New York (International Contemporary Furniture Fair), los Premios FAD, Porcelanosa Interiores, los Andrew Martin's Interior Design Awards de Londres y los SBID Awards, de The Society of British Interior Design. También ha ganado el premio Mejor Interiorista del Año, concedido por los Luxury Lifestyle Awards. Su trabajo está presente en diferentes universidades del país, es Miembro Honorífico de The Society of British Interior Design y del Colegio de Decoradores de Colombia. En 2014, Susanna Cots abrió su primer estudio internacional en Hong Kong.
SUSANNA COTS EN INTERIORES MINIMALISTAS
---
Fuente: I Love Me (Susanna Cots Interior Design)
You might also like