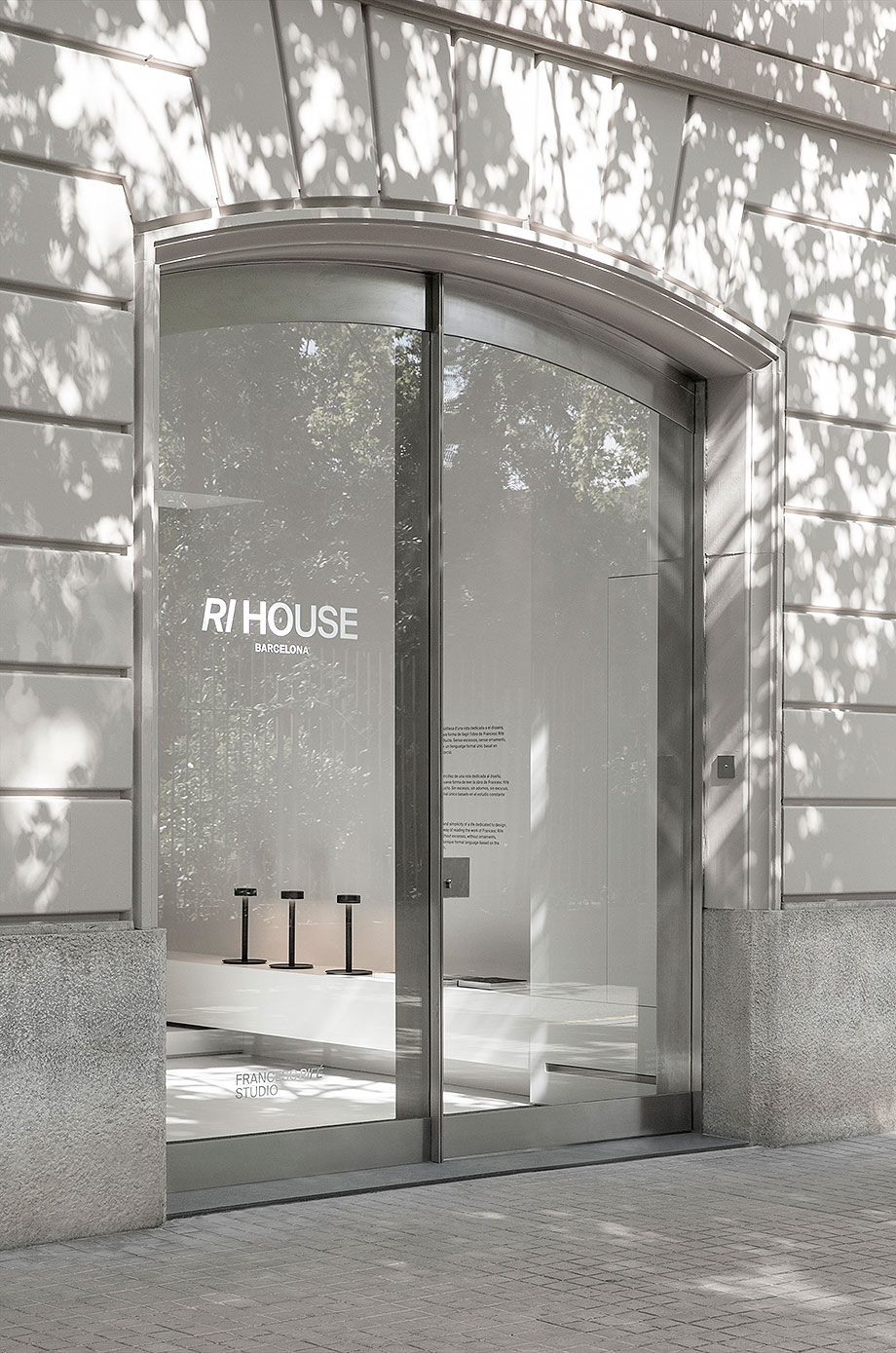 RI HOUSE:
RI HOUSE se presenta como una extensión del estudio de Francesc Rifé y de la nueva tienda online rihouse.shop donde, en un ambiente completamente neutro, los productos del diseñador y su equipo ofrecen una nueva lectura. El nuevo espacio ocupa los bajos del número 3 de la calle Josep Bertrand y disfruta de su ubicación junto al Turo Park, un pequeño pulmón verde en esta zona de Barcelona.
Con una primera sala como prefacio, mucho más espontánea y experimental, y una planta -1, más discreta e íntima, se toma la sintaxis de una galería de arte contemporáneo y el trasfondo de un hogar para exponer allí una cuidada  selección de diseños de mobiliario e iluminación creados por el estudio para reconocidas marcas.
Pocos materiales y superficies blancas
El uso de pocos materiales, detalles conscientes y superficies blancas y sobrias hacen que el protagonismo recaiga sobre las piezas de mobiliario e iluminación expuestas. En la planta -1, los cinco arcos de medio punto de ladrillo manual descubiertos durante los trabajos de restauración se integran discretamente en la morfología arquitectónica.
En colaboración con la firma bulhaup Sant Cugat, se ha integrado en el local el sistema b3 de la marca alemana de cocinas en acero inoxidable. Este espacio busca ampliar la funcionalidad del lugar, pensado también para acoger pequeños eventos culinarios y diálogos entre profesionales.
Un puente a creativos emergentes
Con este nuevo proyecto también se ha querido tender puentes a creativos emergentes que están abriendo interrogantes en el sector diseño y promoviendo cambios. A través de un vigoroso programa de colaboradores, RI HOUSE promocionará la obra y objetos de artistas y artesanos. Actualmente y durante el recorrido, se descubre la obra de la ceramista Glòria Carrillo (Pols Ceramic), la serie The Beautiful Simplicity del fotógrafo Javier Márquez o los "tubinos" metálicos Pinasaan de la diseñadora Claudia Girbau.
---
LAS IMÁGENES DE JAVIER MÁRQUEZ:
---
FICHA TÉCNICA:
Proyecto:

Ri House.

Ubicación:

Barcelona (España).

Año:

2021.

Autor:

Francesc Rifé Studio.
Mobiliario e iluminación:
Foto 2:

butaca RC WOOD (Blasco&Vila) y lámpara de suelo PEAK (Milan Iluminación).

Foto 4:

lámpara de sobremesa PEAK LANE (Milan Iluminación), butacas NEO y KONG (JMM) y butaca HOOD (Zanette).

Foto 5:

banco BUD (Perobell).

Foto 8:

lámpara de suelo PEAK LANE (Milan Iluminación), butaca SAM (Perobell) y sillas de la colección RC (Blasco&Vila).

Foto 9:

sillas de la colección RC (Blasco&Vila).

Foto 10:

sistema B3 de bulthaup.

Foto 12:

vajilla y jarrón VOLÀTIL (Pols ceramic).

Foto 14:

mesa TKNIKA (Akaba), silla BE WOOD (Dynamobel) y cuadro de ANTONIA FERRER (Alzueta Gallery).

Foto 19:

sofá SAM (Perobell), lámpara de sobremesa PEAK LANE y lámpara de suelo PEAK (Milan Iluminación).
Fotografías: Javier Márquez.
---
PLANIMETRÍA:

---

---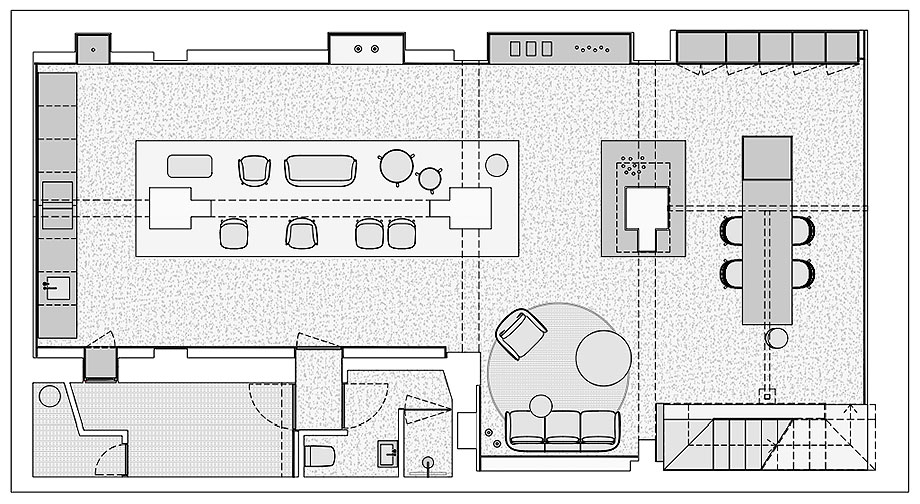 ---
SOBRE FRANCESC RIFÉ: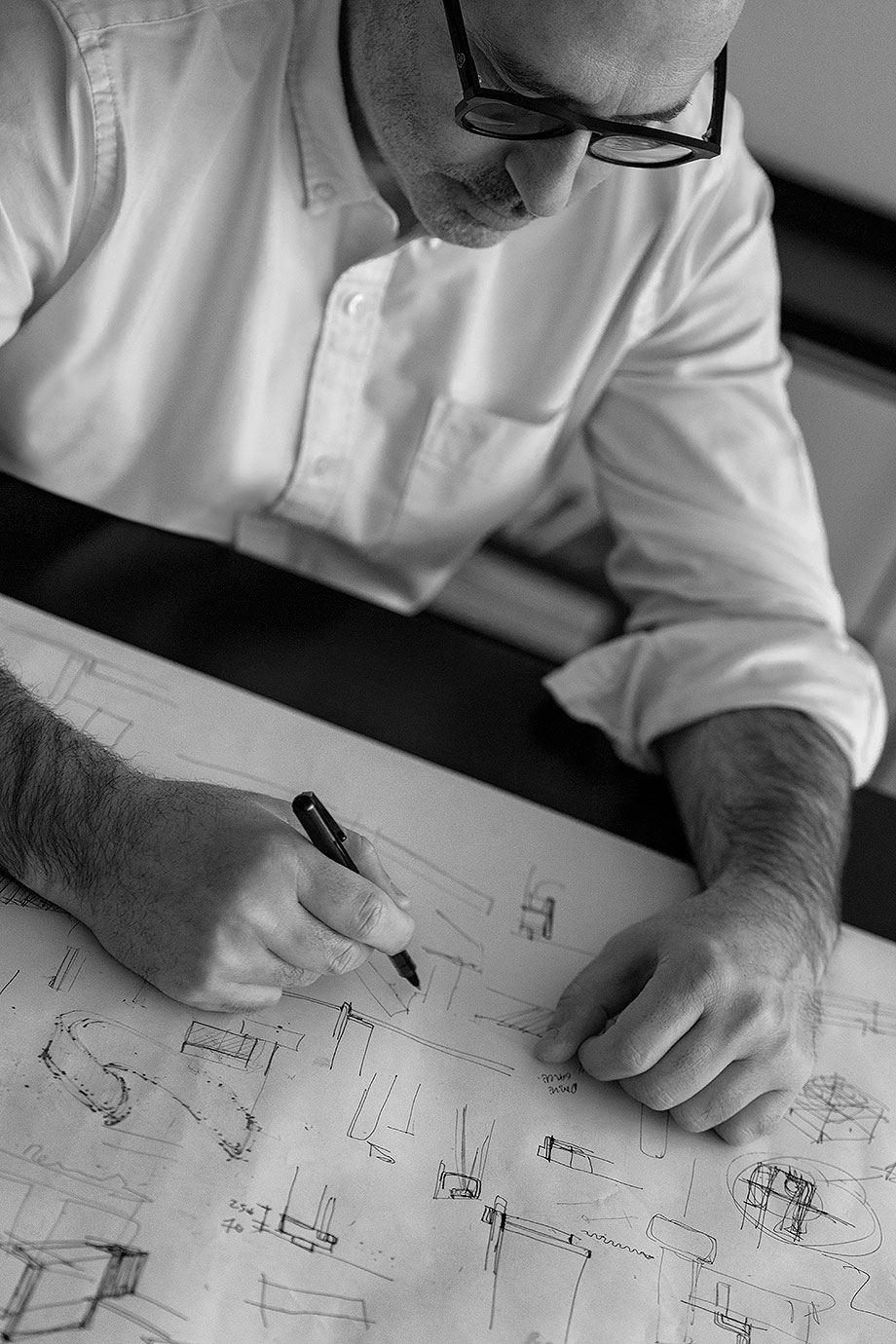 Interiorista y diseñador industrial, Francesc Rifé (Sant Sadurní d'Anoia / Barcelona, 1969) funda su estudio, en la Ciudad Condal, en 1994. Influenciado por el minimalismo y marcado por una historia familiar ligada a la artesanía, articula toda su obra en torno al orden espacial y a la proporción geométrica. También demuestra una especial atracción por los materiales nobles que no le abandonará jamás.
Actualmente, dirige a un equipo de profesionales de distintos ámbitos del diseño y sus proyectos nacionales e internacionales abarcan desde el interiorismo al diseño industrial, pasando por la creación de conceptos, instalaciones, grafismo y dirección artística.
Durante su trayectoria, Francesc Rifé ha sido reconocido con importantes premios de diseño como los Contract World Awards, el Red Dot, el Premio Nacional de Arquitectura Efímera Emporia, ICFF Editors Awards, Premios FAD y varios premios ASCER.
El trabajo del interiorista ha sido ampliamente divulgado en prensa generalista así como en publicaciones y libros especializados a nivel nacional e internacional. Asimismo, se han editado varios libros que recopilan sus obras más destacadas.
Durante años, se ha dedicado a la docencia y actualmente tiene un papel activo en talleres, congresos y conferencias.
Fotografía: Javier Márquez

FRANCESC RIFÉ EN INTERIORES MINIMALISTAS
---
Fuente: Francesc Rifé Studio
You might also like