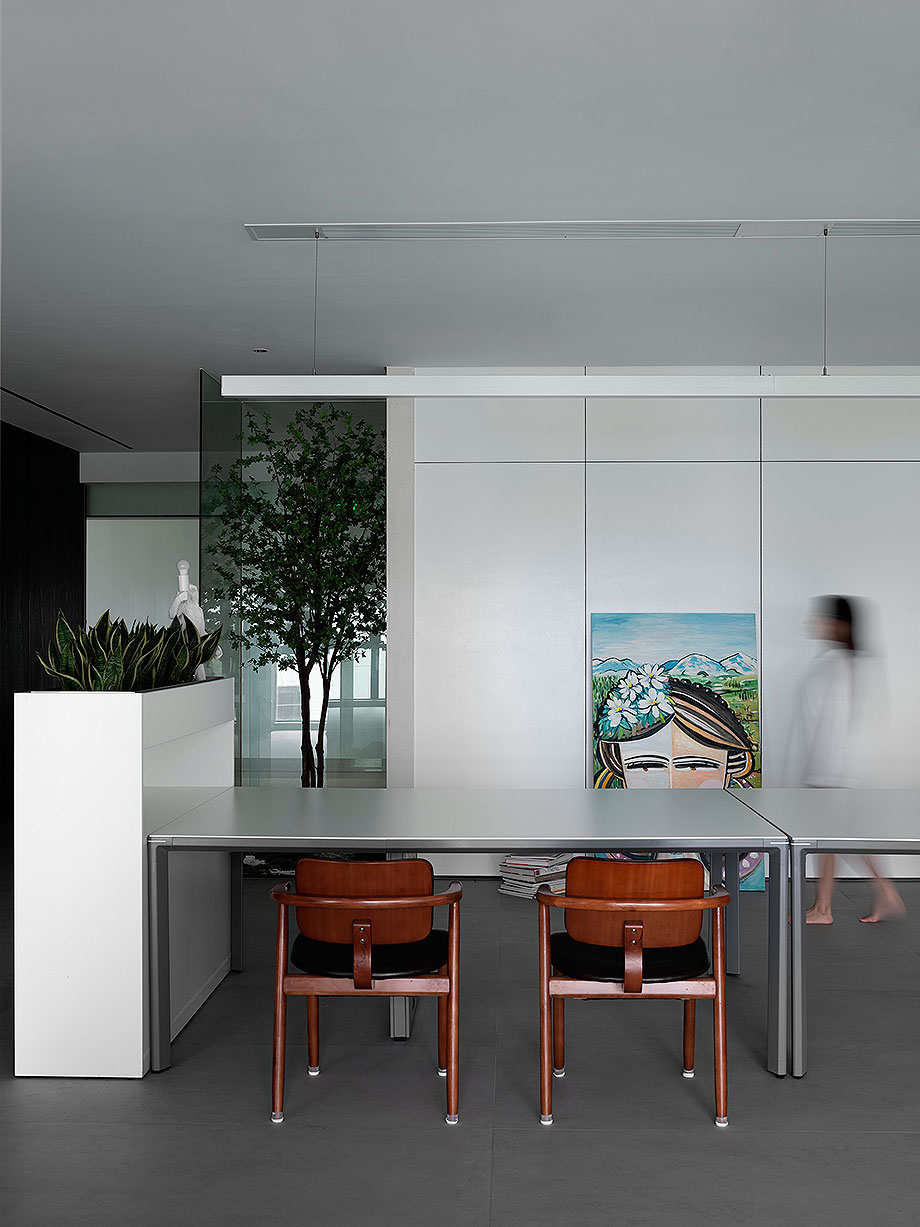 ---
BOX IN THE BOX:
En un momento de reconfiguración de los espacios de trabajo, el estudio chino Giant Design proyectó estas oficinas como un lugar para trabajar pero también para comunicarse y descansar. Xiaojie Li, fundador de la firma, quiso perseguir la esencia del espacio, equilibrando la relación entre funcionalidad y belleza, y convirtiéndolo «en portador de la búsqueda de la paz interior».
Con el blanco y el negro como colores principales, el local, ubicado en Foshan (China), es flexible y ofrece diferentes grados de privacidad mientras establece conexiones entre los distintos escenarios. Explican los autores del proyecto que la percepción de este espacio solo como oficina evoluciona con el paso del tiempo, haciendo que ya no solo parezca una oficina cuando has permanecido dentro durante un rato.
Combinar estancias abiertas y cerradas
La distribución ofrece una combinación de estancias abiertas y cerradas donde trabajar pero también relajarse. La recepción, tranquila y privada, y el espacio público, amplio y abierto, están separados por paredes pero también conectados con el paisaje natural al aire libre.
Un espacio central diáfano, presidido por una gran mesa de trabajo, articula el resto del programa funcional, donde las estancias ordenadas, las plantas y la luz natural ayudan a dar forma un espacio fluido. Asimismo, los cuadros, que imprimen vida a la paleta de color blanco, inyectan una textura cálida, convirtiéndose en un interesante elemento decorativo por su fuerza visual.
Lugar de trabajo y eventos
El espacio diáfano también se puede utilizar para celebrar eventos públicos donde todos pueden sentarse a la larga mesa ya sea para brindar o intercambiar ideas. Por otra parte, el pasillo se convierte en un lugar de pausa y meditación, haciendo que las personas muy estresadas puedan relajarse y descansar.
Conectando el entorno natural con el espacio interior negro, este lugar de transición ofrece un ambiente relajado como un patio al aire libre. La forma interior y la pared negra se utilizan para reforzar la intención de difuminar los límites entre el interior y el exterior, mientras que las superficies y las líneas geométricas se escalonan, logrando un equilibrio estético entre rectas y curvas.
Evitar el «autoaislamiento»
Para evitar la típica situación de «autoaislamiento» laboral provocada por las estancias cerradas, los diseñadores intentaron remodelar la situación y crear una relación interior-exterior más adecuada, invirtiendo el orden del espacio original.
Concluye Giant Design que «el proyecto enfatiza la selectividad del espacio y abandona la limitación de la distancia impuesta a las personas por la arquitectura para transformar los atributos del espacio y que pueda cambiarse la rígida e indiferente atmósfera rutinaria de trabajo.»
---
LAS IMÁGENES DE YUN OUYANG (YINXIANG ARCHITECTURAL PHOTOGRAPHY):
---
FICHA TÉCNICA:
Proyecto:

Box in the box (La caja en la caja).

Ubicación:

Foshan (China).

Superficie:

300 m².

Año:

2021.

Autor:

Giant Design.

Jefes de diseño:

Xiaojie Li y Zhiqiang Hu.

Modelo:

Lingjun Luo.

Fotografías:

Yun Ouyang (Yinxiang Architectural Photography).
---
PLANIMETRÍA:

---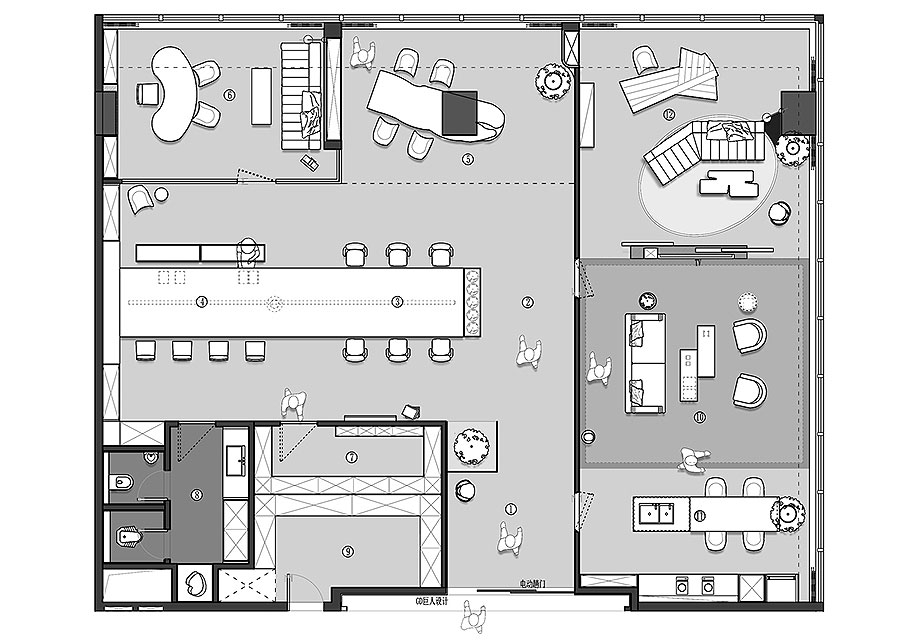 ---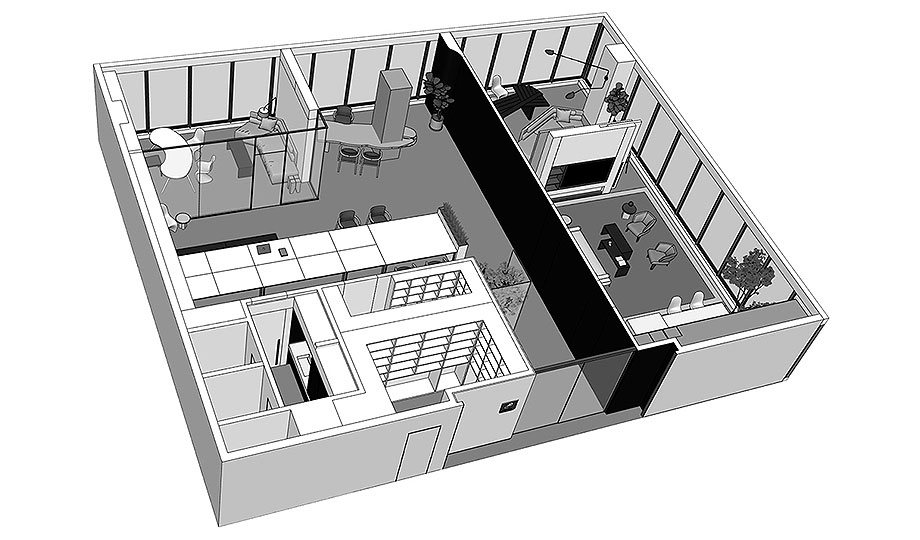 ---
SOBRE GIANT DESIGN:
Fundado por Xiaojie Li, Giant Design es un estudio de diseño de interiores, centrado en el diseño de villas de lujo. Xiaojie Li es miembro de la Architectural Society de China, del Comité de Diseño de Interiores de la Asociación China de Decoración de Edificios y del Consejo de FEDA · Asociación de Diseño Ambiental de Foshan.
---
Fuente: Ao Zhang