---
PALCO:
Fundadores del estudio londinense Industrial Facility, Sam Hecht y Kim Colin son conocidos a nivel internacional por sus bellos y funcionales diseños que, casi siempre, tienen por protagonistas los objetos comunes de la vida cotidiana. Para la firma Kristalia, han diseñado esta colección outdoor inspirada en los palés, las mesas de listones y los clásicos suelos de exteriores.
Plataforma de madera de teca o aluminio
Los elementos de la colección Palco, primera colaboración entre Industrial Facility y Kristalia, están compuestos por una plataforma de listones de teca o de aluminio y uno o varios elementos tapizados, que pueden combinarse entre sí para crear diversas conguraciones personalizables, incluso, después de la compra. En el caso de la versión en madera, ésta puede ser tratada con aceite o dejada al natural para que adquiera el característico color plateado de la teca, mientras que el aluminio es 100% reciclable y no requiere de matenimiento.
También como mesita baja
Funcionalmente, es posible cubrir totalmente la plataforma, añadiendo los elementos tapizados, o utilizarla como mesita baja para apoyar una lámpara, un libro o una bebida. La ubicación ideal de Palco es, según Kristalia, en las galerías o en las terrazas cubiertas y semicubiertas.
---
LAS IMÁGENES:
---
---
---
SOBRE SAM HETCH & KIM COLIN (INDUSTRIAL FACILITY):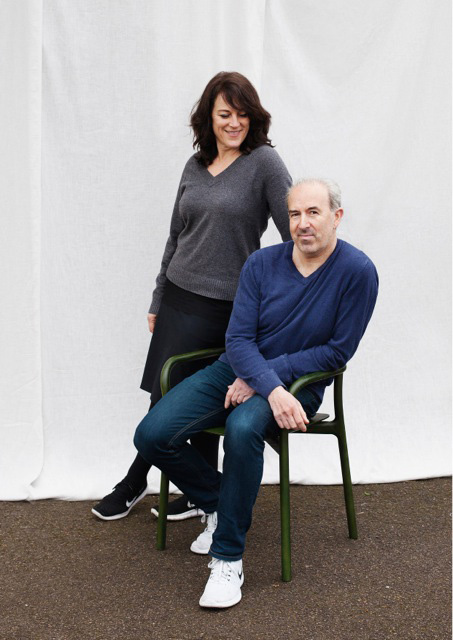 Sam Hecht (Londres) y Kim Colin (Los Ángeles) son socios y fundadores del estudio de diseño londinense Industrial Facility. Juntos han desarrollado proyectos para firmas que van desde Yamaha e Issey Miyake a Herman Miller y Mattiazzi, con trabajos que reflejan una meticulosa atención a los detalles y al contexto que los rodea. Son conocidos por la belleza que emana de los productos, mobiliario y exposiciones que diseñan.
El trabajo del despacho ha recibido más de 50 premios internacionales, incluyendo cinco iF Hannover Gold Awards, y forma parte de diferentes colecciones permanentes como la del MoMA de Nueva York; el Centro Pompidou de París, el SFMoMA y el Chicago Art Institute, entre otros. También fue objeto de la exposición "Industrial Facility: Some Recent Projects", que acogió el Design Museum de Londres, en 2008.
Ese mismo año, Hecht fue nombrado Royal Designer for Industry además de ser nominado para el Prince Philip Designers Prize. Colin fue nombrada Royal Designer for Industry en 2015. En 2011 y 2013, el estudio fue galardonado con el Furniture Design of the Year (Diseño de mueble del año), por el mobiliario del Design Museum de Londres, y el Elle Deco Best Design, respectivamente. En 2015, fueron comisarios de la exposición "Beauty as Unfinished Business", presentada en la Bienal Internacional de Diseño de Saint Etienne, Francia.
INDUSTRIAL FACILITY EN INTERIORES MINIMALISTAS
---
SOBRE KRISTALIA:
Kristalia es una firma italiana, especializada en mobiliario y complementos para el hogar de línea contemporánea, ligados a las exigencias de la vida actual. Fue fundada, en 1994, por un grupo de jóvenes empresarios que compartían dos grandes pasiones: el diseño y el jazz.
Desde sus inicios, la firma con sede en Prata ha prestado una particular atención a los proyectos más innovadores mediante la experimentación y la investigación de soluciones técnicas nuevas y el uso de materiales de sectores de la moda y del deporte. En el otoño de 1995, la firma presentó su primer catálogo.
El segmento de mercado al que se dirigían sus primeros productos se correspondía a un consumidor de mediana edad, orientado a la decoración contemporánea, con una capacidad económica media-alta y que buscaba detalles acogedores, ligados a la tradición. A partir de finales de los años 90, surgió la voluntad de emprender un recorrido diferente, no necesariamente ligado a la tradición, y de ofrecer un producto con características estéticas y cualitativas ligadas, sobre todo, al diseño italiano contemporáneo.
Hoy en día, la colección de Kristalia propone objetos que se distinguen por su carácter esencial y por su facilidad de colocación, que quieren llegar a un grupo de usuarios más joven y en línea con las exigencias del estilo de vida actual.
Sus diseños llevan la firma de reconocidos profesionales como Christophe Pillet, Patrick Norguet, Harry & Camila, Bartoli Design, Luca Nichetto, LucidiPevere y Neuland Paster & Geldmacher, entre otros.
KRISTALIA EN INTERIORES MINIMALISTAS
---
Fuente: Kristalia
You might also like