---
DISHAO OPTICAL:
El estudio chino ONEXN Architects se encargó de diseñar los elegantes interiores de esta óptica, situada en The Mixc World, un gran centro comercial de la ciudad de Shenzen (China), construido en 2017. El propietario de Dishao Optical, empresa que vende gafas hechas a mano de múltiples firmas japonesas, pidió que en la tienda se respirase un aire zen y se hiciese una interpretación de la filosofía oriental desde un contexto contemporáneo.
En respuesta al requisito del fundador de Dishao Optical, el equipo de diseño convirtió la tienda en «un retiro espiritual urbano que encarna el espíritu de la artesanía» sin tener que recurrir a formas y expresiones tradicionales. Asimismo, teniendo en cuenta que los clientes de la marca son personas que buscan productos distintivos en lugar de seguir las tendencias, ONEXN Architects identificó tres palabras claves para definir el espacio: elegante, delicado y sobrio.
Espíritu artesanal a través de un diseño geométrico simple
En la intervención, se adoptó un diseño geométrico simple para expresar el espíritu artesanal, paredes retroiluminadas para crear un espacio fluido y abierto y se reemplazaron los materiales tradicionales por materiales sintéticos modernos para estimular la tensión artística de la tienda.
El área frontal del establecimiento está rodeada por paredes luminosas que forman una zona independiente y que, destacando sobre el resto del espacio, simboliza el espíritu de los artesanos de gafas. Esta tranquila atmósfera contrasta con el ambiente agitado que se vive fuera, ya que el local se encuentra cerca de una parada de metro y el ir y venir de transeúntes es constante.
Estética oriental contemporánea
La elegante iluminación de la entrada muestra la interpretación que el estudio de arquitectura ha hecho de la estética oriental contemporánea. El papel Tyvek, combinado con un revestimiento de paja, expresa un ambiente sobrio en la estética oriental. 
Muros pantalla con diferentes texturas y formas (largas y cortas, transparentes, translúcidas y opacas) dividen el espacio en varias zonas y los numerosos huecos desdibujan los límites del espacio, mejorando la conexión entre las diferentes áreas funcionales. Además, los diseñadores quisieron reproducir en la tienda la experiencia de estar recorriendo un jardín oriental tradicional para ofrecer diferentes vistas a medida que los clientes se mueves por la óptica.
Fotografías y gafas
Atendiendo también a la perspectiva fotográfica que tiene el dueño de la óptica, el equipo de diseño combinó trabajos de fotografía con las gafas expuestas en forma de galería de arte para crear narrativas espaciales y, al mismo tiempo, contar la historia de la marca. El proyecto no sigue las tendencias predominantes en la actualidad. A través de una interpretación creativa de la estética oriental, transmite artesanía y espíritu de marca, y muestra un retorno a la pureza.
---
LAS IMÁGENES DE YAN MING:
---
FICHA TÉCNICA:
Proyecto:

Óptica Dishao.

Ubicación:

The Mixc World, Shennan Avenue, Nanshan District, Shenzhen (China).

Superficie:

133 m².

Año:

julio 2022.

Autor:

Onexn Architectural & Spatial Design Office (Shenzhen) Co., Ltd.

Diseñadora jefe:

Wang Jingjing.

Diseñador:

Guo Yanxin.

Construcción:

Li Yulin.

Diseño de iluminación:

PUDI.

Accesorios:

GOOPAK.

Fotografías:

Yan Ming.
---
PLANIMETRÍA: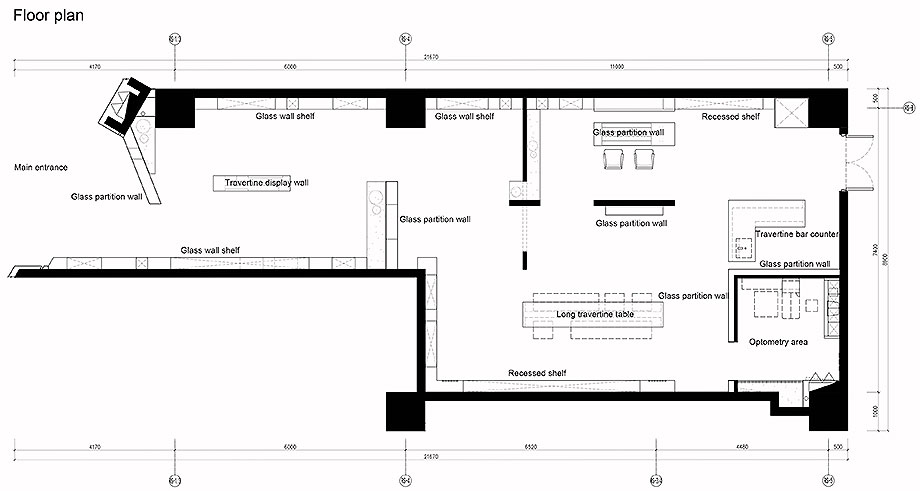 ---
AXONOMETRÍA: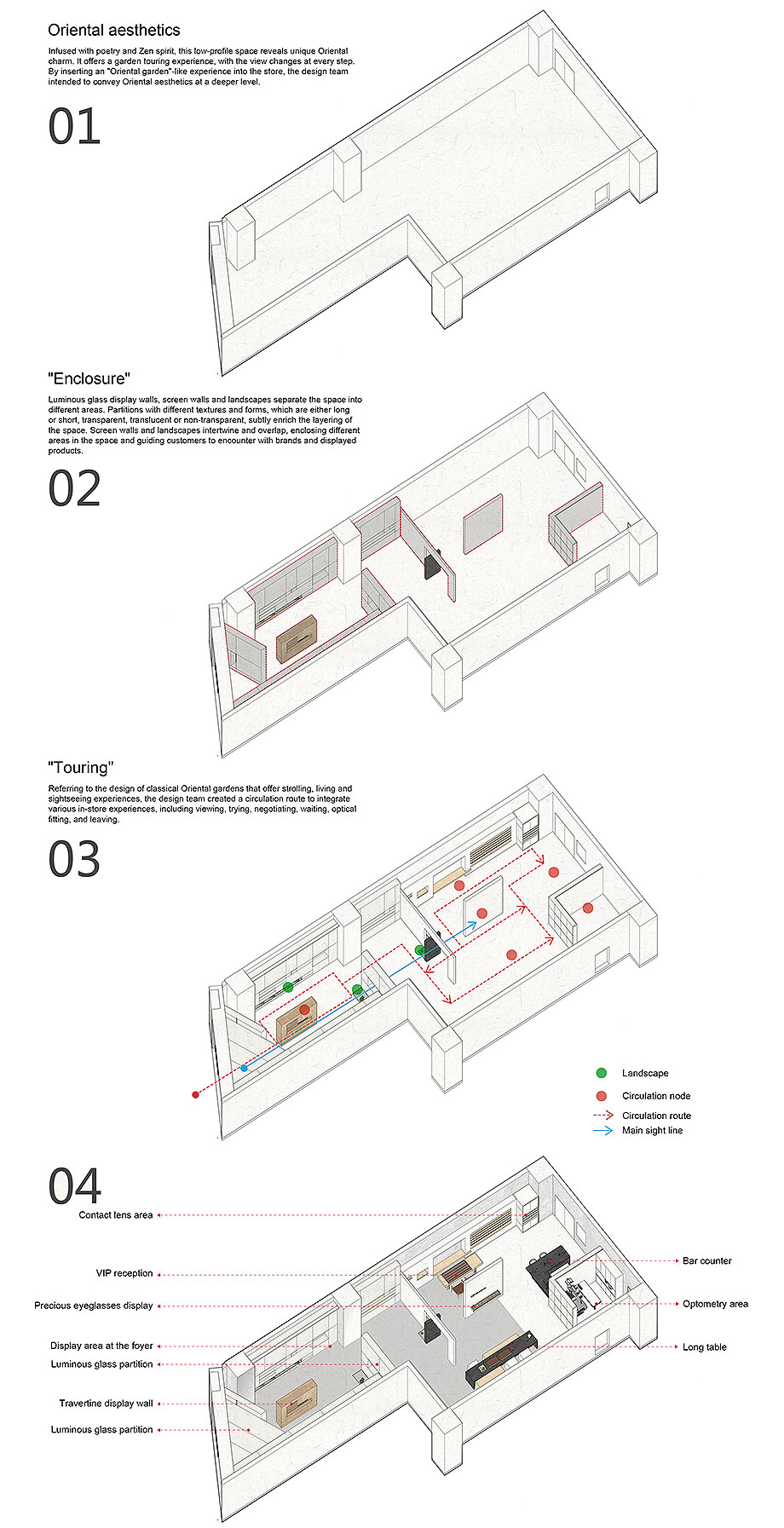 ---
SOBRE ONEXN ARCHITECTS:
A partir de su devoción por el pensamiento y la práctica de la arquitectura, Bo Zhang y Jingjing Wang fundaron ONEXN Architects, en Shenzhen (China), en 2015. Este equipo multidisciplinar está formado por profesionales de diferentes orígenes, incluidos urbanistas, arquitectos, diseñadores de interiores y artesanos. «Hacemos hincapié en la integralidad, la innovación y la viabilidad a lo largo del ciclo del proyecto. A través de la cooperación multidisciplinar, nuestro objetivo es encontrar la mejor solución en el proceso para equilibrar muchos factores, incluidos el concepto, los materiales, la tecnología, el coste, la construcción y las limitaciones. Se utilizan estrategias sistemáticas para lograr una experiencia espacial cultural y espiritual desde la inspiración hasta la finalización», explican.
El estudio está atento a los nuevos fenómenos y conflictos que ocurren, en la actualidad, en su ciudad. Prestan mucha atención a las aldeas urbanas que evolucionan rápidamente a un ritmo único, a la transformación de las antiguas áreas industriales, a las comunidades de arte contemporáneo y a las nuevas entidades económicas que están floreciendo en la era de Internet. «Estamos respondiendo a estos problemas con nuestro pensamiento y práctica sistemáticos, y el proceso de pensamiento basado en bocetos y modelos se ha integrado en nuestra vida diaria. Creemos profundamente que, para responder a los desafíos y necesidades emergentes de nuestra profesión, el nuevo enfoque de diseño se basará en el proceso de investigación, extracción, introspección y transformación.»
Piensan que «el espacio es un medio para conectar y revelar», y que, partiendo de este punto de vista, todo su pensamiento y práctica en ONEXN conducen a la esencia de la arquitectura, y eso es exactamente lo que representa ONE. Por otro lado, X representa las múltiples oportunidades y desafíos de campos desconocidos cuando nuestro pensamiento arquitectónico interactúa con el mundo exterior y provoca transformaciones y reacciones donde podemos hacer algo diferente. No nos conformamos con la realización de un proyecto, sino que queremos darnos cuenta de la continuidad del contexto, y crear lugares que estén íntimamente relacionados con nuestra vida.»
---
Fuente: Sunshine PR (ONEXN Architects)