---
VASO:
Kim Colin y Sam Hecht, cofundadores del estudio londinense Industrial Facility, han colaborado con la firma Santa & Cole para crear la lámpara de suspensión Vaso. Esta lámpara de interior nace a partir de la luminaria urbana Tumbler, diseñada por el estudio británico para Urbidermis (editora de elementos urbanos del Grupo Santa & Cole).
La luminaria para exterior Tumbler, se denomina así aludiendo a los clásicos vasos Tumbler, es por ello que Industrial Facility ha querido llamar Vaso a la versión para interior. La nueva propuesta se produce en aluminio con acabado mate y su diseño presenta una forma cónica de acabados suavemente curvos que recuerda a una campana luminosa, delicada y amable a la vista, pero de estructura sólida y esencial.
Una lámpara atemporal, sencilla y eficiente
El estudio Industrial Facility, fiel a su estilo de crear belleza a partir de la utilidad de los objetos, ha concebido un diseño que se muestra como un básico por su atemporalidad, sencillez y eficiencia.
La nueva lámpara de Santa & Cole Vaso, emite una luz cálida y uniforme gracias a su difusor de opalina que proporciona un haz de luz regulable y generoso, que se adapta a la potencia deseada evitando así cualquier deslumbramiento, lo que la convierte en una luminaria idónea para reunir a personas alrededor de una mesa.
Adaptable a la arquitectura de cualquier estancia
Su estética simple y elegante permite integrarla en la arquitectura de cualquier estancia, respetando y resaltando sus formas, pudiendo ser aplicada sola o en múltiplos tanto en entornos domésticos como comerciales: mostradores, barras de bar, habitaciones…
Está disponible en tres colores: gris aluminio, blanco y negro.
---
LAS IMÁGENES DE ENRIC BADRINAS:
---
SOBRE SAM HETCH & KIM COLIN (INDUSTRIAL FACILITY):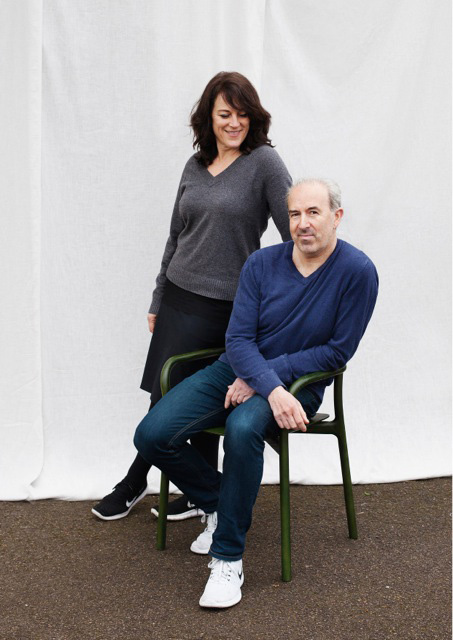 Sam Hecht (Londres) y Kim Colin (Los Ángeles) son socios y fundadores del estudio de diseño londinense Industrial Facility. Juntos han desarrollado proyectos para firmas que van desde Yamaha e Issey Miyake a Herman Miller y Mattiazzi, con trabajos que reflejan una meticulosa atención a los detalles y al contexto que los rodea. Son conocidos por la belleza que emana de los productos, mobiliario y exposiciones que diseñan.
El trabajo del despacho ha recibido más de 50 premios internacionales, incluyendo cinco iF Hannover Gold Awards, y forma parte de diferentes colecciones permanentes como la del MoMA de Nueva York; el Centro Pompidou de París, el SFMoMA y el Chicago Art Institute, entre otros. También fue objeto de la exposición "Industrial Facility: Some Recent Projects", que acogió el Design Museum de Londres, en 2008.
Ese mismo año, Hecht fue nombrado Royal Designer for Industry además de ser nominado para el Prince Philip Designers Prize. Colin fue nombrada Royal Designer for Industry en 2015. En 2011 y 2013, el estudio fue galardonado con el Furniture Design of the Year (Diseño de mueble del año), por el mobiliario del Design Museum de Londres, y el Elle Deco Best Design, respectivamente. En 2015, fueron comisarios de la exposición "Beauty as Unfinished Business", presentada en la Bienal Internacional de Diseño de Saint Etienne, Francia.
INDUSTRIAL FACILITY EN INTERIORES MINIMALISTAS
---
SOBRE SANTA & COLE:
Desde 1985, cuando Javier Nieto Santa, Gabriel Ordeig Cole y Nina Masó fundaron Santa & Cole Ediciones de Diseño, la razón de ser de la empresa ha sido el diseño industrial. El catálogo de esta pequeña, independiente y global editora de productos de buen diseño incluye una larga lista de reconocidas firmas entre las que figuran Antoni Arola, Gae Aulenti, Patxi Mangado, Javier Mariscal, Miguel Milà, Jorge Pensi, Carles Riart, Gabriel Teixidó o Josep Torres Clavé, además del propio equipo de diseño de la empresa.
En la actualidad, Santa & Cole edita con su marca cuatro líneas de productos: iluminación, mobiliario, exterior y libros. Conscientes y atentos tanto a la calidad como al detalle, Santa & Cole subcontrata la totalidad de su producción industrial a una extensa red de proveedores, principalmente en España, aunque también en otros países como Japón, donde fabrica el papel washi de la lámpara Tekiò.
Desde su fundación, hace más de 35 años, defienden una producción local y artesana: el 75% de sus proveedores se encuentran a un radio menor de 150 Km de su sede central en en Parc de Belloch, una extensa finca de más de 170 hectáreas a unos 30 Km de Barcelona, hacia Francia. Asimismo, conscientes de que sus actividades tienen un impacto en el medio, ponen especial atención no solo a la huella de carbono sino también a la gestión del agua y la energía.
En los últimos años, han emprendido un ambicioso proyecto de reducción del plástico de un solo uso y de optimización de cartón. Además, solo trabajan con papel certificado FSC. Siempre que es posible, utilizan materiales biodegradables y reutilizables como sustitutos al plástico. Además, al ser editores y no depender de maquinarias, ponen especial énfasis al ciclo de vida de sus productos y solo trabajan con materiales que envejezcan bien.
Entre los numerosos premios conseguidos a lo largo de su trayectoria, en 2012, fue elegida como Mejor Empresa de Iluminación 2012 por la feria ICFF de Nueva York (International Contemporary Furniture Fair), que reconoce anualmente a las mejores empresas y productos a nivel internacional. Además, en 1999, recibió el prestigioso Premio Nacional de Diseño.
SANTA & COLE EN INTERIORES MINIMALISTAS
---
Fuente: Santa & Cole
You might also like