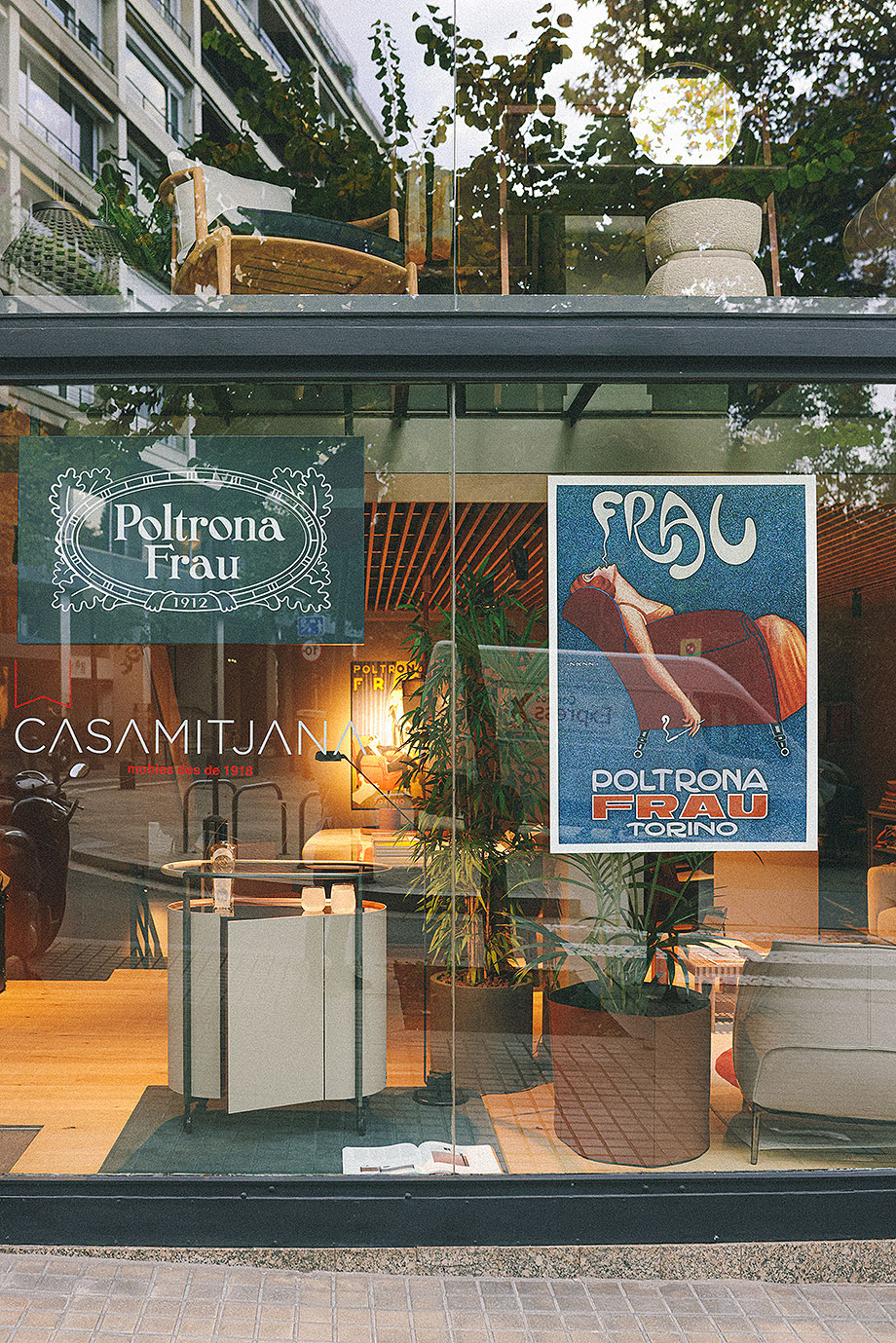 ---
POLTRONA FRAU:
Este año, la histórica firma italiana Poltrona Frau celebra 110 años de diseño y la visión de un futuro más sostenible. En Barcelona, la celebración tuvo lugar el pasado 1 de diciembre, con un evento en el showroom de Casamitjana / Poltrona Frau, que reunió a un numeroso grupo de amantes del diseño. El encuentro, comisariado por el arquitecto Andrew Trotter y la fotógrafa Mari Luz Vidal, fundadores de Openhouse Magazine, sirvió para descubrir el ayer, el hoy y el mañana de esta compañía, fundada por Renzo Frau en Turín, en 1912.
Este largo viaje a través del tiempo tomaba forma en las diferentes piezas expuestas en el showroom, como el icónico sofá Chesterfield -conocido popularmente como Chester-, diseño de Renzo Frau, que estuvieron acompañadas por una serie de coloristas afiches. Los posters, que abarcaban desde los años 20 hasta nuestros días, fueron expuestos en las paredes de los tres pisos de la tienda, creando una narrativa gráfica muy especial al mismo tiempo que mostraban la rica herencia de Poltrona Frau.
100 + 10 AÑOS DE VERDADERA EVOLUCIÓN
«100+10 Años de Verdadera Evolución» es el lema que celebra este aniversario, destacando una evolución consistente y honesta arraigada en el patrimonio, el diseño y la sostenibilidad como claves estratégicas de desarrollo. Esta importante fecha ejemplifica la visión emprendedora de Poltrona Frau, que ha evolucionado y crecido a lo largo de su historia y, particularmente, a lo largo de los últimos 10 años. Solo en la última década, la firma ha lanzado más de 200 productos dentro de las diferentes líneas de muebles para el hogar, así como complementos de decoración y colecciones de cuero y textiles.
Además, en 2021, fue nombrada Marca Histórica de Interés Nacional por el Gobierno italiano, siendo la investigación un concepto clave desde sus inicios en 1912, lo que le ha llevado a crear piezas atemporales que expresan una elegancia universal pero íntima y personal.
Importantes colaboraciones estratégicas
La gama de ofertas para entornos de vida no se limita solo a los muebles. A lo largo de la década, Poltrona Frau ha establecido colaboraciones estratégicas con Acqua Di Parma, Ferrari, Loro Piana y Cantina Luce dell a Vite para crear objetos únicos y sofisticados que confieren estilo y elegancia. Estas asociaciones se desarrollarán aún más en 2022, constituyendo una importante palanca estratégica de negocios.
La celebración también ha coincidido con la presentación, el pasado mes de junio en Milán, de los nuevos productos y ampliaciones bajo el título True Evolution 2022 Collection. Esta nueva colección reinterpreta algunos de los icónicos productos de su catálogo, centrándose en la comodidad y confortabilidad.
«Poltrona Frau. The intelligence of the hands»
Asimismo, el libro «Poltrona Frau. The intelligence of the hands», publicado para conmemorar el centenario de la firma, está disponible junto con un apéndice que describe la evolución de Poltrona Frau a lo largo de estos diez últimos años, desde el nuevo concepto de sistemas de productos y entornos de vida hasta la renovada estrategia corporativa centrada en la sostenibilidad. El último capítulo está pensando para ser una fuente de inspiración para creadores y diseñadores, expresando la habilidad de Poltrona Frau de ser intérprete de las demandas contemporáneas y co-creador trabajando junto a grandes diseñadores internacionales.

---
LAS IMÁGENES DE CARLOTA GRAU:
---
SOBRE POLTRONA FRAU:
Poltrona Frau nace en la ciudad italiana de Turín, celebrando este 2022 sus 110 años de trayectoria. Desde entonces, ha ido perfeccionando dos de sus principales valores: la fabricación artesanal, que utiliza en cada una de sus piezas, combinada con el más cuidadoso diseño. El encuentro entre tradición y modernidad ha hecho que la firma esté presente en sectores tan diversos como el residencial, el contract pero también en interiores para automóviles, aviones, yates e, incluso, helicópteros.
En Poltrona Frau, los grandes clásicos (Vanity Fair y Chesterfield) conviven junto a piezas contemporáneas, creadas en colaboración con diseñadores italianos e internacionales como Pierluigi Cerri, Achille Castiglioni, Michele De Lucchi, Jean-Marie Massaud o Emilio Ambasz.
La firma cuenta con tres departamentos: Residencial, Interiores en Movimiento e Interiores personalizados; asociaciones con más de 200 arquitectos y diseñadores de todo el mundo; y una presencia aproximadamente en countries. Actualmente, Poltrona Frau está presente en 15 flagship stores, 165 tiendas monomarca y alrededor de 280 tiendas multimarca de los cinco continentes.
El Museo Poltrona Frau con sus 1.400 m² es una rigurosa pieza de arquitectura dentro de las instalaciones de Poltrona Frau. Muestra la historia de la empresa, entrelazándola con la evolución del estilo. El museo alberga una colección de muebles, dibujos, imágenes y materiales nunca antes revelados al público.
POLTRONA FRAU EN INTERIORES MINIMALISTAS
---
Fuente: Openhouse
You might also like