MBRACE:
El diseñador alemán Sebastian Herkner ha diseñado para Dedon esta desenfadada colección de mobiliario, en la que se combina por primera vez la fibra desarrollada por la empresa de Bobby Dekeyser en los asientos con una cálida estructura en madera de teka. Además, con Mbrace, Herkner aporta una nueva estética al catálogo de la conocida firma de mobiliario exterior al introducir una colección con un estilo muy nórdico.
Herkner diseñó esta nueva familia de mobiliario para que fuera cómoda y atractiva, con un carácter acogedor que hace referencia a su nombre. Una de sus características más distintivas es «el tejido triaxial en forma de malla abierta formado por tres fibras diferentes, cada una de un color». Para el desarrollo de los tres únicos tonos de la colección (Spice, Atlantic y Pepper), Herkner y Dedon trabajaron en estrecha colaboración con Giulio Ridolfo, ex diseñador de moda convertido en asesor en temas de color de importantes firmas textiles, de mobiliario y de interiores como Gianfranco Ferré, Offect, Moroso, Vitra, Kvadrat o Fritz Hansen.
Mbrace al completo está formada por cuatro piezas: un sillón orejero, mecedora, butaca y taburete-otomana, y las combinaciones de colores refuerzan perfectamente el deseo de su autor de dirigirse a la amplia e internacional audiencia de Dedon, pero también a un público más joven.
---
LAS IMÁGENES: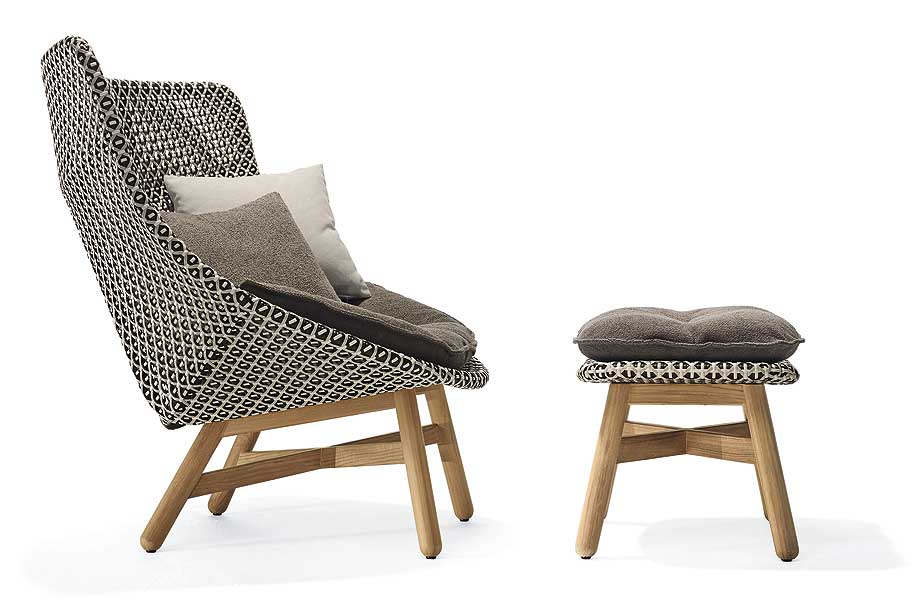 ---
SOBRE SEBASTIAN HERKNER: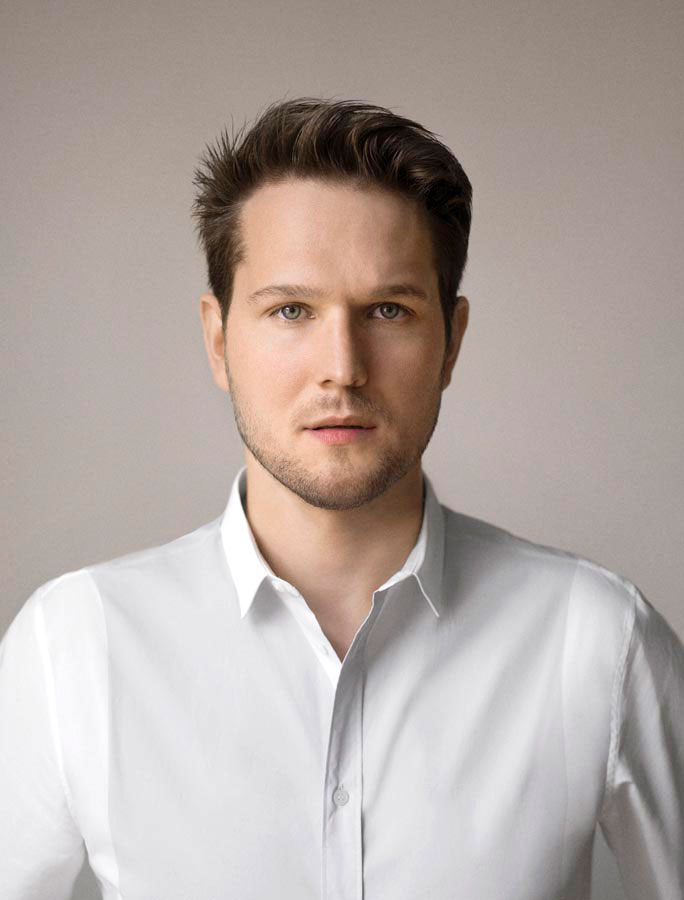 Nacido en Bad Mergentheim, Sebastian Herkner estudió Arte y Diseño en la Universidad de Offenbach y fundó su propio estudio en esta ciudad alemana en 2009. Ya durante sus estudios, se centró en el diseño de objetos y mobiliario, fusionando varios contextos culturales.
Considerado un mediador entre la artesanía tradicional y la alta tecnología, sus proyectos dan voz a los materiales y añaden al diseño moderno un toque sensual y, a veces, humorístico.
Es esta naturaleza sensual, su especial paleta de color y una intención creativa, que no siempre se fija en un propósito concreto, lo que le han permitido a sus 34 años de edad dar una nueva cara al diseño alemán. Sus éxitos internacionales quedan reflejados en sus trabajos para firmas como Moroso, Fontana Arte, Sizfeldt, Very Wood, Sancal, Böwer, Gubi, Le Amsterdam, Carl Mertens, Pulpo, La Chance, De Vorm, Verreum, Rosenthal y Nya Nordiska.
A lo largo de su carrera ha recibido diversos premios como el Designpreiss Deustchland 2011, el Red Dot Design Award 2010, el Wallpaper Design Awards 2014, el Design Plus y el Interior Design Best of the Year 2014. En 2016, ha sido el Invitado de Honor y el encargado de diseñar la vivienda del futuro en la sección Das Haus de la feria imm Colonia.
---
SOBRE DEDON:
Dedon es una reconocida firma de mobiliario para exteriores, fundada y dirigida por el ex-jugador de fútbol Bobby Dekeiser. Podría decirse que la historia de Dedon comienza en la cama de un hospital de Múnich, en 1990, cuando Dekeyser, una joven promesa del fútbol que jugaba en el TSV 1860 Munich, se estaba recuperando de una lesión en la cara y decidió abandonar el deporte profesional para dedicarse a su auténtica pasión: «ser empresario». Dedon «nació» en ese mismo hospital.
Los primeros pasos estuvieron encaminados a explorar el terreno: «la idea era trabajar con familia y amigos en un entorno agradable en el que crear cosas que nos gustaran», explica el propio Bobby Dekeyser. Junto a su tío, un experto en extrusión de plásticos, desarrolló una fibra que, por su suavidad, belleza y resistencia, era perfecta para los muebles de exterior.
En 1991, Dekeyser descubrió en una feria comercial de Colonia los muebles de mimbre, trenzados por manos expertas, de un empresario filipino de la isla de Cebú. Seis días  después, se embarcó en un avión con un rollo de 47 kg de la fibra Dedon en dirección a Cebú para reunirse con su nuevo amigo. Muy poco tiempo después, él y toda su familia se trasladarían a esta meca del trenzado. Cuando regresaron a casa seis años después, Dedon se había convertido en una empresa de muebles de exterior.
A partir de ese momento, la compañía empezó a crecer, aunque no fue hasta los años 90 cuando Dedon comenzaría a cobrar impulso. Después se unirían a ella, un joven granjero alsaciano con grandes sueños empresariales; la hermana de Dekeyser, que comenzó a diseñar sus campañas de marketing; su tío que siguió trabajando en la fibra; y, el diseñador Richard Frinier, que comenzó a crear colecciones originales. Fue entonces, cuando ante el crecimiento y la falta de la calidad requerida, decidieron construir una fábrica propia en la isla de Cebú, origen de los muebles de Dedon y hogar de algunos de los mejores trenzadores del mundo.
En muy poco tiempo, Dedon creció a un ritmo anual del 80% y se realizaron nuevos e importantes cambios. Hoy en día, sus exclusivos muebles, diseñados por primeras figuras del diseño internacional (Jean-Marie Massaud, Daniel Pouzet & Fred Frety, Stephen Burks, Eugeni Quitllet…) se venden en más de 80 países.
---
Información facilitada por Dedon y en la web del diseñador. Imágenes facilitadas por Dedon
You might also like