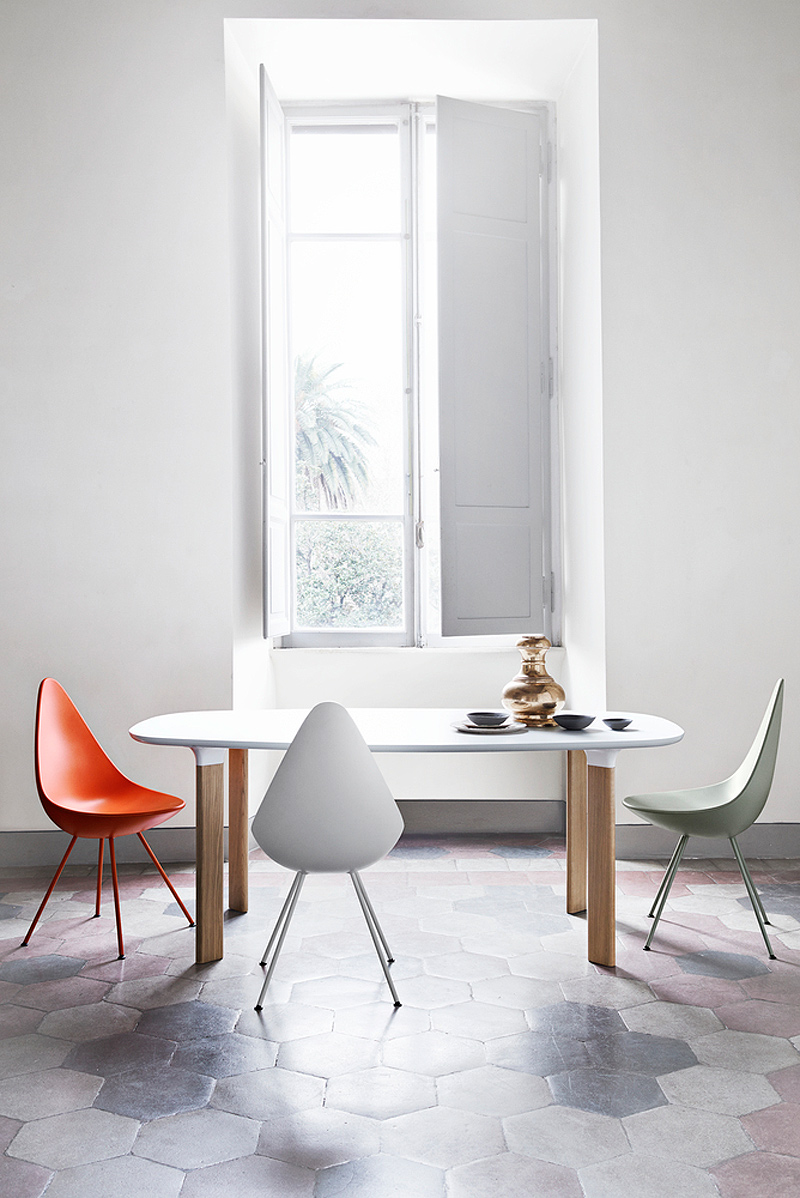 El pasado mes de abril, durante la Feria Internacional del Mueble de Milán,  Fritz Hansen presentaba la reintroducción de la silla Drop, diseñada originalmente por el arquitecto Arne Jacobsen en 1958, y lanzaba la nueva mesa del diseñador Jaime Hayon, Analog. Ahora, estas dos piezas de mobiliario, reunidas en el tiempo y por sus suaves formas orgánicas y su carácter artesanal, ya pueden encontrarse en el mercado.
_______________________________________________________________________________________
Mesa Analog:
Este es el tercer producto que el multidisciplinar diseñador Jaime Hayon (mobiliario, iluminación, cerámica, interiores…) ha realizado para la firma danesa despues del sofá FAVN (2011) y la butaca Ro (2013). Analog, donde se fusionan las líneas rectas y suaves curvas, se presenta como una nueva pieza de mobiliario donde comer, conversar o trabajar.
La mesa de Hayon está disponible en dos tamaños (para 4, 6 y 8 personas) y con el tablero en blanco laminado, roble y nogal. La base se compone de cuatro patas en madera maciza de roble coloreada en negro, roble y nogal, que se unen al sobre mediante una pieza en forma de trompeta en aluminio lacado en blanco o negro. La parte inferior del sobre está lacada en los mismos colores que la «trompeta».
Medidas: 185 x 105 x h 72 cm y 245 x 105 x h 72 cm.
_______________________________________________________________________________________
Drop:
Como Jaime Hayon, el arquitecto Arne Jacobsen también fue un diseñador que tuvo la capacidad de desarrollar sus proyectos en muy diferentes escalas. Jacobsen es conocido por el tratamiento que daba a sus edificios, cuyos interiores también se encargaba de diseñar al detalle (mobiliario, iluminación y textiles).
Uno de sus trabajos más reconocido es el SAS Hotel Royal (1956-1960) donde diseñó desde los muebles hasta las manillas de las puertas, pasando incluso por los candelabros y los molinillos de pimienta. Para este hotel creó las populares butacas Egg y Swan. Sin embargo, en un plano muchísimo más discreto quedó la silla Drop, que también fue creada para este establecimiento pero nunca fue puesta en producción estándar.
De Drop se ha mantenido la versión original en espuma tapizada y se ha creado una nueva  de plástico moldeado, que puede encontrarse en seis diferentes colores: negro, blanco, azul tormenta, gris piedra, rojo fuego y amarillo arena.  La tapicería puede ser textil o de piel y las patas se combinan con ambos modelos en su acabado cromo o en pintura en polvo en los mismos colores que la carcasa.
_______________________________________________________________________________________
Sobre Jaime Hayon: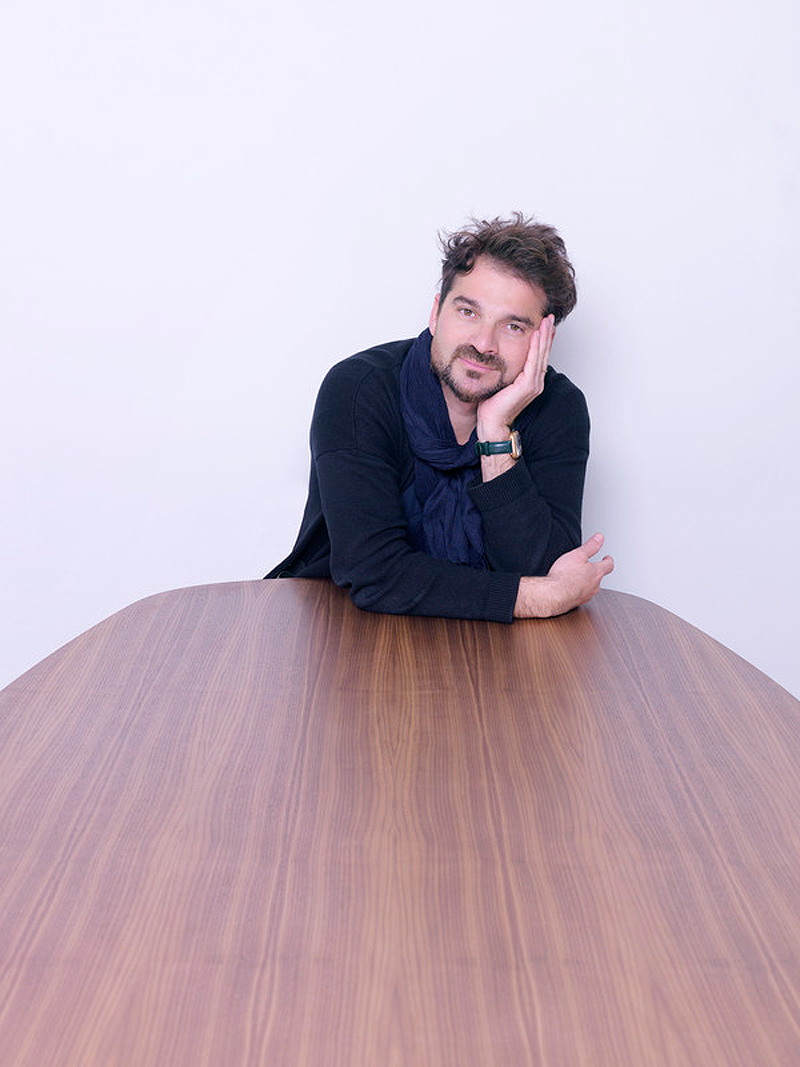 Jaime Hayon (Madrid, 1974), que se define a sí mismo como artista-diseñador, estudió diseño industrial en Madrid y París, comenzando su trayectoria profesional en 1997 cuando se incorporó a la Fabrica, el laboratorio de creatividad de Benetton, en Treviso.
Comenzó como estudiante y pronto ascendió a responsable del Departamento de Diseño, desde el que supervisó proyectos en diferentes ámbitos: interiorismo de tiendas, concepción de exposiciones y diseño gráfico. Pronto comenzó con sus propios creaciones de juguetes, objetos de cerámica y mobiliario, ya con una singular y a menudo excéntrica visión, entre barroca y contemporánea, que le acompañaría el resto de su carrera.
En la actualidad, está considerado como uno de los diseñadores españoles con más proyección internacional y ha colaborado con firmas como ArtQuitect, BD Barcelona Design, Lladró, Established and Sons, Moooi, Metalarte, Bisazza o Swarovski.
También son destacables sus proyectos como diseñador de interiores, campo en el que ha trabajado, entre otros proyectos, para la firma de calzado Camper, el Casino de Madrid o Lladró para la que Hayon diseñó su nuevo showroom en Nueva York.
_______________________________________________________________________________________
Sobre Arne Jacobsen: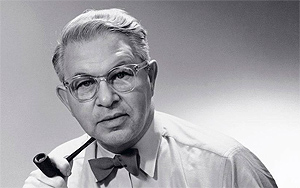 Reconocido y respetado internacionalmente, el arquitecto Arne Jacobsen (Dinamarca 1902-1971) volcó su talento en una obra que abarca desde el diseño de un simple tenedor a proyectos arquitectónicos de gran envergadura.
Nació en Copenhague y, tras estudiar cuatro años en una escuela de construcción, entró en la Facultad de Arquitectura de la Real Academia de Bellas Artes. Artista integral, está considerado el padre de la arquitectura y el diseño danés modernos, y uno de los arquitectos más influyentes del siglo XX. Además, durante la década de los años 60 se dedicó a la docencia en la Skolen for Brugskunst de Copenhague.
Entre sus obras arquitectónicas más destacadas se encuentran el Hotel Royal, para el que Jacobsen diseñó hasta el mínimo detalle, el Hotel SAS y la sede del Banco Nacional, los tres en Copenhague, y la Embajada Real Danesa, en Knightsbridge, y el Colegio de St. Catherine, en Oxford (Londres).
Pero, quizás, el conocimiento más popular de su figura llegue a través de su faceta de diseñador de mobiliario con piezas de sólo una aparente simplicidad e innegable belleza como la famoss silla Ant (1952) o las butacas Egg (1958) y Swan (1958).
_______________________________________________________________________________________
Sobre Fritz Hansen:
Fritz Hansen, también conocida como Republic of Fritz Hansen, es una compañía danesa de diseño de mobiliario fundada, en 1872, por el carpintero del mismo nombre.  A lo largo de su casi siglo y medio de trayectoria, diseñadores de prestigio como Arne Jacobsen, Poul Kjærholm, Hans J. Wegner y Piet Hein han trabajado para la firma. Actualmente, colaboran con Fritz Hansen diseñadores como Hiromichi Kono, Cecilie Manz o Kasper Salto.
_______________________________________________________________________________________
Información facilitada por Fritz Hansen y en la web de Jaime Hayon. Imágenes facilitadas por Fritz Hansen
You might also like