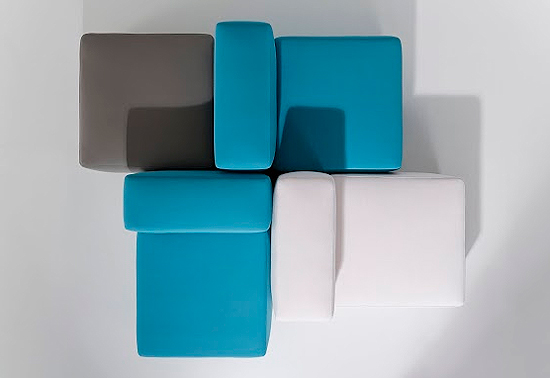 Dolmen:
Dolmen es el nuevo sistema modular que la interiorista Esther Albert y el diseñador industrial Eduardo Alcón (edeestudio) han creado para la firma B&V Tapizados. La nueva colección está formada por asientos, pufs, respaldos y brazos que permiten un sinfín de composiciones en función del espacio, las necesidades y, por supuesto, la imaginación del usuario.
Sin necesidad de explicar el porqué de su nombre, el programa de sientos de edeestudio presenta unas líneas rectas y unos volúmenes generosos que encajan con facilidad en espacios domésticos y contract, que buscan un ambiente contemporáneo.
Además, su amplia variedad de acabados en tejido, sintético o piel permiten que su estética se ajuste totalmente al entorno donde se coloque ya sea un salón, el vestíbulo de un hotel o una sala de espera o descanso.
Funcionalmente, Dolmen permite crear infinidad de composiciones partiendo de unas piezas base concretas: asientos cuadrados o redondos, módulos centrales y módulos rinconeros. Sobre una estructura de patas de plástico, tiene un suave recubrimiento de fibra no tóxica, antialérgica y antiácaros.
A partir de aquí, se pueden componer estructuras individuales, en isla, lineales, en esquina, espalda contra espalda, con y sin respaldo, con o sin apoyabrazos… capaces de resolver multitud de necesidades.
---
Las imágenes:
---
Sobre los autores: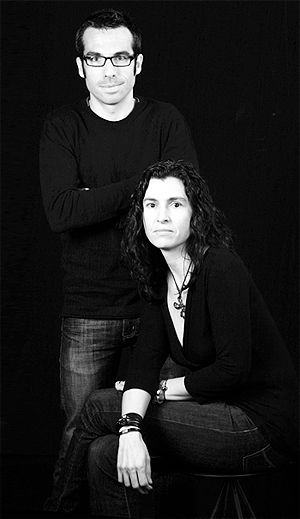 La inquietud conjunta por el diseño y la motivación creativa que conlleva llevaron a la interiorista Esther Albert (Albaida, 1972) y al diseñador industrial Eduardo Alcón (Valencia, 1978) a fundar edeestudio a finales de 2008.
Con sede en Valencia, edeestudio trabaja en los campos del diseño industrial, gráfico, multimedia, dirección de arte e interiorismo. Su objetivo se centra «en transmitir al cliente una idea innovadora y original acorde a las necesidades del mercado, sin olvidar su carácter funcional y estético, implicándonos en todos los procesos del proyecto, desde su concepto inicial hasta su desarrollo».
En la actualidad, edeestudio trabaja con varias empresas, algunas de las cuales han confiado la dirección de arte al estudio.
En el año 2010, recibieron el primer premio del II Concurso de Mobiliario de Arteespaña (Madrid) y quedaron finalistas en el XV Concurso Internacional de Diseño Industrial del Mueble CETEM, de Yecla (Murcia). El perchero de pie Spring, diseñado para la empresa Imaginaierro, fue seleccionado para el Book of the Year 2011.
---
Sobre B&V Tapizados: 
B&V Tapizados es una empresa con más de 20 años de experiencia en el sector del tapizado. Desde sus instalaciones en Moixent (Valencia), confeccionan desde 1992 sus propios diseños en un atelier de tapicería que combina tradición, artesanía, pasión, experiencia, creatividad y la más avanzada tecnología.
Cada uno de sus diseños son piezas concebidas por conocidos diseñadores (edeestudio, Vicente Verdú, Alegre Design y el propio equipo de la empresa) y trabajadas a mano por expertos artesanos. Esta combinación dota a cada mueble de las características necesarias para asegurar su perdurabilidad, comodidad, calidad y funcionalidad.
---
Información e imágenes facilitadas por B&V Tapizados
You might also like