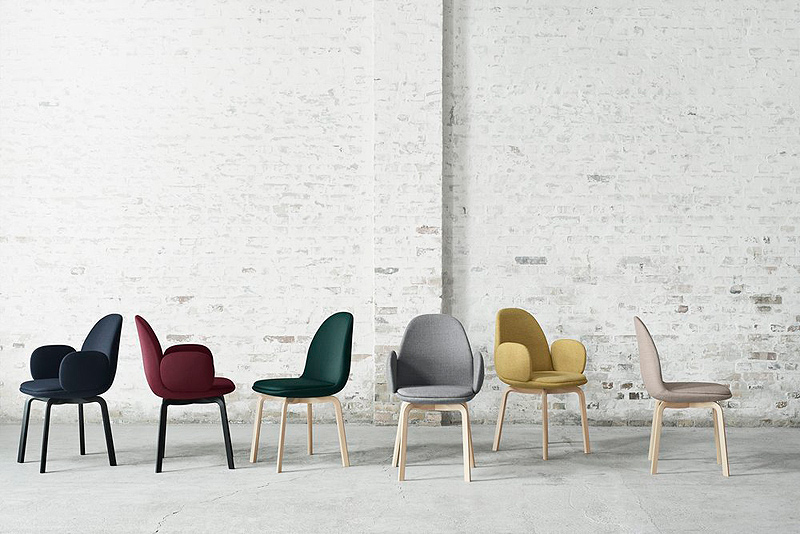 Sammen:
El reconocido diseñador Jaime Hayon creó para la firma danesa Fritz Hansen esta femenina silla de suaves curvas que, tomando su nombre de la palabra danesa «juntos», nació con el deseo de «reunir a la gente alrededor de la mesa del comedor, proporcionando una agradable velada y haciendo que se sintieran como en su salón».
De esta manera y para ofrecer el máximo confort y comodidad, el asiento, el respaldo y los apoyabrazos están acolchados y tapizados. Estructuralmente, las dos primeras piezas están hechas con un marco de acero y suave espuma moldeada en su parte superior. La misma construcción que siguen los apoyabrazos. En el caso del cojín del asiento, éste está hecho con una plancha de madera contrapada cubierta también con espuma moldeada.
Siguiendo esta línea cálida, el cuerpo de la silla se completa con patas de madera de roble natural o lacada en negro, acabadas en su parte inferior con deslizadores de nylon apropiados para la mayoría de suelos. Estas dos opciones pueden combinarse con los seis colores elegidos para la tapicería: azul, verde oscuro, borgoña, gris, amarillo y rosa pálido.
---
Las imágenes:
---
Sobre Jaime Hayon: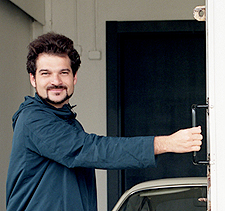 Jaime Hayon  (Madrid, 1974), que se define a sí mismo como artista-diseñador, estudió diseño industrial en Madrid y París, comenzando su trayectoria profesional en 1997 cuando se incorporó a la Fabrica, el laboratorio de creatividad de Benetton, en Treviso.
Comenzó como estudiante y pronto ascendió a responsable del Departamento de Diseño, desde el que supervisó proyectos en diferentes ámbitos: interiorismo de tiendas, concepción de exposiciones y diseño gráfico. Pronto comenzó con sus propios creaciones de juguetes, objetos de cerámica y mobiliario, ya con una singular y a menudo excéntrica visión, entre barroca y contemporánea, que le acompañaría el resto de su carrera.
En la actualidad, está considerado como uno de los diseñadores españoles con más proyección internacional y ha colaborado con firmas como ArtQuitect, BD Barcelona Design, Lladró, Established and Sons, Moooi, Metalarte, Bisazza o Swarovski.
También son destacables sus proyectos como diseñador de interiores, campo en el que ha trabajado, entre otros proyectos, para la firma de calzado Camper, el Casino de Madrid o Lladró para la que Hayon diseñó su nuevo showroom en Nueva York.
---
Sobre Fritz Hansen:
Fritz Hansen, también conocida como Republic of Fritz Hansen, es una compañía danesa de diseño de mobiliario fundada, en 1872, por el carpintero del mismo nombre.  A lo largo de su casi siglo y medio de trayectoria, diseñadores de prestigio como Arne Jacobsen, Poul Kjærholm, Hans J. Wegner y Piet Hein han trabajado para la firma. Actualmente, colaboran con Fritz Hansen diseñadores como Hiromichi Kono, Cecilie Manz o Kasper Salto.
---
Información e imágenes facilitadas por Fritz Hansen
You might also like