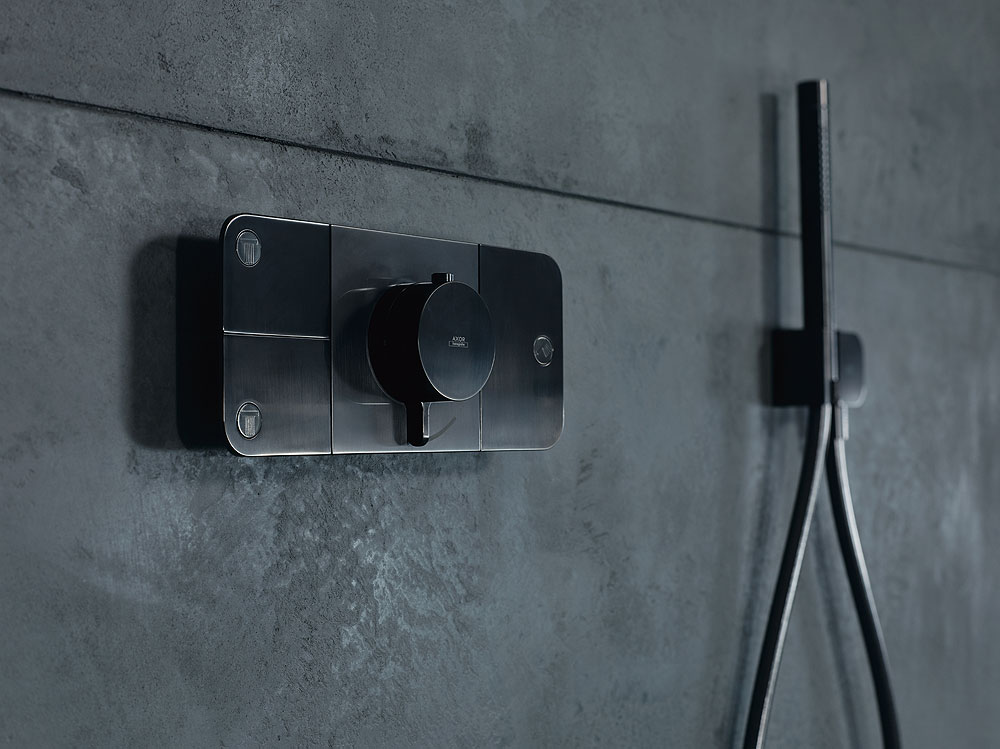 Axor One:
El London Design Festival, celebrado del 19 al 27 de septiembre, sirvió como marco de presentación de Axor One, el primer control de ducha «todo en uno» de la firma alemana diseñado por el dúo Barber & Osgerby. Axor One reinterpreta el control del agua mediante la combinación de varios controles individuales en un solo elemento.
Explica Philippe Grohe, director de Axor, que junto a Edward Barber y Jay Osgerby han transformado «el concepto de un control de ducha central en una interesante interfaz de funcionamiento puramente mecánico que redefine la ducha y la convierte en una experiencia táctil, precisa y receptiva».
De esta manera, el usuario puede encender y apagar simultáneamente varias salidas de agua con el codo o el dorso de la mano cómodamente: los símbolos claros indican las salidas de agua específicas que pueden elegirse (por ejemplo: ducha fija, teleducha o ducha lateral).
La temperatura se ajusta girando el botón central y la pequeña palanca situada en la parte inferior sirve para regular el caudal. Axor One dispone de la función Eco que ayuda a reducir el consumo del agua hasta un 50%.
Estéticamente, el termostato empotrado presenta una forma monolítica, atemporal y elegante, con superficies planas y cantos suavemente redondeados, que armonizan con la mayoría de ambientes de baño. En este sentido, presenta una amplia gama de acabados que van desde el discreto cromo hasta un atrevido oro rojo para crear el efecto buscado.
Axor One forma parte de «Visiones de diseño para su baño», un proyecto que Axor desarrolla en colaboración con diseñadores de productos, arquitectos e interiores donde estos aportan sus ideas para hacer la vida en el interior del baño más atractiva y relevante. Entre los profesionales que han participado hasta el momento destacan Patricia Urquiola, Philippe Starck, Phoenix Design, Nendo, Jean-Marie Massaud, Front, Antonio Citterio, Ronan y Erwan Bouroullec y Barber & Osgerby.
---
Las imágenes:
---
El making of:
---
Sobre Barber & Osgerby: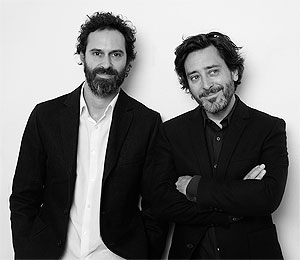 Edward Barber y Jay Osgerby nacieron en 1969, estudiaron juntos Arquitectura en el Royal College of Art en Londres y fundaron su propio estudio en 1996. Desde entonces, han trabajado juntos en los campos del diseño industrial, el diseño de mobiliario y la arquitectura. Su primer producto fue la mesa Loop, que produjo Isokon, en 1997. En 2004, la pareja fue galardonado con el Premio Jerwood de las Artes Aplicadas.
Hasta el momento, han trabajado para Cappellini, Magis, Vitra, Venini, Swarovski, Flos y Established & Sons. El proyecto de la silla Tip Ton -para Vitra- se inició en 2009, siguiendo la premisa de que el contenido de la educación moderna y los ámbitos de aprendizaje dinámicos necesitaban un nuevo mobiliario.
Sus trabajos forman parte de las colecciones permanentes del V&A Museum y el Design Museum (Londres); el Metropolitan Museum of Art (New York); el Art Institute of Chicago; y, el Indianapolis Museum of Art. En 2012, fueron los responsables del diseño de la antorcha olímpica para los JJ.OO. de Londres con la que ganaron el prestigioso premio internacional del Diseño del Año.
---
Sobre Axor:
Axor es la marca de diseño de Hansgrohe y su director es Philippe Grohe, nieto del fundador de la empresa Hansgrohe. Sus colecciones llevan la firma de diseñadores y arquitectos de prestigio internacional como Philippe Starck, Antonio Citterio, Jean-Marie Massaud, Patricia Urquiola, Ronan e Erwan Bouroullec o Phoenix Design. Tiene su sede en la localidad alemana de Schiltach.
---
Información e imágenes facilitadas por Axor
You might also like