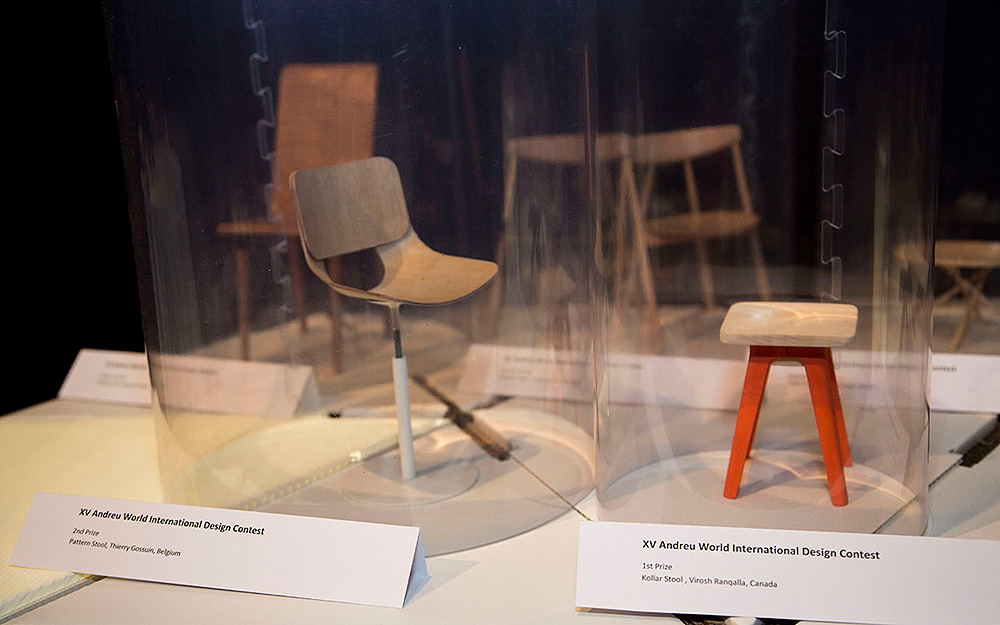 XV CONCURSO ANDREU WORLD:
El pasado 10 de diciembre, Andreu World celebró la décimo quinta edición de su concurso internacional de mobiliario cuyo primer premio recayó en la banqueta Kollar, diseñada por el canadiense Virosh Ranqalla. El jurado valoró de esta pieza «la limpieza de su solución constructiva, innovación y versatilidad» y también su «belleza, polivalencia y atemporalidad». La banqueta, que por su frescura puede encajar en diferentes ambientes, ofrece la posibilidad de utilizar diferentes recursos y materiales en su composición, y un embalaje plano.
El segundo premio fue para la silla Patern, del belga Thierry Gossuin, quien repite el segundo puesto conseguido en la edición de 2013. Pattern destaca por su «equilibrio, armonía y singularidad». El diseño se inspira en elementos clásicos y, además del confort, ergonomía y flexibilidad, destaca el asiento y el respaldo contrachapado, cuya forma la convierten en un diseño reconocible y de gran potencial. De ella, el jurado valoró «el manejo de la técnica de curvado y la composición de sus elementos, que dan al diseño un aire renovado a un ejercicio tantas veces reinterpretado».
Finalmente, el jurado concedió cuatro menciones de honor al proyecto Link de Arturo Bascuña (España), al diseño de mesa de Daniel Varga (Hungría), al proyecto de silla Zaragoza de Maryia Virshych y Cian McKenna (Bielorrusia) y a la silla Mikado de Philipp Hermes y Dustin Jessen (Alemania).
El Concurso Internacional de Diseño Andreu World, empresa que este año celebra su 60 aniversario, es una cita que, anualmente, reúne las creaciones de jóvenes estudiantes y diseñadores que presentan sus propuestas de asientos o mesas más creativos e innovadores.
En esta edición, en la que han tomado parte 200 proyectos, el jurado ha estado integrado por: Carlos Ferrater, arquitecto y presidente del jurado; Marta Fernández Castro, Patrono de la Fundación Arquitectura y Sociedad; Guzmán de Yarza arquitecto y Director del Master in Design for Work; la redactora jefe Pilar Barrio de la revista Nuevo Estilo; y el interiorista Fernando Salas.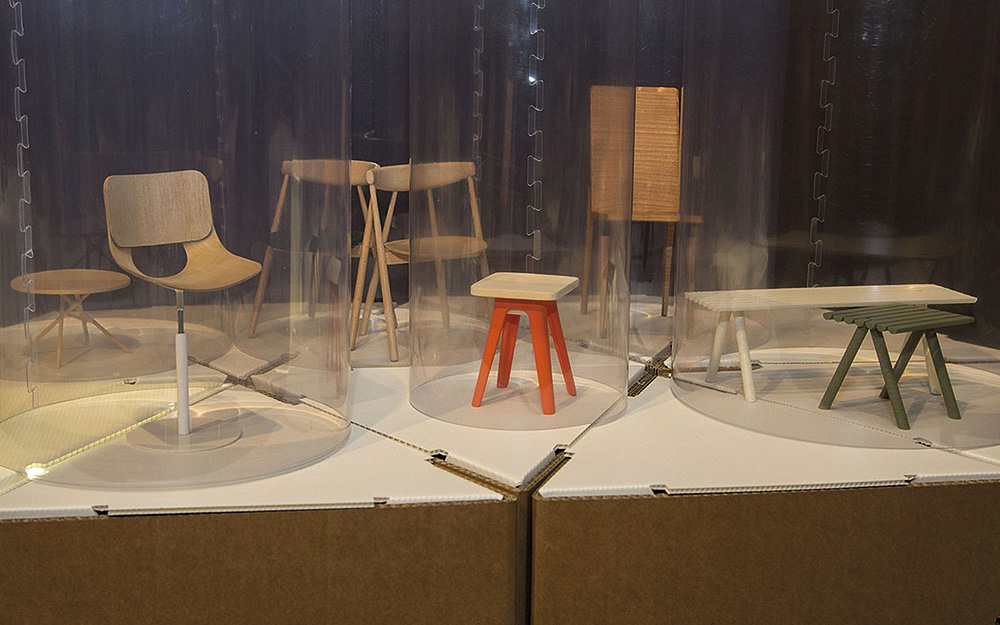 ---
GANADORES: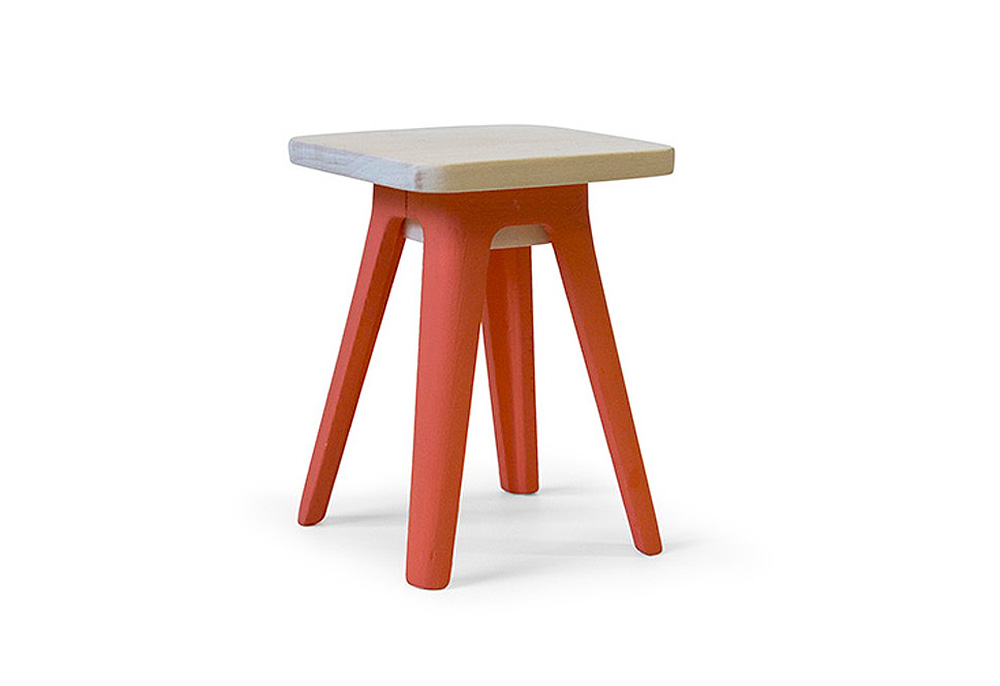 Primer premio: banqueta Kollar, de Virosh Ranqalla (Canadá)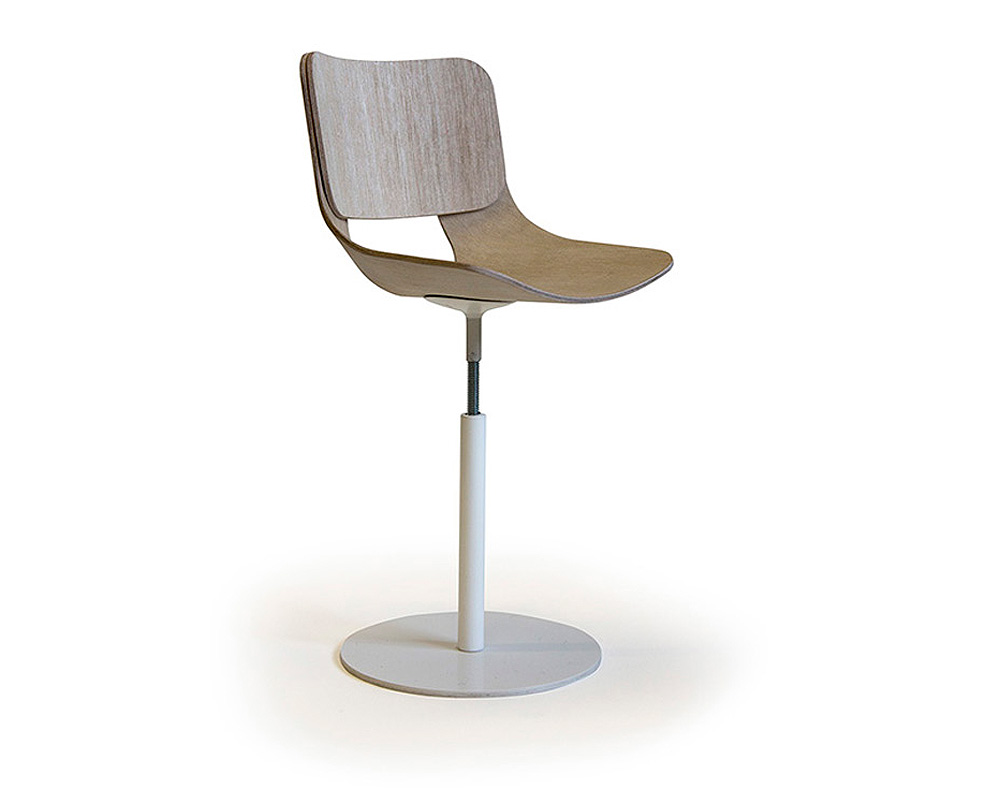 Segundo premio: silla Pattern de Thierry Gossuin (Bélgica)
---
MENCIONES: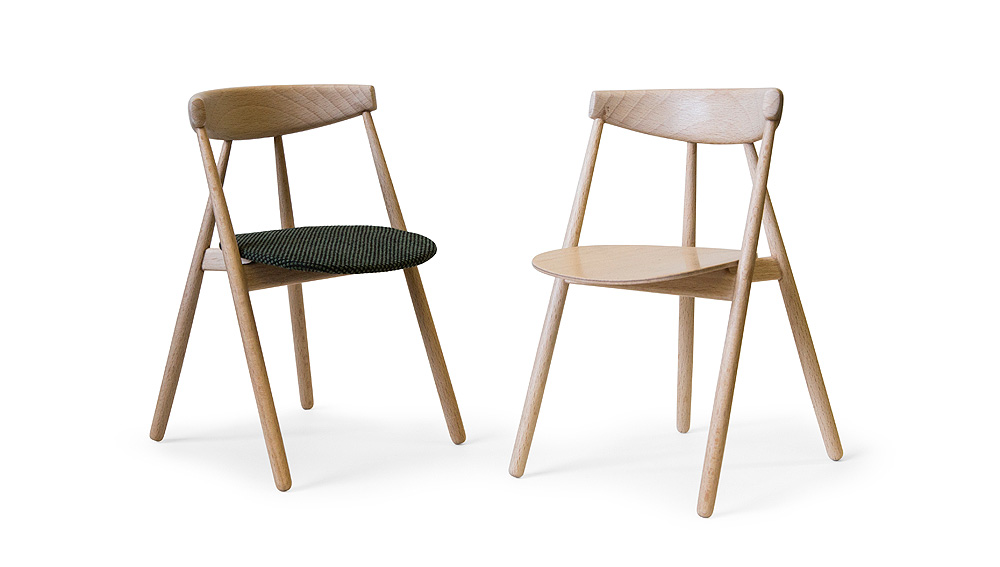 Silla Mikado de Philipp Hermes y Dustin Jessen (Alemania)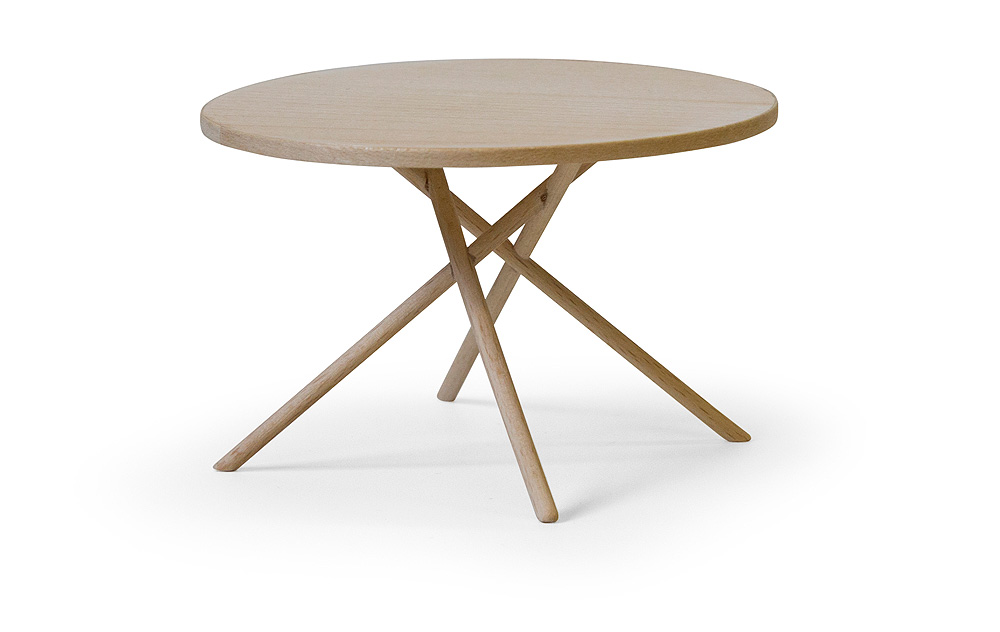 Mesa de Daniel Varga (Hungría)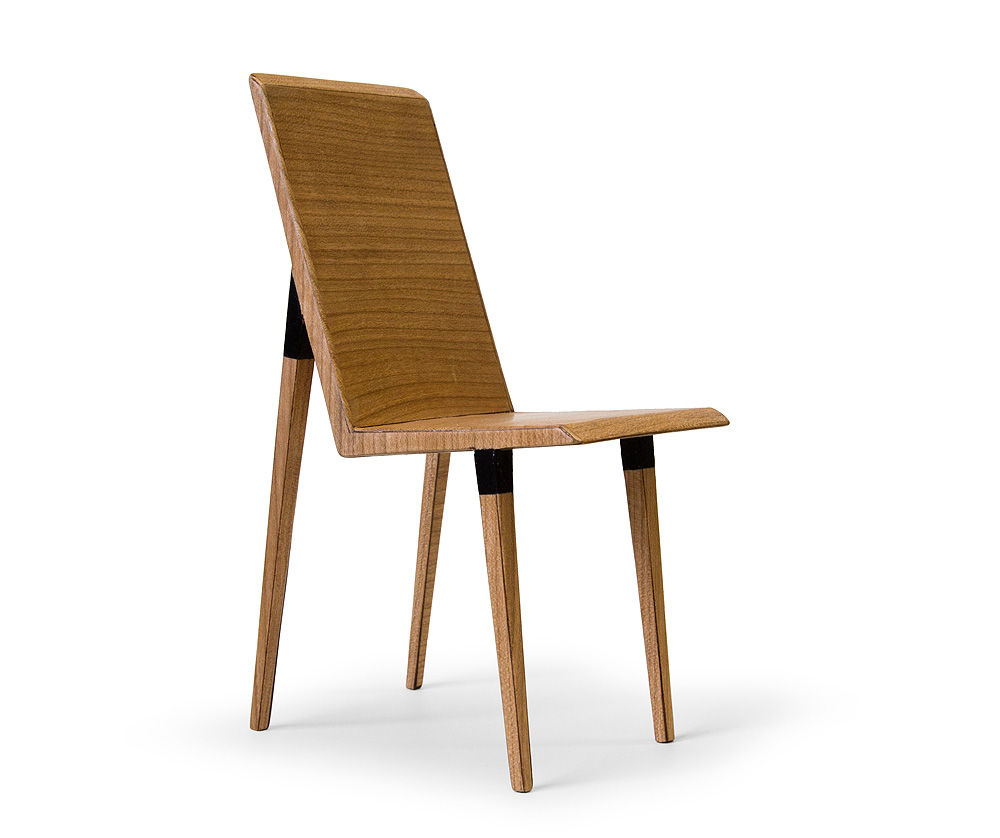 Silla Zaragoza de Maryia Virshych y Cian McKenna (Bielorrusia)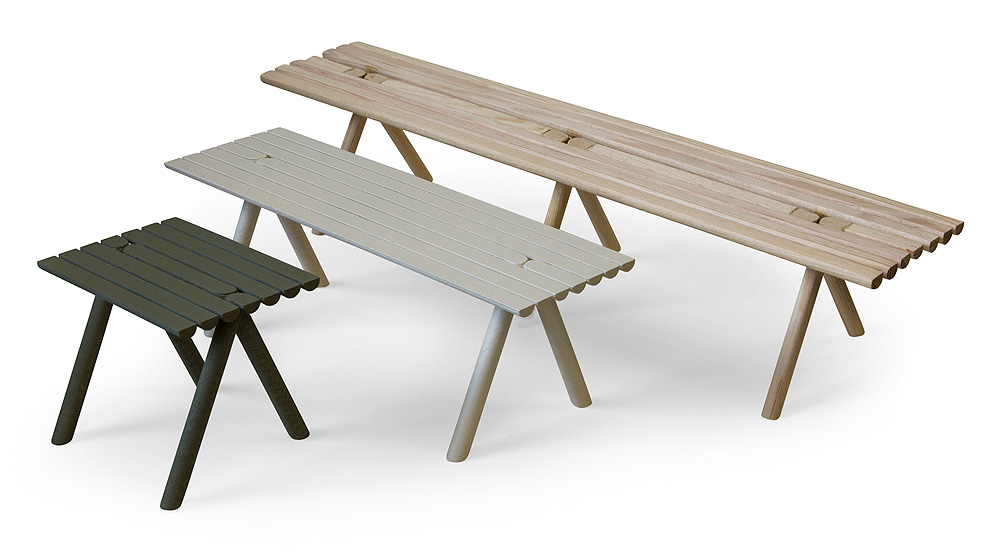 Mesas Link de Arturo Bascuña (España)
---
SOBRE ANDREU WORLD:
Andreu World es una empresa familiar de mobiliario para interior y exterio que tiene su origen en 1955, gracias a la inquietud de su fundador Francisco Andreu Martí. Fundada como un pequeño taller de ebanistería en la localidad de Alaquàs, muy próxima a Valencia (España), actualmente, reúne a un equipo de profesionales altamente cualificado con una clara vocación internacional a partir de una premisa muy clara: diseño y calidad.
Esta premisa va ligada a la categoría de los profesionales que firman sus diseños: Patricia Urquiola, Piergiorgio Cazzaniga, Joan Lao, Mario Bellini, Lievore Altherr Molina, Josep Lluscà, Javier Mariscal y Nancy Robins, entre otros.
Actualmente, dedica un 60% de su producción a la exportación y su red comercial abarca los cinco continentes. Países como Nueva Zelanda, Emiratos Árabes Unidos, Singapur, Japón, México, Argentina y Estados Unidos son sólo algunos ejemplos en los que la marca está presente.
La firma dispone de un showroom de más de 2.000 m2 en Valencia, donde están ubicadas sus oficinas centrales, y de tres centros de producción: dos localizados en la misma provincia de Valencia y el tercero en Navarra. Además, cuenta con espacios expositivos en otras ciudades como Chicago, Nueva York, Pune, New Delhi y San Francisco, así como las oficinas de la delegación americana en el emblemático edificio Merchandise Mart.
La madera proviene de sus bosques, controlados mediante un protocolo de custodia que incluye la plantación, la tala, el secado –durante más de un año desde la tala, para evitar que la madera se quiebre en el futuro– y todas las fases de manipulado. Este proceso cuenta con la certificación FSC® (Forest Stewardship Council) que garantiza madera con origen en bosques reforestados y controlados.
Entre los numerosos premios recibidos a lo largo de su trayectoria figuran, entre otros: Red Dot Design Award 2013 , Best of Year Honoree 2012 , ADI Design Index 2012 , Best of Neocon 2012, Red Dot Design Award 2012 y Best of NeoCon People choice 2011 o el Premio Nacional de Diseño 2007.
---
Información e imágenes facilitadas por Andreu World
You might also like