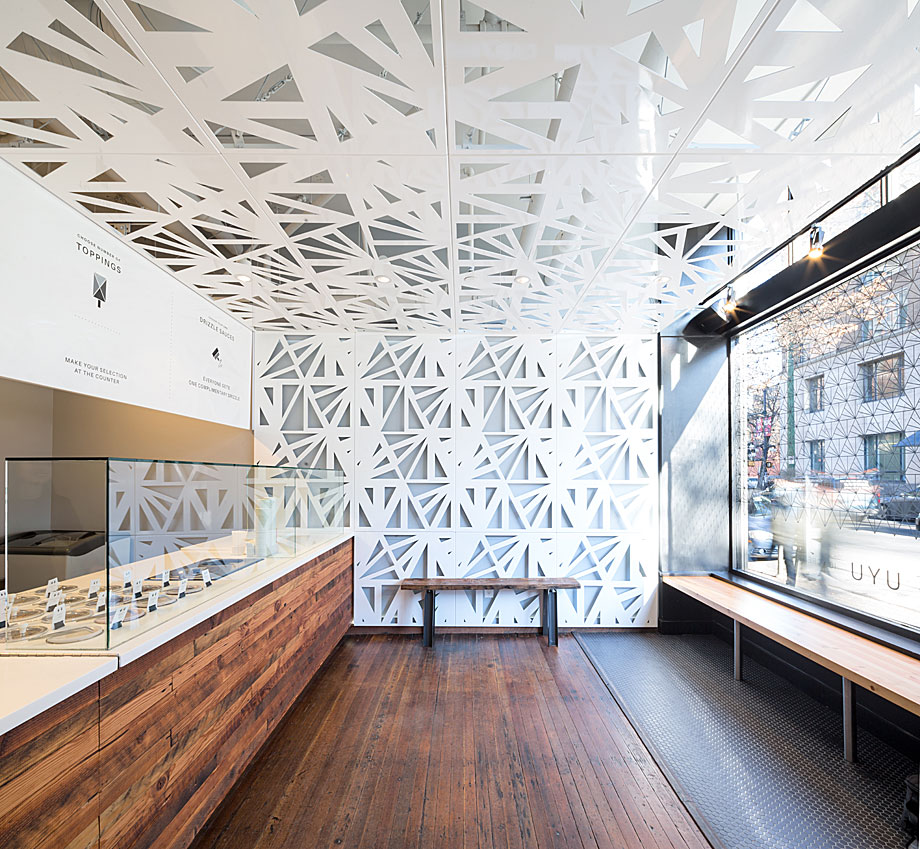 UYU:
UYU es una heladería ubicada en Gastown, un histórico barrio de Vancouver con unos excelentes restaurantes, bares y tiendas, que abrió sus puertas hace poco más de un año. Sus productos son conocidos porque todos tiene como base la leche orgánica (UYU significa «leche» en coreano) y productos frescos buscando una oferta de calidad. El diseño interior del establecimiento ha sido realizado por el despacho canadiense Leckie Studio, fundado el pasado año por el arquitecto Michael Leckie.
La imagen de la heladería está marcada por el revestimiento metálico, pintado de blanco, que viste el techo y parte de las paredes. Este elemento irregular, trabajado con corte mediante chorro de agua, está inspirado por los patrones cristalinos encontrados en la escarcha. Este patrón explica el estudio «también hace refrencia al logotipo y la identidad de UYU y, juguetonamente, sugiere el producto de la tienda: el helado».
En marcado contraste con este motivo metálico, el suelo de la heladería se ha pavimentado con un cálido parquet rústico de madera. La misma madera que asciende y da forma al expositor de los helados / barra donde se atiende a los clientes.
El local carece de mesas y sillas. En su lugar, se ha dispuesto un sencillo banco y una bancada recorre la pared acristalada que da la calle. Esta solución evita sobrecargar el espacio, que solamente tiene 60 m2, con demasiado mobiliario y lo hace más informal porque ¿quién quiere seriedad a la hora de comerse un helado?
---
LAS IMÁGENES:
---
FICHA TÉCNICA:
Proyecto:

Heladería UYU.

Ubicación:

Vancouver (Canadá).

Completado:

2015.

Diseño:

Leckie Studio.

Superficie:

60 m2.

Fotografías:

Ema Peter.
---
PLANIMETRÍA: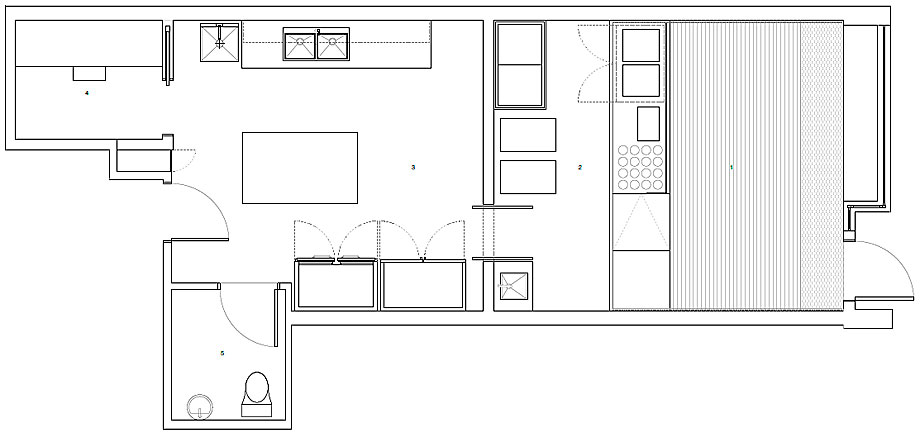 Planta

Sección
---
SOBRE LECKIE STUDIO: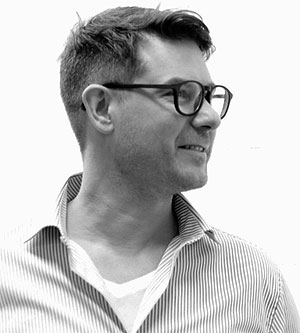 Leckie Studio Architecture + Design es una estudio de diseño interdisciplinario con sede en Vancouver (Canadá). El despacho fue fundado, en 2015, por el arquitecto Michael Leckie. Se involucran en la práctica del diseño a través de varias escalas y medios: arquitectura, interiorismo, instalaciones y diseño de producto. Sus proyectos comerciales y residenciales hacen énfasis en el diseño solar pasivo y flexibles espacios modulares.
Han sido galardonados con el Western Living Magazine Designers of the Year Arthur Erickson Memorial Award (2016) y NewCity Design Award of Excellence en la categoría Proyectos residenciales a pequeña escala por el proyecto Ocean Park House (2014). Además, sus trabajos han aparecido en publicaciones como Arcade, Azure, Canadian Architect, Designboom and Wallpaper, entre otros.
---
Información e imágenes facilitadas por el estudio
You might also like