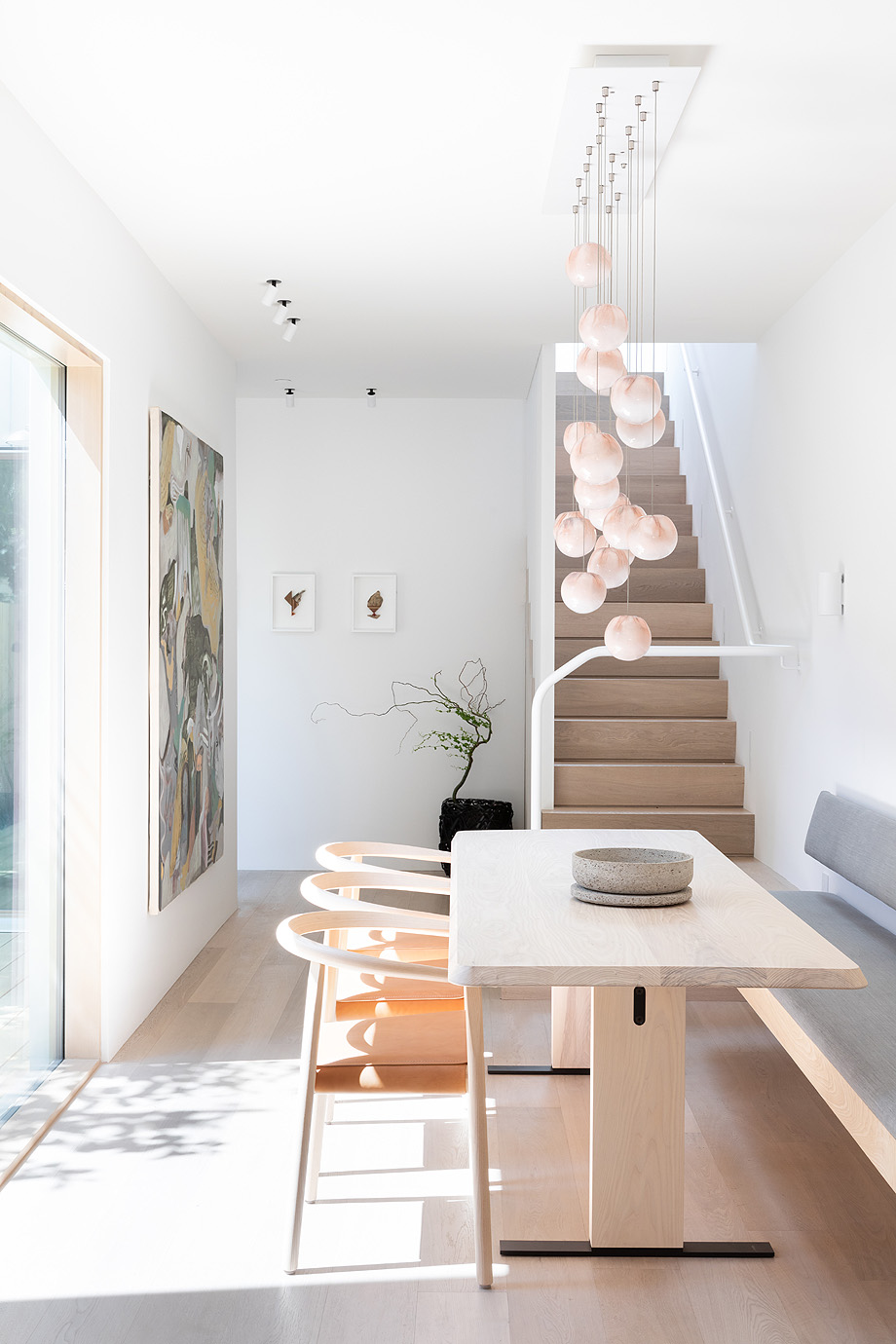 SAINT GEORGE HOUSE:
Los estudios canadienses Falken Reynolds Interiors y Randy Ben Architect diseñaron esta moderna casa de inspiración nórdica y 204 m², ubicada en Vancouver, que presenta una forma marcadamente rectangular, respondiendo a la forma de la parcela donde está construida (6 x 60 m). Esta circunstancia «nos inspiró para ser creativos en nuestro proceso de diseño y crear más espacio visualmente», dice Chad Falkenberg, director del estudio de diseño interior fundado en 2012.
«La luz natural fue un punto muy importante del proyecto por lo que se colocaron estratégicamente once claraboyas para bañar las paredes con luz natural y atraer la atención sobre las diferentes estancias,  aumentando la amplitud del espacio mediante la técnica de la perspectiva atmosférica«, detalla Falkenberg. Estas once entradas de luz natural, se suman a la fresca paleta cromática y la madera en tonos claros que hacen que en la casa se respire un ambiente nórdico que Falken Reynolds describe como «nórdico canadiense», inspirado por Escandinavia, Japón y la Costa Oeste.
Maximizar el espacio.
«La expresión arquitectónica tranquila fue totalmente intencionada ya que el edificio es el telón de fondo de las características opuestas», explica el despacho de arquitectura. Los pasillos y zonas de paso interiores maximizan su funcionalidad con almacenamiento oculto y para garantizar que la casa esté completamente equipada para una familia moderna y activa, la cocina está equipada con una isla de generosas dimensiones y amplio espacio de almacenamiento, el hall de entrada oculta sitio de almacenaje en el vestíbulo y la zona infantil está apartada de las zonas de estar principales.
En la primera planta, se ubican el dormitorio principal con baño propio, otras dos habitaciones con baño compartido, un pequeño espacio de biblioteca con una ventana que da al patio central y otro de estudio en «la zona de los niños». En el dormitorio de los padres, una paleta de colores neutro crea una atmósfera tranquila y, en su baño, un lucernario sobre la ducha crea una luz suave y difusa, mientras que los elementos negros destacan con especial fuerza en un espacio mayormente blanco.
---
LAS IMÁGENES:
---
FICHA TÉCNICA:
Proyecto:

Saint George Street House.

Ubicación:

Vancouver (Canadá).

Superficie:

204 m².

Completado:

agosto 2018.

Arquitecto:

Randy Bens Architect.

Diseño interior:

Falken Reynolds Interiors.

Paisajismo:

Teer Co.

Constructora:

Moose Head Contracting.

Fontanería:

Blu Bathworks y Cantu Bathrooms.
Superficies de cuarzo y solid surface: Corian y Willis.

Pavimento de madera:

Frontier Flooring.

Mecanismos eléctricos:

Bocci 22.

Mobiliario:

Bensen e Inform Interiors.

Iluminación arquitectónica:

Delta Light e Inform Contract.

Iluminación decorativa:

Bocci, And Light y Flos.

Alfombras:

Salari.

Obras de arte:

Thiessen Art Services y Wade Comber Photography.

Fotografías:

Ema Peter.
---
PLANIMETRÍA:

Planta baja
---

Primera planta
---
SOBRE RANDY BENS ARCHITECT (RBA):
Randy Bens aprendió el oficio con dos de los mejores estudios de arquitectura de América del Norte: Arthur Erickson / Nick Milkovich Architects y Busby & Associates Architects. Mientras trabajaba para estos dos despachos, se graduó en el Royal Architectural Institute de Canadá. Randy es miembro del Architectural Institute of BC (Architect AIBC). Después de trabajar en grandes proyectos multimillonarios para otras empresas, el arquitectó pasó a centrarse en viviendas unifamiliares personalizadas y selectos proyectos comerciales. El estudio ha mantenido su status de estudio pequeño lo que le permite ofrece ofrecer un alto nivel de servicio mientras se centran en la realización de un número pequeño de proyectos anualmente.
---
SOBRE FALKEN REYNOLDS INTERIORS: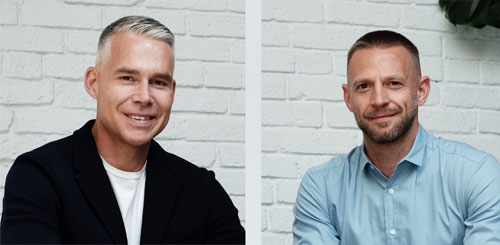 Fundado por Kelly Reynolds y Chad Falkenberg, en 2012, Falken Reynolds es un estudio de diseño de interiores con sede en Vancouver (Canadá), cuyo premiado trabajo se centra en proyectos residenciales privados y se extiende al comercio minorista, la hostelería y el diseño de productos.
Con una perspectiva global y un enfoque altamente personal, crean acogedores espacios adaptados a las vidas de sus clientes. Las líneas limpias, la artesanía y los detalles son características distintivas.
Sus proyectos han sido destacados en Western Living, Dwell, Gray, The Globe & Mail o Harper Collins' 150 Best Mini Interiors, entre otros.
---
Información e imágenes facilitadas por v2com.biz y en las webs de los estudios
You might also like