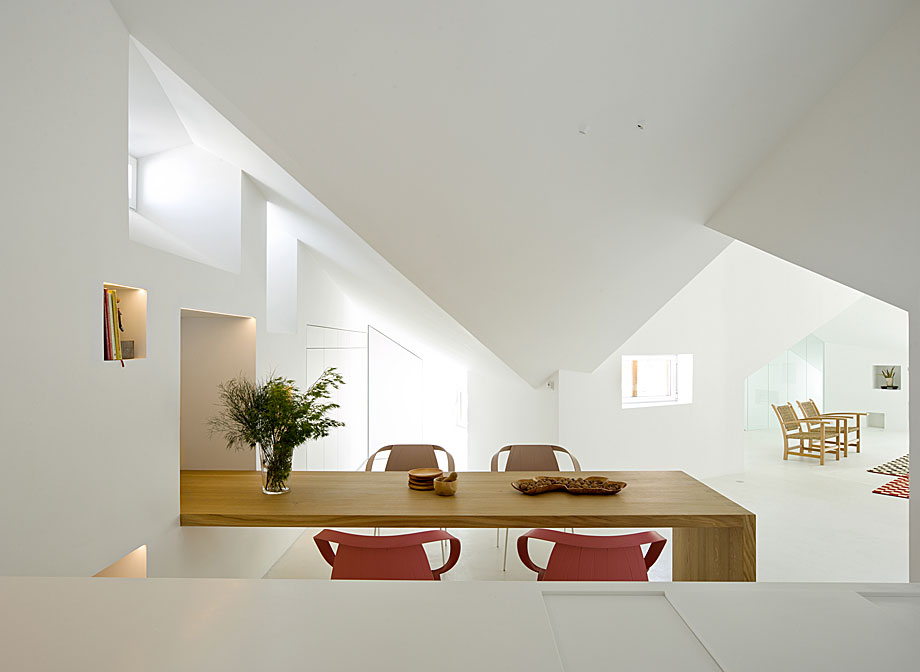 ALCALÁ:
El estudio suizo Wespi De Meuron Romeo Architects y Ábaton Arquitectura formaron tándem a la hora de llevar a cabo la reforma integral de esta vivienda, ubicada en la popular calle Alcalá de Madrid. La vivienda, que ocupa las plantas sexta y séptima de un edificio construido en 1914, obra del arquitecto Vicente Agustí Elguero, no había sido objeto de ninguna reforma desde los años 40. Además de actualizar ambos espacios, la renovación también implicó la conexión entre ambos pisos para dar lugar a un dúplex blanco y luminoso, donde los toques de color proceden de las diferentes piezas de mobiliario, cuadros y complementos textiles. Fue el equipo de la tienda Batavia, quien se encargó del diseño interior del inmueble.
El proyecto tuvo como hilo conductor «conectar las dos plantas y generar un nexo entre la tradición y el espíritu moderno», explican desde Ábaton. El piso inferior era un apartamento con decoraciones de yeso en los techos y ventanas tradicionales, elementos con un valor histórico y estético que fueron mantenidos en recuerdo del pasado del edificio. También se respetó la distribución de las habitaciones, al tiempo que se atribuían sus nuevas funcionalidades. Sin embargo, no se pudo conservar el suelo de madera original que fue reemplazado por otro de madera de roble con acabado natural.
La séptima planta, el ático donde antiguamente estaban los trasteros, no tenía un estilo definido y fue transformado en un espacio diáfano con salida directa a la terraza. Este espacio, compartido por la sala de estar y la cocina-comedor, se vistió con un estilo minimalista y austero, que sirve como marco perfecto a las icónicas butacas Clavé o a las más modernas alfombras diseñadas por Sybilla para nanimarquina.
La imponente cubierta a dos aguas se refleja en la forma interior del techo, en el que se ha creado un juego de diagonales. En las antiguas paredes se han abierto nuevas troneras que distribuyen la luz natural por toda la estancia, intensificado por la nívea caja. La cocina se ha colocado en un extremo de la planta, el que cuenta con una mayor altura, combinando el color blanco del mobiliario sin tiradores con la calidez de la mesa de madera o los tonos de las sillas.
Esta estética minimalista se utiliza también en el vestíbulo de entrada, el pasillo y el dormitorio principal. Todos se han vestido con la misma paleta de color y un sencillo pero acogedor equipamiento que genera continuidad en los diferentes interiores y acompaña a habitantes e invitados desde la entrada de la vivienda. En este punto, que también conduce a la planta superior, un tragaluz permite que la luz llegue hasta el centro de la vivienda, haciéndola todavía más blanca.
---
LAS IMÁGENES:
---
FICHA TÉCNICA:
Proyecto:

Reforma integral en Alcalá.

Ubicación:

Madrid (España).

Completado:

2016.

Arquitectura:

Wespi de Meuron Romeo Architects y Ábaton Arquitectura.

Diseño interior:

Batavia.

Mobiliario y complementos sala de estar:

sofá con pouf (Living Divani), selección de cojines (Batavia), alfombras diseño de Sybilla (nanimarquina), lámpara Grasshopper diseño de Greta Grossman (Gubi), juego de mesas redondas de madera y corten (Heerenhuis), butacas Clavé del arquitecto Josep Torres Clavé (Mobles 114), escultura en madera de teca original del Este (Batavia), jarrón de cristal (Polws Potten), jarrón de terracota (Batavia). En el suelo, fotografía de Juan Baraja.

Cocina:

silla de acero y poliuretano diseño de Nipa Doshi & Jonathan Levien (Moroso).

Dormitorio principal:

butaca blanca diseño de Paulo Mendes da Rocha del 1957 (Objekto), mesilla de palisandro diseño de los 60's de Arne Vodder (Batavia), mantas y cojines (Eleanor Pritchard), lámpara de mesa AJ diseño de Arne Jacobsen en 1957 (Louis Poulsen), aparador de roble (Ethnicraft) y cuadro de fieltro de Natalia Palazón (Batavia).

Comedor:

sillas Plastic Chair diseño de los Eames del 1950 para el MoMA (Vitra), lámpara de pie AJ diseño de Arne Jacobsen en 1957 (Louis Poulsen), mantas (Batavia), alfombra Campo de Flores diseño de Tord Boontje (nanimarquina).

Superficie:

330 m2 + 60 m2 de terraza.

Fotografías:

Luis Asín.
---
PLANIMETRÍA: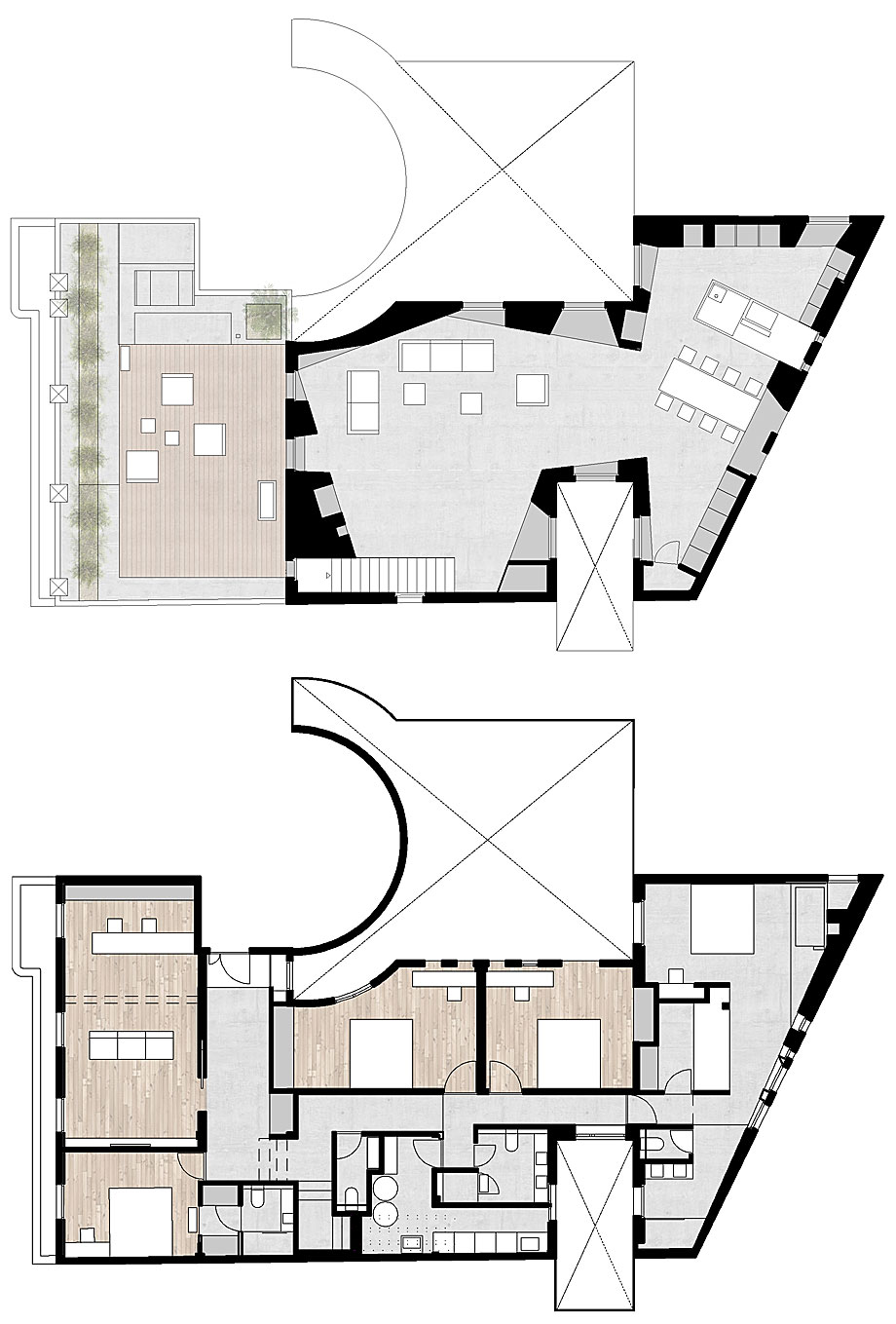 Segunda y primera planta
---
SOBRE WESPI DE MEURON ROMEO ARCHITECTS:

Wespi De Meuron Romeo es un despacho de arquitectura, fundado en 2012 y dirigido por Markus Wespi (S. Gallo, 1957), Jérôme de Meuron (Münsingen, 1971) y Luca Romeo (Locarno, 1984). Con anterioridad, Markus y Jérôme habían creado un primer estudio juntos.
El trabajo del despacho se desarrolla principalmente en el campo residencial de casas unifamiliares, donde la reinterpretación en clave contemporánea de las casas de campo se hace a través de la austeridad y materiales como la piedra, el ladrillo, el homigón, el acero y el acero inoxidable.
---
SOBRE ÁBATON ARQUITECTURA: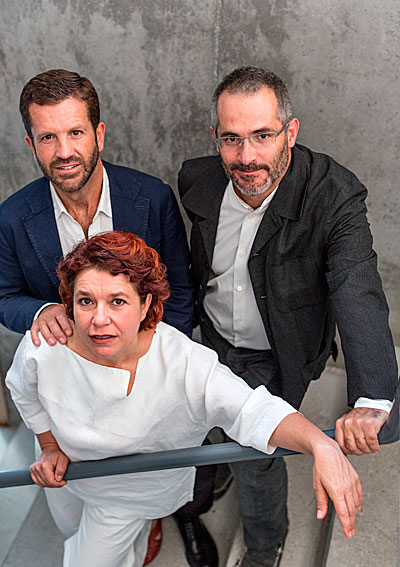 Ábaton nace, en 1998, de la mano de la arquitecta Camino Alonso, del arquitecto Ignacio Lechón y del ingeniero industrial Carlos Alonso. El objetivo original de la empresa fue desarrollar cuidados proyectos de arquitectura y promoción de viviendas con una fuerte apuesta por el diseño y la calidad. Para llevar a cabo el control de todo el proceso constructivo y garantizar la calidad del proyecto, fundaron su propia constructora que les permite implementar y desarrollar nuevos sistemas constructivos con más flexibilidad.
Desde su fundación, Camino Alonso ha sido la directora creativa del estudio, imprimiendo un personal carácter a los espacios, vinculándolos al entorno y con una especial atención al respeto por la naturaleza.
Actualmente, en Ábaton trabajan más de 15 arquitectos, ingenieros y aparejadores, ofreciendo a sus clientes un servicio completo con la máxima calidad. El estudio cuenta con alrededor de 200 proyectos construidos (viviendas, hoteles, oficinas, restaurantes) y más de 80 viviendas transformadas en España y en el extranjero. Este trabajo ha sido publicado por la prensa especializada del sector de más de 80 países y reconocido con premios como The Best of Houzz 2016 en la categoría de Diseño, finalistas en 4ª Bienal de Diseño y Arquitectura por la Casa Transportable ÁPH80 (2014) y A + Premio en la categoría de Arquitectura + Sostenibilidad por la reforma de una finca en Extremadura (2013), entre otros.
Además, en 2015, Camino Alonso formó parte de la lista "50 under 50. Innovators of the 21st Century", una selección que recoge los mejores arquitectos y diseñadores de todo el mundo menores de 50 años.
---
SOBRE BATAVIA:
Batavia nace, en 1996, de la mano del ingeniero industrial Carlos Alonso como tienda de muebles, con el espíritu de ofrecer soluciones completas en el espacio arquitectónico contemporáneo. Desde sus inicios, la firma ha fusionado los mejores diseños de mueble contemporáneo con piezas únicas procedentes de Europa y Asia, haciendo que sus proyectos de interiorismo adquieran un personal estilo. Además, posee una extensa colección de mobiliario vintage de mediados del siglo XX procedente del norte de Europa, principalmente de Dinamarca, trabaja sobre algunas de estas piezas para adaptarlas a las tendencias del momento y también desarrolla sus propios diseños.
Con un equipo integrado por profesionales formados en el mundo del diseño y la decoración, Batavia cuenta con tres tiendas en Madrid y ha desarrollado una amplia experiencia en proyectos de decoración de restaurantes y viviendas, así como amueblamiento de oficinas. Colaboran habitualmente con estudios de arquitectura en la concepción y desarrollo de muchos proyectos, que han sido recogidos por la prensa nacional e internacional.
---
Información facilitada por Ábaton y en la web de Wespi de Meuron Romeo. Imágenes facilitadas por Ábaton
You might also like