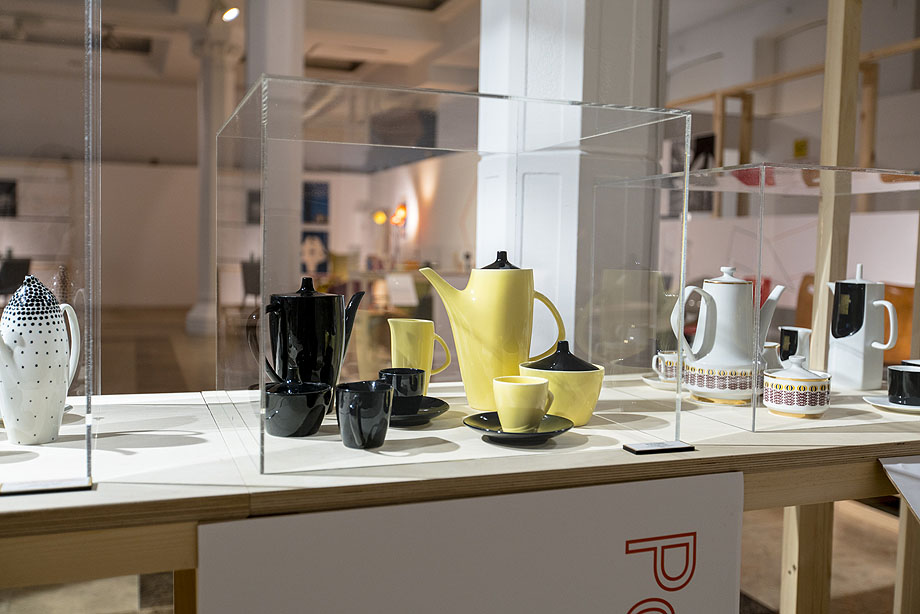 DISEÑO INDUSTRIAL CENTROEUROPEO 1956 – 1968:
Hasta el próximo 26 de mayo, puede verse en el Instituto Europeo del Diseño en Madrid la exposición «Bruselas en Praga, Picasso en Varsovia. Diseño en Europa Central 1956 – 1968», una muestra que da a conocer el diseño industrial socialista de la segunda mitad de los años 50 y la década de los 60 de dos países centroeuropeos: Polonia y Checoslovaquia. Estas dos décadas fueron, sin duda, un periodo histórico excepcional en el que, gracias al «deshielo» político iniciado tras la muerte de Stalin, se produjo una verdadera expansión de objetos de uso cotidiano de diseño moderno como muebles, objetos de cerámica, lámparas, telas o aparatos eléctricos y técnicos.
Los productos que forman parte de la exposición proceden de dos colecciones privadas: una pertenece al coleccionista polaco Filip Spek, historiador del arte y comisario de este proyecto; la otra, compuesta por los objetos checoslovacos, es propiedad de Jan Jeništa, coleccionista checo. Los objetos están acompañados por reproducciones de carteles húngaros de la época que decoran los interiores dispuestos según la moda que predominaba en Europa Central en los años 60.
Los visitantes de la muestra podrán descubrir diferentes objetos de la vida diaria que, en esa época, cambiaron el aspecto de las casas polacas y checoslovacas. Algunos de ellos y desde la perspectiva que proporciona el paso del tiempo, asombran por su frescura, modernidad y actualidad visual. Los productos están organizados en grupos temáticos, lo que facilita poder comparar las dos escuelas de diseño que nunca fueron comparadas en su época. En el espacio expositivo, también se presentan dos recreaciones de interiores de viviendas «modélicos», equipados con muebles y accesorios populares en aquellos años.
Por lo que respecta al mobiliario, en esa época se dio el paso clave de abandonar el diseño de conjuntos de muebles para estancias concretas, apostando por muebles individuales, escogidos por los usuarios en función de sus necesidades, en un camino hacia la modernización. Como consecuencia del éxito internacional que tuvieron los muebles polacos, en los años 60, se convirtieron en objeto de exportación, sobre todo a los mercados occidentales, aunque también a otros países del bloque comunista. Como curiosidad, en 1961, las fábricas polacas comenzaron a suministrar diseños polacos a la red de tiendas suecas IKEA.
La exposición es el resultado de una colaboración entre el IED Madrid y los centros culturales y embajadas de los países del Grupo Visegrád: Polonia, República Checa, Eslovaquia y Hungría, con el apoyo del Instituto Adam Mickiewicz de Varsovia.
---
«BRUSELAS EN PRAGA, PICASSO EN VARSOVIA. DISEÑO EN EUROPA CENTRAL 1956 – 1968».
Hasta el 26 de mayo.
IED Madrid.
Calle Larra, 14.
28004 Madrid (España).
Horario: de 8.30 a 22.30 horas.
---
LAS IMÁGENES:

---
SOBRE IED MADRID:
El IED Madrid es un Centro Privado de Enseñanzas Artísticas Superiores de Diseño que pertenece al Grupo IED, un network internacional de educación en Diseño y Management que nace en Italia, en 1966, y hoy cuenta con once sedes repartidas entre Italia, España y Brasil. El IED Madrid comienza su actividad en 1994 y, actualmente, cuenta con tres sedes en la ciudad.
Estos 20 años de existencia de IED Madrid se traducen en una amplia oferta formativa con un modelo académico innovador, único y reconocible capaz de adaptarse a las necesidades de una sociedad en constante evolución, que ha derivado en un gran número de alumnos premiados en concursos nacionales e internacionales de prestigio, desfilando en las mejores pasarelas y con proyectos reales realizados en estrecha colaboración con empresas del sector. Desde su apertura, IED Madrid ha formado a más de 18.000 alumnos y cada año cuenta con 1.500 nuevos estudiantes.
El IED Madrid ofrece Grados en Diseño, Ciclos Formativos de Grado Superior, Títulos de Técnico Superior de Artes Plásticas y Diseño, Diplomas IED, Cursos de un Año, Másteres, Másteres Intensivos, Masters of Design and Innovation, Cursos de Especialización, Cursos de Verano y Junior Courses.
---
Información e imágenes facilitadas por IED Madrid
You might also like