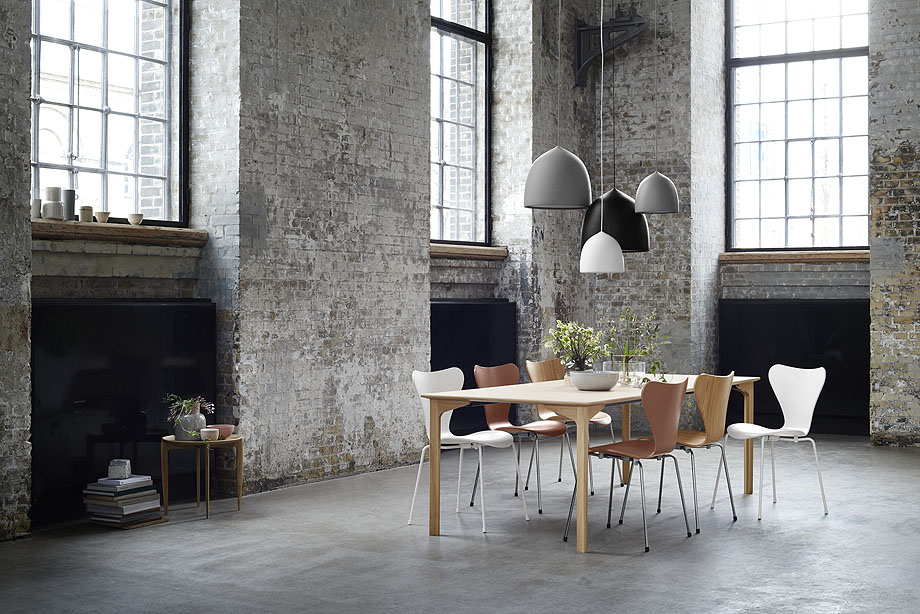 GRAND PRIX ™:
Este año, se celebra el 60 aniversario de la silla Grand Prix™, diseñada por Arne Jacobsen en 1957, un diseño que obtuvo su nombre despues de ganar el prestigioso premio Grand Prix en la Triennale de Milán de ese año ya que, originalmente, fue bautizada como el Modelo 3130. Paralelamente, el arquitecto danés ideó también una mesa de madera junto a la silla pero, debido a unos problemas en su producción, esta pieza solamente llegó a conocer al gran público durante un corto periodo de tiempo.
Para conmemorar el aniversario de la silla, la firma de mobiliario Fritz Hansen (o Republic of Fritz Hansen) ha decidido volver a lanzar al mercado la mesa Grand Prix™, manteniendo el diseño original pero resolviendo el problema que presentaba el producto original: al igual que la silla, Jacobsen creó la mesa con patas de haya maciza y tablero de chapa, sin embargo, carecía de la suficiente estabilidad.
Ha sido el equipo de diseño de la conocida empresa danesa de mobiliario quien emprendió recientemente la tarea de cambiar la forma de fabricación de la mesa sin alterar apenas el diseño del arquitecto para resolver ese defecto inicia. En esta nueva versión de 2017, las patas de madera maciza son ligeramente más anchas y la mesa cuenta con un riel de acero bajo la chapa lacada dotarla de la estabilidad que requiere un producto de este tipo.

La actual mesa en madera de roble está disponible en tres tamaños (150 x 95 x h 72 cm, 185 x 95 x h 72 cm y 235 x 95 x h 72 cm) y cuenta con unos bordes lisos redondeados que contribuyen formalmente a darle una expresión más suave.
---
LAS IMÁGENES:
---
SOBRE ARNE JACOBSEN: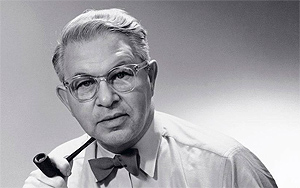 Reconocido y respetado internacionalmente, el arquitecto Arne Jacobsen (Dinamarca 1902-1971) volcó su talento en una obra que abarca desde el diseño de un simple tenedor a proyectos arquitectónicos de gran envergadura.
Nació en Copenhague y, tras estudiar cuatro años en una escuela de construcción, entró en la Facultad de Arquitectura de la Real Academia de Bellas Artes. Artista integral, está considerado el padre de la arquitectura y el diseño danés modernos, y uno de los arquitectos más influyentes del siglo XX. Además, durante la década de los años 60 se dedicó a la docencia en la Skolen for Brugskunst de Copenhague.
Entre sus obras arquitectónicas más destacadas se encuentran el Hotel Royal, para el que Jacobsen diseñó hasta el mínimo detalle, el Hotel SAS y la sede del Banco Nacional, los tres en Copenhague, y la Embajada Real Danesa, en Knightsbridge, y el Colegio de St. Catherine, en Oxford (Londres).
Pero, quizás, el conocimiento más popular de su figura llegue a través de su faceta de diseñador de mobiliario con piezas de sólo una aparente simplicidad e innegable belleza como la famoss silla Ant (1952) o las butacas Egg (1958) y Swan (1958).
---
SOBRE FRITZ HANSEN:
Fritz Hansen, también conocida como Republic of Fritz Hansen, es una compañía danesa de diseño de mobiliario fundada, en 1872, por el carpintero del mismo nombre.  A lo largo de su casi siglo y medio de trayectoria, diseñadores de prestigio como Arne Jacobsen, Poul Kjærholm, Hans J. Wegner y Piet Hein han trabajado para la firma. Actualmente, colaboran con Fritz Hansen diseñadores como Hiromichi Kono, Cecilie Manz, Kasper Salto, Piero Lissoni o Jaime Hayon.
---
Información e imágenes facilitadas por Fritz Hansen
You might also like