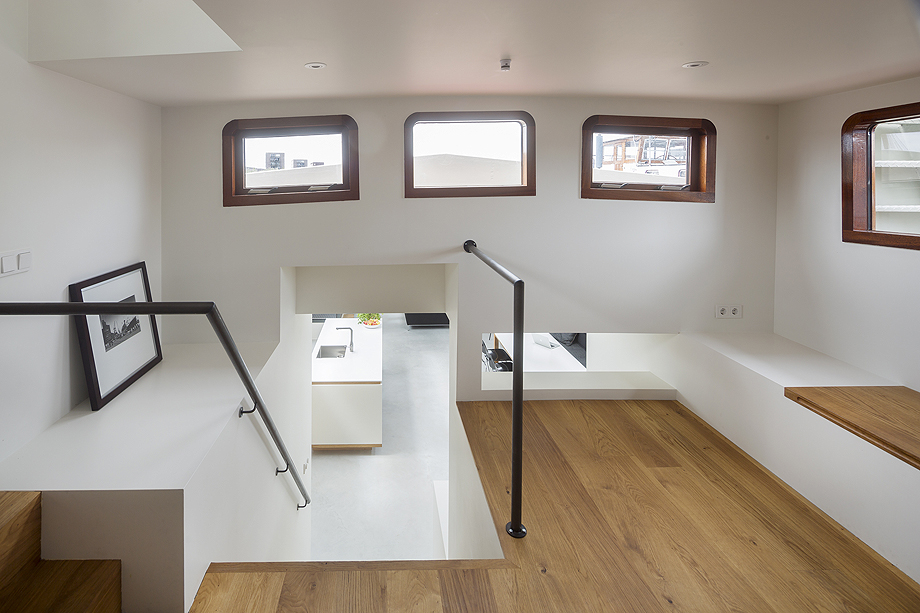 UNA CASA EN UN BARCO:
El estudio holandés ANA Architecten se ha encargado de transformar un barco de carga, un Kempenaar de 1957, en una acogedora vivienda que flota en IJburg, un barrio de la parte oriental de Amsterdam construido sobre islas artificiales en un lago. Los espacios amplios, una alta calidad de vida y la sostenibilidad conformaron el punto de partida para el proyecto de diseño de un cliente que quería una casa que pudiera ser espaciosa y cómoda al mismo tiempo.
Las medidas del barco incidieron en la decisión de compra ya que sus dimensiones han permitido desarrollar el programa funcional deseado. También permitía establecer una conexión entre la cabina de mando y la bodega de carga, ofreciendo un acceso adecuado a las habitaciones. El proyecto de diseño ha dado lugar a que las líneas de visión se extiendan longitudinalmente a través del barco y existan diferentes perspectivas en las distintas plantas. Estos ejes visuales fueron creados a través de una terraza que se colgó en medio del espacio de 4,5 m de altura y la utilización de vidrio. Además, las ventanas en la cabina del timón, ojos de buey y un patio proporcionan más luz y líneas de visión. El suelo de hormigón y las paredes blancas realzan la simplicidad del diseño, mientras que un mobiliario multifuncional en madera de roble conecta los diferentes espacios.
El dormitorio principal está diseñado como un espacio independiente. Contiene una despensa, baño, inodoro y zona de descanso. La cocina es el espacio central del barco y se utiliza como sala de estar principal. Por lo tanto, no existe una sala de estar tradicional. Sin embargo, hay varios lugares en el barco donde sus habitantes pueden retirarse o reunirse. La timonera es un salón alternativo y también proporciona un lugar donde poder relajarse. Por otra parte, las habitaciones infantiles están diseñadas como si fueran cabinas de pasajeros: pequeños y funcionales están abiertos a la sala multifuncional a través de una gran puerta corredera.
El proyecto de rehabilitación se caracterizó por un proceso de desarrollo integrado en el que no hubo una distinción clara entre las fases de investigación, diseño y realización. Explican los arquitectos que «el barco fue hecho a mano y esto hizo que fuera difícil de dibujar». Fue complicado predecir qué sucedería en el transcurso del proceso, de modo que el cliente, el estudio de arquitectura y el constructor trabajaron siempre juntos. El diseño tuvo lugar incluso durante la construcción. «Fue un desafío encontrar un equipo de construcción adecuado para este proyecto. La construcción de yates y de viviendas, dos mundos diferentes, tuvieron que unirse».
La reforma dio al barco una segunda vida y para hacerlo habitable fue aislado completamente. Las ventanas de aluminio y vidrio existentes fueron reemplazadas por otras con el marco de caoba y doble acristalamiento. También se eliminó la gasolina y fue sustituida por una bomba de calor aire-agua que extrae el calor del aire y calienta el barco a través de calefacción por suelo radiante a baja temperatura.
---
LAS IMÁGENES:
---
FICHA TÉCNICA:
Proyecto:

Casa flotante.

Ubicación:

IJburg, Amsterdam, The Netherlands.

Completado:

2017.

Autores:

ANA Architecten.

Equipo:

Marcel van der Lubbe y Jannie Vinke.

Contratista:

Moed & van Gulpen, Harlingen.

Superficie:

150 m².

Fotografías:

Luuk Kramer.
---
CROQUIS:
---
---
PLANIMETRÍA:




---
SOBRE ANA ARCHITECTEN:
ANA Architecten es un estudio holandés, dedicado al diseño y la investigación en el campo de la arquitectura y el urbanismo, fundado por Marcel van der Lubbe (1969) y Jannie Vinke (1967), en 1996. El despacho, con sede en la ciudad de Amsterdam, cree que «la forma debe utilizarse para iniciar nuevas posibilidades de uso. Este enfoque requiere una actitud flexible e investigadora con el objetivo de encontrar soluciones preprogramadas y actuales. Cada tarea debe tratarse como una nueva tarea». En su trabajo, utilizan un método analítico y visual al mismo tiempo, donde el diseño se lleva a cabo mediante un exhaustivo estudio del programa, el contexto y las condiciones previas.
Además de sus proyectos como arquitectos, Marcel es profesor invitado y supervisor de posgrado en la Academia de Artes Arquitectónicas de Amsterdam, Groningen y Arnhem y TU Delft, Departamento de Vivienda. Mientras que Jannie es miembro del equipo de investigación Grey Tint in the Intermediate, que explora nuevos conceptos de vivienda para las personas mayores en el futuro, y  es profesora invitada en la Academia de Arquitectura de Ámsterdam y TU Delft, Departamento de la Vivienda.
---
Información e imágenes facilitadas por el estudio
You might also like