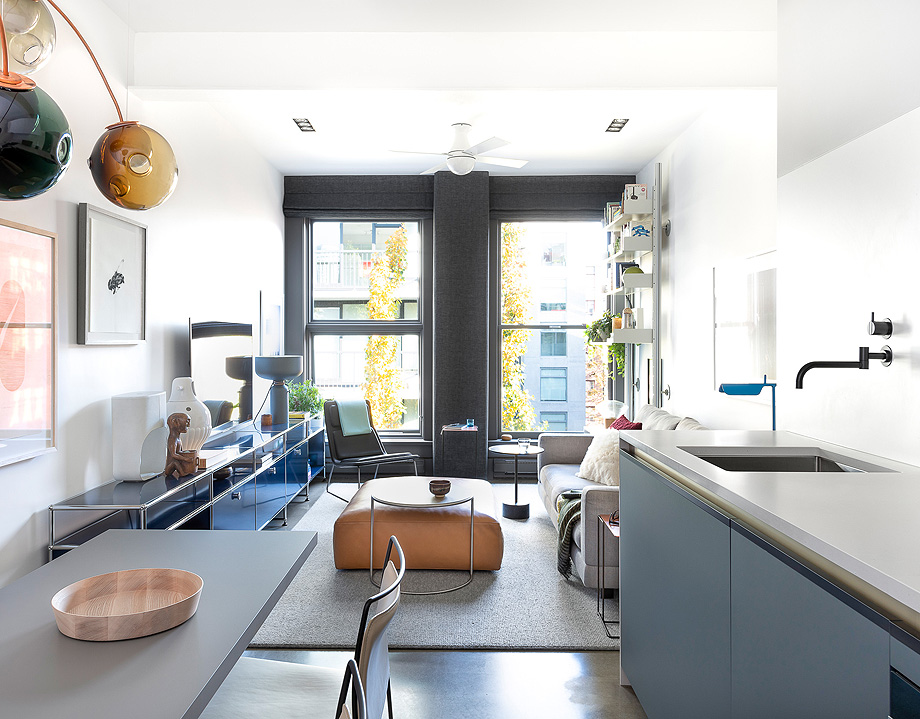 THE IGLOO:
El estudio canadiense Falken Reynolds diseñó el interior de esta vivienda de 54 m² cuyo concepto está basado en la simplicidad de los popularés iglús y en el deseo de crear un espacio minimalista. Explica Chad Falkenberg, co-director del despacho, que «una de las primeras reglas para un interior minimalista es tener un montón de almacenamiento» y para llevar esta idea a la práctica se creó un multifuncional volumen en el centro de este loft, ubicado en el histórico vecindario de Gastown, en Vancouver.
Al igual que al pasar por la estrecha entrada de un iglú, el túnel que se crea en la primera mitad de la vivienda se abre a una amplia sala con la cocina, el comedor y la sala de estar. «Los iglús son un espacio cerrado protegido de los duros inviernos canadienses y se accede a ellos a través de un estrecho corredor. Queríamos tener la sensación de entrar en un espacio cálido y protegido, y el corredor ayuda a enfatizar esto», dire Kelly Reynolds, también co-director del despacho.
Cubo multifuncional.
En el centro del loft se diseñó un cubo, cuyas puertas lisas esconden dos armarios, lavadora y secadora, armario de secado, nevera y despensa. Al desplazar gran parte del almacenaje de cocina, los armarios superiores han podido eliminarse y sólo ha quedado el que oculta la campana extractora completamente integrada, haciendo que esta zona se sienta más abierta y espaciosa. También contribuyen a esta sensación los tiradores integrados, las puertas con paneles de Fenix NTM con acabado mate y la grifería Vola montada a pared. La neutralidad de la cocina hace que el comedor se convierta en el punto focal de la estancia, donde destaca la lámpara Bocci 28.7.
El único dormitorio del loft se ha situado sobre el espacio de almacenamiento, teniendo así la privacidad necesaria para dormir. Un cama de inspiración japonesa y unas estanterías equipan este sencillo espacio.

Concluye Falkenberg que «en un espacio pequeño, a la mayoría de las personas les resultaría contradictorio tener muchos armarios y utilizar muebles grandes como el gabinete Haller de USM (en la zona de estar), pero atreverse a llevar a cabo gestos audaces hace que el espacio se sienta más grande.»
---
LAS IMÁGENES:
---
FICHA TÉCNICA:
Proyecto:

The Igloo.

Ubicación:

Vancouver, Gastown (Canadá).

Superficie:

54 m².


Completado:

2019.

Autor:

Falken Reynolds.

Contratista:

Moosehead Contracting.

Encimeras y marmolería:

Caesarstone, Antoine, Fiandre y M&W Stoneworks.

Fontanería:

Vola y Cantu Bathrooms.

Carpintería:

Lauten Woodworking y Fenix NTM.

Iluminación:

Bocci 28, And Light, Michael Anastassiades y Modular Lighting.

Arte:

Framed Vancouver.

Fotografías:

Chad Falkenberg.
---
PLANIMETRÍA: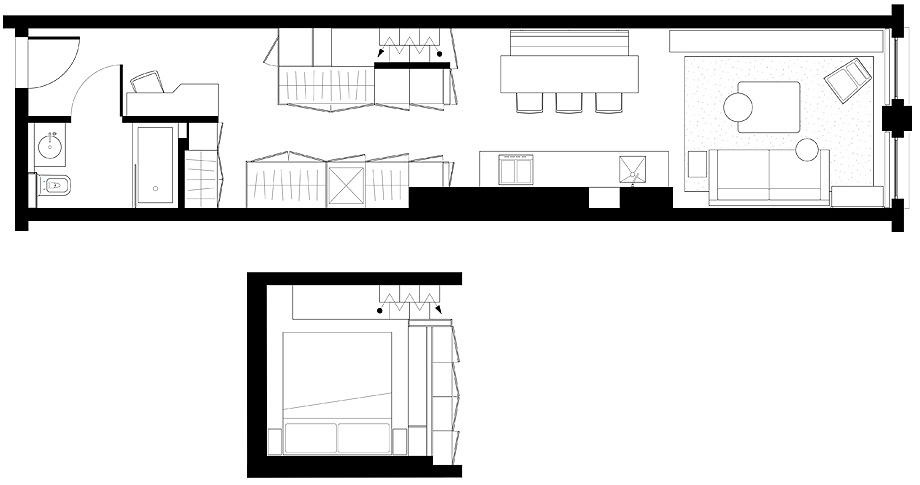 Planta
---
SOBRE FALKEN REYNOLDS: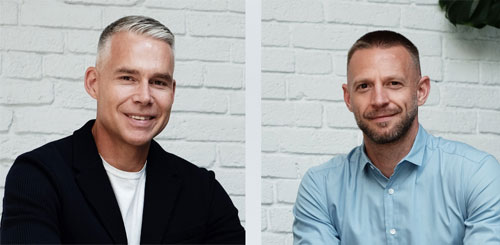 Fundado por Kelly Reynolds y Chad Falkenberg, en 2012, Falken Reynolds es un estudio de diseño de interiores con sede en Vancouver (Canadá), cuyo premiado trabajo se centra en proyectos residenciales privados y se extiende al comercio minorista, la hostelería y el diseño de productos.
Con una perspectiva global y un enfoque altamente personal, crean acogedores espacios adaptados a las vidas de sus clientes. Las líneas limpias, la artesanía y los detalles son características distintivas.
Sus proyectos han sido destacados en Western Living, Dwell, Gray, The Globe & Mail o Harper Collins' 150 Best Mini Interiors, entre otros.
FALKEN REYNOLDS EN INTERIORES MINIMALISTAS
---
Información e imágenes facilitadas por el estudio
You might also like