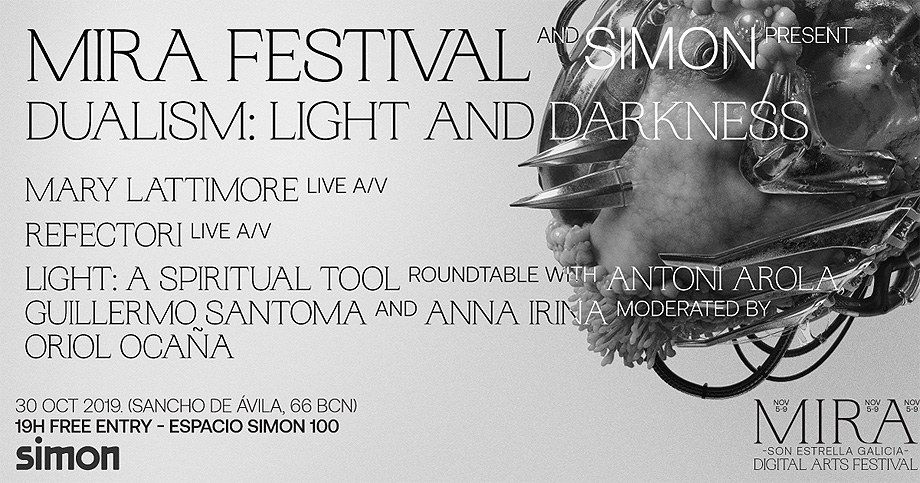 LOS EFECTOS DE LA LUZ Y LA OSCURIDAD:
Este miércoles 30 de octubre (19.00 horas), MIRA SON Estrella Galicia y Simon, firma especializada en soluciones para iluminación, control de luz y material eléctrico, presentan "Dualism: light and darkness", un evento organizado en el marco del Festival de Artes Digitales de Barcelona que reflexiona sobre los efectos de la luz y la oscuridad.
El evento contará con una mesa redonda titulada "Light: A Spiritual Tool", en la que Antoni Arola, Guillermo Santomà y Anna Irina, moderados por Oriol Ocaña, hablarán sobre el papel que juega la iluminación en contextos artísticos, como transformadora de espacios y como herramienta emocional capaz de generar experiencias.
MIRA Festival.
Simon se une, por primera vez, al MIRA Festival en su compromiso con el arte y la cultura de la luz, el diseño y la tecnología, y lo hace en el Espacio Simon 100, la antigua fábrica de Simon en el barrio del Poblenou, en Barcelona. Un revolucionario espacio inmersivo que reinventa el concepto de showroom y la experiencia que se vive en él.
Después de la mesa redonda, se presentarán dos shows audiovisuales. La arpista de Los Ángeles Mary Lattimore ofrecerá un directo de arpa y voz en el que evocará formas sonoras abstractas y lo hará acompañada de los visuales de Isaac Williams. Y el artista barcelonés Refectori se centrará en su lado más ambiental para presentar su último álbum, "Espleni" (Hedonic Reversal, 2019), un trabajo creado a partir de grabaciones de su cotidianidad, con visuales de Júlia Aguilar.
---
"DUALISM: LIGHT AND DARKNESS":
Espacio Simon 100.
Miércoles 30 de octubre, 19.00 horas.
08018 Barcelona.
630 722 465.
Entrada libre hasta completar el aforo.
---
Más instalaciones en Fabra i Coats.
La colaboración con Simon va más allá y presenta la instalación "Un Hilo de 11W" del diseñador barcelonés que trabaja e investiga sobre la luz, Antoni Arola. Inspirada en el mito de Ariadna, que guió a Teseo en el Laberinto del Minotauro, en el MIRA, la instalación lumínica guiará a los asistentes a Fabra i Coats a través de un haz de luz que recorrerá los diferentes espacios ocupados de la fábrica. Esta instalación se suma a las cinco instalaciones artísticas inmersivas de gran formato que ya ha anunciado el festival.
La apuesta de Simon en el Festival MIRA se suma a otros festivales donde la marca tiene presencia y donde la luz juega un papel fundamental, tales como el Festival Llum Barcelona, la Mexico Design Week y Casa Decor, entre otros.
---
SOBRE SIMON:
Simon es la cabecera de un grupo industrial nacido hace 100 años y que ha crecido gracias al esfuerzo de miles de personas hasta posicionarse como la empresa líder de material eléctrico y decoración en el mercado español y con una notable posición en el mercado mundial. Su portafolio de productos abarca desde colecciones de mecanismos, conectividad para puestos de trabajo, sistemas de control, iluminación, seguridad y recarga de vehículos eléctricos. El equipo del Grupo Simon está formado por 3.800 personas en todo el mundo, tiene implantación propia en 18 países, 10 de ellos con centros productivos, presencia internacional en 93 países y una facturación de 304 millones de euros.
A lo largo de 2016, Simon oganizó multitud de actividades para celebrar el centenario de la compañía. Entre ellas destacan la inauguración de la exposición Interfaces, un recorrido a través de sus productos más icónicos que se ha expuesto en Madrid y Barcelona, la apertura de un showroom en su antigua fábrica o la celebración de ponencias de reputados expertos internacionales del mundo empresarial, la arquitectura, el diseño y la tecnología. También ese año, la trayectoria de Simon fue reconocida con los Premios Nacionales Diseño 2016 en la categoría "Empresas" que concede el Ministerio de Economía y Competitividad.
SIMON EN INTERIORES MINIMALISTAS
---
Información e imágenes facilitadas por la firma
You might also like