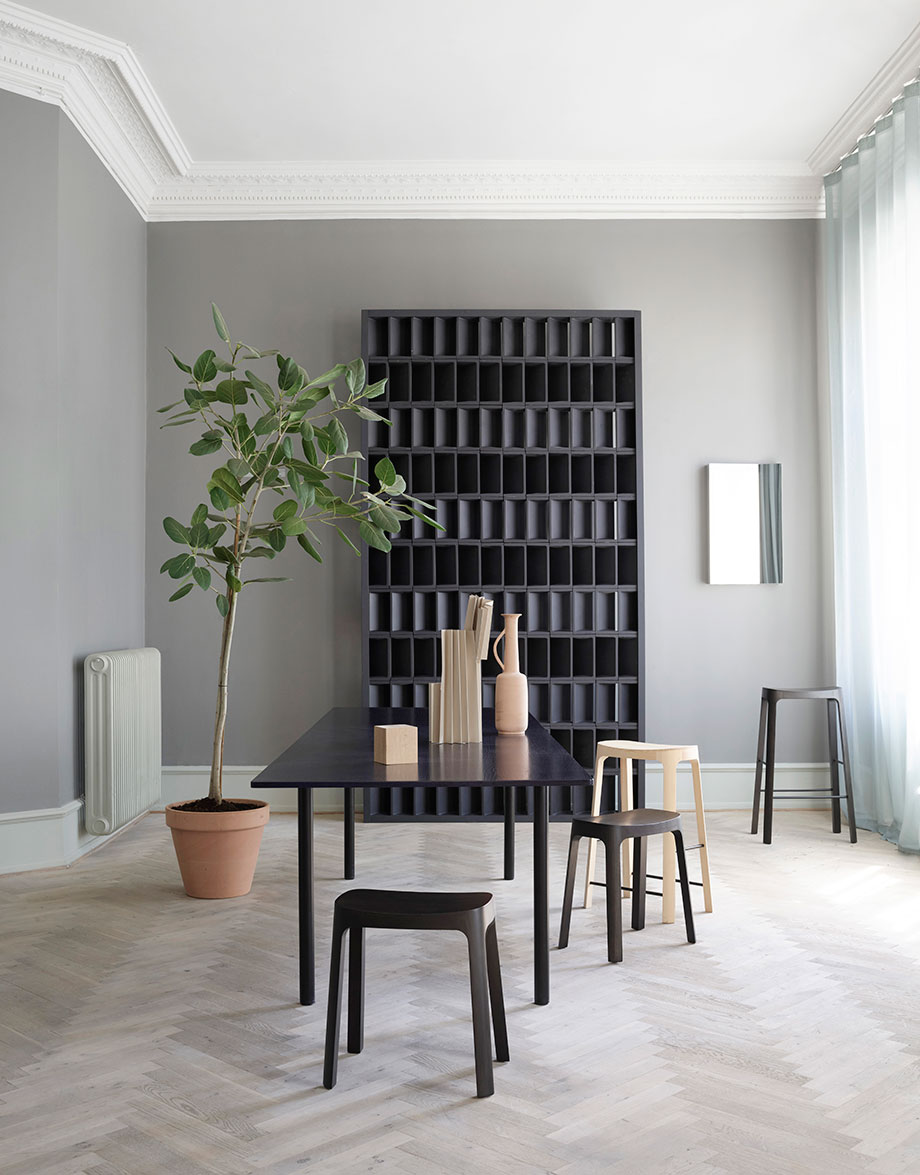 CROFTON:
La colección de taburetes Crofton es el primer diseño del británico Daniel Schofield para PLEASE WAIT to be SEATED, una empresa danesa que aboga por el diseño atemporal y de calidad. El taburete, que hace referencia a las tradiciones del diseño asiático, también refleja la filosofía de trabajo de Daniel que, formado como carpintero, diseñador gráfico y de mobiliario, defiende una estética honesta y sobria con el fin de crear productos útiles, comprensibles y ajenos al paso del tiempo.
El taburete Crofton se fabrica exclusivamente en madera de pino local de la más alta calidad y, en muchos sentidos, este material se ha convertido en una característica clave. El pino es uno de los tipos de madera más comunes en los países nórdicos y se utiliza a menudo en la fabricación de mobiliario, ya que crece rápidamente y resulta una opción más sostenible que otras. Además, envejece muy bien. Explica Thomas Ibsen, fundador y director creativo de PWTBS, que Crofton «representa algo bastante ligero y sencillo dentro de nuestra selección de taburetes. Su diseño es muy escandinavo y queríamos hacerlo resaltar fabricándolo íntegramente en pino nórdico que, básicamente, crece en nuestros patios traseros».
Atención a los detalles y a la madera de pino.
Asimismo, en su fabricación se presta una gran atención a los detalles. Por ejemplo, se sigue la dirección de la veta de la madera al colocar cada pieza y se trabaja con un sutil tinte para que la madera tengo un acabado suave y elegante.
En referencia a su diseño, Daniel Schofield comenta que el objetivo «era crear un taburete robusto pero delgado, sin que dejara de ser cómodo. El propósito de esto es maximizar el espacio en un bar o en espacios de trabajo mientras proporciona un asiento relajante durante periodos de descanso largos o más informales. Las suaves curvas y la sólida figura se suman a su naturaleza acogedora». El nombre de Crofton hace referencia a la zona de Londres en la que vive el diseñador, Crofton Park.
El taburete está disponible en tres diferentes alturas (40 x 25,4 x h 45 cm, 40 x 25,4 x h 65 cm y 40 x 25,4 x h 78 cm) y en acabado natural o tintado negro. Las versiones más altas cuentan con un doble reposapiés colocado a dos alturas.
---
LAS IMÁGENES DE OSKAR PROCTOR:
---
SOBRE DANIEL SCHOFIELD: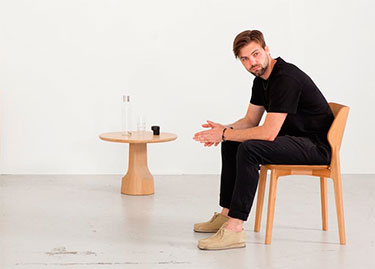 Después de dejar la escuela, Daniel Schofield estudió arte y diseño gráfico en la Universidad de Warwickshire (Inglaterra), antes de aprender carpintería para construir casas y oficinas, y restaurar edificios históricos.
Esta combinación de disciplinas educativas, basadas en el arte y la experiencia práctica, se convirtió en una pasión por el diseño, que culminó con una licenciatura en diseño de mobiliario y producto en la Universidad Sheffield Hallam. La fusión de diseño gráfico, construcción y diseño conforman el lenguaje visual y la dirección creativa del diseñador.
«Creo que no debería existir ningún detalle sin una razón, así que adopto un enfoque reductor de los materiales, la forma y la función. Intento resolver problemas de la manera más simple posible, eliminando todo lo innecesario y destilando el resultado en una estética limpia, honesta y sobria con el objetivo de crear productos útiles, comprensibles y atemporales», explica Daniel Schofield en su web.
A lo largo de su trayectoria, el diseñador ha trabajado para diferentes firmas como Another Country, Benchmark, Conran, Decode, Ercol, Hayche, KEF, PLEASE WAIT to be SEATED, VG&P y Woud. Asimismo, su trabajo ha sido reconocido con varios premios de diseño como el Elle Decoration British Design Award 2020 (categoría Mobiliario) y el premio Northern Designer of the Year (2017).

---
SOBRE PLEASE WAIT TO BE SEATED: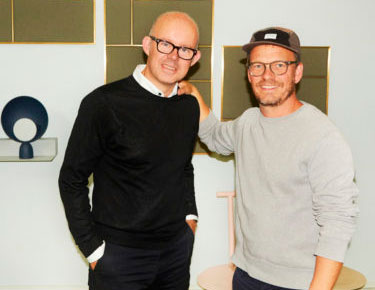 PLEASE WAIT to be SEATED es una empresa de diseño danesa fundada, en 2014, por el fotógrafo de interiores Thomas Ibsen  que, actualmente, trabaja como director creativo centrado en el desarrollo de productos. En septiembre de 2016, Peter Mahler Sørensen se incorporó a la empresa como director ejecutivo y copropietario. Peter tiene una gran experiencia en branding, diseño y la industria del mueble.
El objetivo de la firma, que tiene su showroom en Copenhagen, es encontrar diseños que puedan convertirse en clásicos y puedan pasar de una generación a otra.
Su colección cuenta con características propias centradas en la interacción, la buena artesanía, la calidad, los materiales y la sostenibilidad en términos de diseño atemporal y duradero. Asimismo, distribuyen productos de marcas, artistas, diseñadores y fabricantes con los que comparten la misma ideología.
Cuando les preguntan el porqué de su nombre, responden que este nombre resume lo que son: gente educada con un gran interés por el interior, con sentido del humor y con los pies sobre la tierra.
---
Fuente: PLEASE WAIT to be SEATED y Daniel Schofield
You might also like