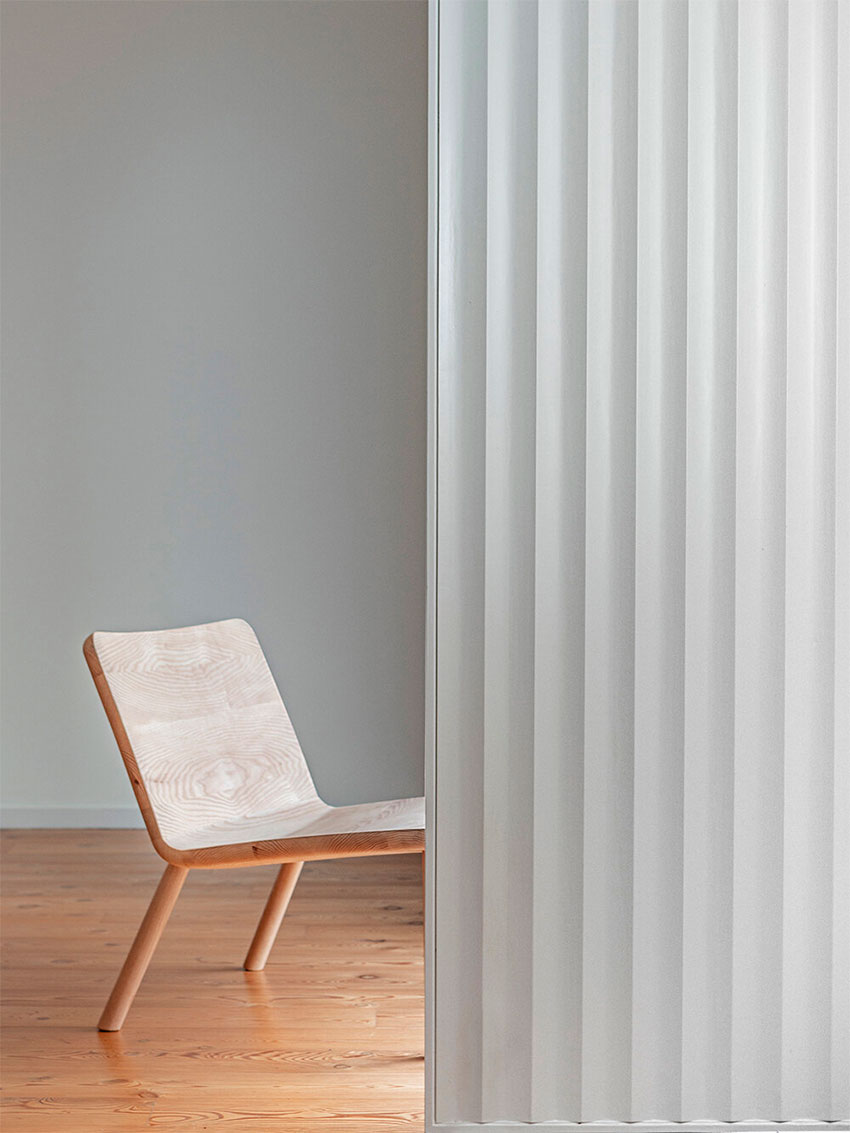 ALLAY:
Daniel Schofield es un diseñador inglés que intenta resolver los problemas de la manera más simple posible y MOR Design, una empresa de diseño portuguesa, dedicada al diseño honesto y simple. De la unión de ambas firmas nace la minimalista Allay, una silla que combina artesanía y simplicidad para crear una pieza honesta, cómoda y atemporal. El nombre de Allay proviene de la palabra inglesa antigua «alecgan», que significa «dejar» y literalmente «aligerar».
Formado como diseñador y carpintero, Schofield ha llevado a cabo con Alley «un proceso de sustracción», donde los detalles se reducen para crear una forma pura y refinada con la que resulta fácil conectar y que envejecerá con elegancia. «Me propuse diseñar el sillón arquetípico, pero lo reduje al menor número de líneas posibles. Quería crear una silla que resultara familiar y con la que la gente se sintiera cómoda con ella rápidamente. Algo que tuviera una apariencia tranquila y una presencia familiar», explica el autor.
La silla se fabrica con madera maciza de roble, fresno o nogal, impregnada con ceras o aceites naturales o barnizada. Esta elección ayuda a reforzar la sensación de solidez y resistencia de la silla.
---
Medidas: 60 x 65,4 x h 66,3 cm. Altura del asiento: 35,9 cm.
---
LAS IMÁGENES DE NUNO SOUSA DIAS:
---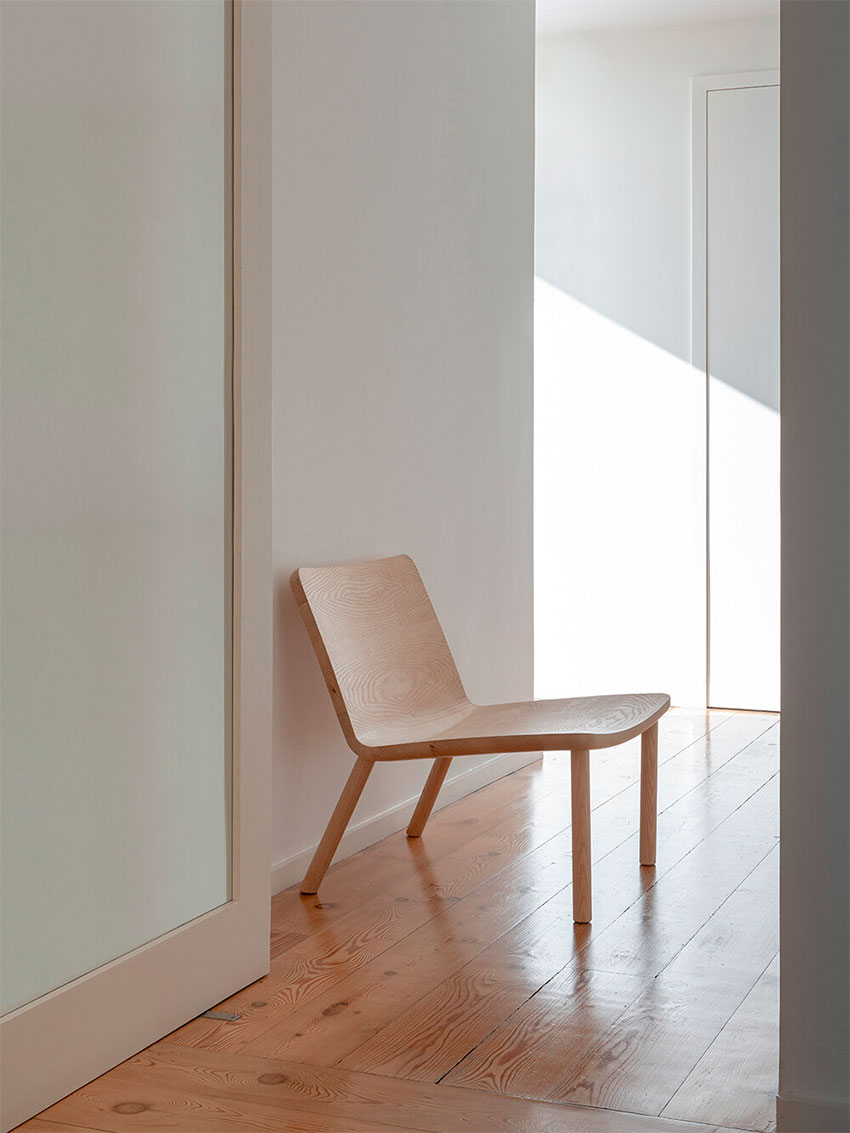 ---
SOBRE DANIEL SCHOFIELD: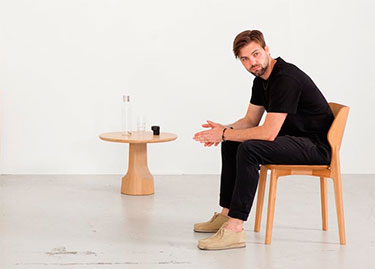 Después de dejar la escuela, Daniel Schofield estudió arte y diseño gráfico en la Universidad de Warwickshire (Inglaterra), antes de aprender carpintería para construir casas y oficinas, y restaurar edificios históricos.
Esta combinación de disciplinas educativas, basadas en el arte y la experiencia práctica, se convirtió en una pasión por el diseño, que culminó con una licenciatura en diseño de mobiliario y producto en la Universidad Sheffield Hallam. La fusión de diseño gráfico, construcción y diseño conforman el lenguaje visual y la dirección creativa del diseñador.
«Creo que no debería existir ningún detalle sin una razón, así que adopto un enfoque reductor de los materiales, la forma y la función. Intento resolver problemas de la manera más simple posible, eliminando todo lo innecesario y destilando el resultado en una estética limpia, honesta y sobria con el objetivo de crear productos útiles, comprensibles y atemporales», explica Daniel Schofield en su web.
A lo largo de su trayectoria, el diseñador ha trabajado para diferentes firmas como Another Country, Benchmark, Conran, Decode, Ercol, Hayche, KEF, PLEASE WAIT to be SEATED, VG&P y Woud. Asimismo, su trabajo ha sido reconocido con varios premios de diseño como el Elle Decoration British Design Award 2020 (categoría Mobiliario) y el premio Northern Designer of the Year (2017).

DANIEL SCHOFIELD EN INTERIORES MINIMALISTAS
---
SOBRE MOR DESIGN:
MOR Design es una empresa de diseño portuguesa, dedicada al diseño honesto y simple. Su pasión es crear piezas atemporales y duraderas, que perduren durante generaciones. La clave para hacerlo la encontramos en una equilibrada simbiosis entre diseño y artesanía. Para ello, trabajan en estrecha colaboración con fabricantes locales, utilizando materiales cuidadosamente seleccionados.
«La experiencia nos muestra que durante el proceso de desarrollo de un produco, cada pequeño paso requiere una dedicación total. La atención a los detalles y el sentimiento de una pieza son necesarios para lograr el resultado más complejo: la sencillez. La inspiración y motivación para trabajar de esta manera la recibimos del ambiente sereno de nuestra Lisboa y de toda 'la alegría de vivir' que nos rodea. Siempre queremos incorporar este sentimiento en nuestros productos, dando como resultado piezas elegantes, cálidas y funcionales, de líneas limpias», explica MOE Design en su web.
---
Fuentes: Daniel Schofield y en la web de MOR Design
You might also like