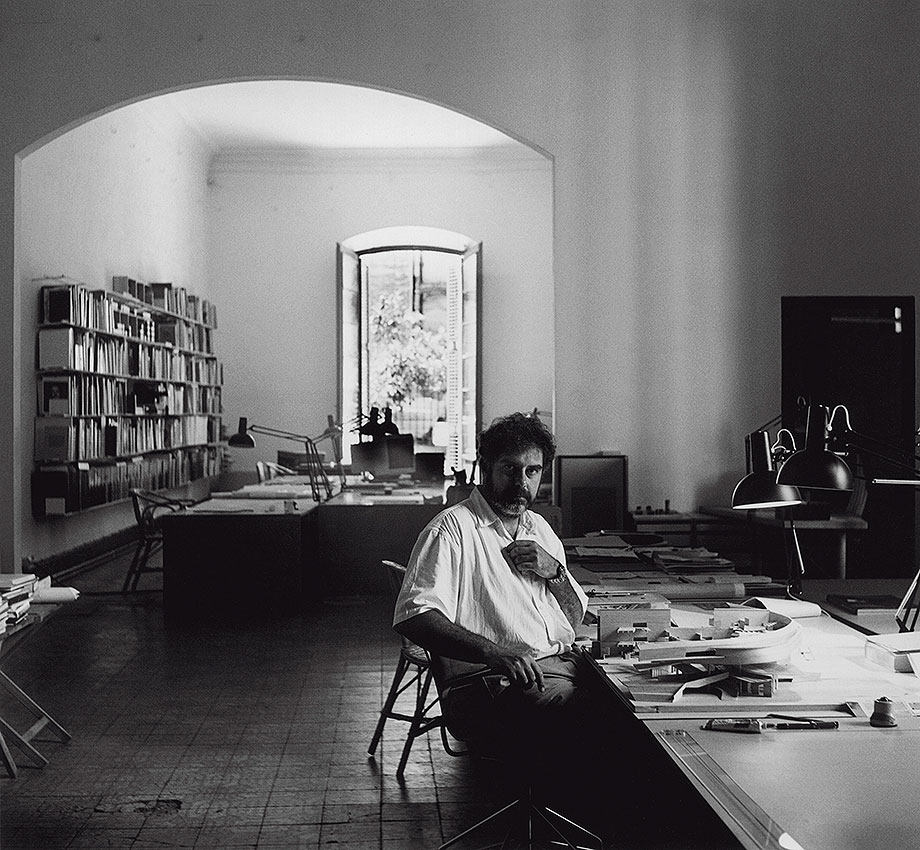 Fotografía: Maria Birulés
VEINTE AÑOS SIN ENRIC MIRALLES:
El 3 de julio de 2020, se cumplía el 20 aniversario de la muerte de Enric Miralles, una de las figuras más emblemáticas de la arquitectura contemporánea catalana, autor de obras como el Parque Diagonal Mar, en Barcelona, el Parlamento de Escocia o el Centro Cultural del Círculo de Lectores de Madrid. Por este motivo, la Fundació Enric Miralles, con el apoyo del Ajuntament de Barcelona y la Generalitat de Catalunya, ha impulsado una serie de exposiciones y actividades que dan a conocer sus múltiples facetas como creador: arquitecto, diseñador, fotógrafo y profesor, acercando su figura profesional y humana al gran público. Las actividades de MIRALLES están comisariadas por Benedetta Tagliabue (Miralles Tagliabue EMBT) y Joan Roig i Duran (Batlle i Roig).
---
Circuito Miralles.
El programa se extiende por espacios representativos de la ciudad de Barcelona, empezando por el Saló del Tinell, que es la sede de la exposición sobre Miralles arquitecto y que fue elegida por haber hospedado, en 1956, la primera retrospectiva de otro ilustre arquitecto de la ciudad, Antoni Gaudí. Las otras sedes de las actividades, igualmente emblemáticas, serán el Centre d'Arts Santa Mònica de la Generalitat de Catalunya, el Disseny Hub del Ajuntament de Barcelona, el Col·legi Oficial d'Arquitectes de Catalunya (COAC), la Escola Tècnica Superior d'Arquitectura de Barcelona (ETSAB) y la Fundació Enric Miralles.
A través de estos lugares, se ha diseñado un "circuito Miralles" que puede visitarse en varios momentos del año y que es accesible a todos los públicos. Usando diferentes formatos: charlas, debates, fotografía, vídeos, planos, dibujos, maquetas, libretas de notas, croquis, collages… cualquier persona, esté o no vinculada al mundo de la arquitectura, puede acercarse a la figura humana de uno de los arquitectos catalanes contemporáneos más internacionales.
---
Una carrera excepcionalmente prolífica.
Enric Miralles cuenta con una carrera excepcionalmente prolífica: en sólo 26 años de profesión, desde 1974 hasta el 2000, recibió 62 premios, participó en 68 concursos y fue finalista en otros muchos. Además, realizó instalaciones y ejecutado diferentes proyectos. En total, 225 obras y proyectos en diferentes países como, por ejemplo, Holanda, España, Italia, Alemania, Escocia, Japón, Austria, Argentina, Estados Unidos, Brasil, Grecia, Finlandia, Francia, Estados Unidos, Inglaterra, Irlanda, Suiza, y Dinamarca. Además, ejerció la docencia en Barcelona, en Frankfurt y en las universidades norteamericanas más prestigiosas como Harvard, Columbia, Princeton o Yale. La fundación que atesora su legado recibe cada año más de 2.000 visitas de todas partes del mundo.
El homenaje, que también ha contado con la colaboración de Escola Tècnica Superior d'Arquitectura (ETSAB), el Col·legi d'Arquitectes de Catalunya (COAC) y el estudio de arquitectura Miralles Tagliabue EMBT, prioriza la documentación y materiales que Miralles realizó en vida, algunos de ellos inéditos, que salen por primera vez del archivo. Pero MIRALLES es también un acto de afirmación de la herencia que ha dejado en la historia de la arquitectura y en el mundo académico alargando la mirada hasta la huella que el estudio EMBT ha sabido seguir.
---
EXPOSICIONES Y ACTIVIDADES:
«MIRALLES. A QUARTS DE QUATRE…»:
Una visión del Miralles arquitecto, centrada en cuatro proyectos construidos y referentes de la arquitectura moderna europea y que, además, representan un hito en su vida: el Parque cementerio de Igualada (1985-1991…); el Pabellón de Baloncesto de Huesca (1994); el Mercat de Santa Caterina (1997); y el Parlamento de Escocia en Edinburgo (2004).
Desde 15.04.21 hasta 04.07.2021.
Saló del Tinell. Plaça del Rei, 10. Barcelona.
Precio: 3 € (entrada general MUHBA).
---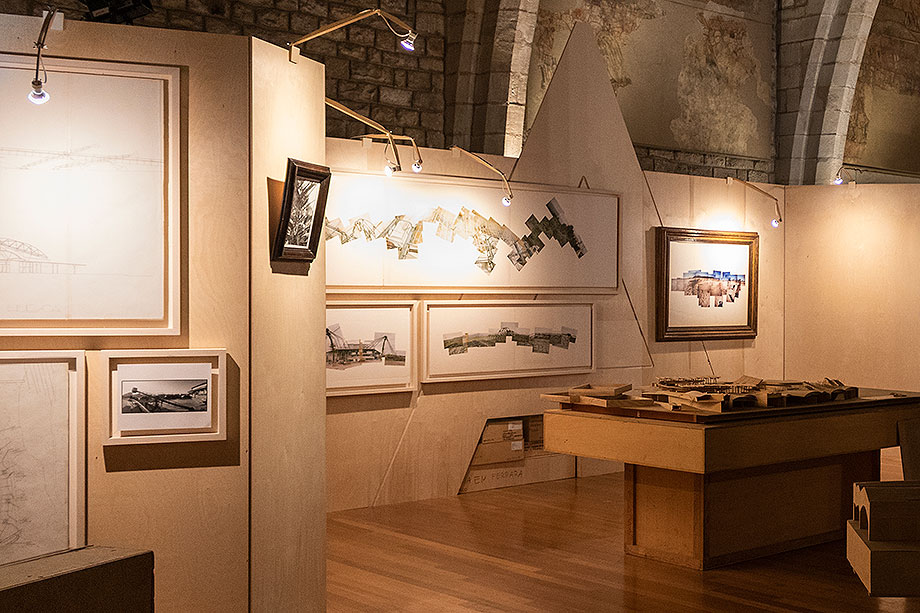 Fotografía: Fundació Enric Miralles
---
 MIRALLES. PHOTOS & COLLAGES:
Miralles usaba los collages con distintos propósitos, fragmentando, reconstruyendo y volviendo a deconstruir la realidad, inspirado por el cubismo de Picasso o de David Hockney. Ésta es la primera vez que se realiza una muestra tan amplia centrada en esta faceta del arquitecto, recogiendo collages, fotografías de viajes familiares y profesionales, fotomontajes y proyecciones, que son solo una parte del archivo privado del arquitecto que se podrá ver de manera inédita durante esta exposición.
Desde 15.04.21 hasta 30.06.21.
Centre d'Arts Santa Mònica. La Rambla, 7. Barcelona.
Gratuito.
---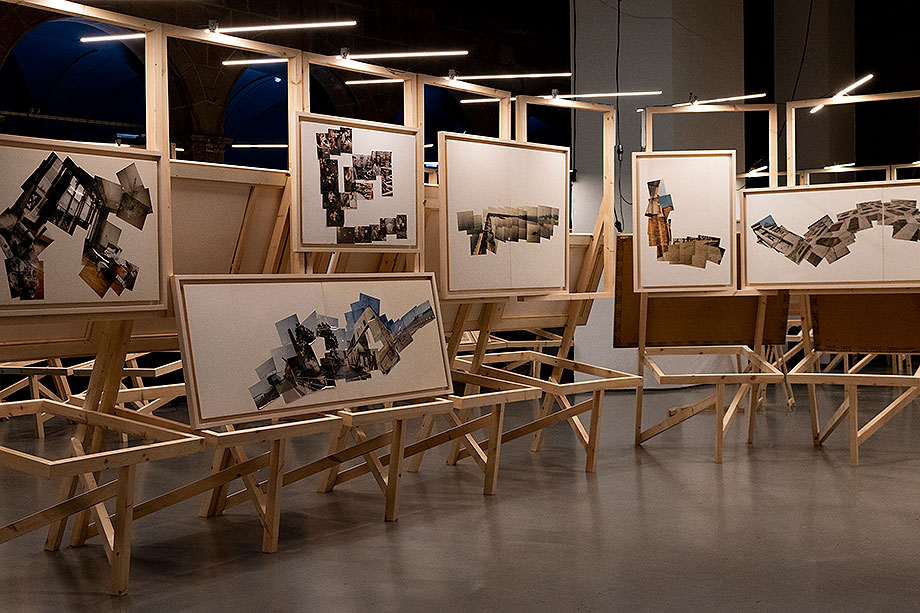 Fotografía: Fundació Enric Miralles
---
MIRALLES. TO BE CONTINUED…:
Esta exposición mostrará el trabajo que, desde su estudio Miralles Tagliabue EMBT, se ha realizado en los últimos veinte años. Con una selección de maquetas, bocetos, fotografías, correspondencias, collages y proyecciones, la Fundació Enric Miralles presentará una muestra donde se recoge el legado que ha dejado el autor y que ha marcado la trayectoria que aún hoy sigue EMBT.
Desde 15.04.21 hasta 23.12.21.
Fundació Enric Miralles. Passatge de la Pau, 10 bis. Barcelona.
Gratuito.
---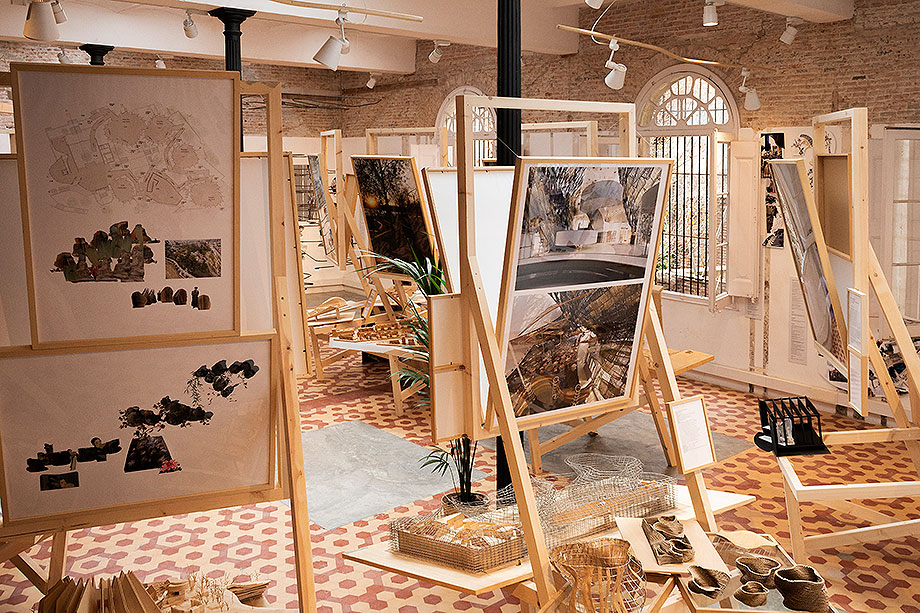 Fotografía: Fundació Enric Miralles
---
MIRALLES. PERPETUUM MOBILE:
En el Disseny Hub, se exhibirá el trabajo de Miralles como diseñador. Una exposición que contará con mobiliario y objetos inéditos, como las mesas Inestable, Dolmen, Troncos y Tropical, la estantería Lelukaappi, inspirada en la obra del arquitecto Alvar Aalto, y varias sillas y puntos de luz inéditos. Todo ello junto a planos, dibujos y croquis de los proyectos, que se mostrarán, conjuntamente, por primera vez.
Desde 27.05.21 hasta 29.08.21.
Disseny Hub. Plaça de les Glòries, 37. Barcelona.
Precio: 3 € (entrada en Disseny HUB).
---
MIRALLES. CONVERSES:
El Col·legi d'Arquitectes de Catalunya (COAC) acogerá este ciclo de conferencias públicas en las que intervendrán diferentes personajes, maestros, socios profesionales, colaboradores y amigos que conocieron personal y profesionalmente al arquitecto catalán. Encuentros entre Rafael Moneo, Benedetta Tagliabue, Beatriz Colomina, Soraya Smithson y Carme Pinós.
03.06 – 10.06 – 17.06.2021.
COAC. Plaça Nova, 5. Barcelona.
Gratuito.
---
MIRALLES. A L'ESCOLA:
En esta exposición, se enseñará la labor académica como docente del arquitecto, tanto en Barcelona como en el resto del mundo. Ésta es una faceta muy importante de Enric Miralles que, aunque tuvo mucha repercusión internacional, está poco documentada. Se recorrerán todas sus etapas en el ámbito académico a nivel europeo y mundial, recordando cuando, en 1984, empezó como profesor titular de la Escuela Técnica Superior de Arquitectura de Barcelona (ETSAB), o cuando fue profesor en la Universidad de Harvard, con la Cátedra Kenzo Tange desde 1992.
Desde 22.09.2021 hasta 24.11.2021.
ETSAB. Av. Diagonal, 649-651. Barcelona.
Gratuito.
---
SOBRE ENRIC MIRALLES: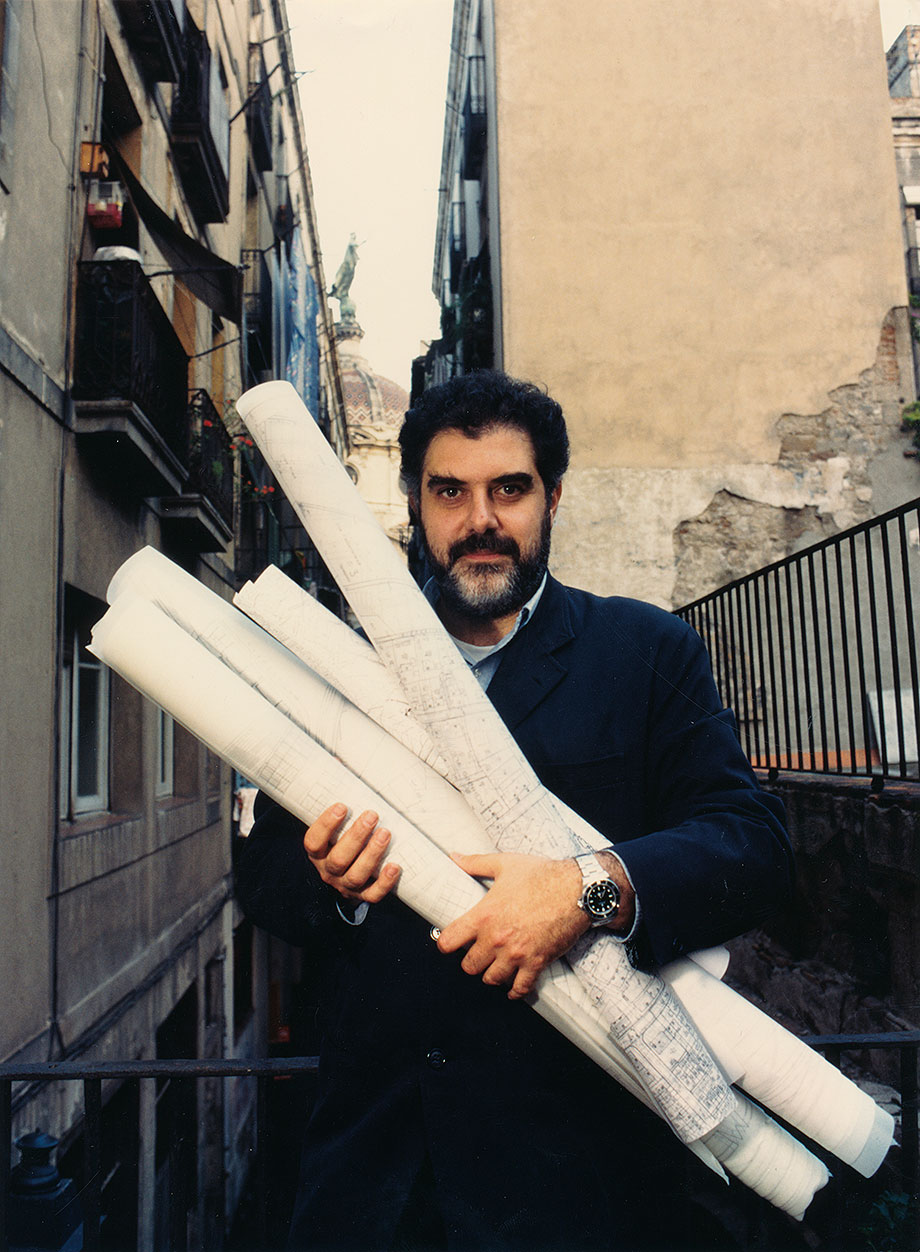 Enric Miralles Moya (Barcelona, 1955 – Sant Feliu de Codines, 2000) se formó en la Escuela Técnica Superior de Arquitectura de Barcelona (ETSAB), donde se graduó en 1978. De 1973 a 1983, colaboró con Albert Viaplana y Helio Piñón, y, en 1984, comenzó su trayectoria independiente. En su primera etapa creativa, junto a la arquitecta Carme Pinós, creó alguna de sus obras más poéticas, como el Cementerio de Igualada.
En el curso 1980-81, fue profesor visitante Fulbright en la Universidad de Columbia. Dos años más tarde, presentó su tesis doctoral «Las cosas vistas hacia la izquierda y hacia la derecha, (sin gafas)». Fue profesor de la Escuela Técnica Superior de Arquitectura de Barcelona ETSAB, desde 1985, ocupando la Cátedra de Arquitectura desde 1996.
En 1993 y junto a su esposa Benedetta Tagliabue, crea el estudio EMBT. Juntos llevaron adelante grandes y emblemáticos proyectos como la remodelación del Mercat de Santa Caterina o el nuevo Parlamento de Escocia.
Enric Miralles también fue director y profesor de las clases magistrales en el Städelschule de Frankfurt-am-Main, desde 1990, profesor en la Universidad de Harvard, en la Cátedra Kenzo Tange, desde 1992, profesor invitado y conferenciante en varias universidades de Estados Unidos (Columbia, Princeton, Harvard, Yale), Alemania, Reino Unido, Italia, Holanda y miembro de la Royal Incorporation of Architects en Escocia.
Entre otros premios, fue galardonado con el Premio Nacional de Arquitectura (1995), concedido por el Ministerio de Cultura, y con el León de Oro (1996) de la Bienal de Arquitectura de Venecia. En 2002, recibió a título póstumo la Medalla de Oro del Col·legi d'Arquitectes de Catalunya.
Considerado como un arquitecto de gran inventiva, se le definió como el enfant terrible de la arquitectura española. Murió prematuramente en Sant Feliu de Codines, en julio del año 2000, en el punto álgido de su carrera profesional. Autor de edificios abrumadores, conjugó un lenguaje genuinamente nuevo con un profundo respeto por el lugar. Nos dejó un mundo arquitectónico exuberante y una prolífica obra intelectual: escritos, dibujos, bocetos, fotomontajes, libretas de notas y casi un millar de maquetas originales.
---
SOBRE BENEDETTA TAGLIABUE: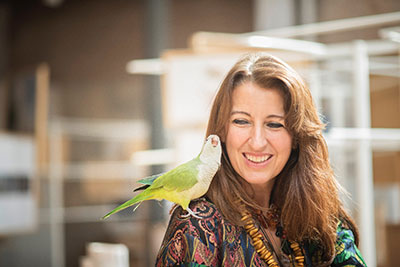 Internacionalmente reconocida, con obras y encargos en todo el mundo, la arquitecta Benedetta Tagliabue fundó, en 1993, junto a Enric Miralles, el estudio Miralles Tagliabue EMBT, con sedes en Barcelona, Shanghái y París. Asimismo, ha sido jurado en los más prestigiosos premios internacionales, como el Pritzker Prize, el Princesa de Asturias de las Artes, el Premio Loewe Craft, el Stirling Prize…
Entre sus obras más destacadas se encuentran el Parlamento de Edimburgo, el Mercat de Santa Caterina, la sede de Gas Natural y el Parque de Diagonal Mar en Barcelona, y el Pabellón de España en la Exposición Universal de Shanghái 2010, galardonado con el prestigioso premio RIBA Best International Building 2011. También en Barcelona, se encuentra el edificio que hizo para la Fundació Kàlida dentro del recinto del Hospital de Sant Pau, que forma parte de la red internacional de centros Maggie. Actualmente, el estudio tiene varias obras en construcción en China, Italia y Alemania, y participa en importantes concursos internacionales.
Además, la arquitecta compatibiliza su labor profesional con la docencia en escuelas internacionales y universidades. En 20212, fue profesora invitada en la GSD Harvard University y, en 2011, en Columbia University en Nueva York.
Su trabajo ha recibido el Premio RIBA Stirling (2005), el Premio Nacional de España (2006), el Premio Nacional de Catalunya (2002), el Premio Ciudad de Barcelona (2005 y 2009), el Premio FAD (2000, 2003 y 2007). Asimismo, fue reconocido con el Premio RIBA Jencks (2013) y, en mayo de 2019, recibió la Creu de Sant Jordi otorgada por la Generalitat de Catalunya por la excelencia de su práctica profesional en el ámbito de la arquitectura a nivel mundial.
Benedetta Tagliabue también es fundadora y directora de la Fundació Enric Miralles, cuyo objetivo es promover la arquitectura experimenta y mantener vivo el trabajo del desaparecido arquitecto.
Fotografía: Vicens Giménez
---
SOBRE JOAN ROIG I DURAN: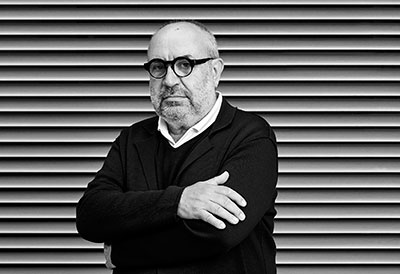 Joan Roig i Duran es arquitecto por la Escuela Técnica Superior de Arquitectura de Barcelona (ETSAB) desde 1981. Este mismo año, se asocia con Enric Batlle Duran y fundand Batlle i Roig Arquitectura.
Su labor ha sido reconocida con la más alta distinción en España hacia una firma de arquitectura: la Medalla CSCAE 2017, que otorga el Consejo Superior de los Colegios de Arquitectos de España.
Roig ha impartido clases de Proyectos Arquitectónicos en la Escuela Técnica Superior de Arquitectura de Barcelona desde 1984, así como en el Máster de Arquitectura del Paisaje de la Universidad Politécnica de Cataluña y de la Escuela Superior de Agricultura de Barcelona.
Además, ha sido profesor invitado en la Academie van Boukunst de Rotterdam, la Delft University of Technology, la ILAUD (International Laboratory of Architecture and Urban Design) de Urbino, el IUAV Istituto Universitario di Architettura de Venezia, la Facoltà di Architettura de Génova, ITU en la Faculty of Architecture of Estambul, en la Washington University en St. Louis, en la University of Illinois en Chicago, en la École Supérieure du Paysage de Versalles, en la Technischen Universität de Munich, en la Universität Stuttgart y en El Máster de Paisaje de la Escuela Técnica Superior de Arquitectura de Navarra en Pamplona, entre otros. Ha sido también director del BIArch (Barcelona Institute of Architecture).
Es muy destacable su labor como jurado, tanto de concursos nacionales como internacionales (Europan, Bienal de Arquitectura Española, Bienal Europea del Paisaje y World Architecture Festival 2018). Como miembro consultor, ha sido vocal de cultura de la Demarcación de Barcelona del Col·legi d'Arquitectes de Catalunya (COAC), consultor de la colección Mixta de la Editorial Gustavo Gili y miembro de la Comisión de Arquitectura del Ajuntament de Barcelona. En el ámbito editorial, cabe mencionar la publicación del libro «Nuevos puentes», publicado por GG, y la de numerosos artículos de opinión publicados en revistas especializadas, entre las que destacan El Croquis, Arquitectura Viva, Quaderns o Domus.
---
Fuente: Labóh (Fundació Enric Miralles)
You might also like