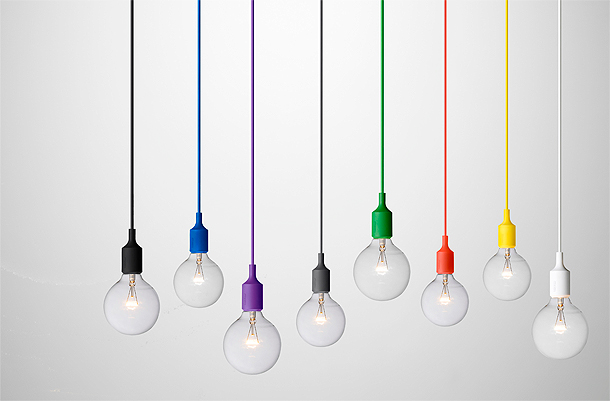 Ya pueden verse en Nordicthink, la tienda-concepto especializada en diseño escandinavo que dirige el interiorista Jordi Martín en Barcelona,  las últimas lámparas presentadas por la conocida firma danesa Muuto: la luminaria de suspensión E27 Socket, que muestra sus tres nuevos colores, las lámparas de sobremesa Up y Pull, y la lámpara de pie y sobremesa Leaf.
E27 Socket, by Mattias Ståhlbom de TAF Architects
Diseñada por el arquitecto Mattias Ståhlbom, uno de los socios del estudio de arquitectura sueco TAF, la E27 Socket es una lámpara de suspensión con portalámparas de 4 metros en silicona y plástico de diversos colores, y una bombilla de gran diámetro. La novedad es que este año la E27 Socket se ha producido en tres colores pastel: verde claro, rosa pálido y gris claro.
Más información sobre TAF en su web
Up, by Mattias Ståhlbom de TAF Architects
Up es una lámpara de sobremesa con tecnología LED, pantalla rotatoria de 360º y un regulador de potencia.  Su creador es también Mattias Ståhlbom que dice de ella: «Up mezcla luz y sombras para crear un ambiente acogedor en cualquier espacio. Gracias a su curvatura, la lámpara Up interactúa con las paredes y techos creando agradables atmósferas». Está disponible en blanco, gris y verde. Medidas: base Ø 16,9 cm  x pantalla Ø 19,3 cm x 27 h cm. Cable de 2,5 metros.
Más información sobre TAF en su web
Pull, by Whatswhat
El estudio sueco Whatswhat (John Astbury, Bengt Brummer y Karin Wallenbeck) firma esta lámpara elaborada con madera de fresno. Pull incorpora un cable textil parcialmente oculto que ajusta la posición de la pantalla, de este modo, al mover la pantalla, la luz se reorienta y la lámpara cobra una nueva personalidad en cada circunstancia.  Medidas: base 31,5 cm x 151 h cm.
Más información sobre Whatswhat en su web
Leaf, by Broberg & Ridderstråle
Leaf combina un diseño ligero y elegante con la eficiencia energética de la tecnología LED. Es un nueva creación del dúo sueco Broberg & Riddersträle para Muuto y se produce en aluminio, acero y bronce. Se presenta en cinco colores: negro, blanco, gris, rosa y verde.  Medidas versión de pie: pantalla 18,5 cm x 118 h cm. Medidas versión sobremesa: pantalla 18,5 cm x 41,5 h cm.
Broberg & Ridderstråle  en IM
Lee más sobre Broberg & Ridderstråle en su web
Sobre Muuto:
Muuto es una firma danesa especializada en mobiliario, iluminación y complementos de diseño contemporáneo.  El objetivo de la empresa es expandir la tradición del diseño escandinavo con nuevas y originales perspectivas. De hecho, su nombre Muuto, inspirado en la palabra finlandesa muutos, significa «una nueva perspectiva». En su amplia lista de diseñadores se encuentran, entre otros, Anderssen and Voll, Cecilie Manz, Claesson Koivisto Rune, Form Us With Love, Karri Koskinen, Louise Campbell, Mattias Ståhlbom, Mika Tolvanen, Ole Jensen, Whatswhat, TAF Architects y Norway Says.
Sobre Nordicthink:
Nordicthink es un proyecto del interiorista Jordi Martín, cuyo objetivo es ofrecer productos que tienen los grandes rasgos característicos de los diseños clásicos y contemporáneos de la mejor tradición del diseño escandinavo: funcionalidad, sencillez y belleza. La aventura, que comenzó a modo de web, donde se pueden adquirir los diferentes productos, cristalizó -a finales del 2011- con la apertura de una tienda en Barcelona.
Entre las marcas que pueden encontrarse en Nordicthink figuran: Secto Design, Tunto, Verpan, Muuto, Normann Copenhagen, Northern Lighting, Zweed, Louis Poulsen, Fredericia y Gidlööf Originals.
Información e imágenes facilitadas por Nordicthink y en la web de Muuto
You might also like