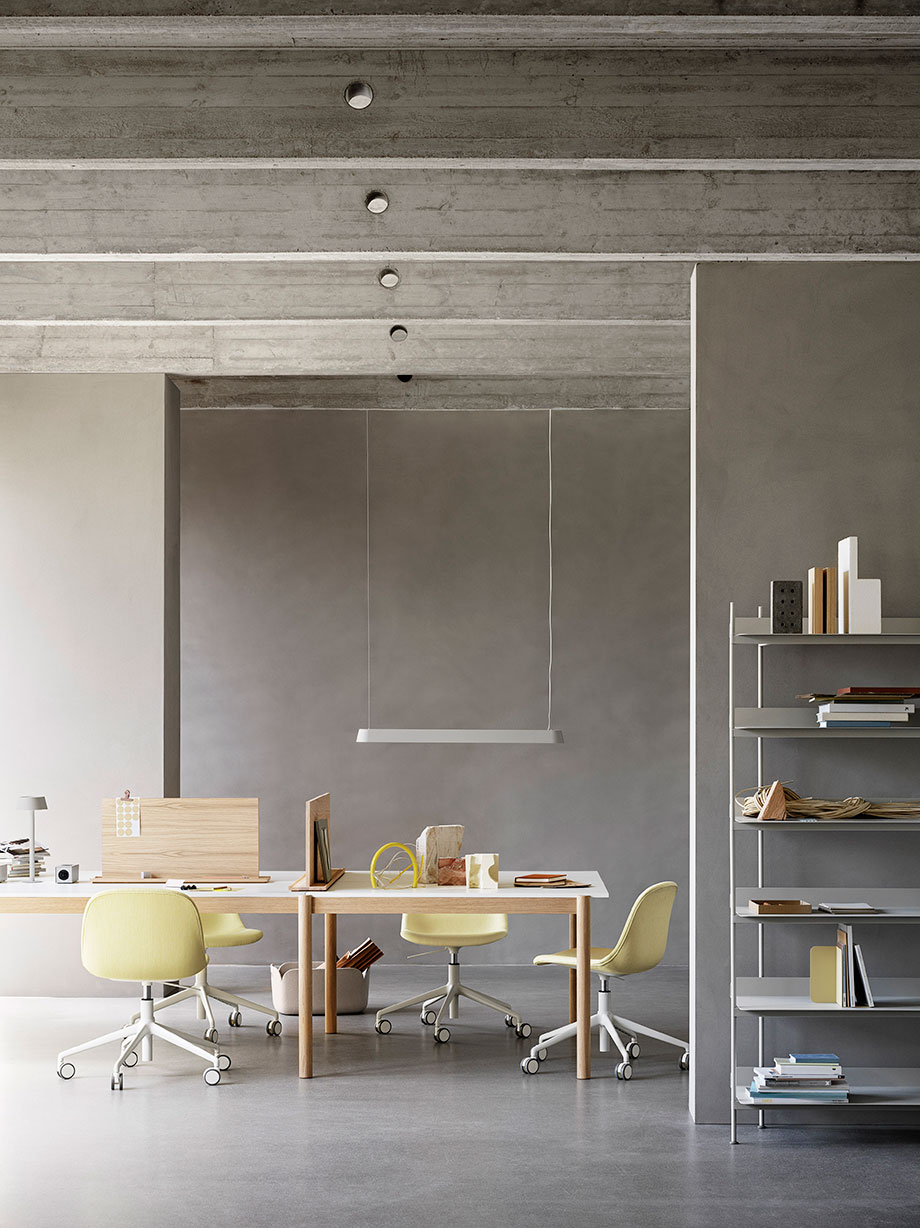 LINEAR SYSTEM:
Linear System es una reciente propuesta del diseñador danés Thomas Bentzen para Muuto, compuesta de mesas, lámparas, mamparas divisorias, bandejas y una solución de electrificación integrada. La componibilidad de estos diferentes elementos permite resolver las necesidades de espacios de trabajo, entornos educativos y de hospitalidad, marcados por los cambios y transformaciones que impone la sociedad actual.
Gracias a su capacidad de configuración, este sistema modular se puede utilizar para crear entornos de dimensiones generosas, pero también espacios más pequeños e íntimos para sesiones de trabajo en solitario y colaborativas. Además, la madera de roble utilizada en la fabricación proporciona un toque cálido a cualquier espacio.
Legado escandinavo.
La mesa Linear Systema tiene un aspecto natural y minimalista, con sutiles detalles -como las patas semicirculares y un fino voladizo en los extremos- y referencias al legado escandinavo. Se puede utilizar como mesa individual, pero también está disponible en configuraciones prediseñadas y como mesa modular.
La colección ofrece una solución de electrificación a medida para todas las tomas de corriente de las lámparas, de modo que todos los cables se integran a la perfección. Cada mesa cuenta con una toma de corriente en cada extremo, así como una toma USB-A y USB-C y una bandeja para cables en PET reciclado.
Iluminación funcional.
La serie de Thomas Bentzen también incluye lámparas de suspensión, de sobremesa y lineales con fuente de luz regulable. Éstas últimas hacen referencia a las tradicionales lámparas de mesa de las biblioteca a través de su forma y se montan con unas piezas de fijación que permiten modificar la posición si el usuario así lo necesita. Estas luminarias se pueden utilizar para crear un ambiente agradable al tiempo que proporcionan una iluminación funcional para entornos de trabajo.

Mesas y lámparas se complementan con las pantallas y bandejas de madera, disponibles en varios tamaños, que permiten configurar espacios más privados, las primeras, y depositar utensilios en ellas, las segundas. La pantalla también tiene un pequeño pie a cada lado para almacenar pequeños objetos y se puede utilizar de forma independiente o montada en la serie Linear System.
Sensación de hogar.
Explica Thomas Bentzen que Linear System «coloca a las personas en su centro, siendo un espacio para reunirse, colaborar o trabajar en solitario. El proceso de diseño consistió en crear un sistema que diera lugar a ambientes íntimamente acogedores, realzado por la expresión y funcionalidad de sus lámparas y accesorios. Con su materialidad cálida y moderna estética, la serie proporciona una sensación de hogar a espacios amplios para brindar al usuario una sensación de permanencia, incluso si está allí sólo por un rato.»
---
LAS IMÁGENES:
---
---
SOBRE THOMAS BENTZEN: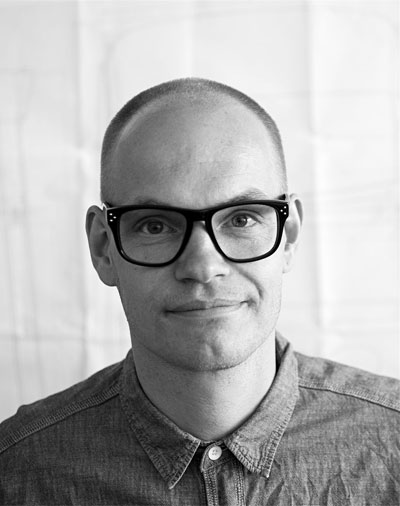 El diseñador industrial Thomas Bentzen abrió su estudio, con sede en Copenhague (Dinamarca), en 2010. Su diseño se caracteriza por la simplicidad, la racionalidad y la funcionalidad. Con diseños simples y narrativos, crea productos significativos para la vida cotidiana. Su pasión es diseñar productos que interactúen y creen curiosidad, que sean funcionales y simples, y que satisfagan las necesidades humanas mientras estén en uso. En su búsqueda para diseñar productos duraderos, explora de forma persistente la forma, la función y el potencial de los materiales.
Bentzen está firmemente arraigado en la tradición del diseño danés, enfatizando el conocimiento de los materiales, la artesanía y los procesos de fabricación industrial racional. La creación de prototipos y la elaboración de maquetas son elementos claves en su proceso de diseño. Entre sus clientes figuran: B&O Play, HAY, Louis Poulsen, Menu, Muuto, RoomCPH y Royal Copenhagen.
Thomas trabajó como jefe de diseño para Muuto desde 2013 a 2015 y como gerente de diseño de 2011 a 2013. De 2005 a 2010, fue diseñador sénior y, posteriormente, socio en el Studio Louise Campbell. El diseñador se graduó en la Real Academia Danesa de Bellas Artes – Escuela de Diseño, en 2003.
THOMAS BENTZEN EN INTERIORES MINIMALISTAS
---
SOBRE MUUTO:
Muuto es una reconocida firma danesa especializada en mobiliario, iluminación y complementos de diseño nórdico contemporáneo. El objetivo de la empresa es expandir la tradición del diseño escandinavo con nuevas y originales perspectivas. De hecho, su nombre Muuto, inspirado en la palabra finlandesa muutos, significa "una nueva perspectiva". En su amplia lista de diseñadores figuran, entre otros, Anderssen and Voll, Cecilie Manz, Claesson Koivisto Rune, Form Us With Love, Karri Koskinen, Louise Campbell, Mattias Ståhlbom, Mika Tolvanen, Ole Jensen, Whatswhat, TAF Architects y Norway Says.
MUUTO EN INTERIORES MINIMALISTAS
---
Fuente: Muuto
You might also like