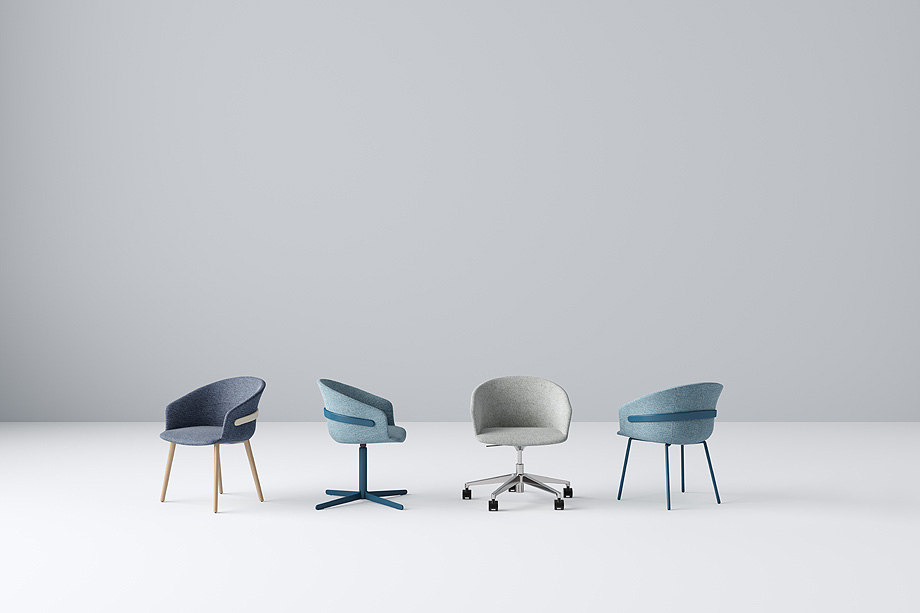 CLIP:
Clip es una versátil silla para distintos tipos de oficinas, diseñada por el conocido estudio sueco Claesson Koivisto Rune para la empresa estadounidense Studio TK, cuyas fuentes de inspiración han sido la clásica cinta o diadema infantil para sujetar el pelo y el clip de pantalón que utilizan los ciclistas.
La silla, presentada durante la feria NeoCon 2019 de Chicago, ofrece una forma lo suficientemente cómoda para descansar y lo suficientemente firme para utilizarse durante una jornada de trabajo. El respaldo redondeado y los reposabrazos integrados proporcionan «una estructura cómoda para que los usuarios disfruten», explican los diseñadores. El «clip» se coloca en la parte posterior, abrazando la silla y convirtiéndose en el elemento distintivo del diseño.
Este clip también tiene una importante función: en el pasado, para que «la tela siguiera la forma de la carcasa del asiento y evitar puentes no deseados (bolsas de aire entre la tela y la carcasa) hubiera sido necesario pegar la tapicería. Sin embargo, el diseño de Clip no necesita pegamento y, en cambio, utiliza un clip personalizado. El interior de la carcasa también se puede tapizar sin pegamento gracias a la inclusión de un delgado cojín, tapizado por separado». Estas ideas se complementan con detalles de costura simples y limpios, junto con distintas bases y opciones de acabado para tapicerías y clip.

Distintas opciones de acabado.
Estas múltiples opciones se traducen en cuatro tipos de base (cuatro patas metálicas, cuatro patas de madera, base giratoria de retorno en estrella de cuatro puntas y una base giratoria en estrella de cinco puntas con ruedas), acabadas en aluminio pulido, pintura en polvo (16 colores) y madera disponible en cinco colores (Basque White Oak, Natural Oak, Sierra, Cocoa Brown y Truffle). Éstas pueden combinarse con una amplia variedad de tejidos y el clip que presenta una gran paleta de colores que va de los tonos más neutros a interesantes toques de color.

---
LAS IMÁGENES:
---

---
---
SOBRE CLAESSON KOIVISTO RUNE:
Los arquitectos y diseñadores suecos Mårten Claesson, Eero Koivisto y Ola Rune (Claesson Koivisto Rune) abrieron las puertas de su estudio en Estocolmo, en 1995. Empezaron como un despacho de arquitectura y pronto se convirtieron en un estudio multidisciplinar.
Entre los muchos trabajos encargados a este galardonado despacho figuran, entre otros, el restaurante Operakällaren, en Estocolmo, la casa prefabricada Tind per Fiskarhedenvillan, la Villa Widlund en la isla de Öland, el edificio de la Örsta Gallery en Kumla, la casa de la cultura Sfera Building en Kioto, la galería Inde/Jacobs en Texas, el Hotel Nobis y el Hotel Skeppsholmen en Estocolmo, y algunos hoteles del Grupo De Bergenske en Bergen.
Como diseñadores colaboran con destacadas firmas internacionales como Arflex, Asplund, Blueair, Boffi, Capdell, Cappellini, Casamania, David design, Discipline, Dune NY, Fontana Arte, Italesse, Kasthall, Living Divani, Marsotto Edizioni, Modus, Muuto, Offecct, Paola Lenti, Petite Friture, Skandiform, Skultuna, Swedese, Tacchini y Wästberg, por citar algunos.
Por su trabajo, han recibido más de 60 premios. Entre ellos cabe destacar The Bruno Mathsson Prize 2015, Designer of the Year y Best Seating 2014 (Elle Décor Italia), Designer of the Year 2011 y Furniture of the Year 2012 (Elle Deco Sweden), German Design Award 2011 (Oro y Plata), Good Design Award USA, iF Product Design Award, Good Design Award Japan, Design S y Red Dot Design Award – Best of the Best 2014. En 2004, Claesson Koivisto Rune tuvieron también el privilegio de ser los primeros arquitectos suecos en exponer sus obras dentro de la sección internacional de la Bienal de Arquitectura de Venecia.
CLAESSON KOVISTO RUNE EN INTERIORES MINIMALISTAS
---
SOBRE STUDIO TK:
Studio TK es una empresa estadounidense de mobiliario para contract centrada en el desarrollo de aplicaciones sociales. Inaugurada en 2013, Studio TK se compromete a ayudar a los arquitectos y diseñadores a aprovechar el poder de los espacios sociales para construir una cultura de elección, conexión y comunidad en el espacio de trabajo, todo al servicio del mejor bienestar y la mayor productividad.
Los productos de la firma son diseñados por profesionales de primera línea a nivel internacional como Monica Armani, David Chipperfield, Antonio Citterio, Claesson Koivisto Rune, Naoto Fukasawa, Iratzoki Lizaso, Luca Nichetto, PearsonLloyd, Patricia Urquiola y Mario Ruiz, entre otros.
---
Información e imágenes facilitadas por el estudio
You might also like