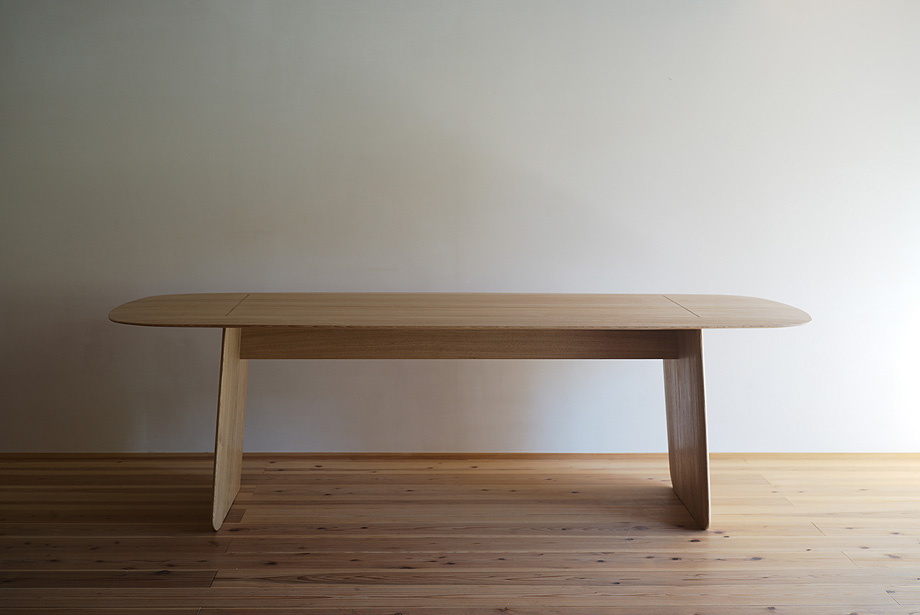 HAND:
La colaboración entre los arquitectos y diseñadores suecos Claesson Koivisto Rune (Mårten Claesson, Eero Koivisto y Ola Rune) y el experto carpintero japonés Yuji Takahashi ha dado como fruto la colección de muebles de madera HAND, elaborados cuidadosamente de forma artesanal. La colección se presentó, por primera vez, en un evento celebrado, el pasado 16 de octubre, en la Tokyo Craft Room, ubicada en el segundo piso del Hamacho Hotel de Tokyo, durante la DesignArt Tokyo.
La Tokyo Craft Room, ubicada en la segunda planta del hotel, fue creada por Teruhiro Yanagihara, diseñador de producto y director creativo de la firma de mobiliario Karimoku New Standard, con el fin de utilizar el Hamacho Hotel como una plataforma de colaboración entre artesanos japoneses y diseñadores tanto nacionales como internacionales.
Sentando las bases.
Al inicio del proyecto, se estudiaron la escala del espacio y los requisitos funcionales necesarios para pasar una noche en la Tokyo Craft Room. Estas observaciones sentaron las bases para que se iniciaran las primeras conversaciones entre el estudio sueco y el carpintero japonés sobre el tipo de muebles que podrían crear juntos. Las conversaciones de Rune y su equipo con Takahashi no sólo revelaron su gran potencial como carpintero sino también un gran entusiasmo por su oficio.
"Durante nuestra primera reunión, Takahashi-san comenzó a mostrarme algunas muestras en su iPad. Cuando vimos los detalles, pensé para mí mismo: ésto es irreal. No puedes hacer ésto, es imposible hacer una caja o bandeja de esta manera», recuerda Rune. "Queríamos hacer algo que no hubiéramos hecho antes y ver en qué grado podíamos desafiar a Takahashi-san. Cuando el público vea este producto, queremos que perciba lo bien que se ha hecho."
Una mesa, un banco y un taburete.
Al regresar a Estocolmo después del primer encuentro con Yuji Takahashi, Ola Rune comenzó a traducir sus ideas para la colección en un conjunto de muebles que incluyen una mesa, un banco y un taburete. Sus bocetos iniciales se inspiraron en las herramientas, técnicas y filosofía del artesano, a lo que siguieron una serie de modelos a escala que exploraron el diálogo entre la habitación del hotel y los muebles.
Basándose en la escala de la habitación, la mesa y el banco tomaron forma de una manera bastante natural. Sin embargo, decidir las proporciones ideales para el taburete resultó ser un desafío mucho más difícil de llevar a cabo. Los taburetes de medidas convencionales resultaban incompatibles con las otras piezas, por lo que Rune recurrió a la cultura japonesa del baño, donde encontró taburetes bajos de madera con las proporciones ideales para su diseño.
Madera de castaño de Hiroshima.
«Hemos hecho un diseño que une a nuestra forma de pensar la artesanía y estética tradicional japonesa», dice Rune. Compuesto por piezas de mobiliario que pueden funcionar de manera colectiva o independiente, para la elaboración de HAND se eligió la madera de castaño de Hiroshima, un material de origen local que Takahashi pretende promover a través de sus muebles.
Los muebles de esta nueva colección de Claesson Koivista Rune destacan por sus suaves formas, sus juntas delicadas, de apenas cuatro mm de ancho, que se dejan vistas y han sido diseñadas para crear la impresión de que son elementos independientes, pero firmemente conectados.
Para hacer realidad la visión del diseñador de una articulación aparentemente imposible, Takahashi revisó el trabajo de su antiguo maestro antes de desarrollar un prototipo en forma de taburete. Superando los desafíos presentados por las innumerables curvas, conos y superficies convexas, fue capaz de diseñar secciones internas que proporcionan a la delicada unión una funcionalidad robusta.
Alto nivel técnico.
A nivel técnico, el diseño final de HAND desafió a Takahashi y a su equipo aún más, ya que las secciones transversales de cada una de las piezas están hechas de tal manera que se vuelven progresivamente más delgadas hacia sus bordes exteriores, hasta llegar a conseguir un borde de sólo unos pocos milímetros de grosor. Esta disminución del grosor de las piezas comienza en el centro de cada de ellas, lo que significa que todas las superficies son ligeramente convexas. Incluso la superficie superior de la mesa tiene una curvatura muy sutil, algo que no se observa fácilmente pero que se nota más claramente al tocarla. Asimismo, estas superficies convexas se encuentran a lo largo de los bordes exteriores de cada elemento.
Por último, la fabricación artesanal ha dado un particular tacto a los muebles, algo que posiblemente se hubiera perdido con una fabricación industrializada.
---
LAS IMÁGENES:
---
SOBRE CLAESSON KOIVISTO RUNE:
Los arquitectos y diseñadores suecos Mårten Claesson, Eero Koivisto y Ola Rune (Claesson Koivisto Rune) abrieron las puertas de su estudio en Estocolmo, en 1995. Empezaron como un despacho de arquitectura y pronto se convirtieron en un estudio multidisciplinar.
Entre los muchos trabajos encargados a este galardonado despacho figuran, entre otros, el restaurante Operakällaren, en Estocolmo, la casa prefabricada Tind per Fiskarhedenvillan, la Villa Widlund en la isla de Öland, el edificio de la Örsta Gallery en Kumla, la casa de la cultura Sfera Building en Kioto, la galería Inde/Jacobs en Texas, el Hotel Nobis y el Hotel Skeppsholmen en Estocolmo, y algunos hoteles del Grupo De Bergenske en Bergen.
Como diseñadores colaboran con destacadas firmas internacionales como Arflex, Asplund, Blueair, Boffi, Capdell, Cappellini, Casamania, David design, Discipline, Dune NY, Fontana Arte, Italesse, Kasthall, Living Divani, Marsotto Edizioni, Modus, Muuto, Offecct, Paola Lenti, Petite Friture, Skandiform, Skultuna, Swedese, Tacchini y Wästberg, por citar algunos.
Por su trabajo, han recibido más de 60 premios. Entre ellos cabe destacar The Bruno Mathsson Prize 2015, Designer of the Year y Best Seating 2014 (Elle Décor Italia), Designer of the Year 2011 y Furniture of the Year 2012 (Elle Deco Sweden), German Design Award 2011 (Oro y Plata), Good Design Award USA, iF Product Design Award, Good Design Award Japan, Design S y Red Dot Design Award – Best of the Best 2014. En 2004, Claesson Koivisto Rune tuvieron también el privilegio de ser los primeros arquitectos suecos en exponer sus obras dentro de la sección internacional de la Bienal de Arquitectura de Venecia.
CLAESSON KOVISTO RUNE EN INTERIORES MINIMALISTAS
---
SOBRE SASIMONOGAKU- TAKASHI:
Sasimonokagu-Takashi es un taller de muebles fundado, en 2010, por el carpintero Yuji Takahashi, quien se encarga de todo el proceso de vida del mueble: desde el diseño hasta la venta, pasando por la fabricación.
En su trabajo, Takahashi utiliza técnicas tradicionales de carpintería que permiten la creación de productos robustos que pueden repararse a lo largo de su vida útil, en caso de que fuera necesario. Combinando estas técnicas tradicionales con herramientas modernas, materiales y tecnología, diseña y lleva a cabo piezas de mobiliario de una gran calidad.
Además de su taller de carpintería, Takahashi es propietario de Tetoma Studio, una galería donde se llevan a cabo exposiciones y otros eventos. Sasimonokagu-Takashi se encuentra en Kumano-cho, un pueblo de la prefectura de Hiroshima.
---
Información e imágenes facilitadas por el estudio
You might also like