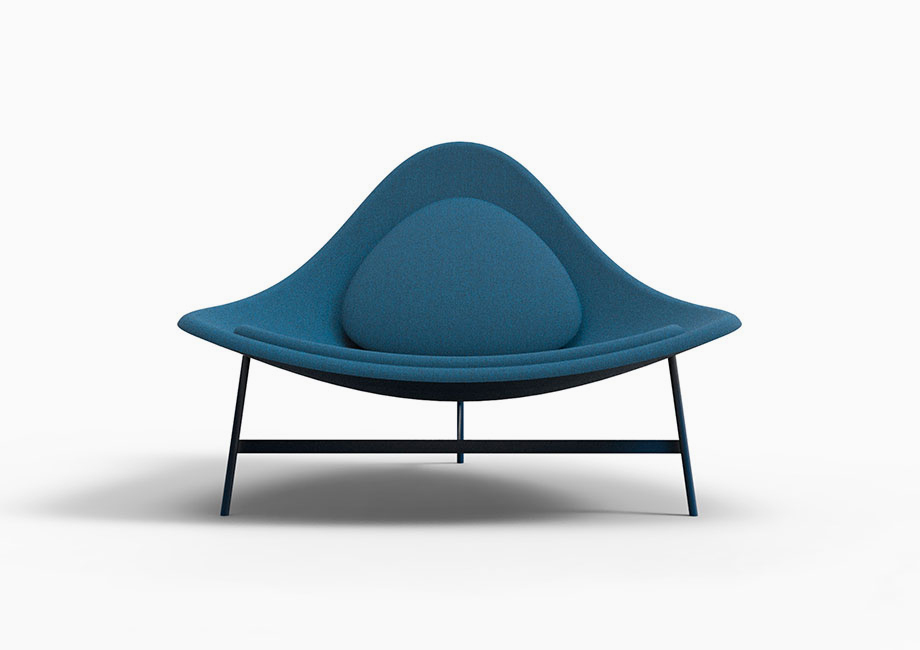 BERMUDA:
La colaboración entre el fabricante de mobiliario Baleri Italia y el estudio de arquitectura sueco Claesson Koivisto Rune continúa con esta butaca baja de forma triangular, cuyo asiento descansa sobre una estructura de tres patas unidas a través de dos tirantes.
Para el diseño de Bermuda, el estudio sueco realizó un estudio ergonómico que le llevó a crear tres elementos tapizados: la carcasa y dos cojines de diferentes formas. El cojín extra grande y extraíble del asiento, que también se puede fijar a la carcasa, junto con los brazos bajos y redondeados, ofrecen una superficie donde poder sentarse de diferentes maneras. Este cojín, que se complementa con el del respaldo, está hecho de una espuma de menor densidad que la carcasa para brindar una mayor comodidad al asiento.
Poliuretano estructural.
De cara a reducir su peso, el interior está hecho de un poliuretano estructural rígido, revestido de poliuretano flexible. Por su parte, la estructura de apoyo está disponible en metal lacado y en madera maciza. Tanto el asiento como los cojines ofrecen una amplia gama de acabados y materiales que incluyen piel y piel sintética, ofreciendo un altísimo grado de personalización.
La forma de Bermuda, sinuosa, relajada y alejada de un patrón tradicional, la hace idónea para espacios de muy distinta tipología, generando un interesante contraste en espacios de estilo más clásico.
---
LAS IMÁGENES:
---
SOBRE CLAESSON KOIVISTO Y RUNE:
Los arquitectos y diseñadores suecos Mårten Claesson, Eero Koivisto y Ola Rune (Claesson Koivisto Rune) abrieron las puertas de su estudio en Estocolmo, en 1995. Empezaron como un despacho de arquitectura y pronto se convirtieron en un estudio multidisciplinar.
Entre los muchos trabajos encargados a este galardonado despacho figuran, entre otros, el restaurante Operakällaren, en Estocolmo, la casa prefabricada Tind per Fiskarhedenvillan, la Villa Widlund en la isla de Öland, el edificio de la Örsta Gallery en Kumla, la casa de la cultura Sfera Building en Kioto, la galería Inde/Jacobs en Texas, el Hotel Nobis y el Hotel Skeppsholmen en Estocolmo, y algunos hoteles del Grupo De Bergenske en Bergen.
Como diseñadores colaboran con destacadas firmas internacionales como Arflex, Asplund, Blueair, Boffi, Capdell, Cappellini, Casamania, David design, Discipline, Dune NY, Fontana Arte, Italesse, Kasthall, Living Divani, Marsotto Edizioni, Modus, Muuto, Offecct, Paola Lenti, Petite Friture, Skandiform, Skultuna, Swedese, Tacchini y Wästberg, por citar algunos.
Por su trabajo, han recibido más de 60 premios. Entre ellos cabe destacar The Bruno Mathsson Prize 2015, Designer of the Year y Best Seating 2014 (Elle Décor Italia), Designer of the Year 2011 y Furniture of the Year 2012 (Elle Deco Sweden), German Design Award 2011 (Oro y Plata), Good Design Award USA, iF Product Design Award, Good Design Award Japan, Design S y Red Dot Design Award – Best of the Best 2014. En 2004, Claesson Koivisto Rune tuvieron también el privilegio de ser los primeros arquitectos suecos en exponer sus obras dentro de la sección internacional de la Bienal de Arquitectura de Venecia.
CLAESSON KOIVISTO RUNE EN INTERIORES MINIMALISTAS
---
SOBRE BALERI ITALIA:
Baleri Italia, fundada por Enrico Baleri y Marilisa Decimo en 1984, es una empresa de mobiliario definida por sus piezas sobrias y rigurosas en la forma, que llevan la firma de grandes maestros (Hannes Wettstein, Philippe Starck, Arik Levy o el propio Enrico Valeri). Juntos han dado vida a un universo clásico contemporáneo que, actualmente y gracias al Hub Design, ha encontrado una nueva vitalidad, producción, comunicación y fortaleza comercial.
Desde su creación, la coherencia, la ironía, la ligereza, la versatilidad, la funcionalidad y la originalidad, combinadas con la continua experimentación tecnológica, caracterizan a la firma, identificando a la marca como un fabricante de muebles de diseño de calidad. A partir de 2014, la compañía se une al grupo AVM, que reúne bajo un mismo techo a varios protagonistas, de diferentes épocas, del reconocido made in Italy para dar vida a una iniciativa cultural e industrial.
En 2017, con el nuevo CEO Sebastian Langé y el nuevo director de Arte Aldo Parisotto (P + F Architects), Baleri Italia inaugura una nueva fase en el relanzamiento de la marca. La Milan Design Week de 2017 fue el escenario para presentar el primer paso del proyecto: la reinterpretación de algunos productos históricos en una clave contemporánea a través de una nueva paleta de colores y acabados actualizados.
BALERI ITALIA EN INTERIORES MINIMALISTAS
---
Fuente: Ghénos Communication (Baleri Italia)
You might also like