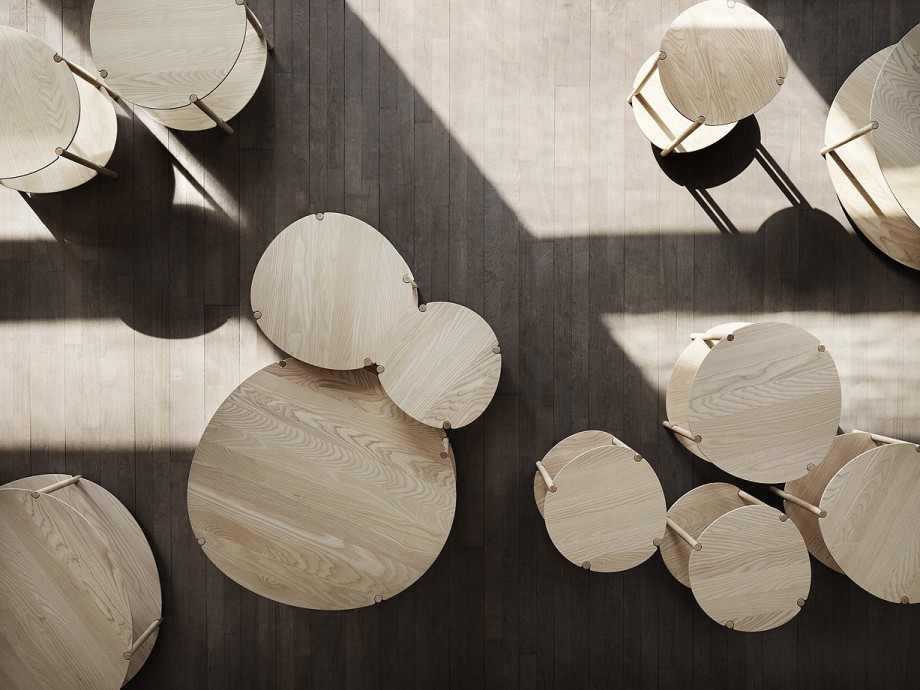 LUNARIA:
La familia de mesitas auxiliares Lunaria son, hasta el momento, la última colaboración entre el estudio Claesson Koivisto Rune y la marca DUX, después de la colección de mesas auxiliares Arizona, Montana, Dakota y Ohio; la butaca Anita; los gabinetes Sun y Moon; el cabezal de la cama Eden; y el sofá modular Alicia.
La presentación de este nuevo trabajo tuvo lugar durante la pasada edición de la Stockholm Design Week (3-9 febrero de 2020), en el evento titulado «La residencia del escultor». El evento, organizado por DUX y Menu, en colaboración con Norm Architects, tuvo lugar en un apartamento donde se exhibían objetos y muebles con el objetivo de recrear el hogar y taller de un artista.
La personalidad de Lunaria se encuentra en las cualidades inherentes a la madera de fresno natural, tratada con aceite,  combinadas con las formas sutiles e irregularmente redondeadas de la mesa, que «recuerdan como el disco lunar puede aparecer ligeramente achatado debido a la refracción de la luz causada por la atmósfera terrestre», explica el estudio de Mårten Claesson, Eero Koivisto y Ola Rune.
Las mesas están disponibles en tres diferentes tamaños que se adaptan igual de bien a espacios domésticos y a espacios públicos: como mesita de noche, en el primer caso, como un grupo de mesas en el vestíbulo de un hotel o en la sala de espera de unas oficinas, en el segundo. Lunaria, dicen los arquitectos, funciona «particularmente bien al lado de la butaca Anita, ya que mantienen un parentesco a través de un material común y detalles del diseño.»
Medidas:
Mesa pequeña: ∅ 39 x h 50 cm.
Mesa mediana: ∅ 60 x h 45 cm.
Mesa grande: ∅ 86 x h 40 cm.
---
LAS IMÁGENES:
---
SOBRE CLAESSON KOIVISTO RUNE:
Los arquitectos y diseñadores suecos Mårten Claesson, Eero Koivisto y Ola Rune (Claesson Koivisto Rune) abrieron las puertas de su estudio en Estocolmo, en 1995. Empezaron como un despacho de arquitectura y pronto se convirtieron en un estudio multidisciplinar.
Entre los muchos trabajos encargados a este galardonado despacho figuran, entre otros, el restaurante Operakällaren, en Estocolmo, la casa prefabricada Tind per Fiskarhedenvillan, la Villa Widlund en la isla de Öland, el edificio de la Örsta Gallery en Kumla, la casa de la cultura Sfera Building en Kioto, la galería Inde/Jacobs en Texas, el Hotel Nobis y el Hotel Skeppsholmen en Estocolmo, y algunos hoteles del Grupo De Bergenske en Bergen.
Como diseñadores colaboran con destacadas firmas internacionales como Arflex, Asplund, Blueair, Boffi, Capdell, Cappellini, Casamania, David design, Discipline, Dune NY, Fontana Arte, Italesse, Kasthall, Living Divani, Marsotto Edizioni, Modus, Muuto, Offecct, Paola Lenti, Petite Friture, Skandiform, Skultuna, Swedese, Tacchini y Wästberg, por citar algunos.
Por su trabajo, han recibido más de 60 premios. Entre ellos cabe destacar The Bruno Mathsson Prize 2015, Designer of the Year y Best Seating 2014 (Elle Décor Italia), Designer of the Year 2011 y Furniture of the Year 2012 (Elle Deco Sweden), German Design Award 2011 (Oro y Plata), Good Design Award USA, iF Product Design Award, Good Design Award Japan, Design S y Red Dot Design Award – Best of the Best 2014. En 2004, Claesson Koivisto Rune tuvieron también el privilegio de ser los primeros arquitectos suecos en exponer sus obras dentro de la sección internacional de la Bienal de Arquitectura de Venecia.
CLAESSON KOVISTO RUNE EN INTERIORES MINIMALISTAS
---
SOBRE DUX:
Desde su fundación en 1926, la ambición de la empresa DUX ha sido «fabricar las camas más cómodas del mundo». Fundada por Efraim Ljung para fabricar los primeros colchones de muelles de Suecia, cuatro generaciones de esta familia sueca han hecho de DUX una empresa internacional con más de 110 tiendas en el mundo.  Sus camas son el resultado de una avanzada investigación y tecnología del sueño, combinada con la artesanía tradicional sueca.
En los años 50-60, DUX amplió su actividad al surgir la idea de comenzar a producir sofás y sillas basados en el mismo sistema de muelles utilizados en las camas. Se contactó con algunos de los principales diseñadores de muebles de Suecia y, en poco tiempo, se iniciaron exitosas colaboraciones con iconos como Carl Malmsten, Alf Svensson y, en particular, Bruno Mathsson. La tradición continúa todavía hoy e involucra a notables diseñadores contemporáneos como Claesson Koivisto Rune.
---
Fuente: Claesson Koivisto Rune
You might also like